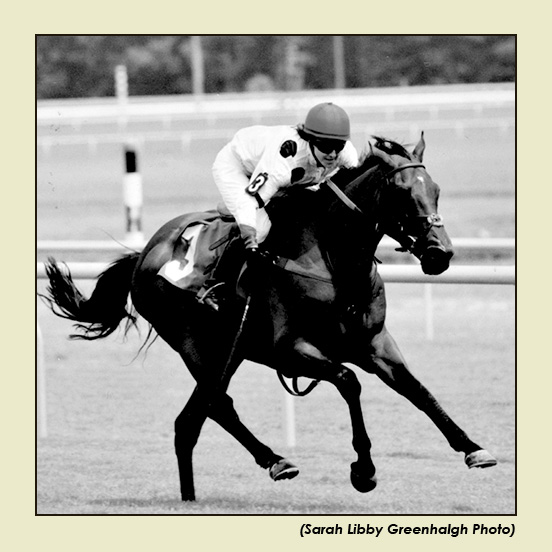 All eyes were on the favorite, Moneytrain, at the start of the $50,000 Zeke Ferguson Memorial hurdle stakes on July 15 at Colonial Downs in New Kent, Va., and as it turns out, rightly so.
Trained by Pennsylvania's Jonathan Sheppard and piloted by the 2006 National Steeplechase Association leading jockey Danielle Hodsdon, Moneytrain was never very far from front runner Long Lane Farm's Swimming River (Paddy Young). With only one pacesetter in the seven-horse race, Sheppard had told Hodsdon to stay close—he didn't want her to have too much to do at the finish.
By the turn for home, Moneytrain came on like a fresh horse, passing Swimming River in the stretch and holding off Mede Cahaba Stable's Class Vantage (Richard Boucher) at the wire by more than 3 lengths. Charlie Whiskey (Cyril Murphy) was third, Sheppard's second entry, Calvin Houghland's mare Sweet Shani (Matt McCarron), was fourth.
Hodsdon and Sheppard were very pleased with the win. The 8-year-old gelding has had a series of setbacks in his short career. In 2004, Moneytrain set a track jumping record at Colonial Downs but then was sidelined with an injury. Sheppard put him back into work last fall and then ran him for the first time back at Iroquois (Tenn.) on May 12, where he was a nice third in soft going.
"He jumped amazingly," Hodsdon said of the Colonial race. "He jumped better than he has ever jumped for me. I think he went in short at one fence, but the rest he stood off from. He had so much more confidence than when he won here three years ago. That year he was a little timid getting to the front; this year he was all business.
"It has been touch and go with him over the years, he had a few leg issues. This is the first time we have had two races in a row with him, so we are really pleased."
Blooming Into A Winner
Moneytrain's big win put an end to trainer Jack Fisher's winning streak in the Zeke. He won in 2006 with Good Night Shirt and in 2005 with Paradise's Boss, both with Xavier Aizpuru aboard. This time, Fisher's entry for the race—Gil Johnston's Super Fame (Aizpuru)—placed fifth.
This was Sheppard's second win of the Colonial Downs summer racing season, where jump races are held every other weekend for four Sundays. Sheppard had a win on July 1, in the $15,000 maiden hurdle with Houghland's Dr. Bloomer (James Slater).
Despite the hot sticky weather, Dr. Bloomer took to the course well and by the end of the race left the field well behind to win by more than 11 lengths.
Sheppard has had the 6-year-old son of Fantasic Fellow since he was a youngster. The Florida-bred had made more than $86,000 on the flat for owners and breeders Marablue Farm, but the owners could not get to the hunt meets (or see him on television) so they asked Sheppard to look for a buyer a few days before the Iroquois meet. Sheppard knew just the owner. Houghland, who is from Tennessee, was more than happy to have a horse for the maiden hurdle race at Iroquois.
"He was second at Iroquois in the maiden race," Sheppard said of Dr. Bloomer. "He was still real green, it was very soft ground and he was an inexperienced horse with his first jump race of his life, so I could not have asked for more. Ideally, I would have liked to switch him last year to hurdles, but we had a few setbacks."
Sheppard's horse wasn't jockey Slater's only win. He and his wife Brianne have their own budding horse training business. They're careful not to put their horses up against Sheppard's when James is riding for him.
Briannee entered Second Approval in the $15,000 maiden race on July 15 at Colonial and received her very first win as a steeplechase trainer, with her husband up.
"Brianne works for Sanna Hendriks as an assistant and has worked for Bruce Miller so she has a long history in steeplechasing," James said. "Now she has the confidence to come and try it on her own."
And the Slaters are optimistic about Second Approval's future. "This was only his second jump race. If he settled more he would do it a bit easier. I think probably a novice race at Saratoga later in the summer would be good for him," James said.
More Action
On July 1, it was Beverly Steinman's Dark Equation's turn to show Colonial who is boss in the $20,000 allowance hurdle race. The 6-year-old son of Polish Numbers quickly became the favorite before post time. Ridden by Matt McCarron, the Pennsylvania-bred stayed covered up for most of the race, giving trainer Doug Fout more than a little concern.
McCarron tried to get closer to the front but had to wait for a hole in the full field at the last fence. In the stretch, it was all Dark Equation, a good 4 lengths ahead of Armata Stable's Dynaway and Cyril Murphy.
Prepping for the $75,000 Grade II at Philadelphia Park (Pa.) on July 28, Dark Equation has not stretched his legs much this year. The horse won the flat race at Carolina Cup (S.C.) March 31 and was third at Middleburg Spring (Va.). Fout likes to pick his races carefully.
"The plan has always been to run in the Pennsylvania-bred only race," Fout said. " I wanted him a bit closer to the front of the field, but Matt got it done in the end. This horse is a funny horse—you need to break him off sharp and get him in there, but you can't over push it or he won't jump well. He was boxed in the bottom turn and I was afraid he wouldn't get out of there, but he jumped great."
Dark Equation won at Colonial last year with the same bravado, but Fout noticed he had a wind problem.
"We had to do a wind operation on him last year, and I haven't had a whole lot of luck with those operations but this is one of the few that has worked. I make him run with two horses head to head, just letting him being a nose in front. He definitely likes the serious competition, because if you drop him out the back door he will pull himself up," Fout said.
This was McCarron's second win of the summer—his first came with Brigadoon Stable's New Zealand-bred Diego Cao also—for Fout—on Colonial's opening weekend June 17.
McCarron says running in a straight line is not the horse's forte. "At his fences, he is perfectly straight, however, in between he's not so straight. Part of his problem is settling. We put a different bit on him and it seemed to work well. When I called on him he was definitely there for me. But I got a little too cute around the turn and nearly pulled myself off course I was that close to the beacon. He was sensible enough and easily corrected," McCarron said.
In that same meet, Pennsylvania native Jody Petty took an outside ride for trainer Eddie Graham with Clorevia Farm's Great Gusto in the $15,000 maiden hurdle race. Although Great Gusto had other things on his mind in the paddock, the 4-year-old son of Gulch was pure professional on the course, even putting away favorite Slip Away to win by more than 3 lengths.
"He usually switches off, but at Colonial you don't want them to just turn off," Petty said. "He nearly pulled my arms out all around there. He was just cruising to the last fence. He never misses a fence."

Sarah L. Greenhalgh