The first thing Molly Ashe Cawley did after she won the $204,000 CSI****-W Longines FEI Jumping World Cup New York was hug her son, Connor Cawley.
"He's my good luck charm," she said.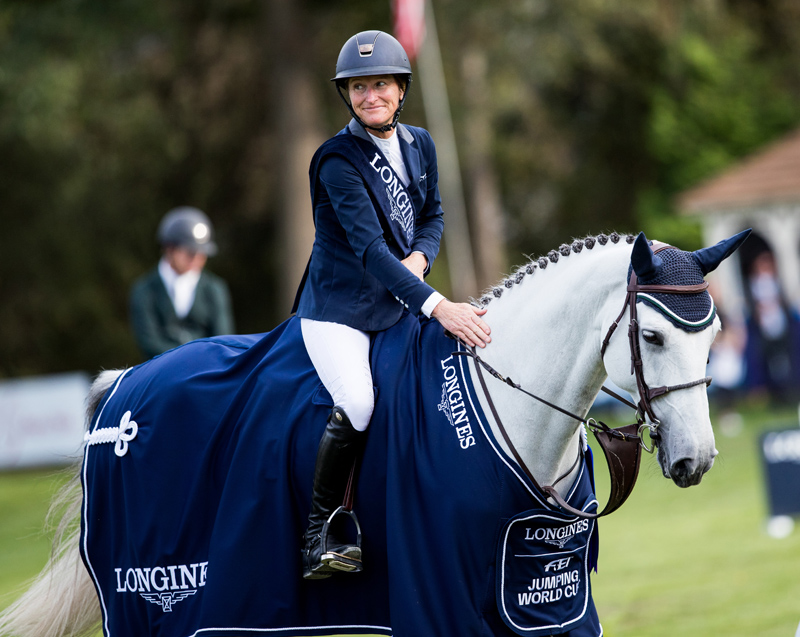 Ashe Cawley, 48, is a two-time veteran of the World Cup Jumping Final, but her dramatic victory at the American Gold Cup on Sept. 30, marked the biggest win of her career since stepping back from top level sport to raise a family. She and Louisburg Farm's D'Arnita narrowly edged Margie Goldstein-Engle claim the American Gold Cup title. The duo crossed the timers in 36.76 seconds to best Engle (36.85 seconds) by just nine-hundredths of a second. Mattias Tromp and Quinta (37.95 seconds) were third, giving the Americans a sweep of the podium.
"We've been bringing along [D'Arnita] since she was 7, and this was her biggest outing so far to date," Ashe Cawley said. "She answered all the questions, rose to the occasion and gave her all. It means a lot to win a class of this magnitude again. It's been a long gap period, I'd say."
Alan Wade, fresh off designing the show jumping tracks at the FEI World Equestrian Games (North Carolina) masterfully set a course that saw seven combinations advance to the jump-off from a starting field of 38. After rain plagued the venue earlier in the week, there was some cut in the ground, and Royce slipped on his hind end when spinning back on a turn back to the jump-off's third fence, costing them some time. Ashe Cawley attributed her win to the time she made up on that turn, along with her mare's superior display of will.
"It's by far her biggest win so far. I hope there are many more to come, and I think there are plenty more to come," she said. "She's just a super, super horse. Every time she wins, it means a lot to us. She's a fighter and class act, and I'm super excited to have her."