Wellington, Fla.—Feb. 5
Grand prix action for Week 4 of the Winter Equestrian Festival moved over to the grass derby field at the Palm Beach International Equestrian Center and Todd Minikus and Babalou 41 sped to the top in Sunday's $216,000 Ariat® Grand Prix CSI 4. Minikus topped a three-horse jump-off over Olympian Sergio Alvarez Moya of Spain and G&C Unicstar de l'Aumone in second, and young U.S. rider Jennifer Gates riding Pumped Up Kicks for third.
The 12-year-old Oldenburg mare (Balou du Rouet x Silvio I) showed her experience of competing around the world by heading onto the impressive field for the first time this season and putting in two faultless efforts.
"This was hard because they had to walk out here for the first time and be right on their game," Minikus stated. "You needed a little bit of an experienced horse, so it worked out for us. This was a four-star, and I think it was built as a proper four-star. It was difficult enough, and we had beautiful weather. That field is beautiful when you stand up there on the hill and look out there. This was always the best polo field in maybe the world, and the footing still seems quite nice."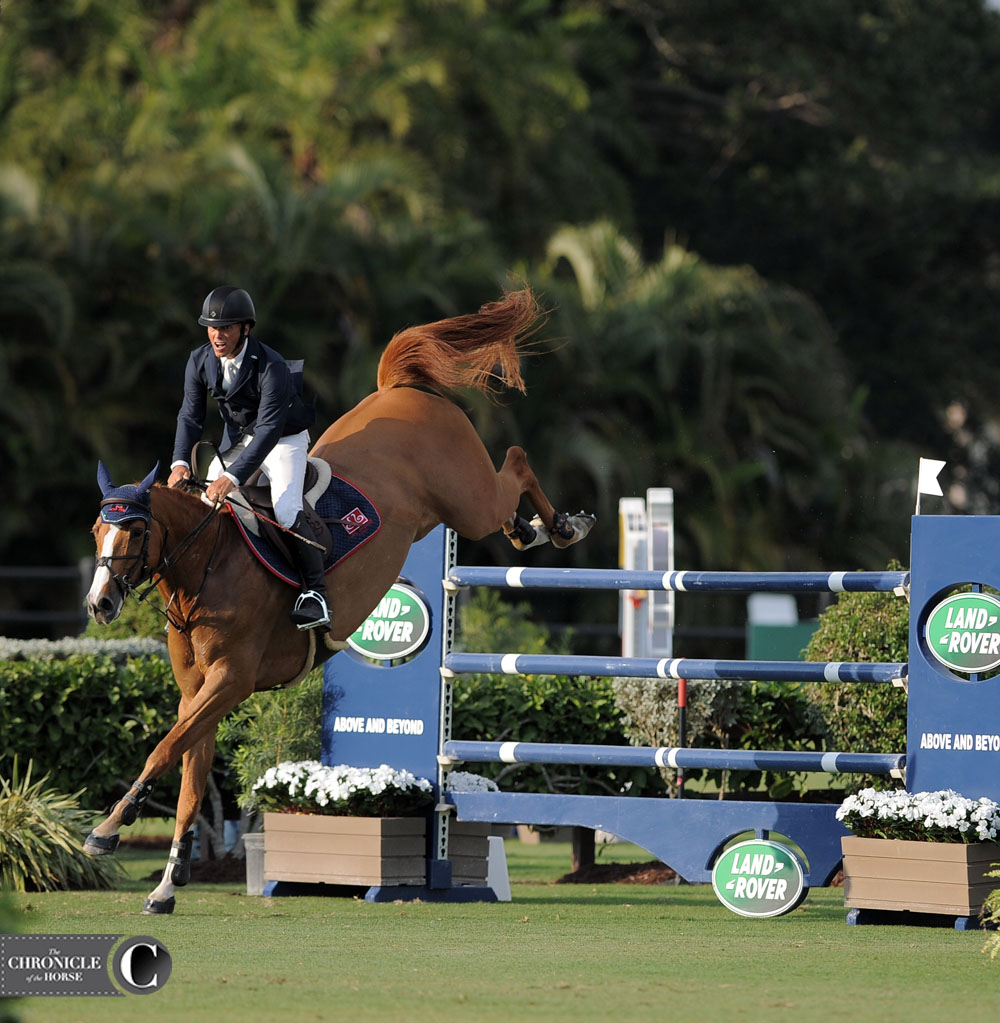 Todd Minikus on Babalu 41. Photo by Lindsay Berreth
First to jump clear in round one, and first to jump-off, Gates guided Evergate Stable's Pumped Up Kicks through the short course in a steady time of 51.28 seconds, incurring 2 time faults to earn the third place prize.
Sergio Alvarez Moya was next to go with G&C Farm's Unicstar de l'Aumone, clearing the jump-off track in 40.30 seconds. Last to go, Minikus and Two Swans Farm's Babalou 41 took the win, racing through the timers in 38.79 seconds.
G&C Unicstar de l'Aumone is just 9 years old, but the Selle Francais mare (Ninio de Rox x Timorrak des Isles) has experience winning on the grass. She and Moya topped two Sparkassen Youngster Cup Qualifiers at CHIO Aachen (Germany) in 2016.
"She jumps very good on grass or sand," Moya noted. "I was in this grand prix seven or eight years ago, and I love the ring. I like the mare very much and I thought it was a really good place for her. She jumped amazing, and I am happy with her."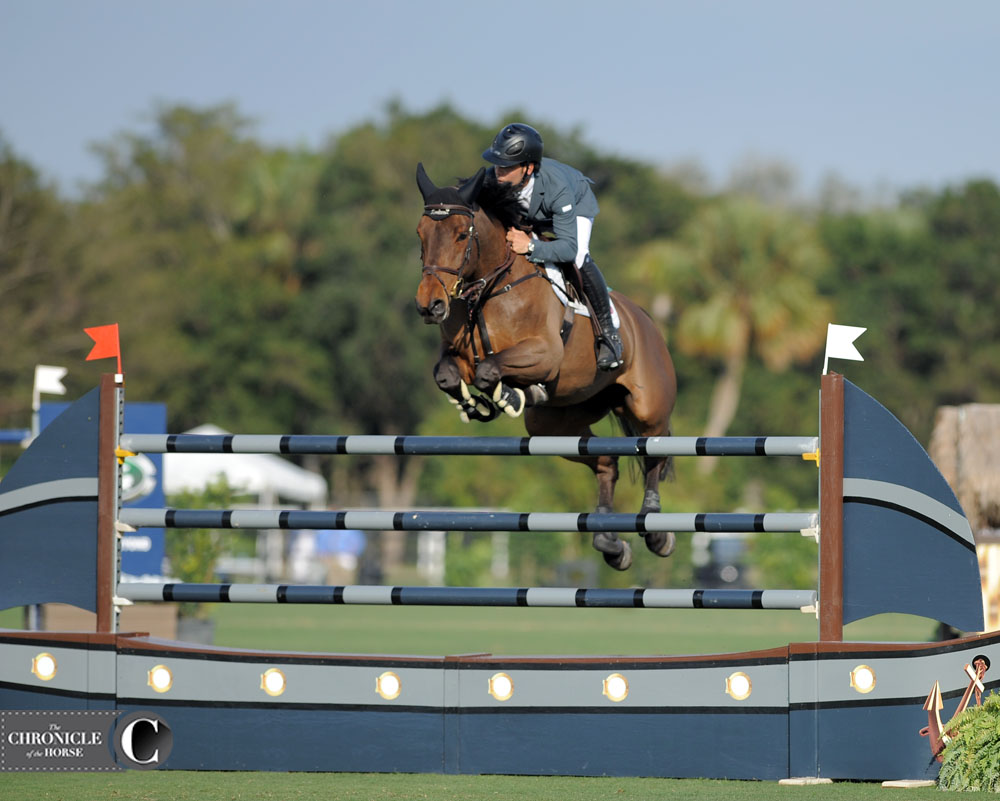 Sergio Alvarez Moya with G&C Farm's Unicstar de l'Aumone. Photo by Lindsay Berreth
Gates earned the Leading Lady Rider Award for Week 4, presented by Martha Jolicoeur of Douglas Elliman Real Estate, after Sunday's top finish, and a sixth place in Thursday's qualifier. She was thrilled with Pumped Up Kicks, her 14-year-old Brandenburg gelding (Levisto x San Juan).
"I am over the moon," Gates smiled. "I did him in some Under-25 classes last year out on the grass field, and he was amazing. I am ecstatic with how he jumped today. It took an experienced horse for that course, which I definitely had.
"I knew these two were going to be faster than me, so my plan was to try and have a clear round and put the pressure on a tiny bit in case they had a rail, which of course they did not," Gates continued. "This past Thursday I was sixth in the WEF Challenge Cup qualifier, and that was my biggest accomplishment with this horse so far, so to come out here and be third was a huge deal. I am thrilled to be third in great company."
See more photos from the class and find full results here.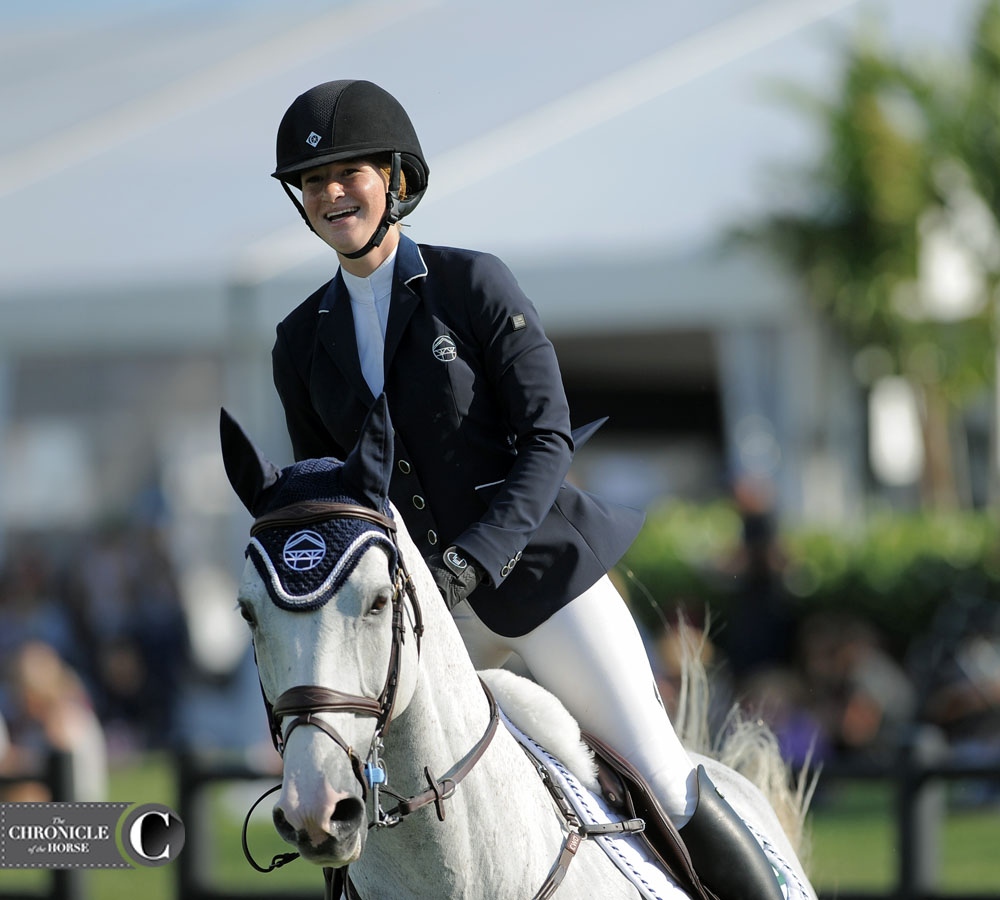 Jennifer Gates was all smiles after her third place on Pumped Up Kicks in the $216,000 Ariat Grand Prix. Photo by Lindsay Berreth