Lexington, Ky.—May 3  
If you thought going cross-country with a horse was all about muscle, think again.
Sure, it requires an incredibly fit and ready horse to gallop and jump big solid obstacles out of stride, but it also takes a thinking horse and thinking rider, and it's that part of the equation Olympic medalist and four-star winner William Fox-Pitt focused on with riders in his clinic at Valley View Farm in Lexington, Ky.
They can pump iron in their own time—while they were riding with Fox-Pitt, he was much more concerned about getting the horse's mind engaged and getting the rider thinking about their plan for successfully tackling the obstacles. As Fox-Pitt said in the first day of his clinic, the warm-up is a very important part of pulling off a good cross-country course.
"In England a lot of our events will be all on the same day—you'll do dressage, stadium and then cross-country, so your cross-country warm-up doesn't need to be very involved," Fox Pitt explained. "I'll jump two or three fences and go. The first five fences on course should be like a warm-up anyway.
"People get nervous and they want to jump 10 or 15 jumps in the warm-up," Fox Pitt continued. "You have to know and do what is best for your horse."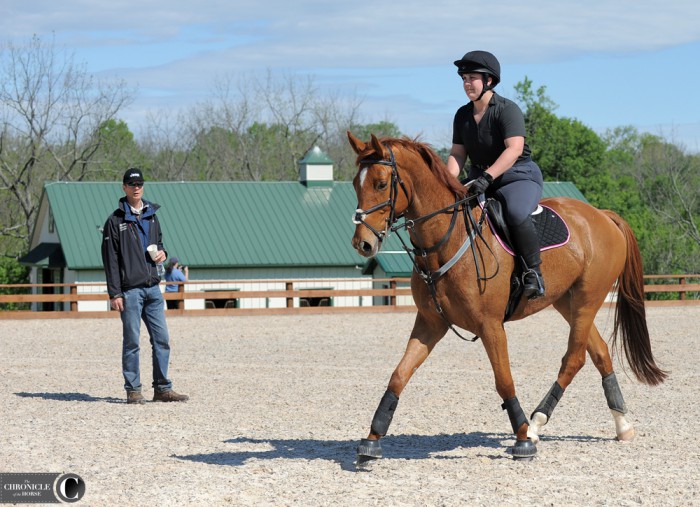 Regardless of the level of rider in the clinic, Fox-Pitt requested they all start out trotting a simple show jumping fence set up in the field.
"I'm a big believer in trotting fences," Fox-Pitt said. "There's a lot of insecurity in the trot. You don't know when they're going to jump, so you have to stay loose and go with them."
And if you're not relaxed and going with them, you're getting left behind and met with a correction from Fox-Pitt.
"I want you to be like jelly," he told one rider whose horse was quite spooky and had stopped a couple of times at a ditch before leaping over it and catching her behind the motion. "Don't pinch with your knees, go with him. When he goes, you have to go with him."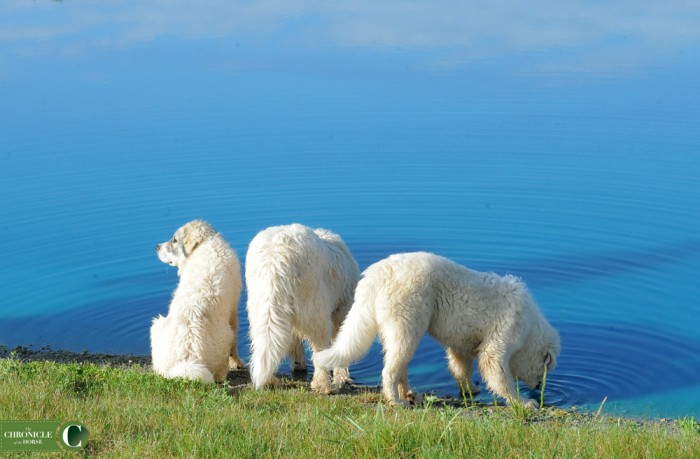 There was a lot to look at in the beautiful cross-country field at Valley View Farm—the water was freshly dyed a cheery sky blue, the fences were new to most all of the horses, and throw in the 30 odd spectators milling about and it provided enough atmosphere to set more than a couple horses and riders off their game. When things started going wrong and a rider was dealing with a horse that was stopping, Fox-Pitt was quick to correct a common mistake they were making.
"Don't lengthen the reins when you feel like he's about to stop, keep the contact," Fox-Pitt said. His oft repeated phrase was directing riders to get their horse to "commit down the rein," to feel like they were taking the rider to the fence versus sucked back and being shoved at it.
The other error riders on sticky or spooky horses were making was in thinking speed would solve the problem. We can all admit to falling into this trap—maybe if we just take a great running start at that spooky fence, they'll fly over it! Fox-Pitt wasn't having any of that flawed amateur logic in his clinic.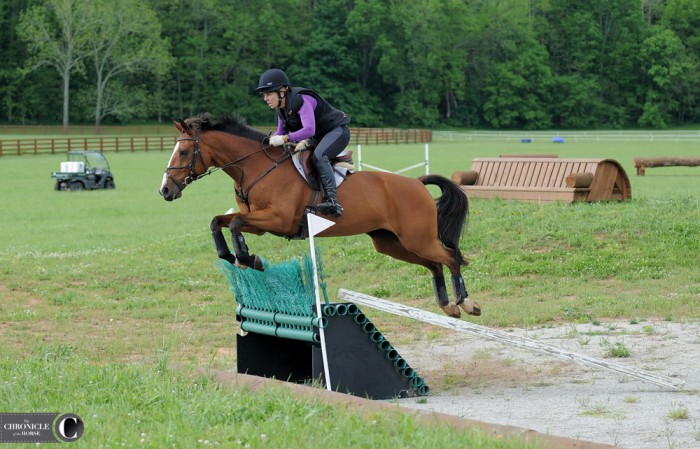 "Get in on the short one," he shouted at one rider trying to convince a horse over a table. "We don't want long floaty strides when they're spooky, we want short and bouncy."
Riders needn't worry about running through related distances to get strides done either—Fox-Pitt laughed and remarked to himself, "I don't know why we walk courses" after watching two riders go through a line one after another, one getting four strides and one getting five and both completing the exercise beautifully.
"If I had said it has to be five I would be wrong, and if I said it has to be four I'd be wrong," Fox-Pitt said. "It's whatever you need; you have to be reactive and ready."
There were a couple of horses really on the muscle and excited for cross-country day at the clinic, not unlike a horse excited for cross-country day at a competition. Fox-Pitt told these riders not to fall into the trap of jumping their horse's legs off to get them quiet for cross-country.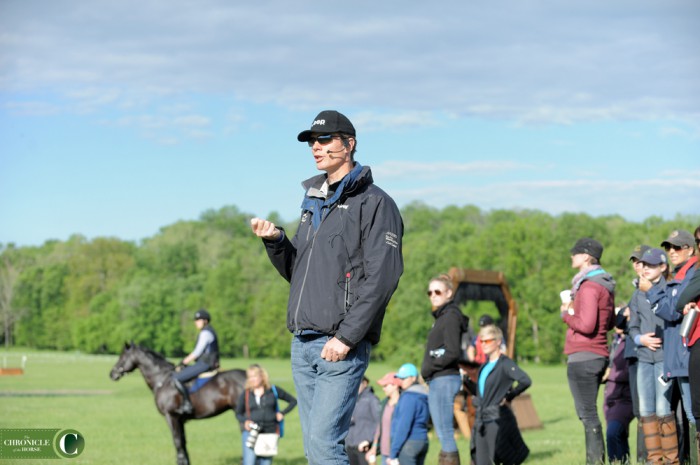 "I would say is getting the horse to be relaxed is the most important. Quite often horses are strong because they aren't relaxed," Fox-Pitt said. "You need to be thinking in the warm-up, 'Maybe I should warm up a bit away from the start, away from the people, maybe he needs a damn good canter and to take a deep breath.' It's all about knowing your horse, and very often we tend to do too much warm-up and get them more and more wound up."
There were a few young or green horses in the field, and Fox-Pitt had specific advice for them—not specific demands like he did for the more experienced horses, but more general mindsets he wanted riders to encourage in their greenies.
"I want them to look where they're going when they're young and get on it with it. I want to see their ears lock on the fence," Fox-Pitt said.
When one horse got quite nappy in the corners and started making a fuss about going forward at all, Fox-Pitt yelled across the ring "Get on with it!"
"I want to hear your kick," Fox-Pitt said. "Give him a good Pony Club kick, and don't swat—give him a good smack with the stick."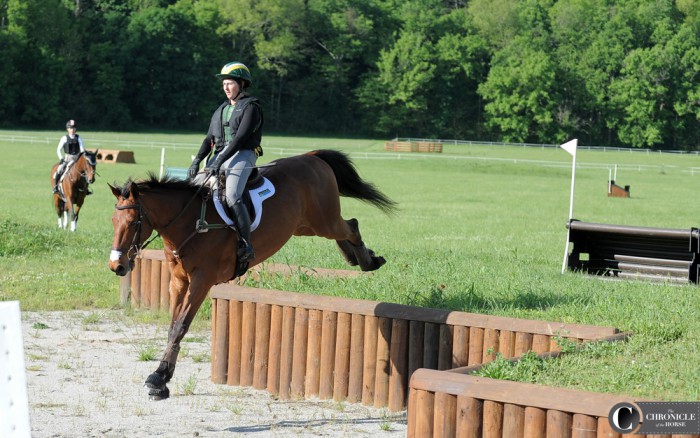 Instilling that sort of "do your job" attitude was important to Fox-Pitt, as was allowing the young horses to take initiative and take care of themselves a bit when the distances got deep or the lines tight.
"When you're jumping small fences I'm a big believer in not giving them the full stride in the distances," Fox-Pitt said. "I won't set fences on a 12-foot stride when the jumps are small; they need to learn to sort themselves out a bit."
The worst thing a rider can do when their horse is having a learning moment over fences? Try and help. Think of it as the mother who insists on always cutting their toddler's food—that toddler is going to move on to higher grades and bigger lunch tables and have a rude awakening when mommy doesn't show up with her fork and knife.
"I want him to learn if it's not quite right how to sort himself out," Fox-Pitt said. "Don't interfere and make it your mistake. If you try to help him and it goes badly, then it's your mistake. If you set him up in rhythm, in balance and present the jump to him and he makes a mistake, that's on him.
"And don't be frightened of mistakes," Fox-Pitt added. "Young horses make mistakes. Sometimes when it goes wrong you learn more and get more out of that than when it goes right."
And one last Fox-Pitt tidbit—he hates loose ring snaffles on cross-country.
"You're all wearing them, aren't you?" he remarked with a laugh to one of his clinic groups. "I learned this from Ian Stark and I stole it and have been using it ever since, I don't like the loose ring on cross-country because it moves about in their mouth and you lose them in the turns. I prefer a full [cheek] snaffle. I want something so when I go to turn I'm not pulling the bit through their mouth."
If you must use a loose ring, Fox Pitt said at the very least there should be rubber stoppers on it.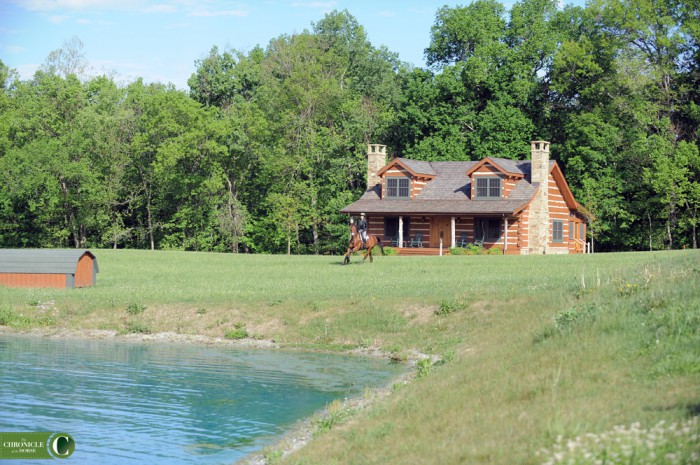 Read all about Day 1 of the Lexington William Fox-Pitt clinic.