Lexington, Ky.—Aug. 10
If it were possible to have a perfect start to the U.S. Pony Finals Mimi Gochman came close. Her week started with a win in the large pony model yesterday and a third in the under saddle. She followed it up with a win over fences to take home the championship with Storyteller. Gochman scored a 259.5 over fences, which tied Gabrielle Roderick on Hidden Springs Woodstar, but a higher score from the judging panel three gave her the blue.
"I was reserve last year in the mediums," said Gochman, who hails from West Palm Beach, Fla. "I was happy with the reserve last year, but I'd never been champion. It's a great honor to be champion especially with such a great pony. He's always there, and he always helps me out, so that was really nice."
Gochman first paired with the 13-year-old German Sport Pony owned by Fair Play Farm in 2014 and they've built their relationship from there. While Gochman primarily shows the pony, she does occasionally hand the reins over to her sister Sophie.
"She really likes him, and we all love him so much," said Mimi. "He's a sharing pony. Everyone can ride him.
"He's sweet, very sweet," said Mimi. "You can always go in his stall and cuddle. He loves treats. So you should probably go in there with candy or something. And the grooms all love him. He's very easy, not complicated. He's a pretty all around just settled pony."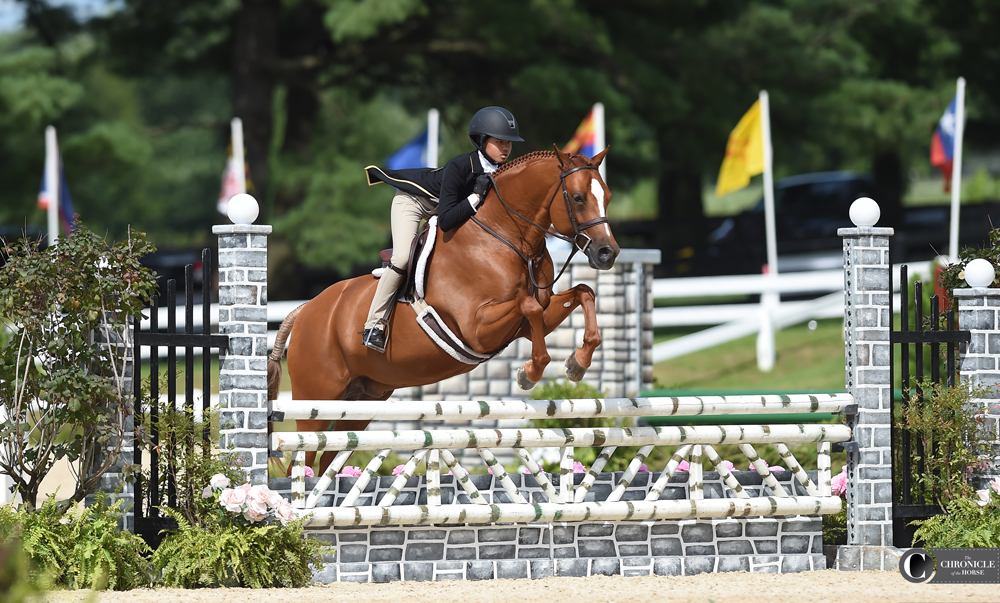 Mimi Gochman took home her first championship at Pony Finals with Storyteller in the large pony hunters. Photo by Kimberly Loushin.
Though she's only 11, Gochman can analyze her course with the best of them. The Bobby Murphy-designed course offered riders two options, an outside bending line that had two sets of fences and then the final fence had two options in a bending line.
"My first line, I got there a little long, but he jumps from the long distance pretty well and you have to make sure to stay over," said Mimi when asked to describe her round. "After that I had to get my pace up a little more. The seven was easy. The two was very easy and then I had to regroup for the five to the end jump. The five to the end jump were good and then I had to really get it back together because it's kind of a blind turn to the last end of the line and I just had to relax to the last jump.
"[My trainer] Scott [Stewart] had an idea that we could just flow in a little bit in the going 10, so we could sit there and let their heads down and let them go," she continued. "I think that's a better idea than having to run up for the 10 on the outside or running on the inside to the nine. The 10 was just a nice canter down the line and he'd jumped it better than a flatter jump, so it was a good idea. The inside jump is better for that."
Though Mimi had a good start to her Pony Finals she still has plenty to do. She's got a pony in both the regular smalls and mediums with two green ponies later in the week. While "Story" might have upped the ante, don't bother asking Mimi which pony is the best in her eyes.
"They're all my favorite. I love them all. They're all perfect," she said.
For more pictures from the large pony hunters, see our gallery here.
See full results here.
Want more Pony Finals? Read about Riley Hogan who made her way to Kentucky via the hunt field.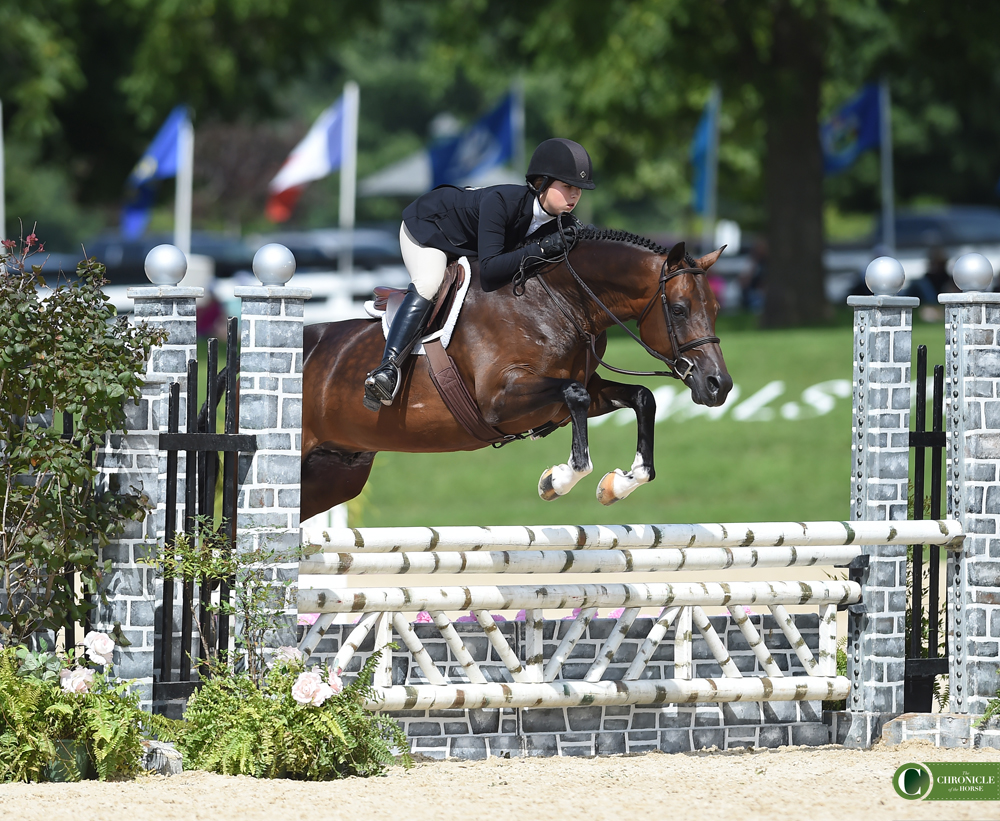 Devin Seek rode Garavani to the reserve championship in the large pony hunters. Photo by Kimberly Loushin