Lexington, Ky.—Sept. 4
Mary Millhiser had a message for all older eventers today after she took her victory gallop in the novice master amateur championship with My Boy Tex—you're never too old to enjoy the sport.
"Just a shout out to all of us of a slightly more advanced age," she said with a smile. "I will be 68 in December. I've competed as far as prelim, I've done training with 'Tex'—who knows, maybe I'll be able to do more with him. This is the best I've ever done. Just keep on keeping on. Just keep on bringing [your horses] out and keep going."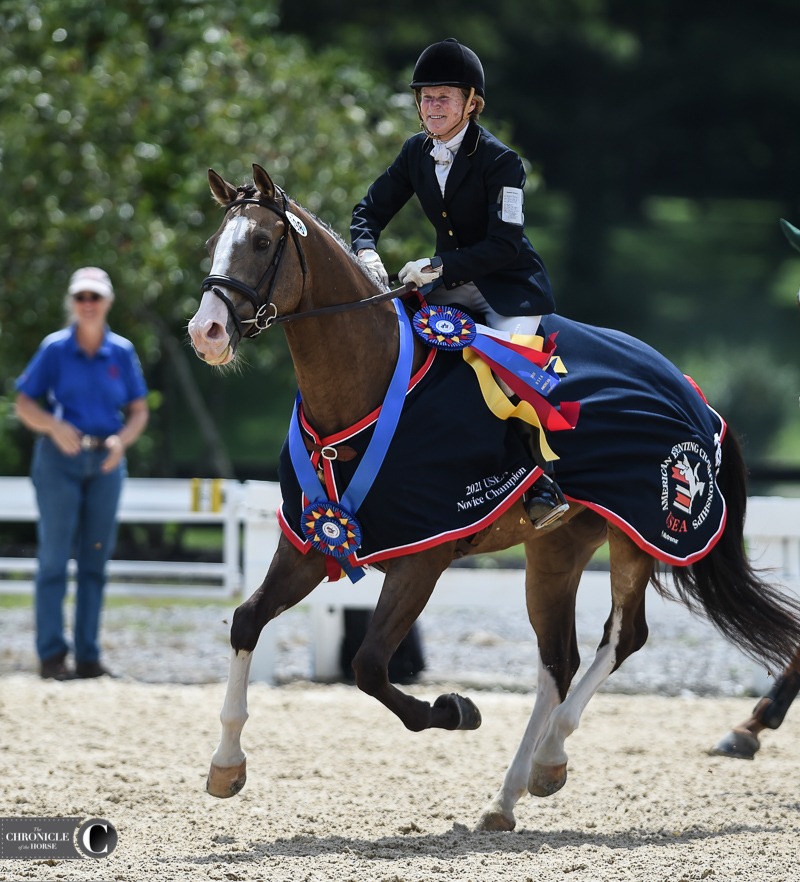 Millhiser, Richmond, Virginia, was born horse crazy, and got into eventing in college in the 1970s. She took an 11-year break to get her career in finance started in New York City and returned to riding in the late '80s.
She enjoys foxhunting too, although not with Tex, a 15-year-old Paint-Thoroughbred gelding (Noble Houston—Take It To The Gold). She's been partnered with him since 2013 when she bought him from Dom and Jimmie Schramm.
"Like with all horses, we've definitely had our ups and downs, but I feel like at age 15 he's finally hitting his stride. I'm very excited. Just thrilled," she said. "[The weekend] exceeded all expectations. I never dreamed I would be leading the charge, or even the lineup quite frankly. I am thrilled and amazed beyond words. It's incredibly meaningful."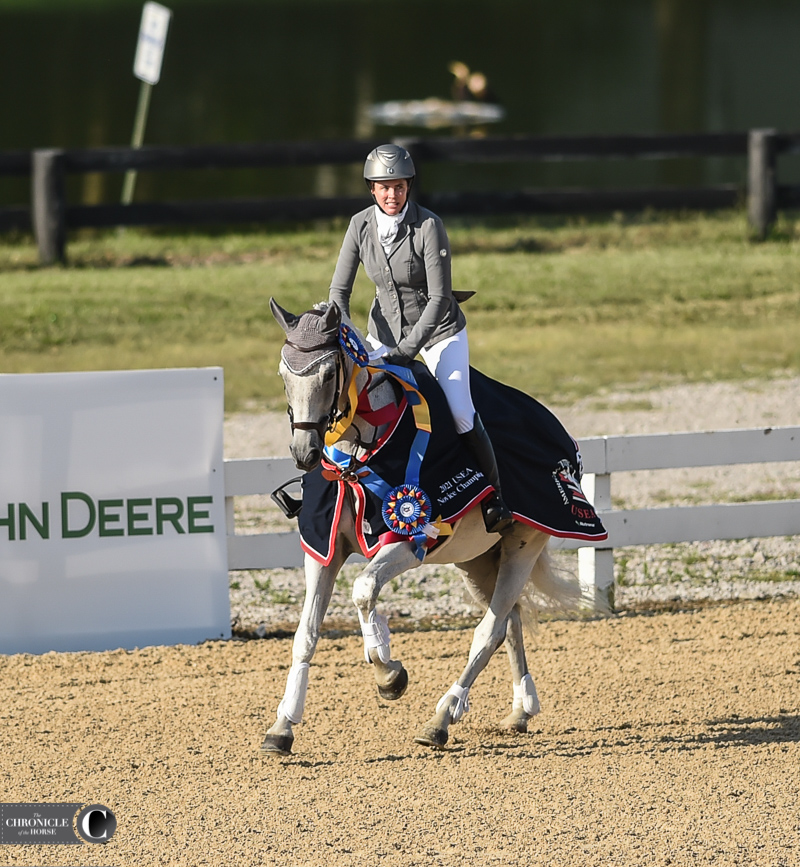 Jane Musselman's only been partnered with Bentley's Best since December, but she's made fast friends with the former upper level horse. They won the novice rider championship on their dressage score of 24.2.
Formerly campaigned by Jessica Phoenix at the advanced level, the 14-year-old Trakehner gelding (Hirtentanz 2—Baronesse XIII) has taken to his new job as schoolmaster well.
"It's incredible," said Musselman, of Louisville, Kentucky. "I would have never expected it. He's a wonderful horse, and this is our fourth event together ever. Lucky to qualify and that we're here, and to win it is just icing on the cake.'"
A mother of 7-year-old twins, Musselman balances being a mom and eventing her group of horses. "Everything Jessica did with him—he's the perfect horse. I couldn't ask for anything else. He's such a workman and knows his job and loves his job, so every phase is fun," she said.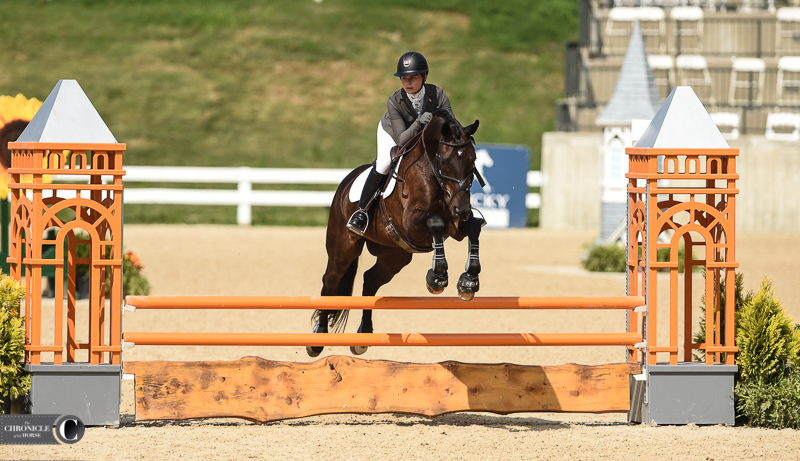 Mia Brown and Duke HW came all the way from California to take home the novice junior championship.
"I'm so happy we made the trip," said Brown. "The Horse Park is so beautiful. I'm just so over the moon to be here. It was such a fun experience."
She's been partnered with the 11-year-old Oldenburg gelding (Delatio—Stella Girl) for a little over a year.
"It was a little nerve-wracking, but I think the big atmosphere ultimately helped with the nerves," she said of her show jumping today. "Duke really loves it. The cross-country course was amazing. It was our third time on the grass and our first time with studs. Everything rode really well. The big arena—it still hasn't really sunk in that I just went around the Rolex Arena, but it was really amazing."
The pair's earned six blue ribbons in competition before this weekend. "He is super fancy on the flat and the most honest horse I've ever met," she said. "He really puts his heart into everything he does. He's such a packer. I'm so in love with him."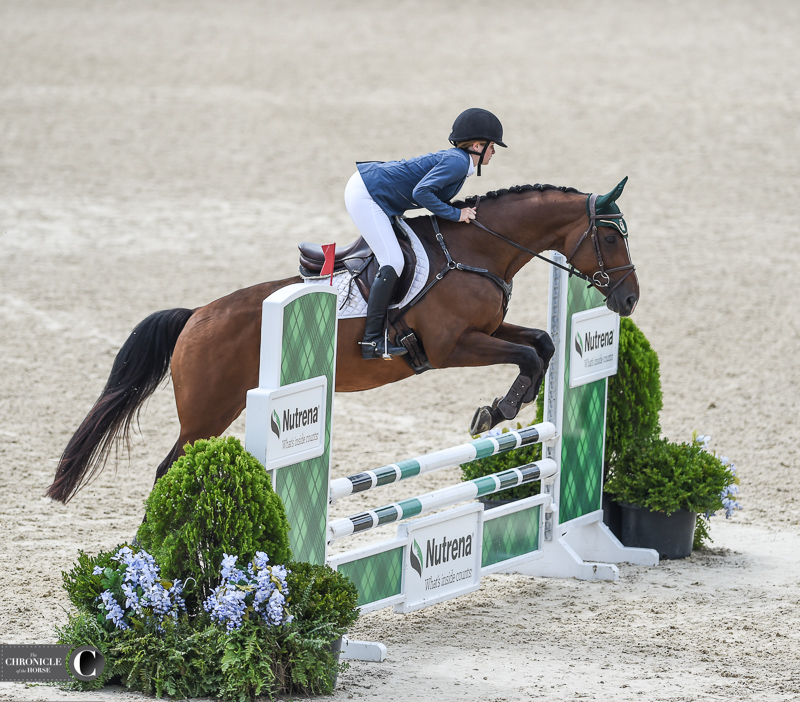 Margaret Frost and Euro Star led the novice junior, 15 & under championship from start to finish.
"It feels really great," she said. "I haven't had this horse for very long, and I thought he was amazing throughout the whole thing. Us as a team, we just kind of went through with it and did our best, and that's all we could have hoped for."
She said trainer Julie Richards gave her some simple advice before going into the ring today: "Keep your leg on and make sure he gets over every jump the first time."
Since Frost bought Euro Star, a 12-year-old warmblood gelding (Qredo Van De Kempenhoeve—Panama), they've had some ups and downs. "We've had some hiccups in our training, but they're all good things to learn from," said Frost. "I think we both keep each other on our toes, and we love to do what we can with each other and hopefully just go as far as we can."
Full results I Live Stream I COTH's Coverage I Schedule I Course Maps
2021 AEC - Saturday
Lindsay Berreth / Sep 4, 2021 7:11 pm