The Arizona veterinarian and her talented homebred gelding finish first in the long-format CCI*.
In her decades of eventing experience, Jennifer Miller has learned to fill many roles. Whether the jet-setting Canadian veterinarian is volunteering at the Rolex Kentucky Three-Day Event or breeding sport horses on her farm in Cave Creek, Ariz., she's never at a loss for work.
But at the Galway Downs CCI*, held Oct. 30-Nov. 2, a delighted Miller proved she's not at a loss for competitive prowess either. She and her homebred gelding Jeepers made the long trip to Temecula, Calif., worth their trouble when they topped the long-format three-day on their dressage score.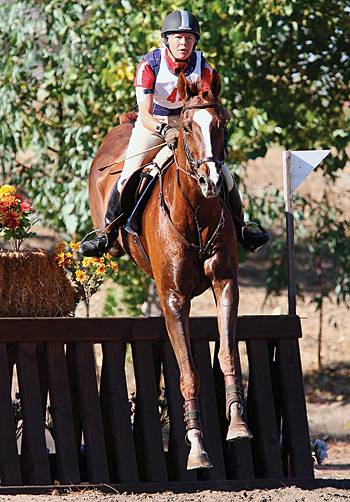 "Jeeps," by the Hanoverian stallion Pikadero, is the second in a line of horses Miller has bred out of her Thoroughbred mare, Illini Moon. Miller also competed one of his younger half-siblings, Whizbang, at Galway, placing seventh in a training division. While Whizbang won the Area X training championship two weeks earlier, the spotlight at Galway belonged to her stablemate.
"I raised him, broke him, and now I get to compete him," she said of Jeeps, an 8-year-old registered Oldenburg. "He's been a pretty spectacular horse right from the beginning. I've waited a long time for a horse like him."
For Miller, the choice to enter the long-format one-star was easy. She still believes the classic test prepares horses better both mentally and physically and thinks the ever-energetic Jeeps is better suited to the long format. Miller said the highlight of Galway was simply "containing his enthusiasm." The pair placed third after dressage with a mark of 48.9.
On Saturday, dressage leaders Jennifer Strauss and Another Fable retained their overnight score, but second-placed Susanna Holder earned 7.2 time faults on steeplechase and another 1.2 on cross-country with FDF Riverina. Meanwhile Jeeps, who despite his 17.1-hand frame is quite catty and light on his feet, ate up Ian Stark's forward course to take over second place.
"He moves like a warmblood, but he's built more like a Thoroughbred—quite leggy," Miller said. "He's very agile. He had the most fun on steeplechase—he steeplechased like a bomb. He'd never done that before, and he thought that was pretty cool."
With a double-clear show jumping round on Sunday morning, Miller kept the pressure on Strauss. So when the leader pulled one rail to drop to second, Miller earned the lead in the victory gallop.
"I was so happy with his show jumping," Miller said. "He was very attentive and careful, and he really used himself well over the fences. It was nice to know that he felt that good."
Miller, who trains with Frederic Bouland, moved from Quebec to Arizona 15 years ago for an internship with Kent Allen at the Arizona Equine Medical Center and started her own sport horse practice soon afterward.
"That was the first winter of my life where I didn't freeze my hands and feet," she said, laughing.
Trading snow squalls for sweltering summers seems a tossup, but Miller often manages to avoid the worst of the Arizona heat waves by supporting Canada's riders at international championships. In capacities ranging from volunteer stable help to official team veterinarian, she's served at four Olympic Games, three Pan American Games and countless Rolex Kentucky CCIs.
"People always ask me how I'm able to take so much time off from my practice, but June, July and August here are like the dead of winter up north," she explained. "There's not much going on. All the competitive horses have left town, so when I have the opportunity to go somewhere instead of staying home and sweating for a couple of months, it's good!"
This year Jeeps enjoyed a summer break while Miller spent almost seven weeks on the road as Canada's Olympic dressage team veterinarian.
"I got home from Hong Kong and just decided I needed to get back in shape and get going, so I made Galway my goal," she said. "I started putting him back to work, and he seemed to not have too much difficulty with it, so off we went!"
After three years at the level, Jeeps is a confirmed preliminary packer, so Miller is weighing her options for the future.
"I'm very comfortable competing at preliminary, but I've been [doing it] for too long," she admitted. "He certainly
has the ability [to go intermediate], but it's very difficult to get the time and to get it all put together. I'll have
to see how I feel about it in the spring."
As a busy professional, Miller thinks her young mount's potential is only limited by his rider. But she has plenty of equine experience in and out of the saddle, and her riding skills aren't limited to just the English disciplines. She's evented since her young rider days but took an interest Western riding and competitive cutting after moving to Arizona.
"I had a period of time where I didn't really have an event horse because I was waiting for my young horses to get of age, so I competed on cutting horses locally and had a lot of fun," Miller said. "It's kind of opened up a whole new world of horsemanship. It's a different direction, but it's all part of the same thing."

Crusty, But Not Rusty
In the past year and a half, Anna Collier and Uppercrust D have earned top-five finishes in two CCIs, so the Ridgefield, Wash., professional was thrilled to finally finish on top of the two-star leaderboard at Galway, particularly since she was eliminated on cross-country at her last outing before the event.
"I wasn't initially planning on competing at this event because I had already done four other trips down to California," Collier said. "But after our last outing at Twin Rivers [Calif.], where we misjudged the up bank bounce in the water, my coach John Camlin felt it was a necessary outing. Good thing I listened!"
Collier, who trains out of her mother's Vossenberg Farm in Ridgefield, imported "Crusty," a 7-year-old Dutch Warmblood gelding, from the Netherlands with the help of her uncle and co-owner, Wim vanDoorn. She brought him up the levels herself but has hit a few rough patches on cross-country since they made the jump to advanced this summer.
"Our advanced outings were definitely rusty on my part," Collier admitted. "I didn't give him the ride he needed. As I continue, I hope to ride him to his capacity.
"[At Galway], Crusty was fantastic," Collier added. "Our only risky moment was the corner in the second water where I was too conservative on the way in. Lucky for me, I know he can trot a four-foot oxer, and he really came through for me there. He touched down on the corner, but it didn't faze him."
Adding just 1.2 time faults to their dressage mark of 50.6, Collier and Crusty rode into show jumping in second place. They eased the pressure on the overnight leaders with one rail down, so when Tamra Smith and Gallipoli II knocked three poles and garnered 7 time penalties to drop to ninth place, Collier was shocked to learn that she'd clinched the win.
"Crusty was quite fresh, and our rail at fence 2 was a fluke," Collier said. "I remember thinking in that moment, 'Oh well, I won't win, but I won't let it ruin this event for me.' But it was Crusty's turn and proof that eventing isn't just about the dressage."
A Lady Always Knows
After a long hiatus from eventing, Robyn Fisher's former advanced mount Lady Calido showed she was back in form by easily winning the short-format CCI* on her dressage score of 43.9.
Fisher, Topanga, Calif., qualified by placing third at preliminary at Galway in February, but before that, she hadn't completed an event on the 12-year-old Holsteiner mare since 2006. She injured a tendon that fall, and after recovering, Fisher transitioned her to the jumper ring. But this year Galway tempted her.
"I did a derby class with her five weeks ago and decided she needed to event again," said Fisher. "This wasn't planned."
In second place after dressage, Fisher was thrilled to get back on the cross-country course with "Cali," and said she grinned from ear to ear as they tackled the "technical and difficult but forgiving" track. With their show jumping expertise, they predictably logged a clear round on Sunday as well.
"Having her back is better than your first crush," Fisher said. "She's the horse of a lifetime for me, and I'm so lucky to have her. I have a very special bond with her, and it's something I've yet to find with another horse.
"I think I'll continue to do both eventing and jumpers but just be very selective about where she runs," she continued. "I want to protect her. I don't have any huge plans, I just want to continue enjoying and learning from her. Maybe [she'll] have a few babies in the next few years."
Kat Netzler