Emily Miles will represent the United States at the Longines FEI WBFSH World Breeding Dressage Championships for Young Horses in Ermelo, the Netherlands, Aug. 1-4, with Sole Mio and Daily Show. 
"Leslie [Waterman, the owner] knew she wanted to invest in a younger horse when we started looking in 2014 or 2015," said Miles. "So you could say we were buying these horses with the goal in mind that they would be the quality of horse to represent the U.S. in international competition one day, but you never know. We really started putting it together when we were in California this winter. Christine Traurig was there, and she felt they were both worth trying for it."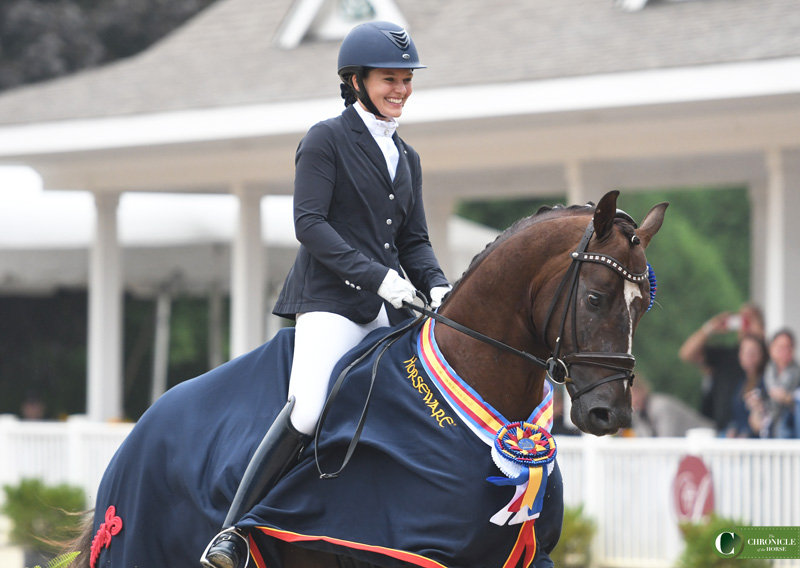 This won't be Miles' first trip to the competition. She rode in the 2010 championship in Verden, Germany, with her own stallion, WakeUp, when he was 5. The United States did not send representatives to the World Breeding Dressage Championships in 2018.
Miles, 31, based at Wally Woo Farm in Paola, Kansas, has been training Sole Mio (Stanford—Donna-Rafaela, Donnerschwee) and Daily Show (Danciano—Schwedenlady, Stockholm) since they were bought and imported by Leslie Waterman as 2-year-olds. Both Hanoverian stallions, now 5, have placed first or second in every rated competition they completed this year, and Sole Mio was the 4-year-old champion at the 2018 Markel/USEF Young Horse Dressage National Championships (Illinois).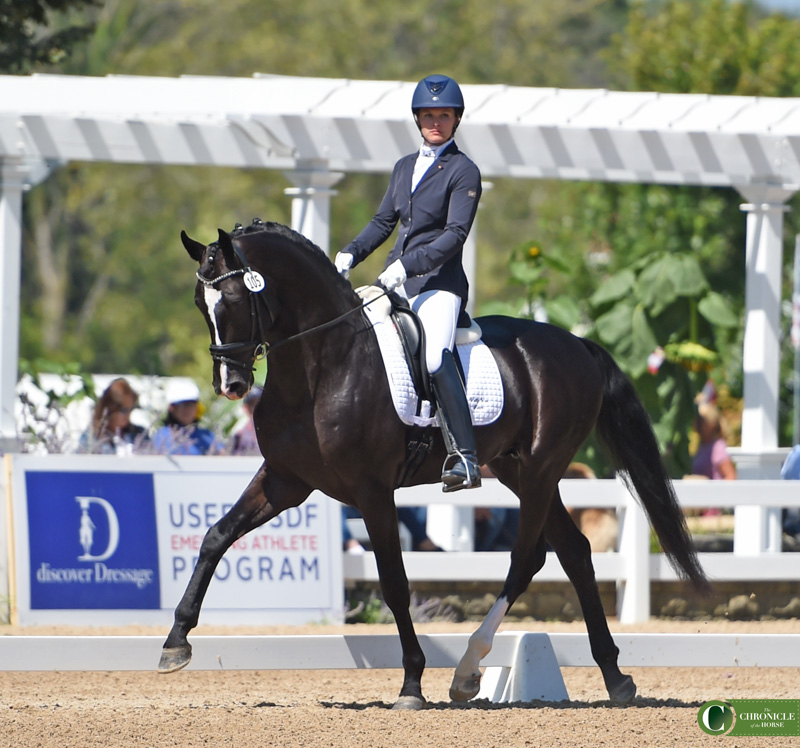 "The goal was always to take both of them," Miles said. "I'm not sure we would have gone with just one. It's an incredibly expensive trip, so it justifies the cost more to bring both. When I went with WakeUp I thought it was the most inspirational experience I've ever had. The atmosphere over there is so different; everyone is so wrapped up in the young horses and the breeding. If I can go over there and my horses stay happy and sound and healthy and we can do a good job representing the U.S., then that's fabulous. If I can come back better educated about young horses and inspired by seeing and being able to immerse myself in it, that would almost be more important than competing in some ways." 
Miles and her team will spend a month training in Verden to prepare for the competition. Miles wants to give the horses ample time to recover from the journey, while also taking advantage of their proximity to a wealth of trainers. 
"I especially want to thank Leslie Waterman," she said. "I have Grand Prix horses from her that she's developed from foals. It's really something to invest in a young horse, and not only in their upper-level career but in their development. That's special, and I wish we would see more owners investing in future stars for the U.S."