She and her longtime partner clinch the CIC*** victory in their quest for an Olympic bid.

If you had asked Gina Miles what she'd do next after winning the CIC*** at Galway Downs, her answer wouldn't have been anything along the lines of, "Go to Disneyland." But that's only because she had already done so as a precursor to the event, held March 28-30 in Temecula, Calif.
"We went to Disneyland on Tuesday and the Wild Animal Park on Wednesday before the event started," explained Miles. A mother of two, she made sure her win at Galway with McKinlaigh was a family affair. The pair followed up their individual bronze-medal performance at last year's Pan American Games (Brazil) with a win in the three-star at Galway by a margin of nearly 14 points.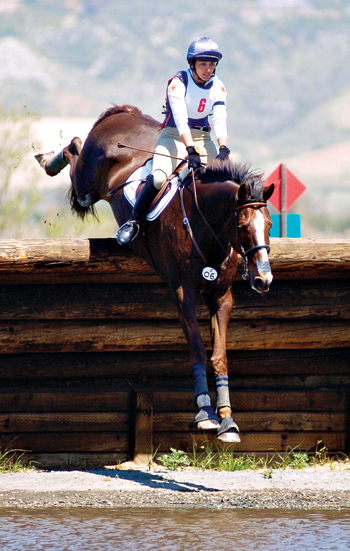 With the Rolex Kentucky CCI**** and the Olympic Games in her sights this year, the 34-year-old from Creston, Calif., said she's making every effort to balance her riding and her home life.
"The kids are 2 1⁄2 and 9, so there are a lot of demands on my time," Miles said, laughing. "You have to let a couple things go, like cleaning the house. And [my young daughter] Taylor helped us paint jumps last week, and there's still paint in her hair. Things like that."
The family was on hand to cheer Miles through her victory gallop on Sunday afternoon after she and McKinlaigh finished on their dressage score of 47.0. They led the field after the first phase and put in a flawless cross-country round over Ian Stark's newly-designed course on Saturday.
"He's tough and very stoic," Miles said of her 17.2-hand Irish gelding. "You can't have a little sensitive flower out there. He's never had a cross-country jump penalty yet, knock on wood."
The pair had a comfortable lead going into the final phase, but after their first jog at the horse inspection early on Sunday morning they endured a lengthy hold for re-examination. After walking and trotting for several minutes with FEI Technical Delegate Wayne Quarles and carefully examining McKinlaigh's hind legs, Miles eventually re-presented the gelding and passed the ground jury's inspection.
"He's got shivers in his hind end, and his right hind is a bit crooked," Miles explained. "Usually [at a CCI] they're able to see that on the first jog so it's no big deal, but since we only have one jog at a CIC, they hadn't seen it. But it wasn't anything out of the ordinary for him, and he was fine."
Although stops were rare on the cross-country, there was plenty of drama in the show jumping. Second-placed pair Jolie Sexson and Killian O'Connor knocked three rails, while Hawley Bennett and Livingstone, previously sitting third, nearly took a tumble after the first fence. The veteran gelding stumbled to his knees upon landing, and although he recovered and continued, he pulled two rails later in the course.
"He was spitting dirt out of his mouth," Bennett said. "If I hadn't been sitting up over the top of that oxer, I probably would have been eating dirt too. He had been great in warm-up, so I think the rails were probably just because [the stumble] rattled him a little bit."
Miles therefore had plenty of room for error as she entered the arena, but McKinlaigh put in a
foot-perfect performance nonetheless, making Richard Jeffery's course look like a hunter exercise.
"It's always nice when you have a rail in hand, but I didn't know I had three," Miles said. "We won't have three in hand going into show jumping at Kentucky, and we're looking to jump two clean rounds on the last day of the Olympic Games. But I'm so confident in his job on the final phase."
Miles said McKinlaigh (Highland King—Kilcumney Hostess) will have a break from competition until Rolex Kentucky in late April. She, Bennett and Jennifer Wooten, who placed second at Galway, plan to fly their horses to Lexington, Ky., together on the Monday before the event.
"Until then, he'll just work on his dressage and gallop up his hills," Miles said. "We have a nice hill that's a 2 1⁄2-minute gallop up. We're pretty much following the regime we had last year for the Pan Ams and Badminton. He was so fit then, so we're sticking to that."
To see more photos from the Galway Downs CIC and Horse Trials, click here.
In addition to ensuring that her horse is as fit as possible for the oppressive weather conditions in Hong Kong, Miles is trying to concentrate more on herself as an athlete as well.
"We're really focusing on rider fitness," she said. "We have nutritionists and fitness people, so we're trying to eat better–lots of fruits and vegetables."
And, raising her glass of celebratory bubbly from the awards ceremony, she jokingly added, "Champagne is definitely on the list of things they recommended."
A Fergalicious Finish
Before this year, Alexandra Knowles had never won an event with her 9-year-old, Mecklenburg mare, Last Call. But 2008 has undoubtedly started out in the pair's favor, as their top placing in the CIC** at Galway was the third they've earned so far this spring.
"This is amazing," Knowles, 21, said simply. "I'm on top of the world right now."
Originally from Auburn, Calif., but based just across the street with her coach Hawley Bennett at KingsWay Farm, Knowles certainly considers Galway to be her home event. She won the open preliminary there in early February, then took top honors at the Ram Tap intermediate horse trial (Calif.) two weeks later.
"I didn't feel like there was any reason I couldn't win," Knowles said afterward. "My mare is amazing. She can seriously jump."
Knowles found "Fergie" (Land Capitol–Modesta) through Buck Davidson and began competing her about a year ago. The 17-hand, bay mare got her nickname from the pop singer.
"We sometimes call her 'Big Mama' or 'Fergalicious'," Knowles said, laughing. "All my ringback tones are Fergie songs."
Although their spring season has held impressive results thus far, Knowles and Fergie weren't always so in-sync. Last fall they entered the CIC** at Twin Rivers (Calif.) but were eliminated on cross-country. And although she trains just across the street from Galway, Knowles wasn't sure what to expect from the new course by Stark.
"You couldn't take any of the jumps for granted," she said. "I was concerned about the second water and the Normandy bank, and I was a bit nervous about the double-down [bank complex], with that fairly big vertical at the top of the hill. But Fergie was unbelievable. She jumped down that bank huge, and I was on the buckle with five strides to the little hut, and she just did it like it was nothing."
The pair added nothing to their dressage mark of 53.4 to move from third into first, but fewer than 2 points separated the top four going into show jumping on Sunday. When the four riders before her all logged double-clean rounds, Knowles knew the event was hers to win or lose.
"I usually get really nervous for stadium," she remarked. "When I was watching the three-star I was thinking, 'Oh, that looks pretty doable. They don't look that big, and they'll come down a bit more for us.' But then once I was warming up they definitely started looking bigger. Then no one knocked a rail, so I was like, 'Oh great…' But really this time I wasn't that nervous in the ring. I just got her a little pumped up for the day."
Fergie delivered a fault-free round and led her third victory gallop of the spring as Bennett broke into tears of happiness for her student.
"It's better for me to see one of my kids win than it is to do it myself," she said.
Knowles was teary-eyed as well and gave her coach all the credit. "I would not be where I am without her," she said.
Stepping Up
Lucy Lippon and her veteran mount Don't Step Back have been knocking at the door for a win
for the past two years, and they finally captured their first blue at Galway in the open intermediate division.
"He's been great to get experience on, but this was the first time it really clicked," Lippon said. "If I ride well, he performs well."
The 20-year-old found the gray, Irish Sport Horse gelding (Step Together—Castleview Lass VII), formerly owned by Abigail Lufkin, at Phillip Dutton's barn two years ago. Before being imported to the United States, the horse carried Irish rider Patricia Ryan (née Donegan) to a top-10 individual finish in the team competition of the 2000 Sydney Olympics and a completion at the 2002 World Equestrian Games (Spain).
Lippon said the 15-year-old gelding's talent is obvious, but his nerves can sometimes get in the way of his performance.
"I knew when I bought him that he was pretty hot," she said. "His dressage has never been really good. If I can keep him from exploding in the ring, that's basically the key. He's the hardest and easiest horse to ride in the world."
Lippon said their mark of 32.7 in the dressage, which put them in fourth place, was a product of "Donny's" mental serenity, as well as a few bribes.
"He was really relaxed," she said happily. "But then we did give him a lot of carrots beforehand. He's definitely a big bribe horse."
Saturday saw a big shake-up in the intermediate standings, as dressage leader Tiana Coudray had to withdraw Ringwood Magister due to a stomach bug, second-placed Anna Collier and Uppercrust D incurred a load of time penalties, and third-placed Erin Kellerhouse missed fence 7 with Tiger and was eliminated. But an obviously keen Donny took to the course with vigor and carried Lippon to a clear round, garnering 2 time penalties.
"He's pretty strong, but he knows his job," Lippon explained. "He's a machine. I just wanted us to work well together, and we just got each other this weekend."
The pair continued their cooperation in the show jumping on Sunday, putting in a double-clear round to clinch their first blue. And as if to ensure that everyone in the general vicinity got a good look at his ribbon, Donny pranced the entire way back to the barn.
"He's kind of punky," Lippon admitted. "But I think he was amazing."
Lippon, who trains with Frederic Bouland, said Galway is her closest event—a seven-hour drive from her home in Cave Springs, Ariz.
Kat Netzler