Del Mar, Calif.—July 30  
One of only two double-clear efforts, Michelle Parker and Cupilor nailed their jump-off in the $40,000 Racing Festival Grand Prix to claim the winning title.
Going third in a jump-off of four, the pair crossed the finish line in a blazing 37.54 seconds, more than 4 seconds faster than the second-place finishers, Josephina Nor Lantzman and her veteran partner Chello Z. Still quick, Lantzman went right before Parker and put the pressure on by delivering the only other double-clear trip in 42.08 seconds.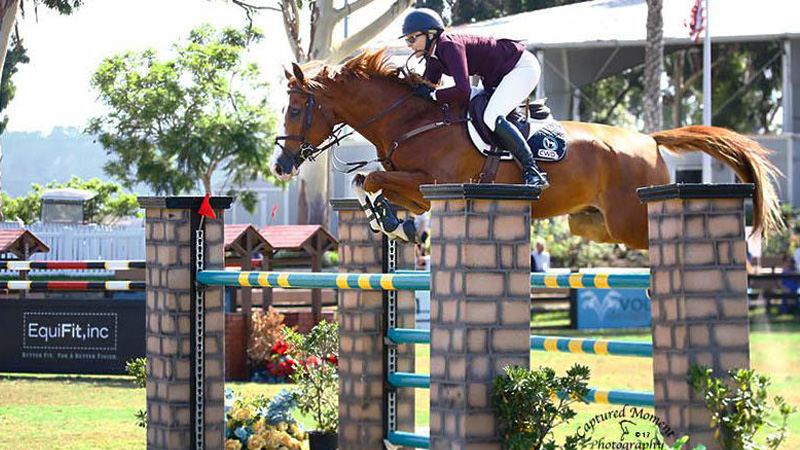 Ten of the 27 starters incurred time faults over the technical track set by Mexican course designer Manuel Esparza. The fences were built up to 1.50-meter, and rails fell throughout the course. The four who advanced to the jump-off, however, aced the challenging track and continued to bring the heat over the shortened course. Parker and her equine partner of many years stood out as consistent, careful, and incredibly fast.
"I had fast ones behind me and a fast one ahead of me in the jump-off. I turned really short to Fence 2, probably shorter than I really intended to, but it worked out for the best. Then we just kept galloping," Parker said of her jump-off track. "Cupilor is great. We know each other so well, and since I had one time fault in Friday's class and didn't jump off, he was nice and fresh for today."
Parker plans to keep jumping the 1.50-meter grand prix classes with Cupilor this summer and fall. The duo will head to The Las Vegas National in November. "It will be the highlight of our year," she said.
$40,000 Showpark Racing Festival Grand Prix, presented by EquiFit 
Cupilor – Michelle Parker – Cross Creek Farms, Inc. – 0/0/37.544
Chello Z – Josephina Nor Lantzman – Josephina Nor Stables, LLC – 0/0/42.082
Cicomein VDL – Tina Yates – HKC Collection, Inc. – 0/4/40.213
Tabou Z – Mavis Spencer – Neil Jones Equestrian, Inc. – 0/8/43.973
Vancouver 45 – Michelle Parker – Inc Cross Creek Farms – 4/79.244
Rammstein – Joie Gatlin – Rocking Basilisk Farm, LLC – 4/82.817
Zelote VDL – Tina Yates – Highpoint Farm, LLC – 4/83.128
Ceasar – Tina Yates – ACE Equestrian – 4/84.161
Chin Chin – Arsia Ardalan – Arsia Ardalan – 4/84.702
Chenoa – Mavis Spencer – Caroline Villanueva – 4/84.890
Dakar VDL – Tina Yates – HKC Collection, LLC – 5/85.137
Chacco – Mavis Spencer – Neil Jones Equestrian, Inc. – 6/86.016