She and Shutterfly leave the rest in their wake for their second consecutive win.
For the first time in the 20-year history of the Stuttgart CSI, a rider has won the grand prix twice in a row. Meredith Michaels-Beerbaum and Shutterfly flew to the top of the class, the feature event of the
show, Nov. 15-18 in Stuttgart, Germany.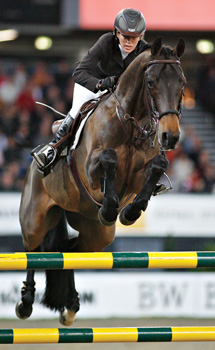 When 14 of the 40 starters qualified for the jump-off, it was clear that speed would be the determining factor. The first five to jump over the short course took themselves out of the running with rails. Ludger Beerbaum recorded the first clear round aboard the 8-year-old All Inclusive NRW. But, it was obvious that he was not going for victory with the Westphalian gelding (by Arpeggio), one of the youngest horses in the starting field, finishing in 37.46 seconds.
Judy-Ann Melchior, 21, of Belgium was the next to go with her gray 10-year-old Holsteiner stallion Levisto Z. Leon Melchior's daughter also chose to ride with caution, and stayed clear in 38.15 seconds.
Setting out for victory was Ireland's Jessica Kürten aboard her top mount Castle Forbes Libertina, and for a while it looked like her 33.74-second clear round might have won it. But Kürten knew that the strongest competitor was still to come.
Two more clear rounds followed—Luciana Diniz on Son Of Marco and Michel Hecart on Itot du Chateau—but neither was fast enough to challenge Kürten.
As the third-to-last to go, Michaels-Beerbaum meant business. Her ride on Shutterfly looked precise and deliberate, but she shaved almost half a second off Kürten's time. Michaels-Beerbaum, 37, didn't have much to say after the win.
"I am very happy with my ride and with Shutterfly; he reacted very well today," she said.
Her time looked to be threatened when Eugenie Angot took all the risks on her way to the finish line aboard the 11-year-old, French mare Ilostra Dark, but she finished clear in 35.67 seconds to take third and complete the ladies' trio in the top.
Angot was happy that she had been able to compete at Stuttgart. "The mare had been slightly ill three weeks ago, so I could not compete at Lyon [France] and Verona [Italy] and I called Hauke Schmidt if I might come to Stuttgart and he said 'yes,' " Angot said.
"So I am very grateful to him. I am happy to have gained these World Cup points here now, since it is certainly my aim to qualify for next year's World Cup Final. There is no other major event for us French riders we could aim for in 2008, after we are not qualified for the Olympics."
Kürten was satisfied with her runner-up spot but still not happy. "Of course, I would have preferred to win, but Meredith and Shutterfly were the better combination," she said. "In the last shows I could not show what my horses are able to do and I was very upset with myself, because it was my fault. Therefore, I am happy that I was able to show what we can achieve and that Castle Forbes Libertina is still my top horse."
Tidbits
• Marcus Ehning showed Noltes Küchengirl at Stuttgart. He's been steadily rebuilding the 10-year-old mare's confidence after she was eliminated for two refusals twice at the European Championships (Italy) in September.
• Noltes Küchengirl jumped clean in two earlier classes, but had two rails in the grand prix. "She appeared to me a bit tired, having competed in three classes on three consecutive days," Ehning said.
The World Cup points Michaels-Beerbaum earned will come in handy, since at the first World Cup-qualifier this season, at Verona, Checkmate was eliminated with two stops.
Alois Pollmann-Schweckhorst has for many years longed for a Stuttgart victory.
"When I was competing for the first time in the Schleyer-Halle in 1988, I was really amazed to see John Whitaker win with his legendary Milton in the German Masteras with a thrilling ride," Pollmann-Schweckhorst recalled. "The wish was born to do it the same way someday, but I doubted that I ever could do it as he did."
Pollmann-Schweckhorst, 43, made his international breakthrough as a rider in the late '80s, while riding for Paul Schocke-moehle. For the last 10 years, he had been running his own show barn, but in March 2007, he returned to take over as Schockemoehle's assistant in his barn at Muehlen.
In the last few years, Pollmann-Schweckhorst had been close to winning the German Masters several times, even taking second, but this year he took all the risks to be the fastest of the 11 horses in the jump-off.
He only competes Candy, a 15-year-old Holsteiner mare, at indoor shows, since she does not like water fences. When he returned to the Schockemoehle barn, where he is responsible for the competitive horses as well as for selecting the young horses from the breeding barn for the sport barn, he made an agreement with Schockemoehle that he would continue to ride his top mounts Candy, Paparazzi and Lord Luis, owned by Hans-Helmut Bauer and to continue to train Bauer. And, Pollmann-Schweckhorst gave all the credit to Bauer.
"With his horses my international career has a new impetus," he said.

Birgit Popp