Tokyo—July 31
It took until the second-to-last rider of the Tokyo Olympics eventing dressage to crack the mark of 23.6 set early yesterday by Great Britain's Oliver Townend. The rider to finally break through? It was none other than Rolex Grand Slam winner and reigning Olympic champion Michael Jung aboard Chipmunk FRH. Jung's mark of 21.1 put him in the top spot and boosted Germany's team to the silver  position before the start of tomorrow's cross-country.
"He's an amazing horse," said Jung. "He gave me a very good feeling in the weeks before and also today. As a rider, it gives you confidence and makes you relax, and then I can give back the horse the same feeling. This was a very good partnership today; everything works like I wish, so I'm very happy."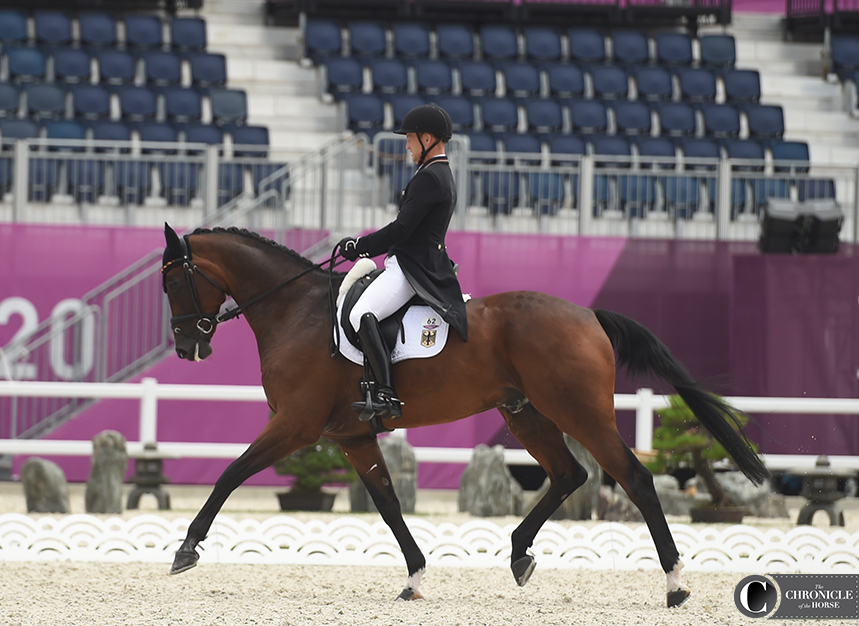 As one of the last to go cross-country tomorrow, Jung plans to spend the morning watching a bit and getting information from the other two German riders, Sandra Auffarth and Julia Krajewski, before he sets out on Derek di Grazia's 7 minute and 45 second track. Cross-country begins at 7:45 a.m. Sunday local time, which is 6:45 p.m. Saturday Eastern Daylight Time.
"I think [the course suits him]," said Jung, who's celebrating his 39th birthday today. "He's a very powerful horse, but he's very nice to ride. This helps a lot that you need not too much preparation before the fence. I think the time is very tough tomorrow, so you need a very good communication with your horse. Still in the end, they have to listen very well. You have to be very focused and concentrate—that's very important."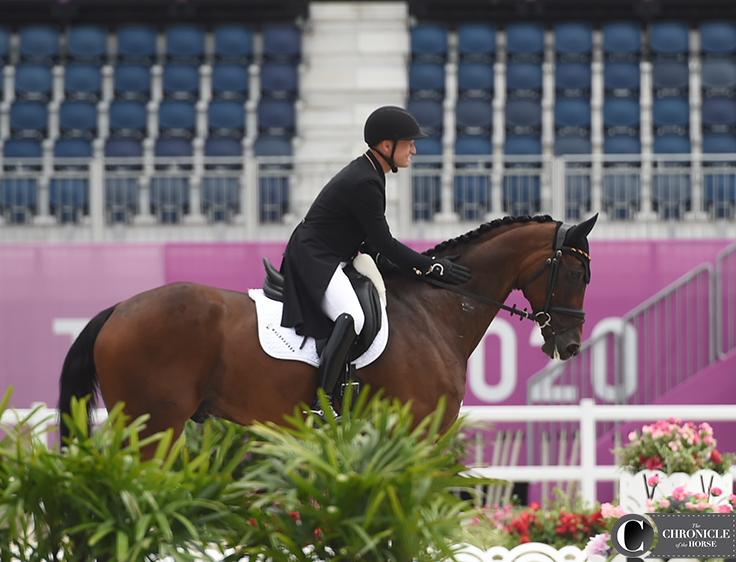 Besides Jung's jump into first, there weren't many other changes to the top of the leaderboard in this third set of dressage. (The first two sets of eventing dressage were completed yesterday.) New Zealand's Tim Price was the only other rider to make the top 10 today, and he sits fifth with Vitali (25.6). Price first sat on the horse last October, and they are fresh off a sixth-placed finish in the Luhmühlen CCI4*-S (Germany).
"I'm very confident in him, but it is a short time in term of partnerships," said Price. "That's one of the key things that's on display at the Olympics, isn't it? The partnership between horse and rider, and what they can do, and how they can rely on each other. But he's a very genuine guy, and I'm very confident in him."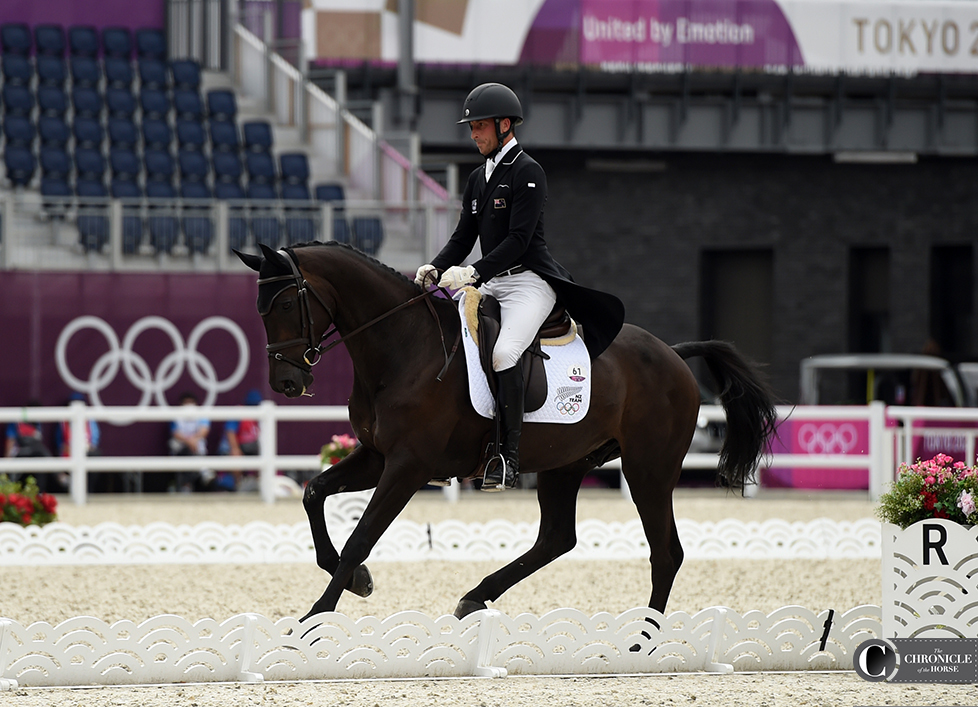 Tom McEwen went as the British anchor rider today on Toledo De Kerser, and his score of 28.9 kept the country in the lead position and put him 12th individually.
"I was actually very pleased with him in general. He coped really well in there, and he loves situations like that," he said. "Just the two early changes really cost me, and then getting back from there. I was delighted with his walk today, and I thought the preparation into the change was good, but yeah it was a flop.
"I thought he was probably a bit too quiet and polite," he added. "I didn't want to ask too much, and [I wanted to] try to get a nice change without him coming up behind. We're still as a team in a strong position, and to be honest it gives me nearly more emphasis to go and crack on tomorrow."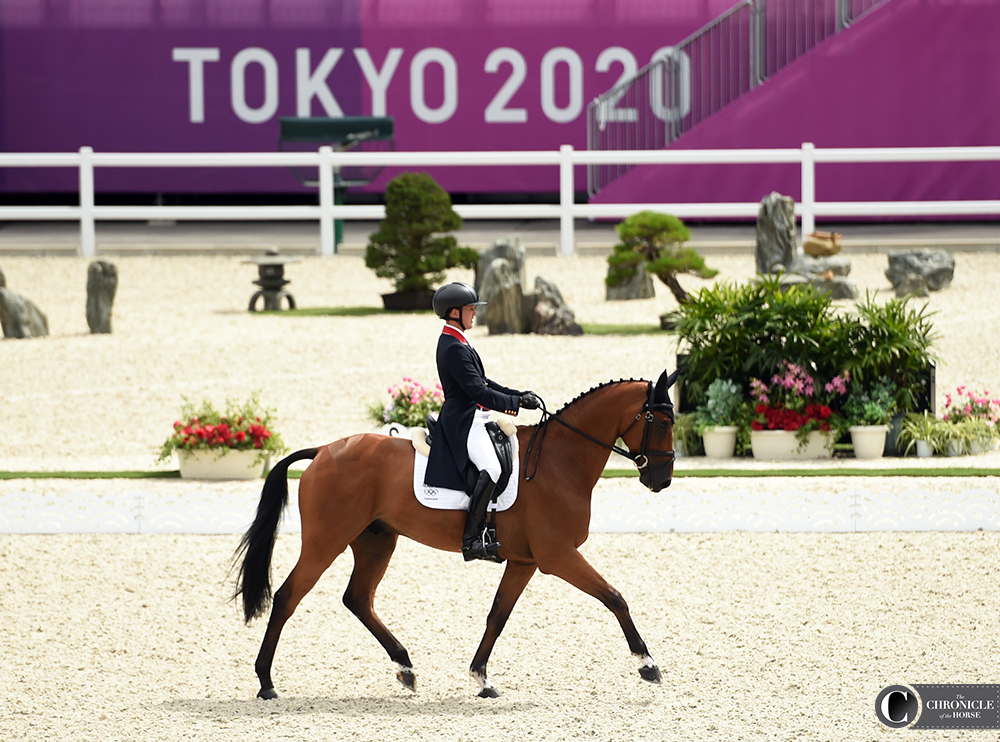 Boyd Martin was the final U.S. rider to complete his test today, and he scored a 31.1 with Tsetserleg TSF, which puts them 20th individually. That team will start tomorrow's phase in eighth place.
Martin, who often scores in the 20s with "Thomas," had a few mistakes in his test.
"To be honest, it was quite disappointing," he said. "Thomas has been so good in the dressage for years and years. We had great work in there, and then there was one moment in the reinback where he fell behind me and misunderstood me and then cantered out, which then screwed up the next movement. He also had a spook at a cameraman. It was some great moments and then some disastrous moments.
"You come here hoping to give a personal best, and the cross-country is so difficult tomorrow, and it's so hard to get the time, I believe we're in with a chance if we can deliver three good rounds of cross-country," he continued. "We have three good, seasoned horses that are older and experienced, so I think we have nothing to lose by going out there and giving it a crack."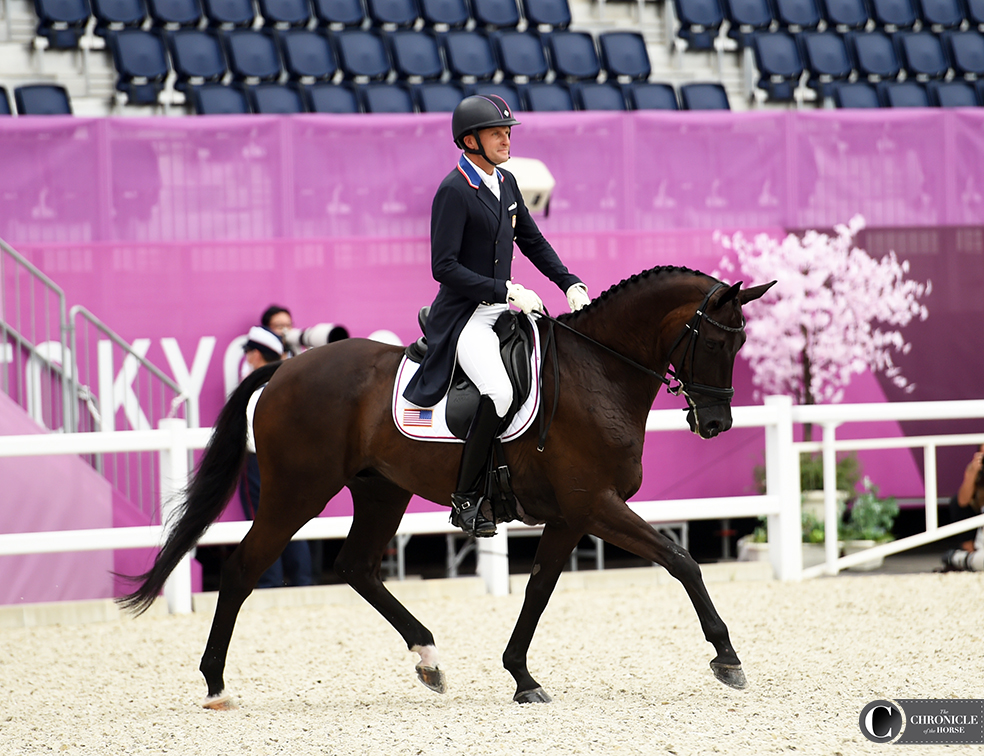 Martin noted that the hot and humid weather in Tokyo isn't his horse's favorite, but he said that the "great galloper" should do well over di Grazia's track.
"He has stamina and speed," he said. "It'll be a little tricky early on just because he gets brave and a bit aggressive, so I have to try and nurse him through the first minute or so, and then he's got tremendous heart. I've never experienced a horse that digs deep so much. I think he'll have plenty of juice left at the end, so I'm going to give it my all."
Martin will set out as the anchor rider for Team USA at 10:15 a.m. local time (9:15 p.m. on Saturday EDT). Doug Payne goes on Vandiver 7:51 a.m. (6:51 p.m. on Saturday EDT) and then Phillip Dutton rides Z at 9:03 a.m. (8:03 p.m. on Saturday EDT).
"I'd be comfortable going in any slot. I think it's an advantage being able to watch and see how it's riding. But sometimes not knowing how it's riding works better as well," Martin said with a laugh. "I'll get a bit of feedback from Doug and Phillip, and I can sit back and drink a cup of tea and watch the first half of the field go. It's sort of usually the jumps that you walk you think are really difficult that ride really well, and then there are one or two jumps you think would be smooth sailing and causes chaos. I just have to stay calm and ride him well, and it should go well."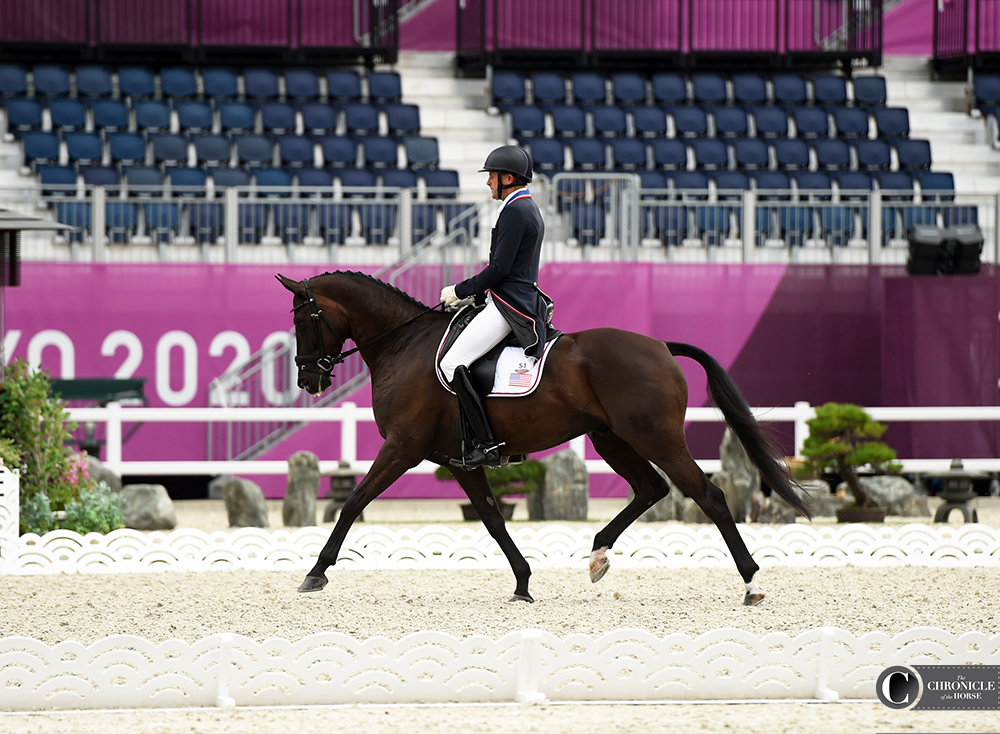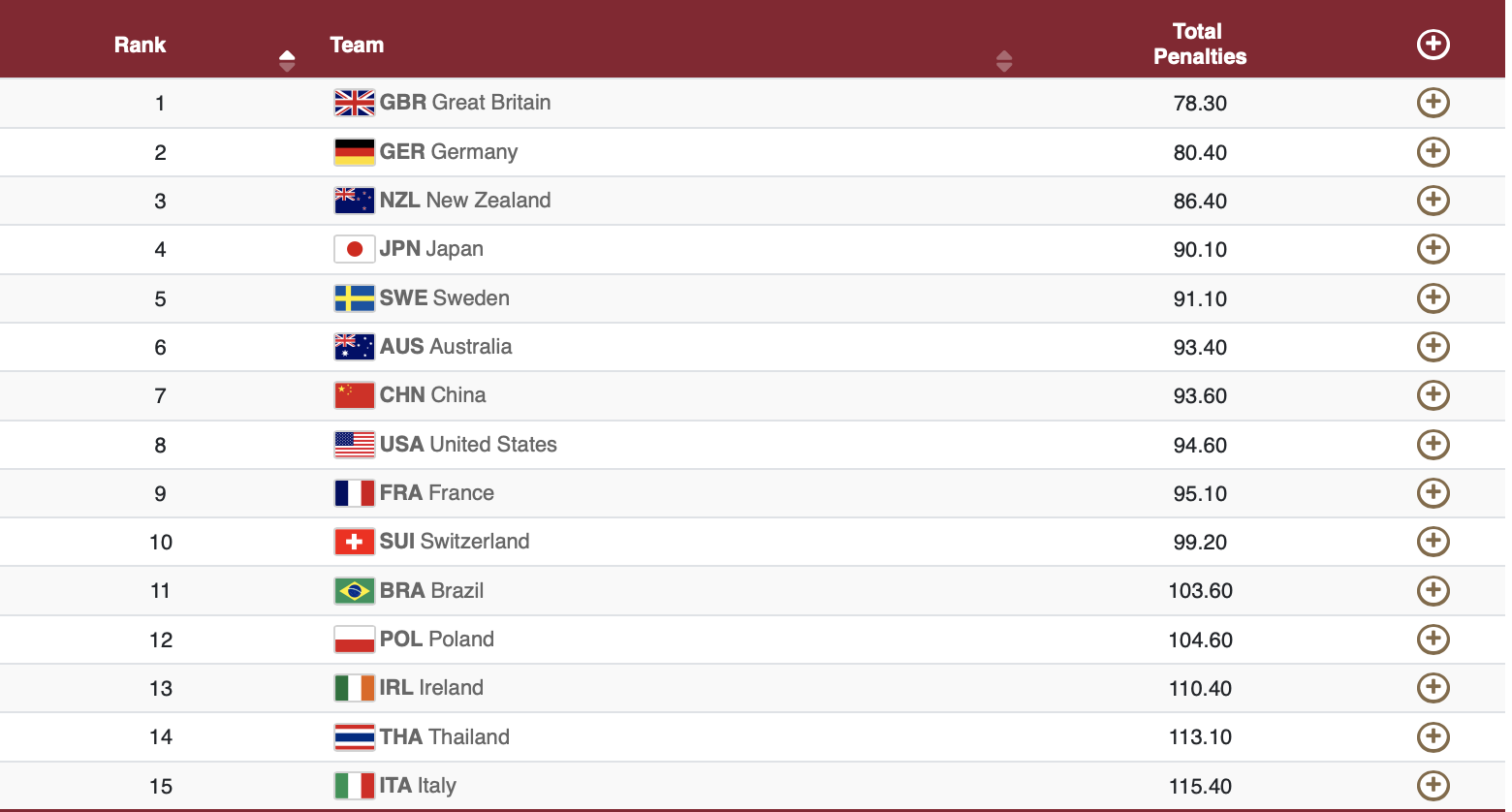 See full results from today's dressage and the order-of-go for tomorrow's cross-country. Watch the on NBC's Olympic livestream.