Officials at the German Olympic Committee for Equestrian Sports confirmed on Feb. 5 that Michael Jung will now ride Julia Krajewski's 2018 FEI World Equestrian Games (North Carolina) mount Chipmunk FRH
According to the press release, Hilmer Meyer-Kulenkampff, who bred and owned the 11-year-old Hanoverian (Contendro I—Havanna, Heraldik xx), did not renew his contract with Krajewski due to personal reasons.
"Today is a very sad day as Chipmunk FRH is leaving us to go to his new home," Krajewski wrote in an Instagram post. "After [six] very successful years together the contract I had with the owner expired, was not renewed for personal reasons of the owner (which I can understand), and it was decided to sell Chipmunk, so after some very emotional [months] I now ultimately lost the ride on this very special horse."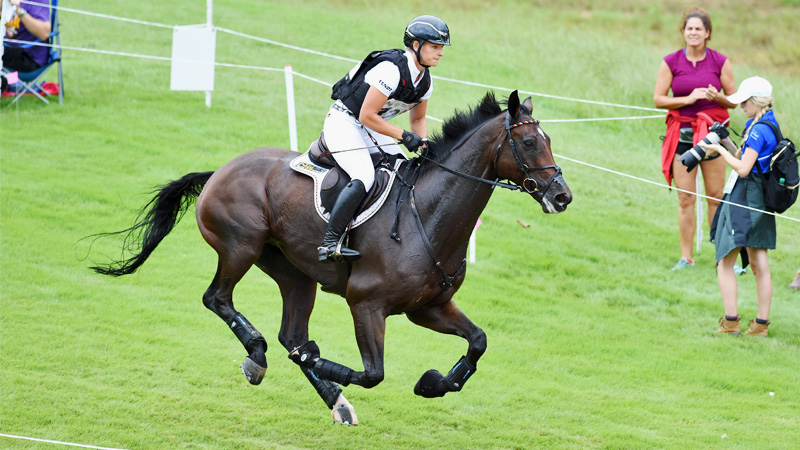 Krajewski and Chipmunk FRH won last year's Aachen CICO3* (Germany) and the Bramham Horse Trials CCI3* (England). They topped the WEG dressage with 19.9 penalties before picking up 20 penalties and time on cross-country for Germany.
"Due to the success of Chipmunk FRH and Julia Krajewski, foreign interest has understandably grown, especially so close to the Olympics. We are therefore very happy that we were able to keep the horse for Germany," said Dennis Peiler, managing director of the German Olympic Committee for Equestrian, in the press release. "Without the support of third parties, however, this would not have been possible. We are particularly grateful to them."
"Chip" will now be owned in partnership with the DOKR, Jung's sponsor Klaus Fischer and Meyer-Kulenkampff.
"When I was informed at the end of last year that Chipmunk could not stay with Julia, but there was the opportunity to hold him for Germany and me, I tried to achieve this," Jung wrote on his Facebook page. "In the end, I owe it to the support of many sponsors and my great partner Fischer that I have a new future.
"It's new for me to get a 'finished' horse, because as everyone knows, I have a lot of value for the horses themselves," he continued. "I thank Julia for the great years of training, and I'm curious what Chip and I expect for the next few years."
The gelding won the Bundeschampionat (Germany) for 5-year-olds in 2013 before beginning his meteoric rise. With Krajewski aboard, he won 10 Fédération Equestre Internationale events from 2014-2018.