This young rider has his sights set high for the future.
As impressive as it may have seemed, when Michael Hughes qualified for the ASPCA Maclay Finals (N.Y.) last year at age 11, it was a natural and timely step in his riding career.
As one who began riding at 3 and was jumping by 4, Hughes took the show circuit by storm in 2007, leaving spectators and trainers enamored by the natural style and poise of such a young rider.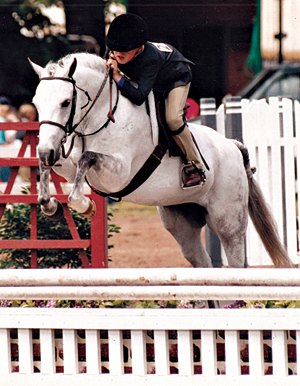 "He did start very young, but it's always been a gradual process and the transition to horses has been easy," mother Cathy Hughes said of her son's early talents. "But at the end of the day, I want him to be having fun, and I want him to be enjoying it."
Like most riders, Michael's riding career began with ponies. As a 3-year-old, he began taking longe lessons on Cody, a reliable school mount. Lois, his other ride, lived up to the stereotypical pony personality.
"I think she dumped him at least once a day; it was the running joke in our barn," Cathy said with a
laugh.
Based out of Goshen, N.Y., Eamonn and Cathy Hughes' Drumnacross Farm provided Michael with ample opportunities to ride in his early years. "The ponies gave him a confidence builder, so he was never really that fearful of anything," Cathy said. "He mastered so much so quickly…he was out riding bareback in our grand prix field in no time."
Michael began his show career as a 6-year-old and briefly competed in the short stirrup division before moving up to pony jumpers. With two imported Irish ponies, Sparky and Derravarragh Fudge, his biggest challenge was following the course diagram, not finding distances to the jumps.
"The ponies knew their job, so it really was point and shoot," Cathy said. "It really was just trying to help a
6-year-old remember the course!"
Michael not only remembered most of his courses, but he also went on to qualify both ponies for Devon (Pa.) and the North American League Finals (Pa.). Since Sparky was a medium pony and Derravaraugh Fudge a small, the young rider was comfortably mounted.
"It never was, 'Oh look at this little boy on these big horses.' We always just kept moving him from pony to pony, and eventually to a small horse," Cathy said. "He wasn't one of those kids riding hundreds of ponies."
A Big Step
Two years later, Michael's transition to horses and bigger fences was offered a boost when prominent equitation trainer Missy Clark took notice. She offered Michael the famous equitation horse Brother, and the boy and the veteran mount clicked instantly.
"My husband [Eamonn] is Irish, and Missy's husband [John Brennan] is Irish, so John said to Missy, 'You need to come see this kid,' " Cathy explained. "I think she saw his raw talent, and the following week Brother showed up."
Competing at HITS Ocala (Fla.), Michael made a successful move from pony jumpers to medal classes.
"He was a good starting equitation horse. He jumped the jumps and really helped Michael move along," Cathy said of Brother. "He was a kid literally learning his diagonals and hadn't really sat on many horses."
The "stepping stone" horse helped Michael qualify for the New England Equitation Finals (Conn.), also where Brother received a lifetime achievement ceremony. With the goal of finding another equitation horse, Michael continued showing Brother but didn't plan to qualify for the major equitation finals.
Due to Brother's long tenure in the equitation ring, Cathy knew her son needed a fresher mount to reach his and Clark's equitation needs for 2007. One of Eamonn's jumpers, Showtime, seemed to be in need of a different career at the right time.
"We had this horse showing in the level 6 classes, and he kept pulling rails," she said. "He was only 7 and knew nothing about equitation, but it turns out he had a good brain and is a good guy."
While Clark was at the Winter Equestrian Festival (Fla.), Bobby Braswell stepped in, though he found the junior needed little help. Working with Michael at the "early morning" lessons, Braswell was impressed by his student's worth ethic.
"He's brave and talented, and he's always having a good time while he's doing it," Braswell said. "His dad does a good job with him and keeps him grounded, so basically those guys make me look like a rocket scientist."
Natural Progress
Competing with Showtime in the equitation and low junior jumper classes, Michael also found time to show three other junior jumpers for his parents and was riding anything else whenever possible. "On a typical day at HITS, he was riding about 11 horses, and there were a few days where I think he had jumped around 17," Cathy said. "He's constantly learning from others."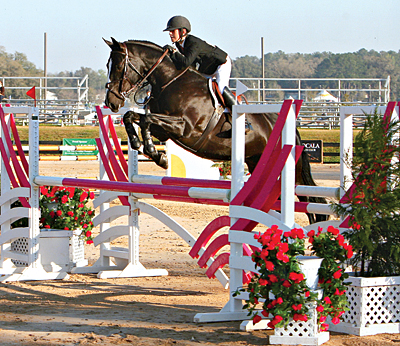 That "constant learning" helped him qualify Showtime for Devon, and while the pair didn't earn ribbons, it was the learning experience for both that really pleased his parents.
Michael picked up wins at venues during the summer, such as Gardnertown (N.J.), and he quickly qualified for the USEF Show Jumping Talent Search Finals-East (N.J.), which Michael described as his favorite finals.
"I like how you have to be independent; it really shows what you can do," he said.
Though minor faults on the flat kept him out of top placings, he and Showtime finished with a respectable score in the difficult class.
As Showtime became more experienced in the equitation ring, Clark knew there was potential for a good finish at the Zone 1 ASPCA Maclay Regionals. Michael, who competed in 2007 at his show age of 10, placed 10th, and Clark said to her student, "You got a ribbon that's your age!"
Michael and Showtime then tackled the ASPCA Maclay Finals, though he didn't expect much of his green equitation horse.
"We never thought he'd turn out to be as good as he is," Cathy said of Showtime. The pair finished in the top 30 among 153 starting competitors. Clark and the Hughes family were thrilled with Showtime's transition into a viable equitation mount.
"He likes this horse, and my husband rides him most of the time so it's been both of them to bring him to this level. He's not a stallion anymore, he's not a jumper anymore, and it's been great to watch that progression," she said.
Though he rides many horses, Michael described Showtime as "one of my favorites. I like jumping him, and he's fun to take out on trails," he said. As for the pair's quick success in the past year, the junior remained modest about his achievements.
"My goal was to go in and do the best I could. If we didn't win it, it wasn't the end of the world," he said.
Braswell was impressed with Michael's growth in a short amount of time. "I think it was a little hard on him in the equitation ring when he was so small, he'd get overpowered a lot. He's gotten a lot taller and a lot stronger in the past year, so his productivity has really increased in the past six months," he said.
Clark added, "Young children can have issues with their coordination and balance, and for a young boy he's got a beautiful position—that's due to his work ethic."
When not training with Clark or Braswell, Michael works with his father each day after school. Unlike many dedicated junior riders, Michael attends regular school during the day except when he attends the winter circuit in Florida. Typically, he rides three horses each day, and he enjoys the ones "on the hot side" and eagerly anticipates new catch-rides.
Though riding comes naturally, his equitation has developed over time. "He gets drilled fairly hard because
he's had to be very conscious of his position," Cathy said. "The horses seem to like him, and he's always had a good feel. For a boy, he's got a good attention to detail, and he does like the equitation."
Clark doesn't like to predict her students' futures, but sees Michael's opportunities as limitless. "All the
influences, such as his dad's professionalism, have made him what he is. He's really done a nice job, and he's remarkable," she said.
A confident rider with a mellow attitude, Michael's mentality is to provide the best ride for the horse
each time he enters the ring. "He's one of the most talented youngsters I've ever seen," Clark said of the three-year partnership with her student. "He's really an unusual talent, and trying to pinpoint that is like trying to pinpoint what makes Michael Jordan or Tiger Woods great."
Beth Johnson