Michael Golinowski rose to the top of a group of 16 exceptional young, upcoming athletes following four days of riding and stable management at this year's Lindsay Maxwell Charitable Fund/USHJA Emerging Athletes Program National Training Session, held at the University of Findlay's James L. Child Jr. English Equestrian Center in Findlay, Ohio, for the fifth year.
"It feels absolutely incredible to have won EAP this year," Golinowski said. "To win the whole thing at nationals is a really incredible feeling, to know that so many people believe in you and see talent."
Golinowski, 22, of Burke, Virginia, has worked his way up through the program over the past five years. He participated in regional training sessions in 2017 and 2018 and was selected as a stable manager for the 2017 national training session. Throughout the years, he has impressed the lead clinicians, improving each year in his horsemanship and riding abilities to become a talented, well-rounded equestrian.
"In 2017, I was selected as a stable manager and then from there, I got to go to the horsemastership training session in Wellington, Florida, with a few other EAP members," he said. "To be able to start in the program in the stables, and then over the last several years working my way through the riding, bettering myself in the saddle, and coming back to experience the riding aspect of nationals and then winning it is a really cool feeling."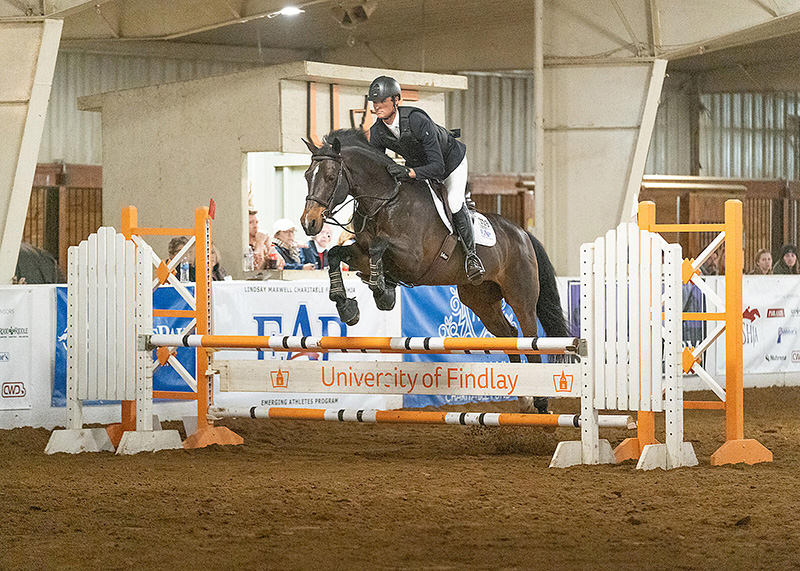 His hard work and dedication paid off. He shined in the eyes of lead riding clinician and Olympian Peter Wylde and the Emerging Athletes Program Committee, to win this year's national training session.
"Michael really was at the top in all the different areas," said Wylde. "His riding is fantastic. When he was in the stable I think he was impressive, and his written test was exceptionally good. Overall, he's the whole package, and so we were very, very happy to award him with this year's EAP National Champion."
Golinowski's horsemanship skills were put to the test when he drew Tangelos, a 6-year-old Hanoverian gelding, who was the youngest horse donated for the weekend. Golinowski was able to make Tangelos, owned by Utopia Investments and trained by Bri Snyder, look like a seasoned pro in the flat work and jumping exercises.
"The 2022 winner was a well-rounded athlete that was very skilled in the barn with a young horse that he did not know," said Colleen Reed, the national training session stable management clinician. "He exemplified total professionalism throughout the entire week, and it was an honor to meet and work with him."
For the final day on Sunday, Nov. 13, four riders were selected by the EAP Committee to come back for a rider work-off after the Nations Cup on different horses. The riders selected were Olivia Murray, Golinowski, Camilla Jerng and Abbie Storandt.
"This year we had an incredible group of kids and a very high level of riding skill," Wylde said. "We had a hard time coming to the top four, and again we all were impressed with their riding. All four of the riders in the last group rode exceptionally well."
In addition to prizes, Golinowski will receive a $3,000 training grant from USHJA to advance his training with an approved trainer. He was also invited to ride in a 2023 USHJA Gold Star Clinic.
Reserve champion Abbie Storandt, 16, of Union, Kentucky, also stood out to Wylde and the committee on both the horse she drew and the horse she switched to for the work-off. She said EAP has been a great experience for her to meet new people from around the country and learn from top clinicians.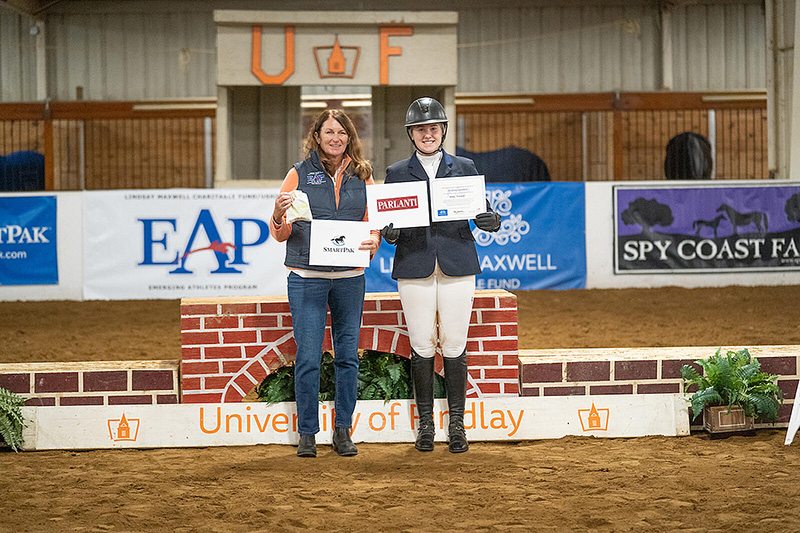 "I had a lot of fun, and I learned a lot," she said. "It is really nice to have a lot of people that believe in you and think so highly of you, especially amazing clinicians like Colleen Reed and Peter Wylde. "I feel like we all did a really great job, and we all worked really hard for it. I am just really grateful I got picked to be reserve champion."
Storandt also received an invitation to a 2023 Gold Star Clinic.
In the modified Nations Cup competition, Team Springsteen—consisting of Afton Chmela (Savannah, Georgia), Amanda Hauser (Madison, Wisconsin), Erin Schalick (Cape May Court House, New Jersey), Frances Thompson McKenzie (Seattle) and stable manager Daniella Teie (Middleburg, Virginia)—took home the gold medal.
Team Sternlicht—made up of Ella Fischer (Kalihiwai, Kauai, Hawaii), Camilla Jerng (Woodside, California), Lizzy Schulz (Marietta, Georgia), Riley Wright (Westborough, Massachusetts) and stable manager Annie White (Wellington, Florida)—took home silver.
Team Moggre earned bronze with Hannah Belich (Willoughby Hills, Ohio), Golinowski, Olivia Murray (LaGrange, Kentucky), Lauren Thomas (Kingsport, Tennessee) and stable manager Ian McFarlin (Canton, Georgia).
Team Keenan—consisting of Tim Ansley (Round Rock, Texas), Emma Gurley (Rutherfordton, North Carolina), Rebecca Love (Atlanta), Storandt and stable manager Mary Cunningham (Versailles, Kentucky)—took home fourth place.
Educational sessions at the national training session included demonstrations and presentations from Danny and Keli Warrington with LandSafe Equestrian on safety training and awareness and Heather Fatzinger with Tribute Equine Nutrition on the importance of nutrition.
Stable management clinician Colleen Reed also worked with participants throughout the week on their stable management skills, walking them through different scenarios that they may come across in the barn and best practices for the health and safety of the horses, focusing on sport horse practices.
"This group of participants was so strong and so friendly; they absolutely love the horses," said Reed. "It was so impressive to me because you know we borrow these horses, so when I asked for extra care, they just stepped right up and they did whatever it needed to take to make the horses feel great and come out round after round and be successful. This was just a really super group that just put a lot of effort into their horses' well-being, and I am really proud of them."
Individual Awards
All four EAP national training session stable managers were invited to attend a USHJA Gold Star Clinic to assist participants as stable managers at the clinic. New this year, one stable manager was selected to receive the Sunny Stevens Memorial Outstanding Stable Manager Award in honor of Stevens' longstanding dedication to horsemanship. Reed and the EAP Committee selected the winner, Mary Cunningham, in recognition of her meticulous attention to detail, dedication to maintaining the health and welfare of our horses and the concern for the safety of all displayed during the 2022 EAP national training session.
The winner received a unique two-week hands-on experience in the barn of 2011 EAP national champion Jacob Pope, as well as a $1,000 grant to be used toward expenses associated with this experience.
Riley Wright, who rode Cardine, donated by the University of Findlay, won the Best Turned Out Horse Award.
The Emerging Athletes Program Outstanding Horse Award is presented to the equine athlete who has displayed the highest level of consistency, soundness, safety and dependability throughout the 2022 EAP national training session. This year's winner of the EAP Outstanding Horse award is KSI Forty, donated by Chloe Johnson.
Ian McFarlin received the Emerging Athletes Program Sportsmanship Award, which is presented to the rider who has exhibited integrity, supported his or her fellow competitors, showed commitment to the sport and the welfare of the horse, was a role model for his or her peers, and displayed generosity, fair play and respect for others.
Ella Fischer was awarded the Charles "Chuck" Keller Grant for Equestrian Excellence. It was created to honor Chuck Keller's commitment to teaching and training riders and horses in the hunter/jumper/equitation disciplines and his dedication to instilling horsemanship and sportsmanship in his riders during his 45-year career as an owner, trainer, rider and licensed official. She received $500 to further her training in pursuit of equestrian excellence.