Meteoroid, a 6-year-old Thoroughbred gelding owned by Amy Taylor Rowe, was euthanized after injuring his leg during an allowance hurdle race on Aug. 16 at the Saratoga Race Course in Saratoga, N.Y.
Trainer Leslie Young wasn't at the race, but after speaking with jockey Thomas Garner, she found out that the gelding likely broke his leg.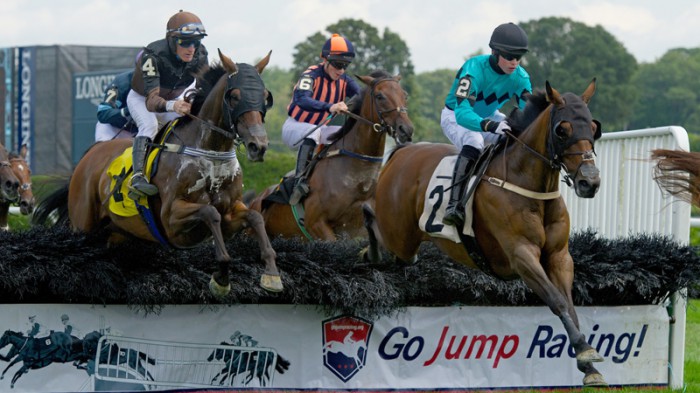 "It's such a shame because he was jumping fantastic, and he was in a great spot," she said. "He had been training so well going into that race. It looks like three or four strides before the [sixth] hurdle he took a bad step. I don't know if he just took a bad step because something gave out, or if he took a bad step because he stepped in a divot. About three or four strides out he had nowhere to go because the jump was right in front of him."
Meteoroid jumped the next jump and did not fall, but it was clear after landing that he couldn't continue.
Young found Meteoroid (Dynaformer—Enthused, Seeking The Gold) as a 3-year-old at the Tattersalls Newmarket autumn sale in England. He was bred in Kentucky by Flaxman Holdings Limited and raced in England at the beginning of his career. He had 30 career starts with $72,995 in earnings.
"He ran very well for us. He had 10 seconds, so he was forever known as being the ultimate maiden, but I always said to his owner, 'At least he wasn't a one-hit wonder.' There are plenty of horses that win one race, and you never see them again," said Young. "Everybody in the barn loved him. He was very sweet, and he had such a pretty face and the big doe eye. It stinks. Unfortunately you have the highs and super lows like that. It just goes to show how brave he was and what a star he was."
Young said her husband Paddy, who was injured in a race at Radnor (Pa.) in May, had just come home from the Bryn Mawr Rehab Hospital (Pa.) to begin outpatient physical therapy on Aug. 11 and was watching the race with her.
"I was watching and was upset, but he said, 'Look, there's nothing we could have done. It happens. It's racing.' My husband's always been so professional," said Leslie. "Don't get me wrong, when he's had horses get hurt underneath him, he has feelings. He cares about them. He loved Meteoroid like all of us."
Save
Save