Wellington, Fla.—March 24
They say when it rains it pours, and if that's true Canada is positively figuratively flooded this week. Win after win came for both the teams and individuals competing at the CDIO Nations Cup Week at the Adequan Global Dressage Festival, and Megan Lane closed out the week with one more win for the maple leafs in the Grand Prix freestyle aboard Caravella.
"I am thrilled—it's still a little surreal, the victory," Lane said with a huge grin, shaking her head. "I'm at a loss for words, really. I'm so happy."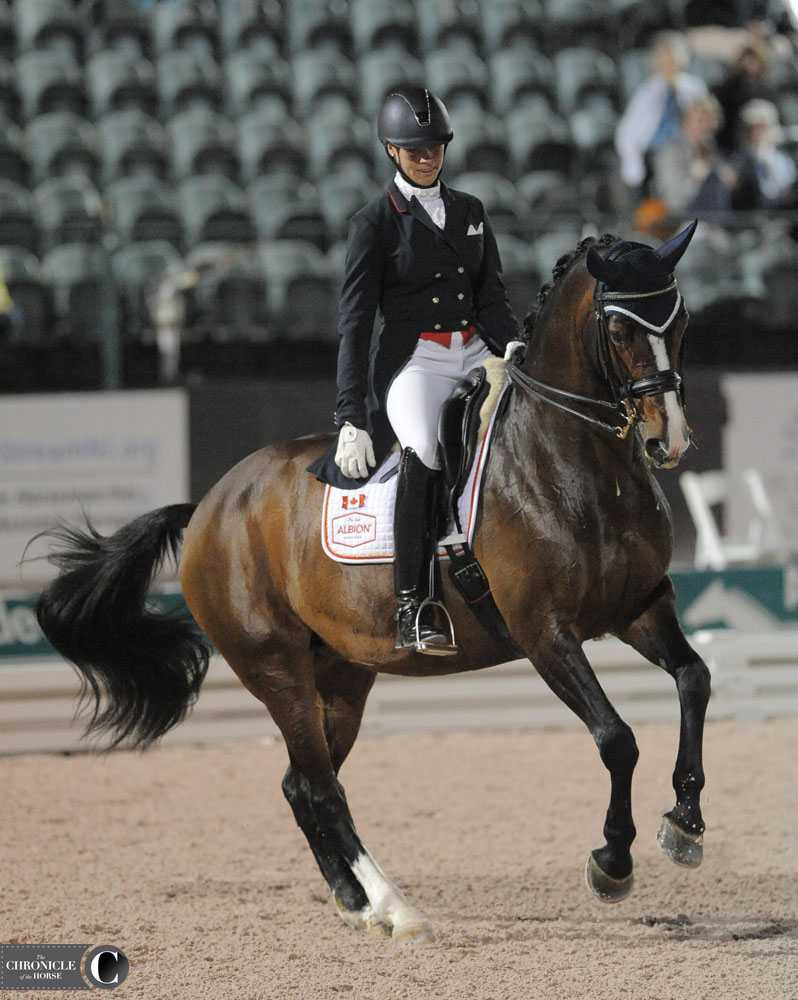 Lane executed a nearly foot-perfect test with Caravella, scoring a 74.55 percent, with her set of two one-handed double pirouettes and her very exuberant flying changes as highlights. The mare almost looks like she's leaping up to play when she goes into the changes, but it's just her phenomenal expression showing through in the movements.
"She comes alive in there, especially at night when she sees the lights," Lane said. "You kind of have to have your timing perfect in the warm-up, but I'm lucky because I know her so well and she knows me so well, so that is a huge asset." It was Lane's second gold medal of the weekend, as she helped the Canadian team score an upset victory over the U.S. squad in the Nations Cup.
Watch Lane and Caravella's freestyle test:



Lane has been working with the mare for a decade, bringing her up from the junior level all the way to Grand Prix.
"We're both getting better and better; it's been an amazing journey," Lane said. "She's an amazing horse and I'm so lucky to have her. We're still growing all the time, so that's the most exciting part to me."
U.S. rider Shelly Francis took second aboard Doktor on a 74.07 percent, another red ribbon to add to her week's haul after the U.S. team finished second in the CDIO*** Nations Cup competition.
"I think compared to the other week, I had him a hair more under control and rode my music a little quieter," Francis said of her ride. "He felt really honest and was trying super hard, so I was really happy with him; he was a good boy."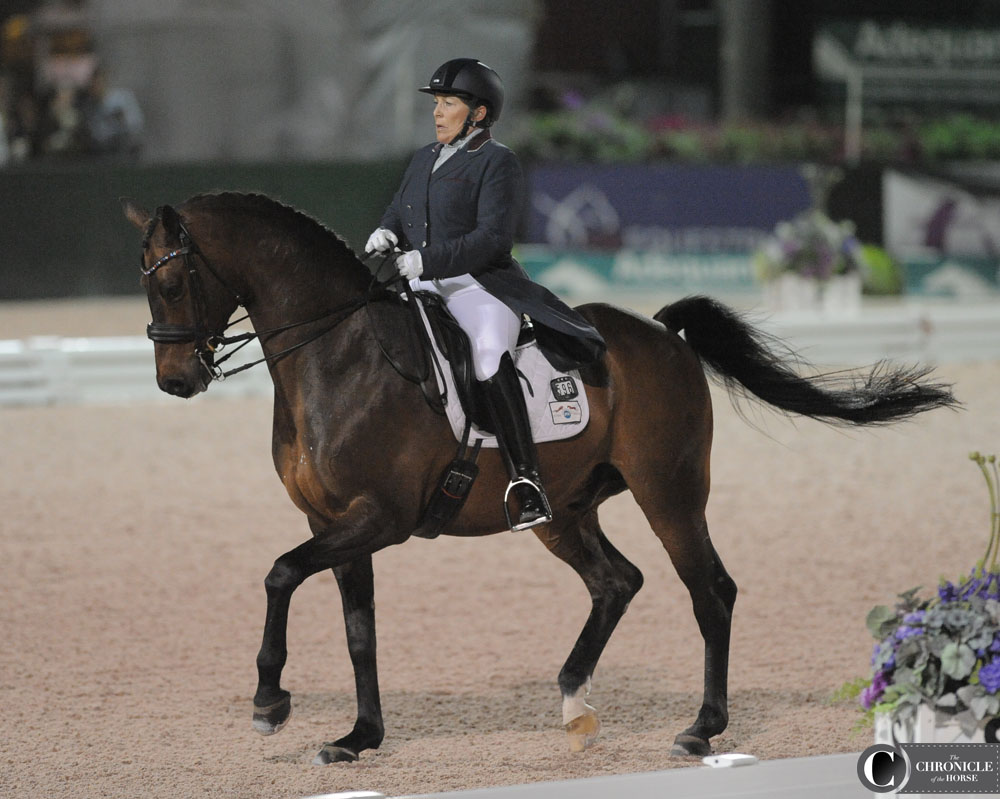 Sometimes the bright lights and excitement of the Friday night atmosphere gets the better of Doktor, but he managed to keep his cool.
"He's a real trier, and the worst that will happen is he gets too nervous and tense," Francis said. "He was a little calmer tonight. It felt much easier to maneuver around so it was really a lot of fun."
Lisa Wilcox and Galant brought home a second top-three ribbon for the United States on a 73.17 percent. This pair was also on the second-place U.S. team.
"It was an absolute honor to ride for the team, but I felt like we personally didn't have the best weekend," Wilcox admitted. "I think the last time we came out and did the freestyle he had a bit more energy. This is also something new for him, to be doing three tests back to back, so I could feel that tonight and not quite as brilliant as he was in the last freestyle.
"But having said that, he was very ridable, lovely out there," Wilox continued. "He was just missing a tick of the sparkle we had the first time we did that freestyle."
Anna Buffini added to her team gold medal from earlier in the week with a win in the CDIO U25 Freestyle aboard Sundayboy. The victory was especially emotional for Buffini as the class marked Sundayboy's final competitive appearance of his career—the 18-year-old gelding is going to be retired with Buffini.
"It was so surreal—a dream of mine has always been to compete a freestyle under the lights, and to do it as Sundayboy's very last competition ever and to come out with the win is just unbelievable," Buffini said. "I owe him so much, and he tried his heart out for me."
Earlier in the day, Tina Irwin added yet another blue ribbon to her stash with a win aboard Laurencio in the CDIO Intermediate 1 Freestyle test.
Click here for full results, and don't forget to check out the April 17 issue of The Chronicle of the Horse magazine for more in-depth coverage of Nations Cup Week at the Global Dressage Festival.