Lexington, Ky.—Nov. 2
A working student, an indoors first-timer and a catch rider from Canada walk into the ring. Sounds like the start to a corny joke, right? It's not! It's the line-up of junior hunter champions from the National Horse Show. The division concluded with the stake class today, and the winners were all over the board in terms of experience, geography and how long they'd known their mounts.
First up we have Jordan Allen. Originally from West Bloomfield, Michigan, but currently splitting her time between Lexington, Kentucky and Wellington, Florida, Allen piloted Rockette to both the large junior, 16-17, title and the grand junior championship.
"It's unreal," Allen said. "Right now I don't have a horse of my own, but that's why I'm so lucky to have these wonderful people always giving me horses. Otherwise I couldn't do this. I'm so lucky."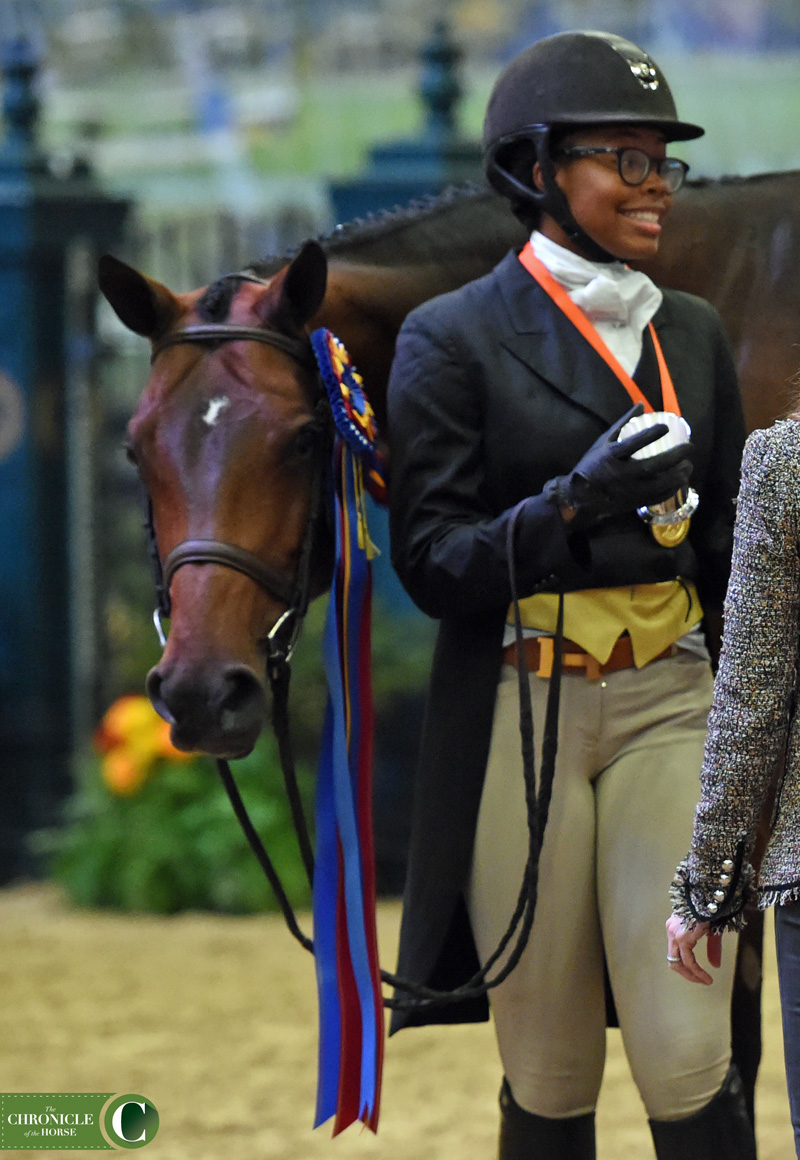 Rockette hails from Liz Reilly's Calabasas, California-based stable. The mare's typical rider Gabrielle Sokolow already had two junior hunters to show, so Allen took the reins on Rockette.
"In case she forgets to mention it, the first time she ever jumped that horse was last night," Reilly said. "We're just so proud of her and the horse."
Allen and Reilly's daughter, Augusta Iwasaki, are good friends, and Reilly often puts Allen on her horses.
"I'm just lucky enough to have Liz; she always has such incredible horses for me to ride, and she's helped me so much," Allen said. "I respect her more than I can explain."
Allen's regular trainers are Ken and Emily Smith's team at Ashland Farms in Lexington, Kentucky, and she credits their training for helping prepare her to succeed at the National.
"I'm a working student there, which I love more than anything in the world," Allen said. "I've learned so much about discipline, time management, and not just riding the horses but taking care of them."
Then we have Sam Walker, the Canadian catch rider. Ontario-based Walker has the distinction of capturing both the champion and the reserve in the large junior hunter, 15 and under, division aboard Everglow and Aubergine, respectively.
"It feels amazing to win; I don't know either of these horses very well," Walker said. "I haven't ridden them all year long. I rode Everglow at Devon [Pennsylvania], and I started riding Aubergine at the beginning of the indoor circuit. They're just both amazing horses; I'm very grateful to get the ride on spectacular horses like this."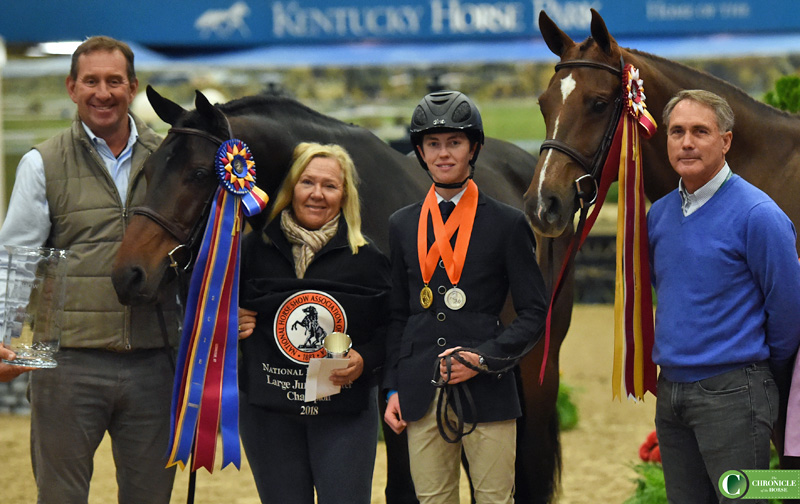 Walker is the son of two professional riders and has ambitions to follow in their footsteps. He's currently a working student at Missy Clark and John Brennan's North Run in Warren, Vermont, and he'll compete in the ASPCA Maclay Championship later in the week.
"I would like to go and be a professional rider, but really I'd just like to be the best horseman and horse trainer that I can be, before anything else," Walker said. "Hopefully the rest will come with it, but the horsemanship is important.
"You definitely need to know your barn smarts as well as your ring smarts I think," Walker continued. "I've grown up around horses my whole life; my parents own a barn, and I'm a trainer's kid, so to say, so I'm used to being around the barn."
Next on the docket we have Luscious and Violet Lindemann Barnett. Barnett is a California girl based in San Francisco, and 2018 marks her first time competing on the largely East Coast-based indoor finals circuit.
"It feels amazing; it's like a dream come true," Barnett said of winning the small junior, 15 and under, championship. "I was nervous, but my horse was great, and I couldn't be happier with how it ended up."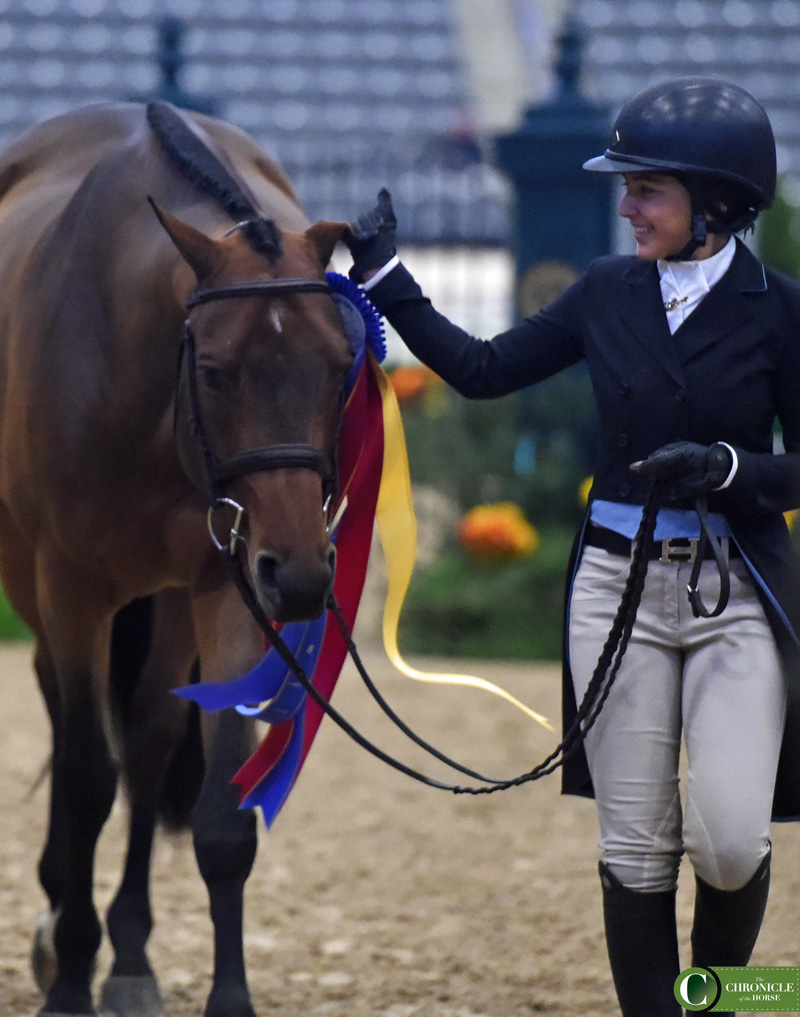 Barnett has been riding "Lush" for two years now.
"He was my first junior hunter, and I was his first kid; we've really kind of grown up together." Barnett said of the 9-year-old gelding. "He wants to know everyone's business; he's super sweet. He's kind of like a big dog, super loveable, and he just loves attention."
All of the junior hunter champions, reserves and second reserves have the option to compete in Friday night's $50,000 National Horse Show Hunter Classic.
"We're planning on doing the class tonight, so I'm super excited about that," Barnett said. "Then he gets a big break before we start the winter circuit."
Rounding out the junior hunter champs line-up is Devin Seek and Bugsy Malone, who grabbed the small junior, 16-17, title. It was an emotional win for Seek because it's her last time competing in the junior hunters before she ages out of the division.
"It feels amazing; I can't put it into words," Seek said.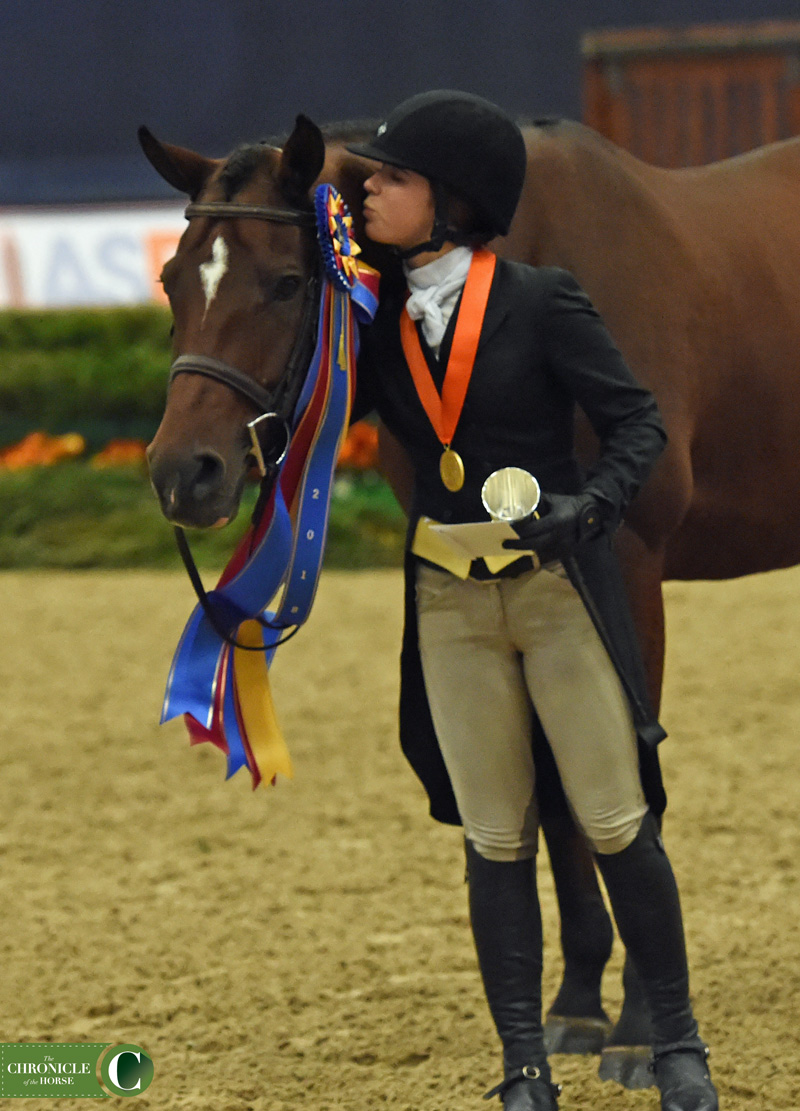 "This is her last junior hunters, her last indoors as a junior, last everything," said Don Stewart, Seek's trainer. "She's been knocking at the door the whole circuit with this horse, and he won the last class to seal the deal here."
Seek, Ocala, Florida, is able to appreciate the win even more on a horse like Bugsy.
"I'm so happy with how he went, and everyone behind me that supported him through everything, because he's special; he can definitely be hard to deal with," Seek said with a laugh. "But he's the best; I love him to death. So I'm ecstatic; this was awesome."
Seek is attending Southern Methodist University in Dallas.
Click here for full results from the juniors, and check back with the Chronicle for more from the National Horse Show!