Devon, Pa.—May 26
Storyteller Checks Another Championship
Storyteller comes to any horse show with a reputation. The chromey chestnut German Sport Pony of unknown breeding has won everywhere there is to win including Capital Challenge (Maryland), Pennsylvania National Horse Show and Washington International Horse Show (District of Columbia). And while he was reserve champion at the Devon Horse Show (Pennsylvania) with Mimi Gochman in 2016 and helped Taylor St. Jacques earn the Best Child Rider on a Pony title in 2015, he's never earned that blue, red and yellow tricolor himself at the famed showgrounds.
But this year, with Grace Debney, he not only earned the tricolor in the large pony hunter division above Gabrielle Young and Hidden Springs Woodstar, he also captured the grand pony championship.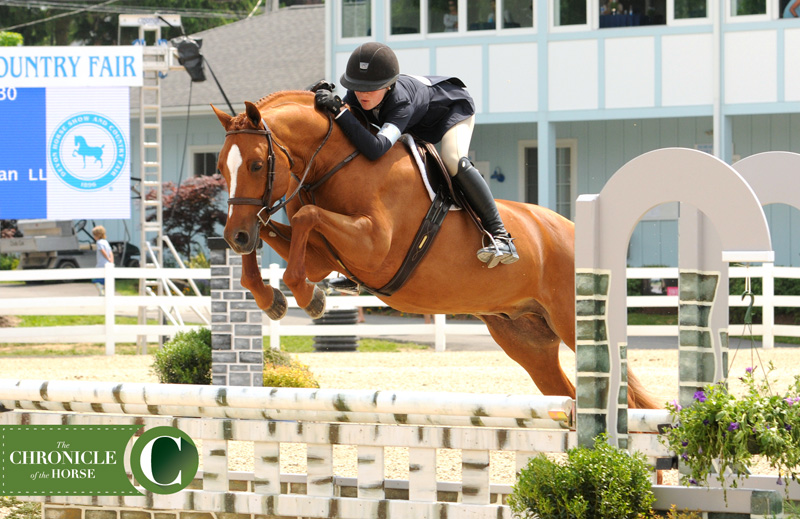 "He always tries his best though. He especially knows when it's a big show. He really wants to win," said Debney. "He is the sassiest pony I know. He's so goofy, but when it's time to do his job, he knows exactly what to do. But in the stall, he sticks out his tongue and does all this weird stuff."
The 14-year-old from Camden, Massachusetts, started riding him at the turn of the new year in 2017. During the season, "Story" stays with trainer Stacey Weiss at Shadow Ridge Farm in Westminster, Maryland, and Ocala, Florida, and Debney commutes back and forth.
"I ride ponies at home. I have a large pony at home, so that helps keep the same stride and stuff," said Debney. "Then I get there on the Fridays and I school. It takes me a couple jumps, but then I always get back in the groove of it."
The pair captured the WCHR Pony Challenge last fall, but despite the success, Debney vowed to not assume anything heading to Devon.
"I didn't want to come in too big-headed, but I wanted to definitely try my best," said Debney. "I just wanted to have a good consistent Devon and get ribbons."
As Debney competes more in the junior hunters—she also captured the reserve championship in the small junior, 15 and under, division—she believes this might be her last Devon on the diminutive equines.
"I was just happy to be here, but this is just amazing," she said. "It's such an honor to be able to ride him honestly, but I'm glad I did so well because he's done so well before. I wanted to live up to that."
Weebiscuit: The Christmas Present That Keeps Giving
On Christmas Day 2016, trainer David Beisel tried to be sneaky. His daughter Izzy had leased Weebiscuit from the Gochman family since the beginning of 2015, and with a giant bow tied around the small Welsh Pony gelding, he could finally surprise her.
"My mom put me in my room, and she closed my shades," said the 11-year-old from Goshen, Ohio. "We have a fence around our backyard, and the gates were all open. My dad was closing the gates. I had no idea. My dog likes to chase horses when they're hanging around. [And my dog got out and starting chasing him.] My dad tied a giant bow on him. And so he was my Christmas present, literally running around in the backyard."
And Weebiscuit proved to be more of a small pony winner. He tolerates his forelock being braided into a unicorn horn. He stands patiently as Izzy dyes his hair purple with Quic Silver—which they have shown with. And he dons Twinkle Toes constantly since the sparkles are Izzy's good luck charm.
"They're kind of a permanent fixture because she does it all the time at home," said David. "We tried to tone the twinkles down because they were really twinkly a couple of weeks."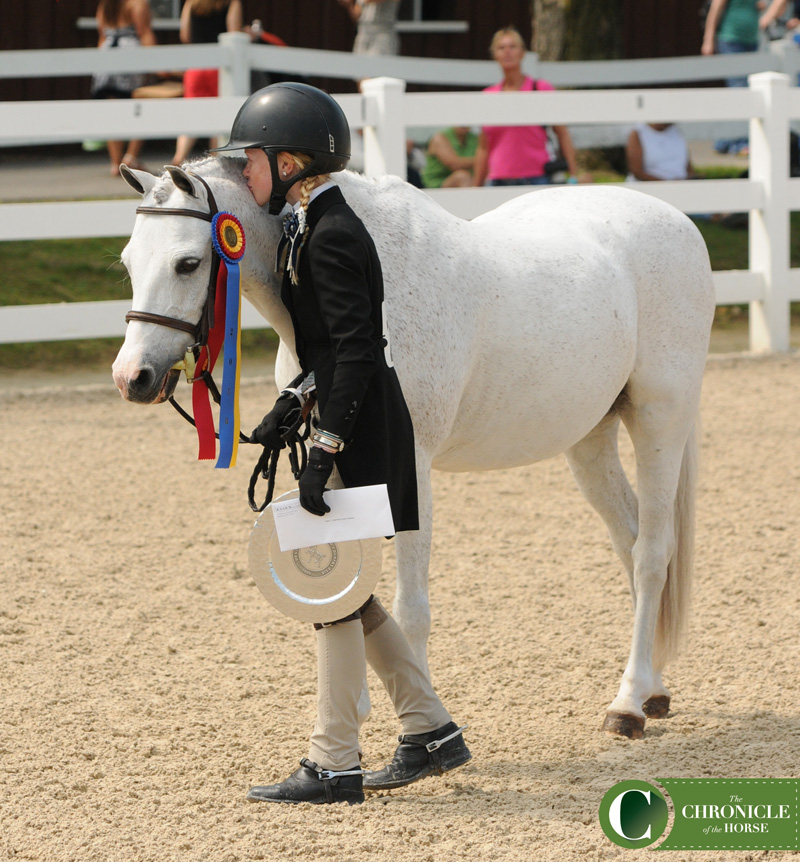 For Izzy's first trip to the Devon Horse Show, he gave her yet another present—a small pony hunter championship with sparkly toes and all. The championship title came down to the wire against Maddie Tosh and Bit Of Love, but she focused on soaking in the fun for her debut.
"Sports were invented for fun, and if you can't have fun you shouldn't do it," said Izzy.
Trainer and dad combo couldn't be more happy: "I have fun watching her go around—very proud dad," said David.
Alexandra Sica Makes Her Winning Devon Debut
Being champion for the first time with a loved mount is always special. But Alexandra Sica decided to take that excitement up a notch. With her one and only pony Greystone's Star Bright, the pair earned their first championship ribbon in the medium pony hunters at Devon above Tessa Downey and Anisette.
"She's won a lot of equitation classes—a lot of medals," said trainer Lainie Wimberly. "She's almost put it together for a champion and reserve but not quite. But it's a great show to do it at."
Wimberly has Brigadoon Show Stables in North Salem, New York. Not only did she take Sica on her leadline experience and teach her up-down lessons, she worked with "Wishy," the Welsh Pony cross mare bred by Greystone Stables (Glencoe Highcard—Greystone's Praline), years earlier.
Wishy passed through different trainers to teach kids throughout the years. But when Sica matured enough for the medium ponies, Wimberly sought out Wishy again.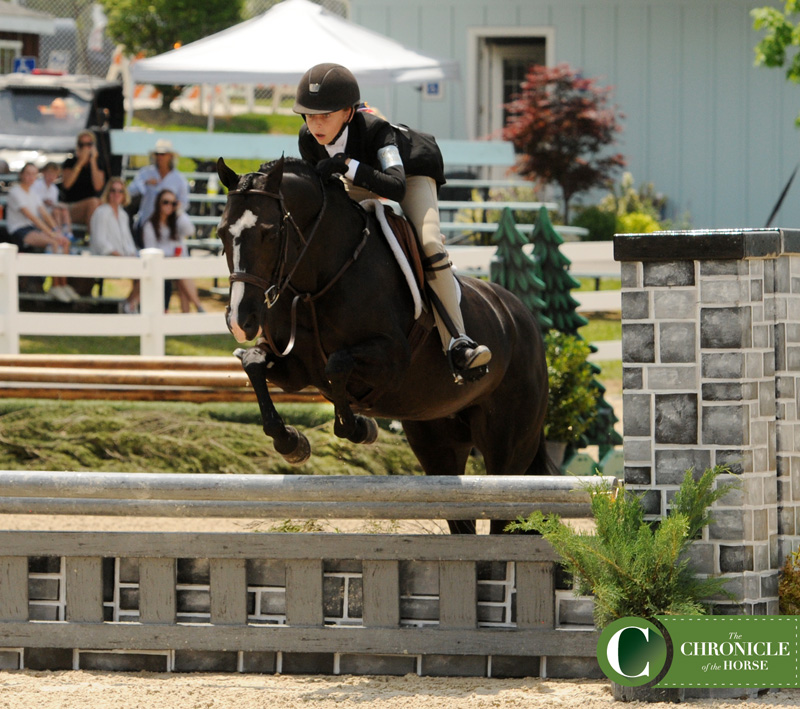 "I knew it would be a great match for Alexandra," said Wimberly. "And I always really liked the pony. I think she's the quality that you want, but it's not always push-button. So you can win, and you've got the quality, but she does teach you to ride. And she's a very honest, forgiving, sweet, kind pony. That keeps you on your toes. She never does anything bad, but she might come out a little frisky one day or might see something off in the distance. You just have to say, 'Come on Wishy, let's do this!' And if you do, these are the results."
And Wishy certainly has taught the 13-year-old from Ridgefield, Connecticut.
"My ponies before, I never really needed to sit back as much as I have to do now," said Sica. "She kind of hangs her head a little low, so I have to hold my hands up and sit back at the same time."
"The pony kind of found her way home. And to be champion at Devon, it's just unbelievable," said Wimberly.
Looking for information on where you can watch and when your favorite riders or classes go? We've got it all in one place for you. 
Find all our coverage from the show here, and check here for full results.
Make sure you're following us on Facebook, Twitter and Instagram as well.
Want more Devon? Check out the June 18 issue of the print magazine. What are you missing if you don't subscribe?
2018 Devon Pony Hunter Winners
Laura Lemon / May 27, 2018 9:13 pm