Devon, Pa.—May 31   
Five division champions were crowned over three days of intense open hunter competition at Devon. Scott Stewart remained the king of the show, collecting yet another Leading Hunter Rider title and claiming the grand hunter championship.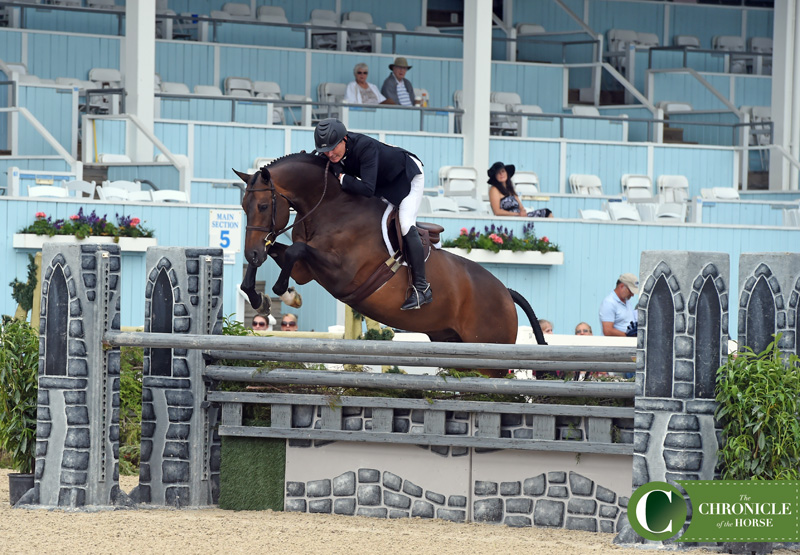 Grand Hunter and High Performance Hunter – Cameo and Scott Stewart
Cameo and Stewart jumped to four blues and a third place in the high performance division at Devon to claim that championship and the grand hunter title.
"He's really brave and the bigger the jumps, the better. Both days the courses were nice, but they were definitely scopey, and I think that paid off for him. He got to try pretty hard," Stewart said.
"He's a great horse, but I haven't been so lucky as to have four good classes in a row on him. He can get a little bored, but the handy was interesting enough to keep him thinking. The best part about him is that he's comfortable and brave. He definitely was at his best this week."
Stewart and his partner Ken Berkley bought Cameo, a 9-year-old warmblood by Coriano, three years ago in Germany. Betsee Parker purchased the dark bay soon after his arrival. He had been being used as a breeding stallion in Europe, but they gelded him. "He did the high performance a little bit as a first year horse. And he showed just a few times in Florida this year; we don't show him a lot," Stewart said.
---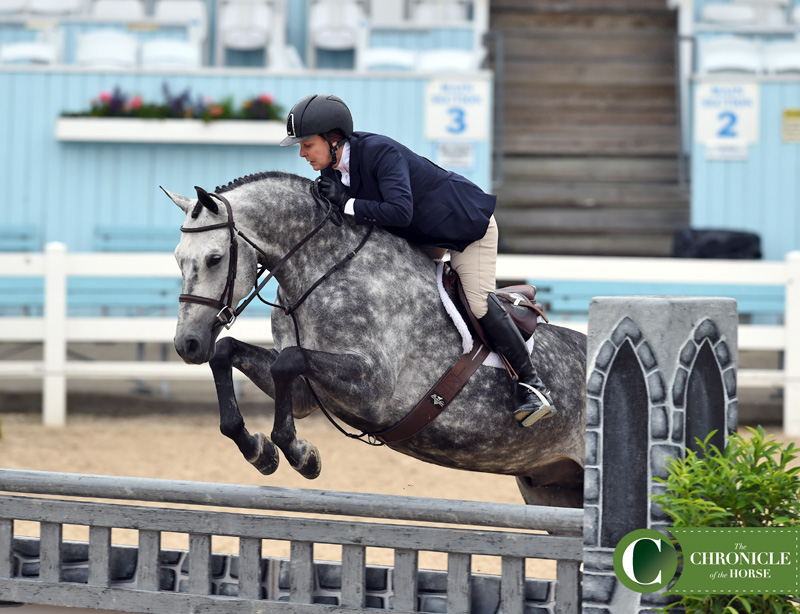 3'6" Green Hunter – Kings Landing and Louise Serio
Kings Landings' owner, Bryan Baldwin, picked him out from a video as a 2-year-old and bought him from Europe without seeing him in person. A friend, Andy Witzmann, took a look at him and approved, and then Baldwin left Kings Landing in Germany with Witzmann for two years to grow up and be broken.
"We decided that because the really nice horses are getting so expensive that we needed to go to younger horses," Baldwin said. "We bring all the young ones over at 4, and then Louise [Serio] and Peggy Gehman have been working with them since. He's just a winner. He's always been special," Baldwin continued. "I think it's very rewarding because it is such a risk. You don't know what you're going to have when they're that young. Anything can happen! It's risky, but it's rewarding."
Serio and Kings Landing, 7, picked up two wins over fences on Day 1 of the division, then were second in the stake to take the tricolor. "He's had kind of an easy life and now he's grown up and gotten bigger and stronger and he's good to go. It was a good time to peak here," Serio said.
"He's a very calm horse and this was the first environment where he kind of perked up and said, 'Wow, look at this!' But he didn't do anything wrong, he rose to the occasion."
---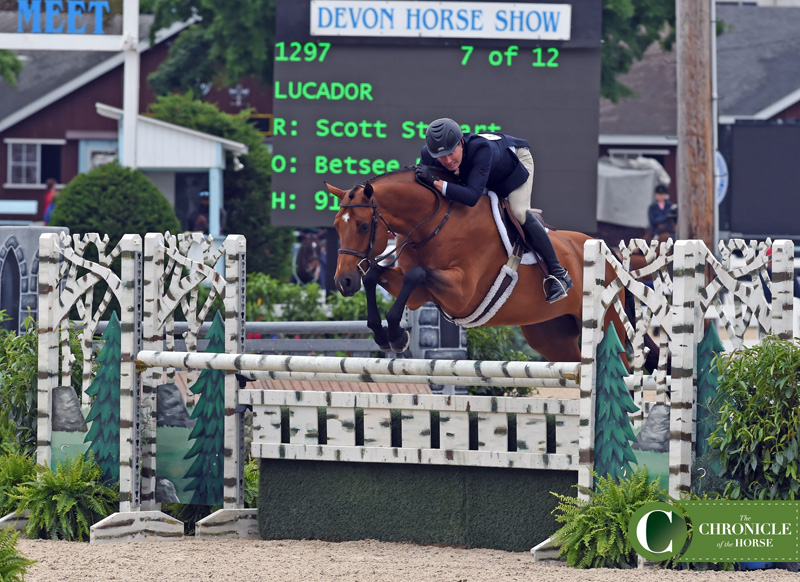 High Performance Conformation Hunter – Lucador and Scott Stewart
Stewart laughed as he remembered Lucador's Devon last year. "He had to win the last class to be champion, and it was the exact same line as today. And he was going amazingly, but he can be a little silly sometimes," he said. "He landed from the second-to-last jump and just porpoised all the way down the line and I couldn't even jump the last jump; I had to circle." They ended up reserve champions last year.
This year, Lucador, 9, left the silliness behind and jumped his way to the tricolor.
---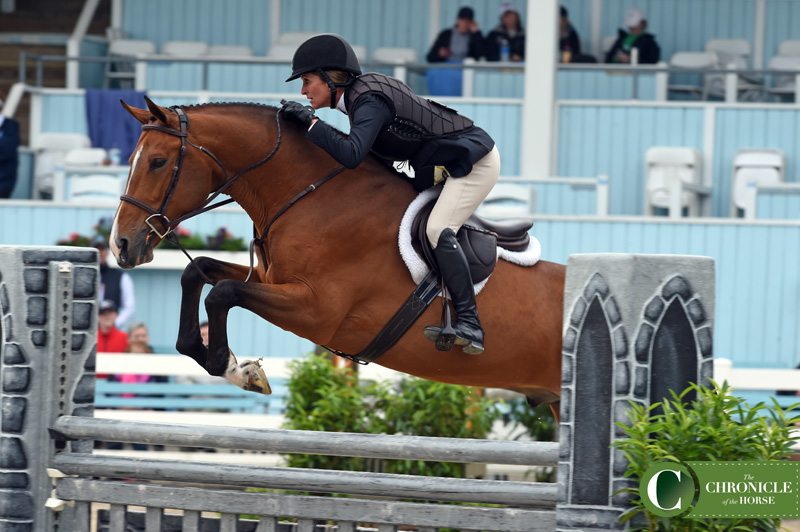 3'9" Green Hunter – Because and Sandy Ferrell
Because, 10, started his U.S. showing career with a few classes in the jumpers with Melissa Rudershausen in late 2015 after she imported him. But Daniel Geitner switched him to the hunters, then Jane Gaston bought him and he showed in the amateur divisions with her and in the first year green classes with Kelley Farmer. He's a horse Sandy Ferrell always admired.
"I didn't know this horse was for sale, but I believe things in life happen for a reason—through a random conversation we found out he was for sale, and it was like fate," she said. "[Owner and amateur rider Aizlyn Radwanski] has gotten to the level in her riding where she's good enough that if she has the winning horse, she's going to win. We told her dad, 'Dad, it's time to win.'
"He's pretty much a winner every time he goes in the show ring," Ferrell said. "He's such an amazing horse. He goes in that ring to win. The thing that I love about him as a rider is that he's so good and so athletic that he can cover up mistakes, which is an amazing ability for them to have. If you're a horseman, you're going to fall in love with this horse."
Radwanski is also scheduled to show Because in Devon's amateur-owner hunter, 18-35 division.
---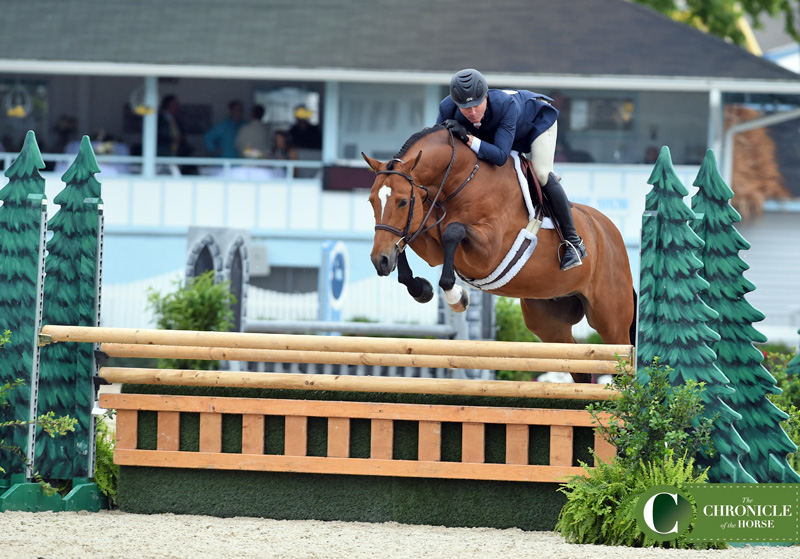 Green Conformation Hunter – Private Life and Scott Stewart
"Private Life is awesome. He's the easiest horse I have to ride, and he's just 6. He was second in the [night class] so he's really brave. He doesn't look that big or scopey, but he's actually quite scopey. For his young age, he's really great in all environments," Stewart said.
Private Life started his show career in January 2016 in the pre-green classes and he was 11th in the USHJA Pre-Green Incentive Championship that summer. In the fall, he won the 5-year-old Future Hunter North American Championship at the Capital Challenge (Md.). At the Winter Equestrian Festival (Fla.) this winter, he showed in the green conformation five weeks and was champion four of those and reserve once; he also placed second in the $100,000 WCHR Peter Wetherill Hunter Spectacular.
Can't get enough hunter photos? See our galleries from the first two days of Devon's open hunter divisions: click here for Monday and click here for Tuesday. 
To see all of the Chronicle's coverage from the Devon Horse Show, click here. And make sure to read the June 19 issue of The Chronicle of the Horse for more in-depth coverage from Devon.