Ocala, Fla.—March 11
If Andrew Ramsay's show jumper Stranger had a second career, it would be professional tap dancing.
The horse could not stand still for even a moment in the prize giving ceremony after he won the $35,000 Sovaro Grand Prix at the Live Oak International Horse Show. Well, take that back—he would have seconds here and there where he stood at attention, ears pricked and eyes on some unseen monster in the corner of the ring, and then he would spin away.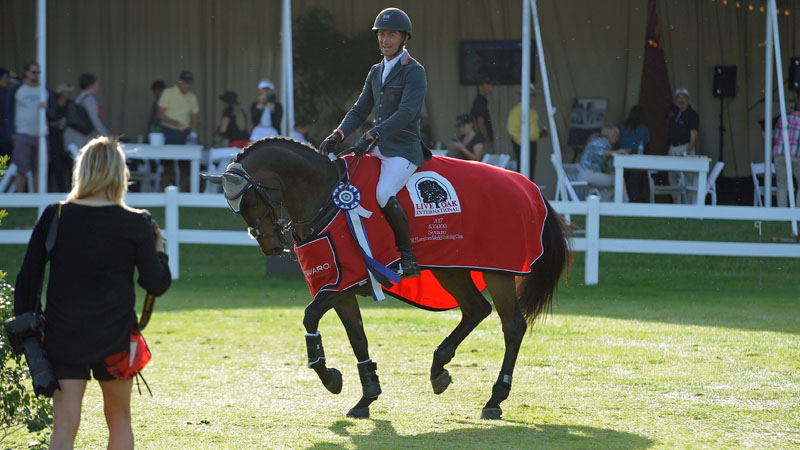 "He's a little spooky and scared of things,"  Ramsay said with a grin. "He can make himself small sometimes. And so that's how the nickname 'Mouse' came along."
Mouse borrowed the heart of a lion to pull off a win in Saturday's grand prix—with an entry list 57 riders strong and a jump-off group of 14, the class demanded a blistering short track performance to come out on top, and that's just what Ramsay and Mouse turned in.
Despite going very early in the 14-horse order, Ramsay laid down a time no one could catch, complete with a very tight inside turn to the penultimate fence that caught some riders off guard with stops, rails and falls when they tried the same.
"My thinking when I came in the ring was to ride as competitive as I can," Ramsay said. "If you can watch people in the jump-off it definitely helps, but I was jumping the jump-off, and I decided not to save the horse for tomorrow."
Ramsay will also jump the $100,000 Longines FEI Ocala World Cup Qualifier on Sunday with Stranger.
"I just tried from the first fence to have a good pace and keep going and do the best we can, and you work through the class and see where you end up," Ramsay said. "It just worked out for me today."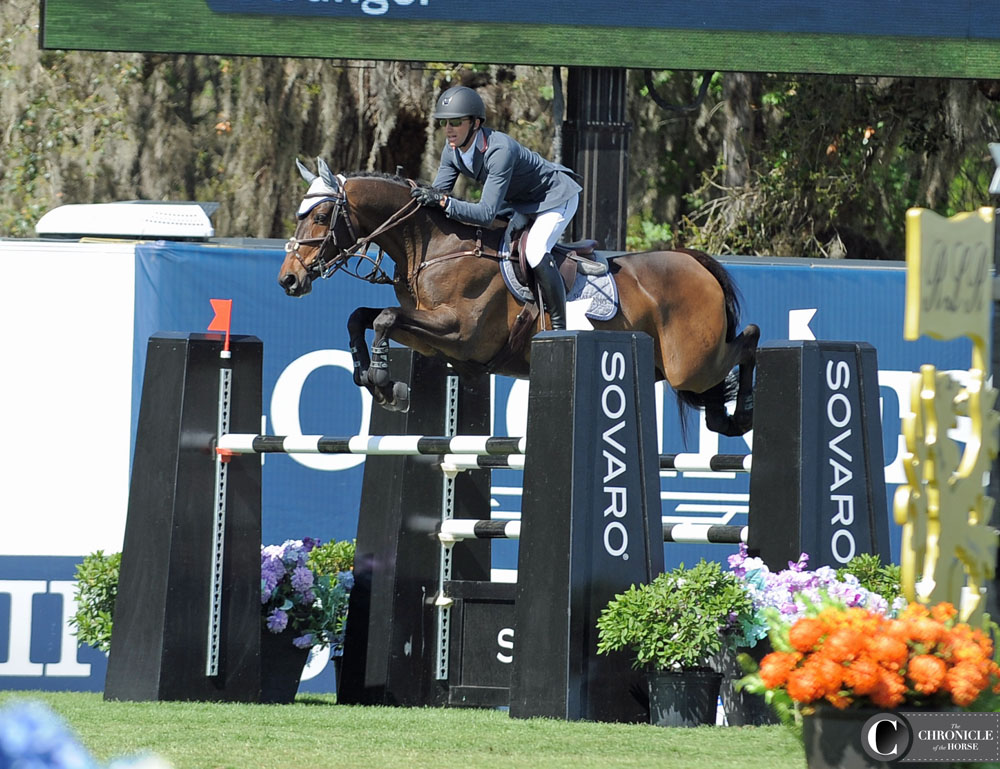 Ramsay has been riding Mouse for a little over a year after finding him as a low-on-experience 9-year-old in Europe. .
"I saw him, and I loved his type," Ramsay said. "He has a character about him. He's a lovable horse and very attentive, and so he came and we took our time to build him up.
"He's naturally a quick horse which is wonderful when you're trying to be competitive in the ring because you don't push him, you just let him go," Ramsay continued. "And where I find myself in trouble is when I do push him, when I rush him I don't give him that second to study the fence measure it back up himself."
Give the Mouse his moment to peak, and he rises to the occasion.
"I have high hopes for him. As long as I can let him take his time, and he'll tell us when he's ready to move up the levels," Ramsay said. "But if I give him that chance to take a breath in front of the fence, the feeling is easy. I think he can do great things."
Devin Ryan took second place on Eddie Blue, a horse he has brought along since he was a 4-year-old. Ryan won the 5- and 6-year-old Young Jumper Championships and took second in the 7-year-old championship with Eddie, and the horse has continued to impress him as they moved up to the open divisions.
"It's always a little bit of a risk purchasing young horses, but I always say if they react properly to their mistakes then they'll be good," Ryan said. "He's always reacted properly, every time he goes in the ring if he does something wrong the next time he goes in the ring he never forgets, he always remembers. He's a super star horse."
Ryan thinks he made a bit of a rider error to cost Eddie Blue the ribbon most fitting of his name.
"For me the second to last fence [in the jump-off] was the hardest because I didn't get there the way I wanted, but I also think it was hard because it was a forced inside turn," Ryan said. "Nowhere else in the course you had to go tight, you had the option to stay out a little bit, which was nice on the course designers part.
"But there if you went around you weren't going to get a piece of it," Ryan continued. "Or you weren't going to have a chance. So that last turn wasn't necessarily difficult but if it didn't show up the way you wanted, well you get second!"
Click here for full results from the class, and don't forget to check out the March 27 issue of The Chronicle of the Horse magazine for more pictures and stories from the Live Oak International Horse Show!