Although she has not ridden in over 20 years, Cynthia Smith volunteered so much of her personal time to eventing last year—537 hours, or the equivalent of about three months of full-time work—that she nearly doubled the previous hours-donated record set for the U.S. Eventing Association Volunteer Incentive Program. Much of that time was spent at Pine Top Horse Trials in Thompson, Georgia, an event that she played a vital role in establishing more than 30 years ago.
Smith, 62, of Martinez, Georgia, started riding when she was 16 and participated in U.S. Pony Clubs on lesson horses before getting her own horse at 24. She received a horsemanship degree at Post University (Connecticut), competed through training level in eventing, and worked as a riding instructor for many years, traveling and teaching all over the country with her military husband. They eventually landing in Georgia, where she got a job as an instructor at Pine Top Farm. 
She decided to trade teaching riding for teaching physical education in schools, knowing the job would provide a retirement fund that freelance riding instruction wouldn't. But she missed horses once she joined the school system, and she decided to start volunteering to stay connected to the equestrian community. It was decision that has paid dividends for untold riders who have benefitted from her assistance at various eventing and dressage competitions across Areas II and III since.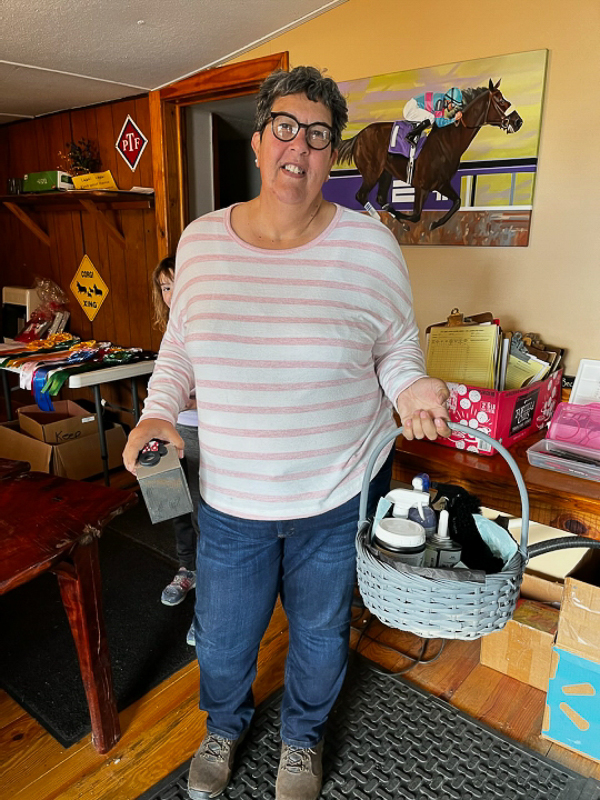 "I've always considered myself a horsewoman, even during the time frame that I wasn't in the business," she said. "That was still how I thought of myself, and I do now. So [volunteering] was my way to get back in and get involved in basically where I think I belong. That's my world."
Although she has not been able to ride in more than two decades due to physical challenges, she has been working to address those issues and hopes to get back in the saddle again this year.
Can you tell me a little bit about your history in the horse business? 
After I graduated [from Post College], I got a job at a place called Fairy Cliff Combined Training Center in Bristol, Rhode Island, and I was the beginner-intermediate instructor there. Then I got married to a military man, and we moved quite a bit, like military people do. Whenever we moved, I'd do freelance teaching. Several of the army posts actually had riding stables, and I taught riding  lessons to people at Fort Sill, Oklahoma, and at Fort Rucker, Alabama. 
Then we went to Germany. I took some riding lessons but didn't do a whole lot there. When we came back, I started freelance [teaching] again. I had students who were competing at sanctioned horse trials. I only had a few at the time. 
I met Janet and Glenn Wilson of Pine Top Farm before Pine Top was really doing anything. I taught their son, Robert Alan, who was only 6 at the time. I talked to them, and I saw their property, which was doing foxhunting stuff because they were involved in the Belle Meade Hunt. When I saw the property, I said,  "Oh gosh, this would be such a nice place to have an event." 
They ended up coming to a show to watch some of my students compete, and when they saw cross-country and stuff, the Wilsons said, "We could do this." They started boarding people at Pine Top Farm, and then I became the instructor there. That's when they got in touch with everybody they needed to design courses, and they started running sanctioned horse trials. I taught there for several years. They still today run beginner novice through advanced horse trials. 
What was your favorite part of being an instructor?
I enjoyed watching students moving up from level to level. I taught beginner novice through preliminary riders. I had two students actually that started out barely beginner novice, and when I quit teaching, they were competing at preliminary. 
My students were really successful because I made sure they were solid at the levels that they competed at and real solid at that level before they moved up. They were usually schooling at home a level above what they were competing at, so I knew they could safely move up. I feel like I was always a better instructor than rider, if that makes sense. I've always had a really good eye for teaching. I mean, I rode OK, but I felt like I was a more talented [instructor]. 
How did you catch the volunteering bug? 
I was volunteering at Pine Top even when I wasn't riding or teaching, when I was a PE teacher. When I retired from being a PE teacher, that's when I really branched out, and I started to go volunteer at a lot of other horse farms that ran sanctioned horse trials. I'm lucky; I'm between Pine Top and Aiken (South Carolina). Aiken has four farms that run sanctioned horse trials. So sometimes I can do three weekends a month of horse trials between those two places. I volunteer at all of Pine Top Farm's shows, and I also volunteer a lot at Stable View in Aiken, which runs up to advanced. I do some of the smaller horse trials and schooling horse trials in Aiken as well. 
What positions do you work? 
I've done everything. At certain farms, I do certain things. I scribe a lot. I do score-running at Pine Top. I cross-country judge a lot; that's my favorite. I've been the scribe for stadium jumping. I decorate cross-country courses at Stable View. I've done just about every position there is. I don't do stadium crew, which requires a lot of running and lifting, because I'm not able to do that right now, but that's about the only job I don't do.
What are some things that you have learned about the sport through volunteering? 
I think my eye has gotten better as far as dressage goes because I'm also scribing big dressage shows and sitting with the judge. I can see a lot more now, a lot more of the finer details. I think that that's the big thing that I feel like [I've learned] as a volunteer.
We need to get more younger people heavily involved in volunteering. Because the core group that I'm with, most of us are over 50. A lot of us are in our 60s and 70s that are doing some of the [tough physical labor] of volunteer [work]. 
It would be nice if more of the younger riders did some volunteering to get more of an overall feel for what's going on in putting on these horse trials. Because I don't think people realize what it really takes to do this if they've never really done a lot of volunteering. I think it would be helpful if more young people got involved. 
Any advice for other people thinking about volunteering? 
Ask someone. Make sure you ask someone if you have any questions, someone that you know has volunteered a lot. Ask them a bunch of questions to make sure you really know what you're doing. And if you're a new volunteer, and you're going to do cross-country [jump judging], make sure you listen during the briefing. You have to really listen if you're not sure what you're doing.
What suggestions do you have for volunteer coordinators to improve volunteer retention and keep people coming back? 
Good communication. I work with two of the best volunteer coordinators, I think, in this area. Melissa Rundt [at Pine Top Farm], and Rhonda Campbell from Stable View. They are outstanding volunteer coordinators. The big thing is communication. If they need to switch you from one position to another, they need to get in touch with you a day or two before and let you know, "Is it OK? I need to switch you to do another job." 
That happens to me every once in a while, and I'm fine to do it with notice that I'm going to do it. I don't like to show up the day of and think I'm doing this job and then find out I'm doing something else. 
Those two volunteer coordinators, I'm so happy to help them out. They'll call and say, "Oh, we need a scribe. I can find somebody else to jump judge, but I can't find somebody else to scribe," and I'll switch because they let me know. So just giving you advance notice about what's going on, to me, is the important thing.
What do you do when you're not volunteering for events? 
I do grandma stuff. I have a 15-year-old grandson. He and my son live upstairs in my and my husband's house. I do a lot of homework with him. I do a lot of stuff with my son and my grandson. I also crochet a lot, and I like to cook. And I'm trying to get healthier and lose weight so I can ride and be successful again, so I walk my dog a lot. And I crochet because I have really bad arthritis in my hands, and if I crochet a little every day, I have a lot less pain. So everybody in my family has an afghan [blanket]. I might have to start donating them!