Wellington, Fla.—Feb. 25  
Riders can be a rather reserved bunch.
Sure, there are the few you can count on to always gleefully fist pump the air or hug their horses after a good round, but the majority of top riders cruise around a 1.60-meter track like its nothing and walk out of the ring with just a small pat on their mounts neck.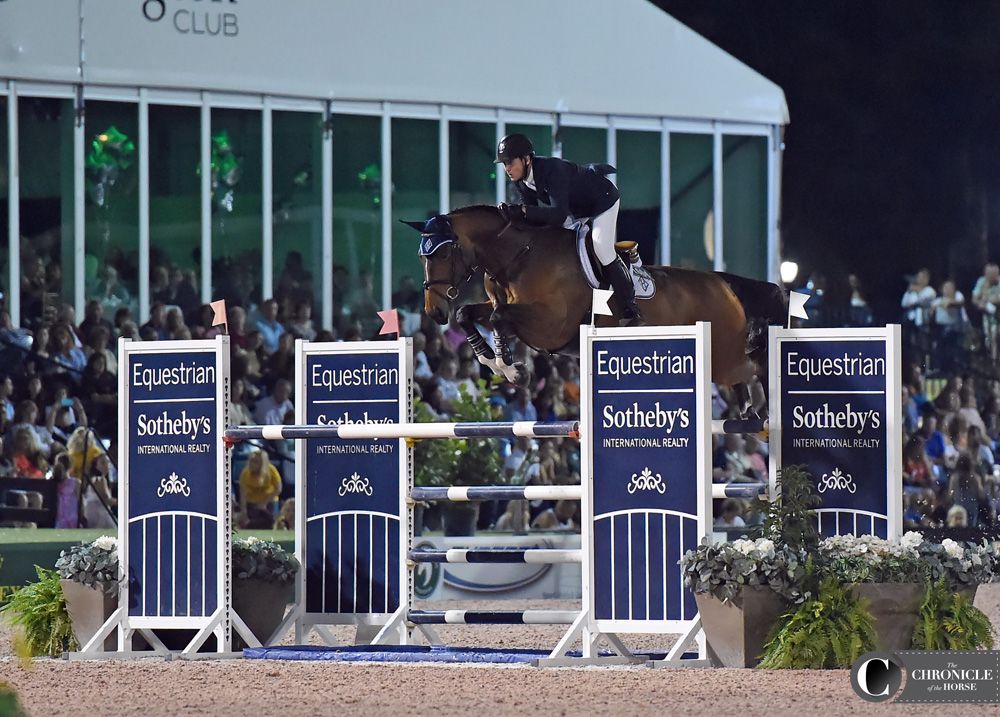 McLain Ward is one of those riders—incredibly focused and very stoic. After jumping a clear first round in the $380,000 Suncast CSI***** Grand Prix with HH Azur Ward pulled up, gave the mare a quiet pat and exited the ring, game face still firmly in place. There was a 12-horse jump-off to contend with still after all, and for most of the winter season Ward has been riding the wrong kind of streak.
"I have to say I was probably a bit motivated tonight. I've been on a little bit of a four-fault run, and getting a little frustrated," Ward said. "Eric [Lamaze] has been winning everything, and when he hasn't won Sergio [Alvarez Moya's] won," Ward grinned, ribbing second- and third-place finishers in the class.
"Sometimes, [Eric] says I have a look. I think I had it tonight," Ward said. "I wanted it a little bit."
When Ward wants it, he goes all out for it, and luckily his super mount HH Azur was up to the task. Going late in the jump-off order, Ward knew what it would take to win: some tight turns on a series of rollbacks laid out in the middle of the ring had the crowd gasping at the mare's efforts, his speedy gallop from the penultimate fence to the last left out a stride, and he kicked off the ride with a gallop to an incredibly tight turn from fence 1 to 2.
Ward had a rub on the second to last fence, but it stayed in the cups and the four-fault curse was broken. A glance up at the timer as he flashed across the finish line confirmed he had taken over the lead from Eric Lamaze and Fine Lady V, and the game face was replaced with a jubilant fist pump and cheer as Ward flew by the crowds.
"I'm thrilled with the mare. This is her first big start of the year," Ward said. "It was an interesting jump-off, I thought. As Eric [Lamaze] said, we have very different horses, and there were pros to the jump-off for both horses. There were long gallops at the beginning and the end and those hairpin turns in the middle which for a big horse like mine are slow. It's difficult to keep the momentum.
"I thought it was quite a well-balanced jump-off, and it was a fraction [of a second difference in times]," Ward continued. "I had a little bit of a lucky rub on the second to last, but like I said I've been having some unlucky ones lately, so I'll take it!"
Canadian Olympic veteran Lamaze and Fine Lady were less than half a second behind Ward's time to finish in second.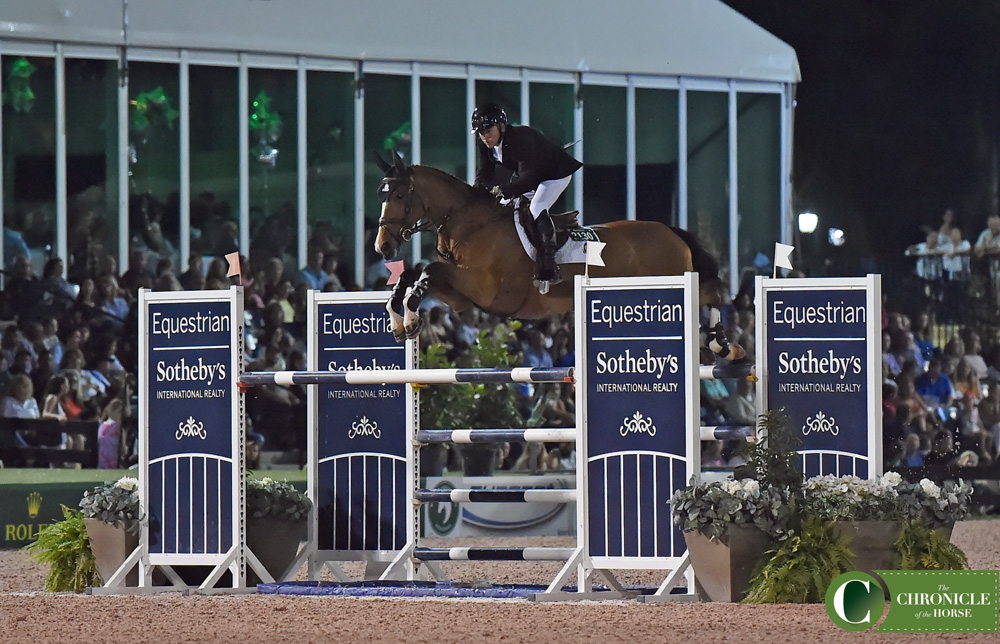 "She has really jumped fantastic every time out," Lamaze said. "She gave me all the effort that she could—McLain was just that much better today. You might say he was lucky, but there was nothing lucky about the round that he had."
Sergio Alvarez Moya of Spain and Arrayan took third place, clocking a jump-off time that was just .03 seconds off Lamaze.
"I was super happy when I finished the jump-off today," Alvarez Moya said. "The way I could ride in the jump-off, I must say the turns suited me quite well. The left side is not very good with that horse, he gets very strong, so I was really happy the way that he went."
Alvarez Moya has been working with Arrayan for almost a year and has made real progress from the beginning of their relationship till now.
"He was doing the two-star classes, and he was really, really strong. I actually didn't take him to a show for a few months because I could hardly ride him," Alvarez Moya said. "I started riding him then he had two months of flatwork and jumping at home. Then he started showing again. He was just getting better and better. He doesn't have all of the experience, but he tries. He wants to jump clear."
Click here for full results, and check out The Chronicle of the Horse magazine for more in-depth coverage from the $380,000 Suncast CSI***** Grand Prix!