North Salem, N.Y.—May 22
It was last year at the Old Salem Spring Horse Shows that McLain Ward made headlines with an up-and-coming mare, HH Azur.
This year, HH Azur's in Europe getting ready to make a bid for the U.S. team for the Rio Olympic Games. But have no fear, Ward just happens to have another amazing young mare waiting in the wings.
Ward and Tina la Boheme scored an impressive victory in the $130,000 Empire State CSI3* Grand Prix, presented by The Kincade Group, to close out two weeks of competition at the Old Salem Farm Spring Horse Shows.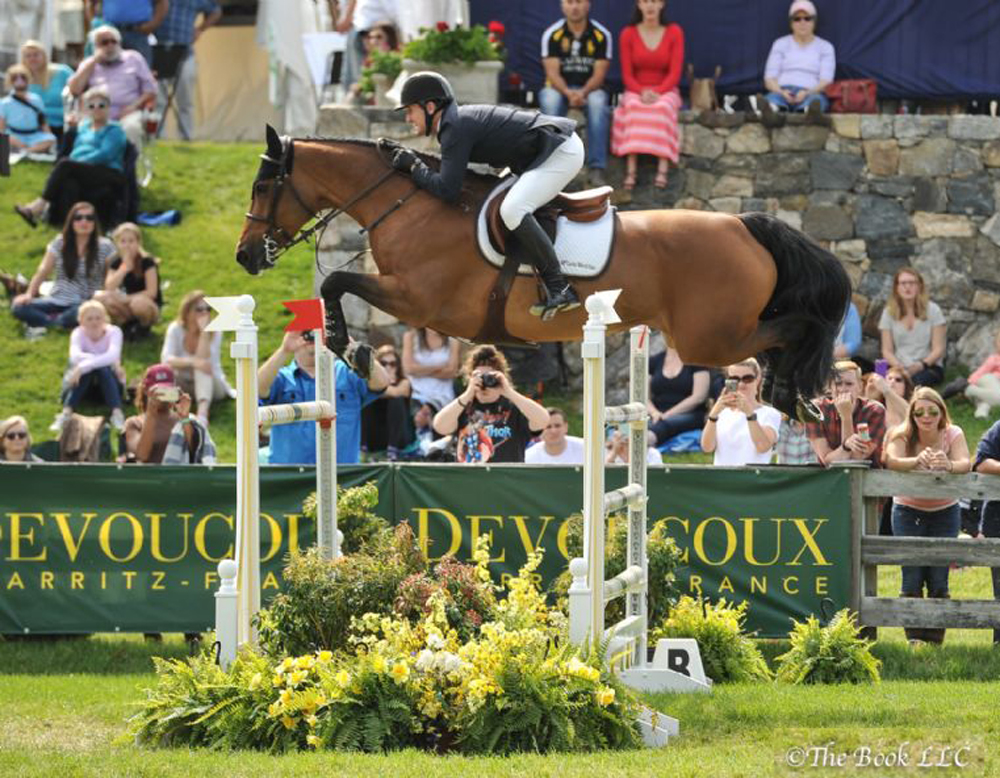 McLain Ward and Tina La Boehme. Photo by The Book LLC
While the crowd that gathered on the banks of the Grand Prix Field at Old Salem Farm on Sunday afternoon was expecting another win from veteran Rothchild, who topped the $35,000 Grand Prix of North Salem two days before, what they got was a head-turning performance from one of the younger horses in Ward's string.
Ward and Artie Hawkins—who is a legendary hunter rider, trainer and judge—purchased the 9-year-old mare in partnership in November before developing her throughout the 2016 season in Florida.
"Artie is a very dear friend of my dad's and a great horseman," said Ward. "Last year, he said he'd like to invest in a horse, so we bought her when she had just turned 8 years old. It's a really exciting day to do this and a little bit special for me for it to work out. Sometimes you buy a young horse for a family friend and a great horseman and you have the best intentions, but it doesn't always go the way you want. She looks like a really nice horse."
After proving that she has what it takes to jump against international-caliber horses and riders, Tina la Boheme is facing a promising future with Ward. "I hope to have another really nice grand prix horse next year," he said. "This is how we make them. You have to put in some work, but you have to start with talent like she has."
Tina la Boheme started her U.S. career in January in the 1.35-meter division at the Winter Equestrian Festival (Fla.) with Ward, then steadily moved up the heights. By the 12th week of WEF, she jumped in the $130,000 Suncast 1.50-meter Classic Final.
With the young mare winning, the veteran and popular Rothchild had to settle for third after a rail in the jump-off, with a time that was 4 seconds faster than anyone else in the six-horse jump-off. Leslie Howard produced the a double-clear effort with Gentille van Spieveld for GJ Stables and Peter Howard in 48.34 seconds for second place.
"Rothchild is a great old friend of mine and a winner. I thought he was a little bit unlucky today not to win. It was a cheap rail, and he jumped phenomenal. But, that's sport," Ward said.
It was at the Old Salem Farm Spring Horse Shows in 2008 that Ward jumped his first class aboard the then-7-year-old Belgian Sport Horse gelding. Ward had recently imported Rothchild and was campaigning the young horse. In honor of the anniversary, Rothchild—now a seasoned 15-year-old—bucked Ward off in the schooling area on Wednesday before carrying him to win the $35,000 Grand Prix of North Salem on Friday afternoon.

McLain Ward and Rothchild, winners of the $35,000 Grand Prix of Old Salem on May 20. Photo by The Book LLC
"Everybody knows I didn't want him; I thought he was crazy. He was hot, a little bit special, but careful!" said Ward with a smile. "He does his job. He is who he is, and I always say he's a little like my dad. I love him to death and he's amazing in every way, but some days…"
With an obvious knack for winning at Old Salem Farm, Ward admits that his horses strive at the venue, which is just a few miles up the road from Ward's home base in Brewster.
"[Rothchild] has done very well on the field," he said. "I find that a really massive field like Spruce Meadows eats him up a little bit. He's an 'adder'. I have to take time in front of the jumps and in those giant rings it's hard to always be adding and make the time allowed."
Final Results:$130,000 Empire State CSI3* Grand Prix, presented by The Kincade Group
1 TINA LA BOHEME: 2007 Selle Français mare by Calvaro Z x Arpege Pierreville*HN
MCLAIN WARD (USA), McLain Ward and Artie Hawkins: 0/0/44.62
2 GENTILLE VAN SPIEVELD: 2006 Belgian Warmblood gelding by Heartbreaker x Capital
LESLIE HOWARD (USA), GJ Stables and Peter Howard: 0/0/48.34
3 ROTHCHILD: 2001 Belgian Sport Horse gelding by Artos x Elegant de l'Ile
MCLAIN WARD (USA), Sagamore Farms: 0/4/40.49
4 CLEARWATER: 2007 Holsteiner gelding by Clearway x Come On
MARILYN LITTLE (USA) Karen O'Connor: 0/4/42.28
5 GENTLEY: 2006 Belgian Warmblood gelding by Bentley vd Heffinck x Major de la Cour
FILIP DE WANDEL (BEL) Filip de Wandel: 0/4/43.87
6 CASSINJA S: 2006 Dutch Sporthorse mare by Carinjo x Cassini I
CHARES JACOBS (USA), CMJ Sporthorse, LLC: 0/4/44.43
7 DONTEZ: 2008 Dutch Warmblood gelding by Verdi x Wolfgang
SARAH SCHEIRING (USA), Cheval Equestrian, LLC: 1/79.11
8 ROBIN DE PONTHUAL: 2005 Selle Francais gelding by Elf D'or x Calypso D'Herbiers*Ecolit
PETER LUTZ (USA), Katherine Gallagher & Michael Meller: 1/79.31
9 HH CISKE VAN OVERIS: 2002 Belgian Warmblood mare by Celano x Darco
MAGGIE MCALARY (USA), Double H Farm: 4/76.00
10 AVON: 2004 Swedish Warmblood stallion by Quidam de Revel x Cortez 679
MATTIAS TROMP (USA), Beyaert Farm, Inc.: 4/76.37
11 WIRMA: 2003 KWPN mare by Hors La Loi II x Lux
BRIANNE GOUTAL (USA), Remarkable Farms LLC: 4/76.40
12 QUALITY: 2004 Oldenburg gelding by Quidam's Rubin x Grannus
JIMMY TORANO (USA), Deborah Perkins: 4/76.86
Final Results: $35,000 Grand Prix of North Salem
1 ROTHCHILD: 2001 Belgian Sport Horse gelding by Artos x Elegant de l'Ile
MCLAIN WARD (USA), Sagamore Farms: 0/0/43.810
2 CLEARWATER: 2007 Holsteiner gelding by Clearway x Come On
MARILYN LITTLE (USA) Karen O'Connor: 0/0/44.930
3 DONAR J: 2003 Belgian Warmblood gelding by Thunder van de Zuuthoeve x Skippy II
ADRIENNE IVERSON (CAN), Redfield Farm: 0/0/45.030
4 WIN FOR LIFE: 2006 Zangersheide gelding by Winningmood van de Arenberg x Chatman
CHRISTINE MCCREA (USA), Candy Tribble: 0/0/50.080
5 HH WHISKY ROYALE: 2005 Zangersheide gelding by Wonderful Van't Beugehof x Kannan
QUENTIN JUDGE (USA), Double H Farm: 0/4/45.990
6 ZERNIKE K: 2004 Dutch Warmblood gelding by Sam R. x Topas
BRIANNE GOUTAL (USA), Remarkable Farms, LLC: 0/4/47.880
7 CASSINJA S: 2006 Dutch Sporthorse mare by Carinjo x Cassini I
CHARES JACOBS (USA), CMJ Sporthorse, LLC: 0/4/49.200
8 GENTLEY: 2006 Belgian Warmblood gelding by Bentley vd Heffinck x Major de la Cour
FILIP DE WANDEL (BEL) Filip de Wandel: 0/4/49.870
9 QUIDAM MB: 2005 Oldenburg gelding by Quidam's Rubin x Argentinus
ADRIENNE STERNLICHT (USA), Starlight Farms LLC: 0/4/50.930
10 HELIOS: 2007 Belgian Warmblood by Couleur-Rubin x Grandeur
ADRIENNE STERNLICHT (USA), Starlight Farms LLC: 0/35/85.050
11 DYNAMO: 2003 Belgian Warmblood gelding by Skippy II x Lys de Darmen
CHRISTINE MCCREA (USA), Candy Tribble and Windsor Show Stables: 1/84.380
12 URUS 2: 2005 Oldenburg gelding by Canturo x Cento
LJUBOV KOCHETOVA (RUS), Ljubov Kochetova: 2/88.810