In advance of tomorrow's team qualifying show jumping competition at the Olympic Games, McLain Ward has been added to the U.S. squad with Contagious. He'll join Laura Kraut on Baloutinue and Jessica Springsteen on Don Juan Van De Donkhoeve for the three-person team. Gazelle, ridden by Kent Farrington in the individual competition, will now serve as the team's alternate horse.
All four U.S. show jumping horses passed the second jog at the Olympic Games this evening in Tokyo.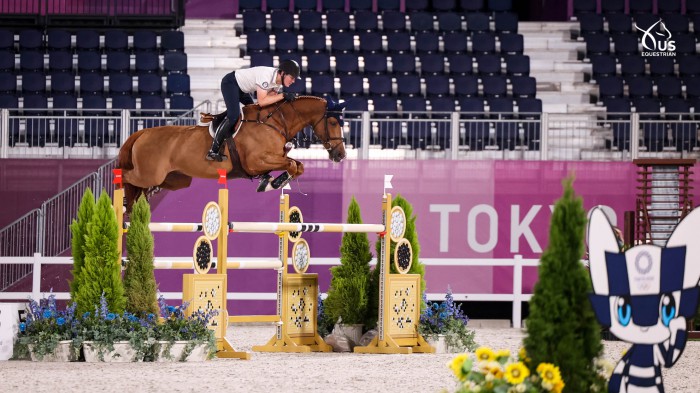 At these Olympics, according to Fédération Equestre Internationale rules, chefs d'equipe have up until two hours after the conclusion of the second horse inspection to designate the horses and riders for the team qualifier. There is no penalty for changing the roster between the individual competition and team qualifier start. (If horses are substituted between the team qualifier and team final, a veterinary or medical certificate is required.)
According to U.S. Show Jumping Chef d'Equipe Robert Ridland, this plan has been in place for at least a month.
"We've had this strategy now—it's obviously been internal—but it's how we wanted to divide it, and in most championships and certainly similar situations, the comfortable analogy would be it's a three plus one, and you have a reserve rider," he said. "That was never our plan coming in. We were a team of four riders first, and we always planned on doing what we're doing now, and this was something that the riders agreed to and, more than that, volunteered to do. There's been incredible team spirit internally. All the decisions have been made jointly, and McLain coming in fresh for the team has always been the plan."
No U.S. riders qualified for the individual final on Aug. 3, with Farrington and Springsteen having one rail down each and Kraut having two. The show jumping team qualifier takes place tomorrow, and all 19 teams will jump to decide which 10 return for the team final on Aug. 7.
"Fortunately, all the horses are sound, and the riders are feeling great, and we can do exactly what we were planning on doing," said Ridland. "That's our strategy, and our expectation of course is to live another day and move on to the final on Saturday, and we all feel prepared and well-positioned to do that. I think that any chef d'equipe here would admit that this is an incredibly strong team competition, and the likelihood—with the differences and no discard score—is that one or two top teams won't make it to Saturday; it's just the way sports are. We obviously hope that's not us, and we're really looking forward to tomorrow night. We have a very positive vibe within our team right now."
All other horses presented at the second inspection passed this evening. Mike Kawai didn't present As De Mai for Japan, and Scott Brash didn't present Jefferson for Great Britain. Cian O'Connor did not present Kilkenny as he has withdrawn from the remainer of the competition after his horse suffered a nosebleed in the individual final.
The show jumping team qualifier is Friday, beginning at 6 a.m. Eastern Daylight Time (7 p.m. local time). Watch it live on NBC's Olympic livestream or catch televised highlights scheduled for broadcast at 12:45 p.m. EDT on NBCSN.