On Feb. 4, grand prix competitor Mavis Spencer battled her nerves and guided Georgy Maskrey-Segesman's Gerardus to second place in the $10,000 USHJA National Hunter Derby during Desert Circuit III (California) after showing him in the high performance hunter division. Though her heart still belongs to the jumpers, the experience gave her appreciation for the discipline, the people around her and the horse. 
Spencer, 30, of Santa Monica, California, joined forces with Maskrey-Segesman and her Whitethorne LLC in 2020 after starting her professional career under the guidance of Kent Farrington, Darragh Kenny and Neil Jones. She has worked her way up the jumper ranks to compete at the five-star grand prix level. Here, she tells us about her experience switching rings and getting out of her comfort zone.
---
I haven't shown a "real hunter" since I was a junior. But since Georgy Maskrey-Segesman imported this new hunter Gerardus [an 11-year-old Dutch Warmblood (Carambole—Ruata, Iroko)] to her sales string, she wanted me tie that show number to my back.
I walked up to the ring at 7:30 a.m. and took one look at the size of the jumps for the high performance division, and my stomach dropped. These are massive. All I could think was, "How am I supposed to lope up to these out of a slow rhythm with a good balance to the gap?" I was so stressed, and I wasn't even on the horse yet.
And competing didn't make it go away either. When I came out of the ring, Georgy was laughing because I had this look of terror on my face. She asked, "What's wrong?" And I was like, "I couldn't see a single distance." I think she thought I was joking. But something that I realized is that it's such a different way of riding when you're trying to be light, loose, open and have just a nice, soft feel. I picked up the canter and was cantering down to the first jump and was thinking, "I don't see anything." I kept telling myself, "Don't panic. Look away. Look back. Something will show up."
It ended up being fine. It was maybe a little close here or there, that sort of thing. But it was just such a different experience for me because I'm so used to how I see my distances, which is to the pole. So in the hunters I always end up being a little closer than I should be because there's three or four feet of fill and flower box out in front, which is something I find kind of amusing.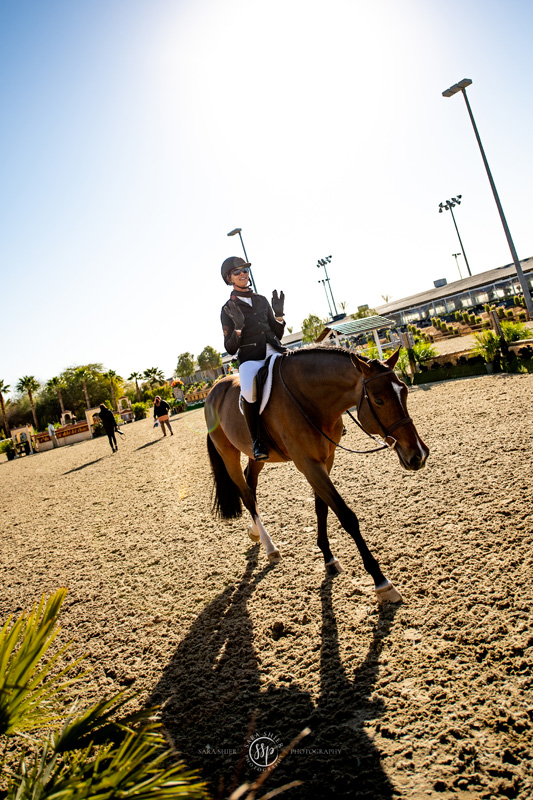 I decompressed after that stressful moment and continued about my day before the derby. I had just jumped the 1.30-meter on my new 8-year-old, when Andy Burney, the back-gate guy, yelled over and said, "Hey, you know you have one in the derby, right?"
Subconsciously I kind of forgot that I had to do it. He was like, "You know you're like 12 out?" In my head I thought, "The hunters go slow; it will be fine." So, I finished my cool off and got off. I rolled my stirrups up, undid the girth, then I got on my bike and biked over there.
Turns out, I didn't have as much time as I thought I did. I got there, and Jessie Yumang was like, "You're eight out. You need to get on." I didn't know the course. I couldn't find my horse, and when I noticed he was standing under the tree next to me, that was when I knew I was way more nervous than I even had realized.
They were [telling me], "All right, the first line, march up there in nine." I was like, "Nine? I have to count to nine? My dyslexia is fully going to interrupt this. I'm going to lose count at six or seven. Oh my God!" Then they made an announcement that 86 was the cut off score; it just kept getting worse.
I held my breath the whole time, which I tend to do when I ride. But it is way different when you're jumping a 75-second jumper track than when you're going around a two-odd-minute hunter course. I was blue when I came out of the ring. When they announced my score, and they said, "87 with four high options and a score of 91"—I was shocked. I thought for sure I had misheard; there had been a mistake; there was no way.
Suddenly then we had to walk the handy, and I'm like, "Oh my God, there's another round! And I have to walk?" One way went inside to the trot jump, and I was like, "Inside? There's a jump there, what do you mean you're going to turn inside here?" I was mindblown about some of the things—[the] open up here and turn inside—because in the jumper ring, I wouldn't have thought twice about it.
My handy was nice; I wasn't brilliant in any capacity. I did go inside to the trot jump, which I was very stressed about, and I didn't chip the trot jump either or get left behind. To come out and end up second on a horse where it was his first derby and my first derby is something I'm really proud of.
I just have so much respect for the professionals. I'm sure it goes both ways; they look at me and think, "Wow, I can't believe you jump those big jumps." I'm like, "Yeah, but you guys jump big jumps, and you do it out of a perfect rhythm and balance with a light contact and feel, and you leave a gap, and you don't put pressure on." Or if they are doing that, you never see them doing it.
Remembering Why We Do This
"Comfort is the enemy of progress" is something that my parents always said to me growing up. Just because something makes you nervous, or you're scared, or you're worried that you won't be successful at it, if you never try, you're never going to get better. The biggest thing about this sport is that it's constantly evolving, and you never stop learning. [You just can't be] afraid to be unsuccessful in an attempt to learn and make yourself better, because no one goes out the first time and is automatically successful. It's something that you're constantly working at.
Another takeaway is making sure you surround yourself with people who believe in you and who lift you up. I'm so lucky I have that with Georgy; she's incredible. She always has a smile on her face, always happy. She's so supportive. Without her I never would have done this, let alone be on the horse that I was on and have the success that I did.
She must have said it 10 or 12 times in the warm-up: "Remember we're just here to have fun. You're doing great. It's OK."
You have to be in an environment where people are encouraging you, not just to be successful but to give it a shot and not make you feel like if it doesn't go well, you're some sort of failure. It's got to be a journey; it's got to be a process. Having that sort of positive environment around you really allows you to flourish.
It is very easy to constantly go around and around in circles in the arena and forget about why we honestly all started riding in the first place. I don't know anyone who started riding, and they thought, "Oh, show jumping would be fun." It's about the partnership, or otherwise you might as well play tennis or drive a car. It's about curating that partnership.
So, was it a nice derby round? Yes. Do I think it was frankly worthy of an 87 with four high options and ending up being a 91? I don't know. But for me it was about the experience, and I think that going out there and trying new things and remembering why you started doing it in the first place without getting caught up in everything is really important. It's very easy to lose sight of that. Everyone has their own journey and their own way of getting there. That's just as much a part of it—doing things for yourself and for the right reasons.
---
This article ran in The Chronicle of the Horse in our March 21 & 28, 2022, issue. Subscribers may choose online access to a digital version or a print subscription or both, and they will also receive our lifestyle publication, Untacked. 
If you're just following COTH online, you're missing so much great unique content. Each print issue of the Chronicle is full of in-depth competition news, fascinating features, probing looks at issues within the sports of hunter/jumper, eventing and dressage, and stunning photography.