Lexington, Ky.—Nov. 12
Ashley Maul knew when she bought Adiah HP in 2021 that all eyes would be on her and the pinto Friesian-Dutch Warmblood mare.
Not only does Adiah (Nico—Marije Ant) stand out in the ring because of her pinto color and flashy movement, but her partnership at Grand Prix with her former rider Jim Koford meant she had a huge fan club.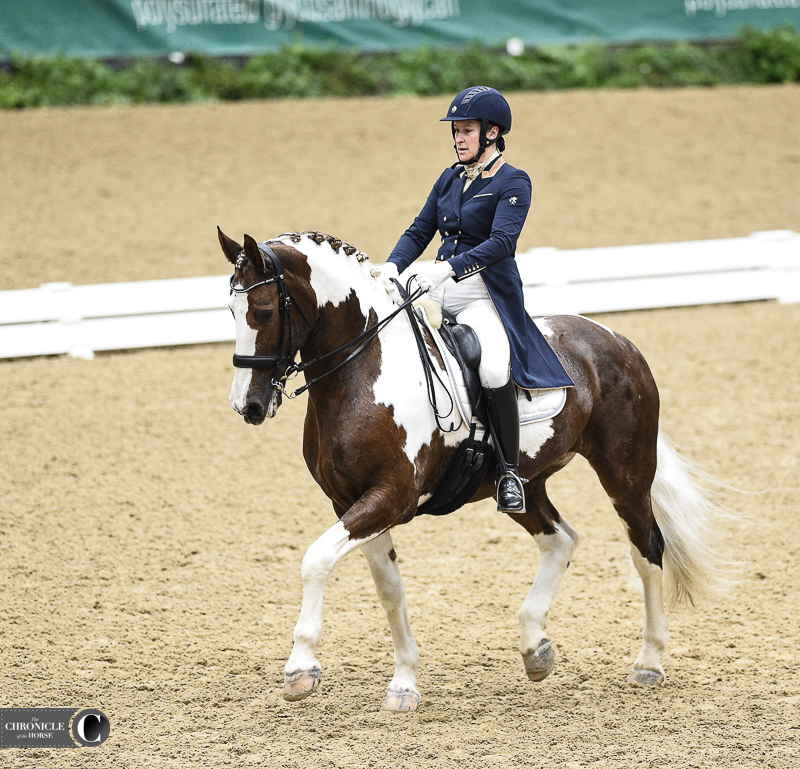 Maul, a small animal veterinarian based in Delaware, Ohio, came to U.S. Dressage Finals last year and finished second in the adult amateur Grand Prix freestyle. This year she did one better, winning the championship (70.00%) a day after finishing as reserve champion in the adult amateur Grand Prix (65.76%).
It was the pair's first time scoring 70 percent in a freestyle, and their second 70 percent at Grand Prix since partnering up. "That was essentially what I was after, and then the win was just extra," she said.
Maul knew Adiah, who was bred by Sherry Koella, from training with Koford, but that didn't change the pressure she felt when she bought the 15-year-old mare as a schoolmaster. "It's intimidating because everywhere I go, it's like, 'Oh, it's Adiah!' And I feel like the idiot amateur rider, but we're getting better and more confidence," she said. "Jim keeps helping, and he's the best cheerleader and gets you going well and feeling like you can do it even though I haven't really done it before. He's been there the whole way, and he sees her and comes to do clinics. She just loves seeing him all the time.
"I call her a supercomputer because she's very nuanced, and occasionally I put in the wrong input and I get an error message back," she said with a laugh. "So I'm trying to just decrease the error messages by making better inputs. She's so smart, and it's very different. I've never ridden one that's not a warmblood or a Thoroughbred. I was an eventer in my last life. It's the weirdest thing. It's totally different, but it's a good way to grow as a rider."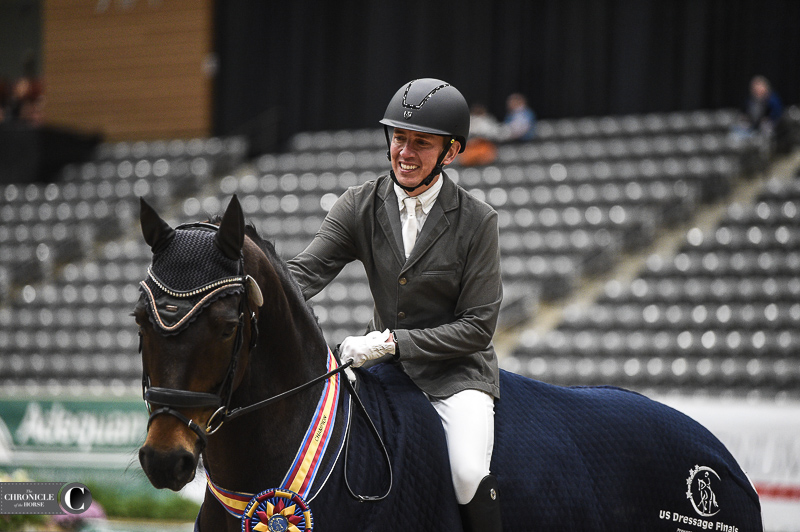 Bobby Covington could hardly believe it when he was announced as the adult amateur second level freestyle champion with Carlson (74.64%). He also won the adult amateur third level reserve championship (69.25%) and the adult amateur second level reserve championship (69.96%).
"This is surreal," he said. "To win and do the victory lap around the Alltech is mind blowing. Adult amateurs don't frequently get to compete in there."
This was Covington's third time attending Finals and his first win.
"I felt really good," he said of his ride. "It was the first time we'd competed in the Alltech, and walking down the tunnel, it's like you're going to the Olympics. It was one of the first times after riding that freestyle that I actually teared up. He was so good and was on everything."
Covington, Austin, Texas, is a former eventer. He won the beginner novice amateur division at the USEA American Eventing Championships (Texas) in 2015 on his Thoroughbred Halo. When that horse got navicular and needed an easier job, he started trying dressage.
He wanted an older, quieter horse two years ago, and he found Carlson through Marta Renilla. He'd been through her barn twice to be sold. Carlson, now 14, is a Hanoverian gelding (Contendros Bube—Wonne).
"When you do eventing, dressage is the boring part, but once you dig into the movements it's just as challenging and rewarding and exciting as when you jump a big jump or finally nail a movement you've been working on," said Covington, who now works with Martin and Jenna Arnold at Concordia Dressage.
He's worked full time as an executive assistant for the CFO of Whole Foods, which is based in Austin, for 14 years and says his dream would be to take Carlson to Prix St. Georges.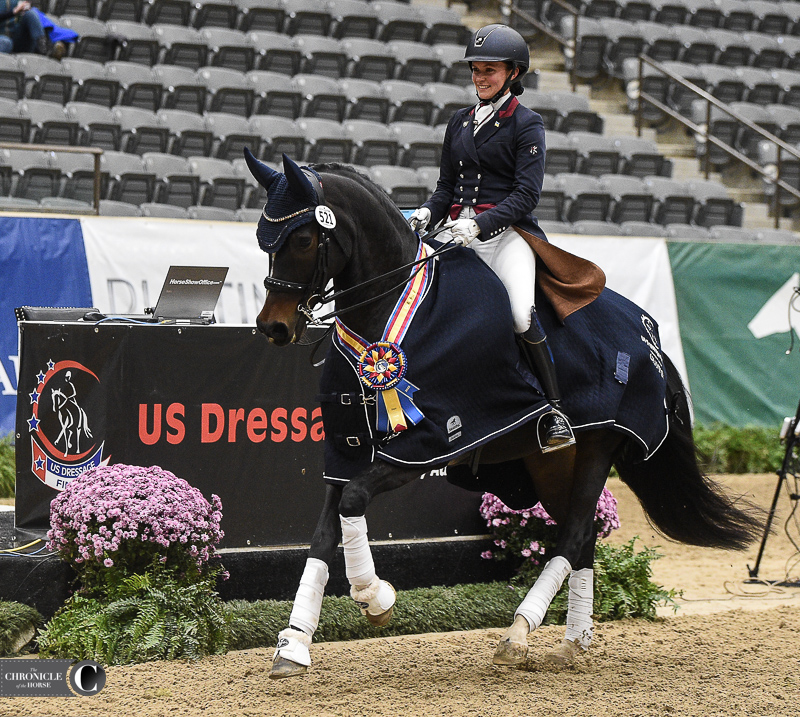 Greta Vowell was first in the ring for the open Intermediaire I freestyle championship this morning, and by the end of the 21-horse class, her score of 74.35% still stood with Guinevere CPF, an 11-year-old Dutch Warmblood mare (UB-40—Amulet-ISF).
"It felt amazing. This horse stayed with me the whole time, and that's been our struggle. I couldn't be happier with her," she said. "We're finally getting there. She's an incredibly sweet mare, but she's very hot and can be very tense. We've spent a lot of time trying to build her confidence and get her relaxed in the ring so she can show her talents and not just the tension. I feel like this weekend we did."
Based in Berthoud, Colorado, Vowell bought Guinevere, who was bred in the U.S. by Julie Lane and Celtic Pride Farm, when she was 8 months old. She fell in love with a photo of her as a foal and liked her breeding.
The mare injured her coffin bone in the field as a 3-year-old, so was started late at 5. "It's been not so straightforward because she's super hot and a little bit tricky in the connection, but she's athletic, and she learns things easily, so sometimes it's easy and sometimes it's hard," said Vowell. "I've been teaching her if she can use her back and let go in her neck and stay steady in the tempo, the tension doesn't build so much."
Vowell is a professional and is hoping the mare will be the first to take her to the Grand Prix ring in the future.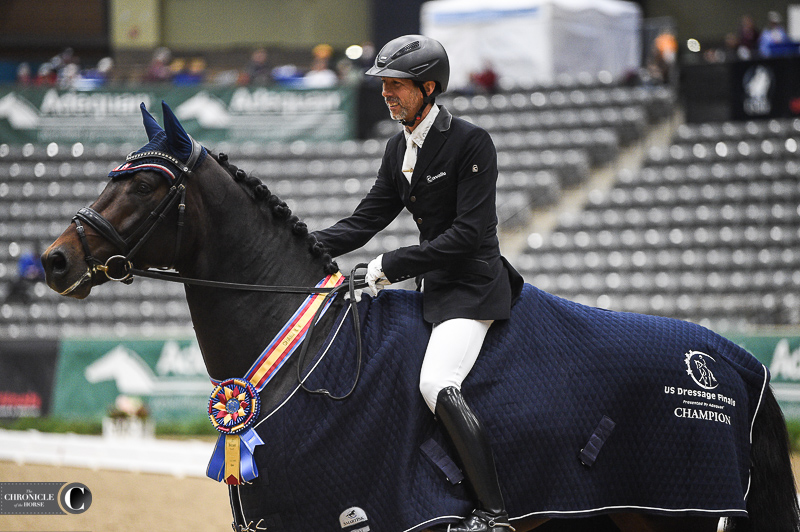 Michael Bragdell enjoys his day-to-day job at Hilltop Farm in Colora, Maryland, where he gets to ride between eight and 10 horses, many of them youngsters. He brought two horses to Finals, and on Saturday he took home the open first level championship (72.28%) with Louisville HTF, a 5-year-old Hanoverian stallion (Lord Leatherdale—Unicum-D), bred and owned by Hilltop Farm.
Bragdell's ridden "Louis" since he was 3. "I'm really excited about him," he said. "He was such a trooper out there. It was a tough day for everybody with the rain and cold, but he just went out there and basically said, 'Whatever you want, Michael, I'll do it.' I can't be any more happy with that. It's fun to come here. It's a fun environment. It's fun to meet everybody from across the country. It makes it feel like something special. For me to bring my 5-year-old and him experiencing this, I think it's a great opportunity, especially going into Alltech and seeing all that."
Bragdell said riding young horses has given him joy and kept his own riding honest.
"It's fun to see them grow up from the babies to start riding them and developing them over the years," he said. "After a while when you've done a few, you start figuring out ways that will make the process a little bit easier. You do a lot of mistakes along the way, and I'll do plenty more. What do we take home from that and how do we become better trainers and educators? I love the young horses because the horses are amazing how they allow us to train. They're extremely smart, and they pick up stuff so easily, and I think sometimes if we're not fully aware of what we do and our habits they kind of pick up our bad habits. I always find it very interesting to work with young ones and educate them. It keeps you on your toes in a good way. It's a fun process."
COTH's Coverage I Results I Live Stream I Schedule
2022 U.S. Dressage Finals - Saturday
Lindsay Berreth / Nov 12, 2022 8:39 pm