Matthew Metell of Wellington, Fla., returned to southern Vermont to win the $50,000 Vermont Summer Celebration Grand Prix on Saturday, Aug. 12, during the final week of competition at the six-week Vermont Summer Festival running through Aug. 13 at Harold Beebe Farm in East Dorset, Vt.
Course designer Gerry Briggs of Smyrna, Tenn., saw five horses jump clear over his first-round track to qualify for the jump-off. Metell was the only rider to produce a double-clear performance in a time of 42.77 seconds riding Donchalant, a 9-year-old Dutch Warmblood mare owned by Wolver Hollow.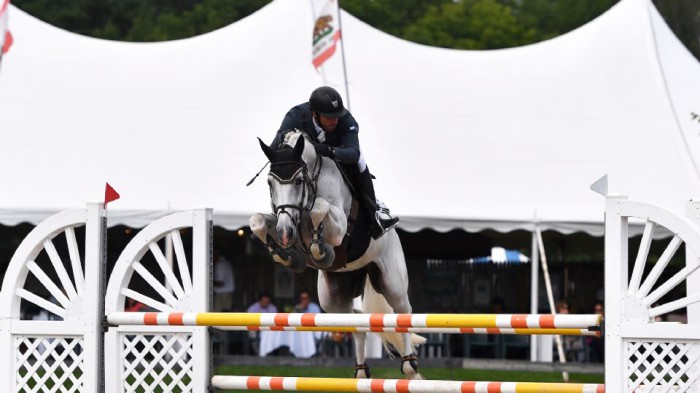 David Jennings of Franklin, Tenn., jumped clear but incurred 3 time faults riding Aventador for a second-place finish. Jimmy Torano of Wellington, Fla., rode three mounts in the $50,000 Vermont Summer Celebration Grand Prix, placing third with a score of 4 faults in a time of 46.32 seconds with Sans Soucis Z, his winning mount for Thursday's $10,000 G.H. Bass Welcome Stake.
Cassandra Orpen of Wellington, Fla., took fourth after incurring 4 time faults riding Ciara Charcamm Z while Danielle Torano of Wellington, Fla., who retired Umberto Ter Wilgen Z in the jump-off, rounded out the top five.
Of his mare's impressive speed over the jump-off track, Metell noted, "I never have to try very hard to go fast on her, and she doesn't ever want to let you down. That's the best part about her."
Saturday marked Metell's third grand prix victory at the 2017 Vermont Summer Festival. The 27-year-old earned the first grand prix victory of his career in the $30,000 Vermont Summer Special Grand Prix during week one, followed by another win in the $30,000 Battenkill Grand Prix during week 2.
"She went so well here earlier in the season, I wanted to come back and take a shot at the big grand prix," said Metell, who gave Donchalant some time off and made an appearance in Saugerties, N.Y., before returning to the Vermont Summer Festival this week. "Last weekend, I overrode her in the grand prix in Saugerties, so today I told myself to trust her everywhere. I made a mistake or two in the first round today and she really helped me out. She knows her job so well!"
Of his return to the Vermont Summer Festival, Metell noted, "This weekend is my girlfriend, Gabi's, birthday, and all she wanted to do was come back to the Vermont Summer Festival for the weekend. I grew up coming to Vermont with my parents, and it has always been a little bit of a second home for me; I love it. The horse show itself is such a relaxed, friendly environment."
Metell, together with Theodore "Teddy" Demetriou of Wolver Hollow based in Chester, N.Y., imported Donchalant from the Netherlands this spring. Next up on the winning pair's competition calendar will be the Hampton Classic Horse Show (N.Y.) and American Gold Cup (N.Y.) this fall.
For the win, Metell was awarded a scrim by Mona's Monograms and an engraved crystal trophy. In addition, the Vermont Summer Festival presented Metell's groom, Armando Valenzuela, with the weekly Grand Prix Groom Award in recognition of his hard work to prepare Donchalant for grand prix competition. Valenzuela was presented with a monogrammed jacket and coolerette from sponsor Glenn Geary of Horsewatch.