When Mary Sawyer, 76, first decided she wanted to complete a "century ride" in eventing, such a distinction honoring horse-and-rider pairs with a combined age of 100 or more didn't even exist. That didn't deter her.
Thanks to her determination, coupled with the support of a local farm owner and the U.S. Eventing Association, it does now. Last year, the East Wenatchee, Washington, resident became the first recipient of the newly established USEA Century Ride Achievement Award, sponsored by Spokane Sport Horse Farm.
Throughout her 70s, Sawyer has had willing older horses and a desire to have fun with them. She took her first, unofficial crack at an eventing century ride in 2017, when she and her then 28-year-old paint gelding, Broker's Joker, entered a horse trials at Spokane Sport Horse Farm (Washington) with combined ages of 100. While they went off course in show jumping and got eliminated, the pair went on to compete at a dressage show at Appleatchee Riders Association the same year to become members of The Dressage Foundation's Century Club, which was established in 1996 to recognize horses and riders with a combined age of 100 or greater who ride a dressage test at a show or event.
Sawyer remained determined to complete an official century ride in eventing, and she knew she had the right horse for the job: her homebred paint mare Unique Conversion (Scribbles Foreman—Cruz-N The Market). Sawyer started planning, knowing that in 2021 she would turn 76, and Unique would be 24.
"I thought, 'Well, Unique is almost there; I'm almost there; let's try for Unique,' " Sawyer recalled.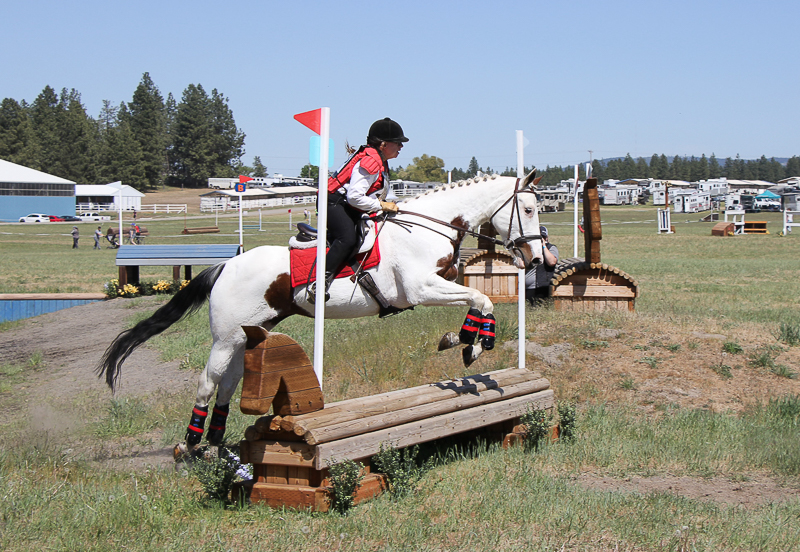 The pair hadn't competed together in 13 years, in part because Unique has been leased to a friend for the past decade while Sawyer has been riding the mare's homebred daughter, 17-year-old Eclipse (Escapade— Unique Conversion). But with a century ride in mind, Sawyer started riding Unique again in preparation for their show-ring return. While they had competed at novice level in the past, Sawyer decided competing at introductory level would keep it simple for them as a recently reunited pair.
When she submitted her entry for the May 2021 horse trials at Spokane Sport Horse Farm, she included a note informing farm owner Christel Carlson of her plans.
Carlson had the idea for the award for several years, and Sawyer helped it to come to fruition as the first rider to step up to the plate.
Carlson contacted the USEA to request that an official award be established. She explained that she had a qualified pair planning to compete, and she offered to underwrite a century award for them through a donation.
The USEA agreed, and the Century Ride Award was established. To be eligible, competitors meeting the 100-or-older combined age must fill out an application in advance and then complete any division (including unrecognized levels) at a recognized horse trials. Winners—there have been two so far, Sawyer and Susanna Rodell from Long Island, California—receive a large rosette and a silver tray and are commemorated on the USEA website.
"The Century Ride Award gives people the opportunity to pursue a great goal that recognizes their long-term commitment to competing in eventing," USEA Communications Coordinator Megan DeLisle said.
"We pretty much immediately got responses back from two women who have worked very hard," USEA Programs and Inventory Coordinator Hannah Seagle added.
For Sawyer, her second century ride attempt went flawlessly.
When Unique stepped off the trailer at Spokane Sport Horse Farm, her eventing days came right back to her, Sawyer said. She could tell that Unique knew exactly where they were and what they were doing.
"She was very high most of the time, not unmanageable and not uncontrollable, but when we went in the dressage ring, she was very forward," she said.
There was no going off course in show jumping this time, and they sealed the honor by cruising around the cross-country with no faults.
"I did it! I just couldn't believe it," Sawyer said.
She and Unique had placed second in their division, less than a point behind the winner.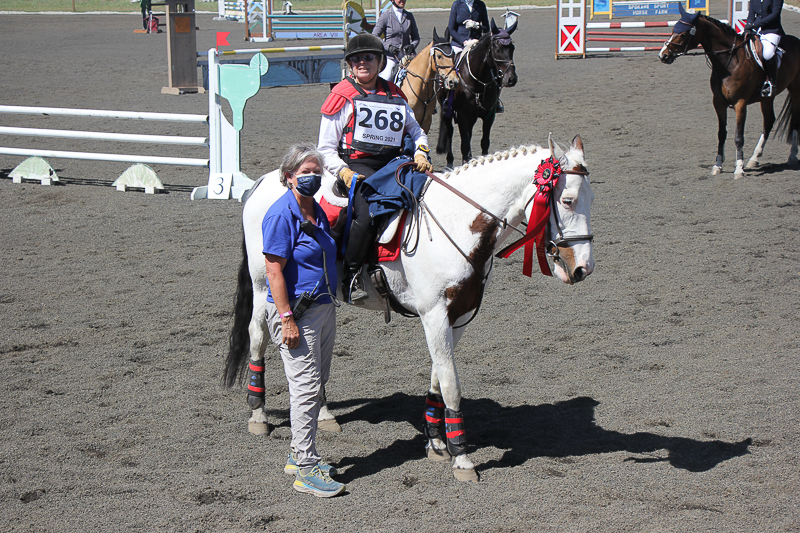 Before Sawyer dismounted after cross-country, Carlson asked that she come to the show jumping arena. There, she presented Sawyer with a special ribbon and a jacket embroidered with "Spokane Sport Horse Farm."
"[The award] helps celebrate the amazing partnership that can occur between the horse and the rider," Carlson said. "Even when you're both older, you can still have fun."
Sawyer also took Unique to a dressage show last year to earn a second TDF Century Club honor, but she said she's now finished competing. A lifelong horsewoman, she still rides and cares for her horses, including jumping Eclipse at home.
"At my age, I think that's pretty good if I'm still jumping!" she said. "I don't jump over 3 feet, but that's pretty good for an old lady."
Sawyer said her love of horses began with trail riding for fun with her high school sweetheart, now husband, Stan.
"We rode anything we could find when we were in high school, but that was not [with] any direction or anything. We just saddled up a horse and went down the road or up the trail," she recalled.
She began taking lessons and jumping while attending Central Washington State College (now Central Washington University), where she received a bachelor's degree in physical education and recreation.
Mary and Stan married 45 years after graduating from high school. They bought a home in East Wenatchee, where they currently live with their dogs.
Mary has been riding and boarding her horses at Appleatchee Riders Association barn co-op in Wenatchee, Washington, for 30 years. There, she and other members rent stalls and care for their own horses, including mucking and feeding. She and Stan have developed a routine where he walks the dogs while Mary feeds the horses.
"[I'm grateful for] the support that I've had from all of my friends and especially my husband," she said. "That makes a difference on what you get to do in your life, the friendships and the support that you get from the people you love."