Riding for True Prospect Farm, he conquers a tough course in New York.
Boyd Martin brought volume and quality to the Cosequin Stuart Horse Trials in Victor, N.Y., July 17-20, to win the CIC** and open intermediate divisions, as well as placing two horses in the ribbons for open intermediate.
Martin, Phillip Dutton's assistant trainer, was competing Dutton's horses while Dutton was preparing for the Olympics.
Martin came to his position at Dutton's stable in West Grove, Pa., through a meeting at Rolex Kentucky in 2006. He'd brought a horse to compete from his native Australia, and Dutton asked him to work a couple months.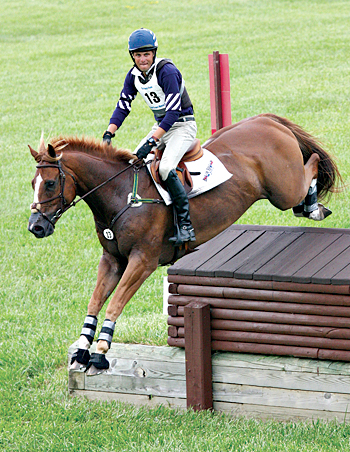 "Now it's been almost two years, so I'd say it's working out," Martin said with a laugh. "It's a challenge and honor to do the best I can to keep his operation running while he's away."
Martin won the CIC** on Acorn Hill Farm's Bailey Wick, an 8-year-old Irish Sport Horse by Pallas Digion, by adding just 10 cross-country time faults to his dressage score, for a final of 63.4. Of the 32 competitors that started Derek di Grazia's cross-country course, only nine had no jumping faults while 13 were
eliminated or retired.
Martin observed, "In an international competition, the course has to be a real test to find the best horse, so I have no problem with the course being tough.
Di Grazia may have pushed the envelope a little too hard on the lines; there were some sharp turns in the combinations.
But I consider Derek to be the best course designer in this country so I think he'll take a look at these in the future."
Ronald Zabala on Che Mr. Wiseguy finished a close second. Zabala, an Ecuadorian citizen, has been living "the gypsy life" for several years. For the past year, he has kept his horses at Jessica and Missy Ransehousen's Pennsylvania farm where he trains three weeks each month, then spends the fourth week in Ecuador.
Zabala plans to take a break after competing at the Fair Hill CCI*** (Md.) in October and return his horses to Ecuador for a year. His long-term goal is to prepare "Wiseguy" for Rolex Kentucky in 2010.
The Littlest Groom?
When Kevin Roche and Sarah Noble were anticipating their role as new parents last year, they wondered whether they would be able to continue their eventing lifestyle. But thanks to good organization and an accommodating baby, they have managed to continue competing.
This season, they and Hannah, now 10 months, have camped at five events where Kevin competes his preliminary horse Baker and Sarah competes in the novice division with Man About Town. With a mattress in the gooseneck, portable crib, bouncing play horse and baby solar shower, the family meets the needs of Hannah, parents, and horses.
At home, Sarah, a small animal veterinarian, and Kevin, a waste energy plant manager, take turns caring for Hannah or the animals each morning. In the evening, Hannah swings in the barn while her parents do evening chores. Their competition arrangement is working so well that they will be taking in three more events before the end of the season.
In open intermediate, Martin took home the blue ribbon on Nina Gardner's Loose 'n Cool while placing third on Ron and Densey Juvonen's Remington XXV and eighth on August Vettorino's Clifton Imperial.
Martin entered show jumping with Darren Chiacchia and Windfall II hot on his heels. Chiacchia's fault-free round gave Martin and the chestnut Australian Sport Horse only one rail in hand. They needed that rail but left the rest up to win by 3 points.
Martin observed that show jumping at Stuart is unique because of the undulating terrain and "with the crowd so close, it's like an auditorium." This year's course, designed by Richard Jeffery, was "tough and technical."
Martin's winning score included 20 cross-country time faults. As in the CIC** no one in the division finished within the time allotted. Chiacchia (see sidebar) said he sees as a trend nationwide to wheel courses too tightly.
"We shouldn't reward excessive speed, and we shouldn't penalize a careful, well-paced ride," he said. "Competitors have to get good first and get fast second."
Of his five mounts, Martin was especially pleased with the performance of Remington XXV. The 12-year-old Hanoverian had an eclectic past, having done some dressage in Germany and some foxhunting after he was imported. But according to Martin, "He's turned into a phenomenal horse. I'm very excited about him; he's likely to go advanced in the next 18 months."
A student of Martin and Dutton, Christa Gandolfo, won the junior/young rider open preliminary on Shahaadi, a 15.3-hand American Thoroughbred, and finished third on her New Zealand Thoroughbred Governaire.
Gandolfo has owned Shahaadi less than a year, and the little horse had competed in just one novice event when she got him. Gandolfo expects to move him up to intermediate soon.
---
Chiacchia Is Back In The Tack
The crowd was exceptionally quiet during two of the open intermediate rides at Stuart Horse Trials as they watched Darren Chiacchia compete on Windfall II and Better I Do It just four months after his traumatic accident at Red Hills Horse Trials (Fla.) on March 15.
Chiacchia piloted his veteran mounts to second and ninth places, including two of the three double-clears in show jumping in his division.
"I am very happy to make my come-back in front of a supportive hometown crowd," Chiacchia said. "I love this sport, and I will not do anything short-term to jeopardize my long-term recovery. I don't have to prove anything, but I enjoy what I do. It's great to be back."
Chiacchia had competed both horses a week earlier in the preliminary division at the Genesee Valley Horse Trials (N.Y.). But he noted, "The preliminary jumps didn't hold them. That was tougher to ride than the intermediate fences here that got their respect."
Chiacchia reported that, "The brain injury hasn't presented as many challenges as the broken ribs and punctured lung. In our sport, the core is everything, and I'm back in the gym every day now to rebuild what I lost. I anticipate that by next spring, I'll be all over it."
In the meantime, Chiacchia plans to compete at Millbrook (N.Y.) and Richland Park (Mich.) and continues to make progress on the historic Knox Estate in East Aurora, which he has leased from New York State. He intends to make the estate and its 31-stall barn his new home base and the venue for a new premier event, while using his current Independence Farm for breeding stock.
Becky Glass