Wellington, Fla.—Jan. 30
The riders are doing dressage, show jumping and cross-country this weekend, but the $50,000 Wellington Eventing Showcase isn't your average event. For starters, there's the $50,000 in prize money, and Boyd Martin had his eye on the top check as he put in his test with Trading Aces. The pair now leads after the first phase with 24.8 penalties.
"It's a good feeling, that we might be able to give something back to the owners of these horses," said Martin, whose Trading Aces is owned by the Trading Aces Syndicate. "The owners put so much into this. It's an absolute honor and privilege to be here in Wellington. I think all the riders are just blown away by the standard of competition. It's fantastic to feel like our sport is climbing up to this caliber."
Michael Pollard, sitting second on Carl Bouckaert's Cyrano with 25.7 penalties, echoed that sentiment.
"If an owner has a quality advanced horse, this gives them some hope instead of just being an endless money pit," he joked. "If we have more events that can do this, it could be an incentive to keep that horse."
Martin targeted this unique event for Trading Aces, a horse who struggled at the three- and four-star CCI levels last summer and fall. The cross-country is mainly on flat ground, with just one man-made hill, and the optimum time is 3 minutes and 45 seconds. It snakes around the large derby field at The Stadium side of the Palm Beach International Equestrian Center and includes a water jump, a bank, corners, brushes, tables and skinny obstacles to keep riders and horses busy.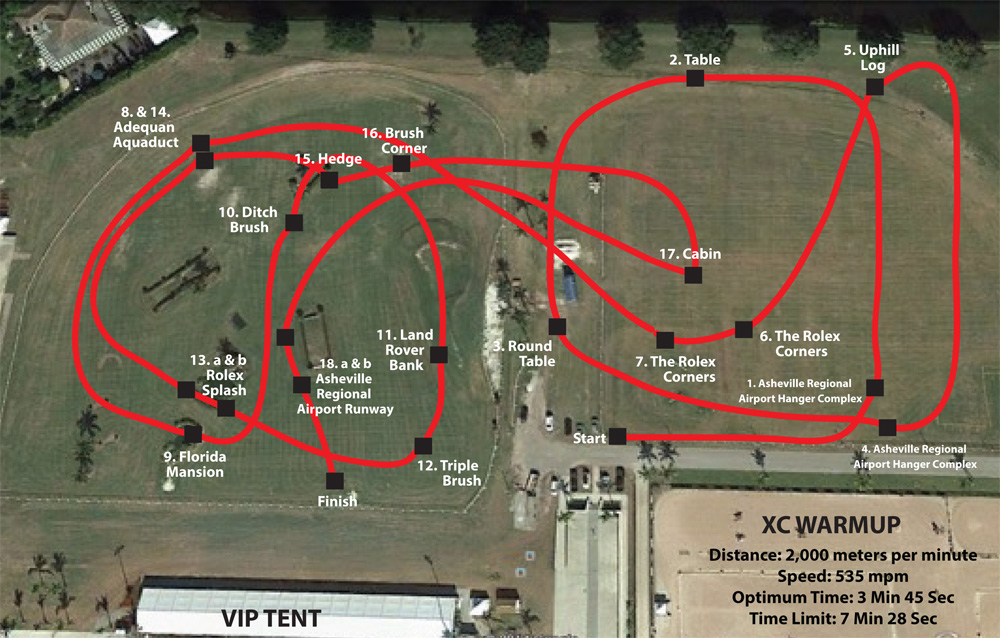 "It's a bit tough for us this time of year because our horses aren't quite fit enough," Martin said. "Usually we're really getting going in April, but this is just a three- or four-minute course, so that's well-designed for where the horses are in their training this time of year. [Trading Aces] is a lovely horse, one of my favorites, but we've had some highs and lows in our career."
For Pollard, this is just the start of his partnership with Cyrano, who went to the 2012 London Olympic Games with Bouckaert for Belgium.
"He's had almost two years of doing show jumping with Carl, but Carl thought it was a bit of a waste to have him sitting around not doing much," said Pollard, of Dalton, Ga. "When I got here yesterday, I wouldn't have bet on myself to be sitting at the press conference today. We've had him in the barn two months, and I'm really pleased with the progress we've made so far.
"I certainly want to reiterate how thankful we all are to be here," he added. "This is a major addition to the calendar, and I think the atmosphere is great preparation for the horses."
Tomorrow riders will face a Richard Jeffery-designed show jumping track, starting at 10:30 a.m., and running in reverse order of standing, and then the 18-question cross-country track designed by Mark Phillips in the afternoon. The speed is set at 535 meters per minute.
"I think he's done a good job building," said Martin, of Cochranville, Pa. "I've done a lot of the indoor eventing, and the jumps don't look super big, but I think they'll ride plenty big enough because you're always turning and then going fast. The speed is between sort of regular preliminary and intermediate, but I think it's going to feel very, very fast. I think the cross-country will be very influential. There are a couple of corners and narrows, and you could see some glance-offs."
Marilyn Little, third after dressage on RF Scandalous (26.6), compared parts of the track to the Luhmuhlen CCI**** (Germany), also a Phillips designed course.
"These horses are used to feeling like they're going somewhere, and after they loop around the arena a few times, they're going to get the feeling that they're not going anywhere, and it can change the game for them mentally," said Little. "There can be some mistakes because of that, and because this is early in the season."
Riders were invited to the event, and 26 of them trotted down centerline today. Scores are tight heading into tomorrow, with the top 10 all sitting with scores under 31 penalties. Martin doesn't have a rail in hand over Pollard and Little.
Little, who started her equestrian career as a pure show jumper, has competed on The Stadium derby field numerous times but never quite like this.
"This is an odd weekend for me," she said. "It's a wonderful weekend, but it's funny to be eventing in Wellington. It's home turf but new turf also. I've jumped a lot of jumps out there, but none that look like that!"
See full scores from today's dressage.