Temecula, Calif. – Nov. 1
Boyd Martin had only competed once at Galway Downs, many years ago and, by his own account, "I did terrible." After clear show jumping rounds in the CCI4*-L today secured the win on Luke 140 and third on Long Island T, Martin has a far more favorable impression to replace that bad memory.
"I came out here thinking 'Ludwig' [Long Island T] might beat Luke this weekend. But it was Luke's weekend, and I'm really glad I brought him out here," he said. Martin said he's been touting the horse's international potential to his many-member owner syndicate for two years and, "this weekend is the first real moment that proves it." While Long Island T's usual strong point, dressage, was off due to excess energy, Martin was thrilled with his cross-country and show jumping.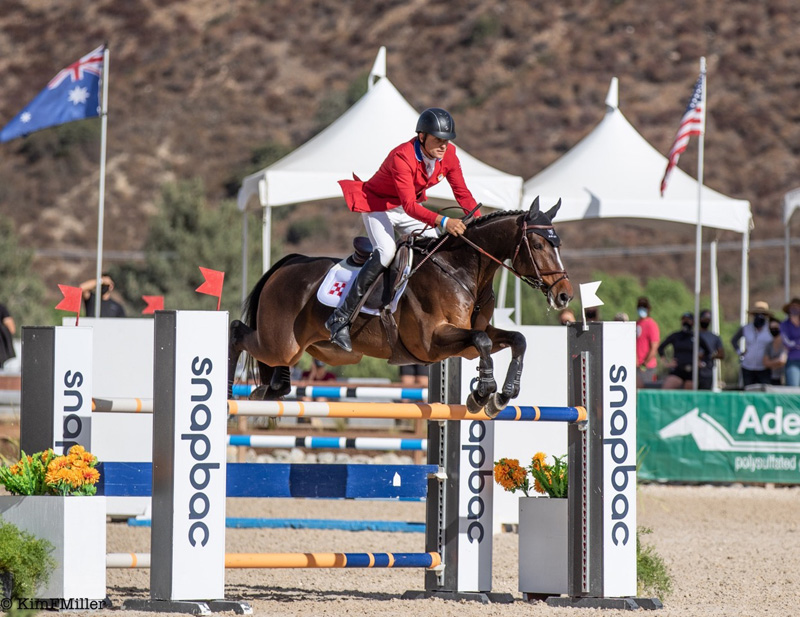 Martin said both horses' experience set them up for five-star excursions, and the overall experience will likely lead him back to Galway Downs from his East Coast base. "I'd like to come here every year. Especially for the young horses, it's a great experience to fly out here," he said. "The cross-country course was very challenging, and both horses learned a lot. I'd prefer a trip like this than going overseas. It's cheaper, and the standard of competition is just as high. Plus, it's good to support our American events. Sometimes I think it's a little easy to run off to Europe."
Over the roll backs and fast-coming fences of designer Mark Donovan's course, Martin incurred minor time faults with both horses to hold their first and third places after the first two phases. Luke 140 finished on a 31.0 and Long Island T on a 36.4.
Martin described California as like "being in another country because I don't know anybody out here." Californians knew him, though. Many described the chance to watch Boyd and fellow East Coast-based master Phillip Dutton as a riding lesson unto itself, even when they were just schooling in the warm-up.
"You almost won your first four-star," Tamie Smith leaned over to tell Passepartout after laying down a clean show jumping trip with .40 time faults. The horse's next compliment came from USEF Eventing High Performance director Erik Duvander: "You know he is still just a baby, but he comes off like a professional."
Smith "absolutely" agreed with that assessment of her daughter Kaylawna Smith-Cook's 11-year-old German Sporthorse. "That was the classiest round of all three phases. He did not put a footfall wrong," she said. They finished on a 32.4.
The California-based 2019 Pan Am Team gold medalist has strutted the West Coast's special stuff for several years now. She shared some advice with Texas-based Rebecca Brown, who finished fourth in the 12-starter field on Dassett Choice. "You can be based anywhere, you just need the right team," Smith said. "You need the trainers that can help you develop your system. Erik [Duvander] has helped me understand that."
As appreciative as she is of Duvander, Smith was happy to "annihilate" his Adequan USEF Futures Team Challenge squad. Smith captained Team Leslie, with USEF Developing and Emerging Rider Coach Leslie Law, and including Brown and young rider Charlotte Babbitt. The Futures program is designed to build the unique skills required of team riding and to foster connections, coaching and guidance for international hopefuls. There's room for rivalry, too. Duvander's crew had won the initial outings and with no. 1-ranked U.S. eventer Liz Halliday-Sharp, fellow four-star rider Emilee Libby and young rider Sophie Click, it could be described "as a little stacked," Smith noted. "We had three really good performances, and it was really fun to win!"
Second USEF CCI3*-L National Championship for Smith
In 2015, Smith hauled Mai Baum east, then onto the international radar by winning the CCI3*-L and USEF CCI3*-L National Championships at Fairhill (Maryland). Mai Baum went on to be Smith's 2019 Pan Am Games partner and has already earned his qualifying score for Tokyo Olympic consideration.
Does Elliot-V have the same potential? "Absolutely! 100 percent yes," she said.
The 11-year-old Dutch Warmblood's off-to-college owner Louisa Southworth declared his Thursday dressage test "magnificent" after watching in on the livestream. She drove to Temecula Saturday in time to see Smith don the USET pinque coat and win it all on a 30.2 that reflected just .40 in jumping time penalties.
Time faults on cross-country widened what was a very narrow dressage gap between runner-up Asia Vedder and Isi and Smith and Elliot-V. That grew with one rail at the liverpool, but Vedder remained thrilled with the finish. Outside of a break for hip replacement surgery earlier this year, Vedder and Isi have been progressing steadily and gaining the notice of several sport leaders. "He's hard not to like," she said of the Holsteiner.
More National Titles
The CCI3*-L National Championships also determined who'd be honored with the National Combined Training Trophy for the highest placed U.S. rider over the age of 16. Smith added that trophy to her crowded mantle, followed by fellow U.S. contenders Vedder, Andrea Baxter, Alessandra Allen-Shinn, Auburn Excell-Brady, young riders Babbitt and Click, and Stephanie Goodman.
The National Young Riders Championship and its John H. Fritz Trophy. U.S. were at stake, too, for contenders aged 16-21. With eighth and ninth overall three-star finishes, Babbitt and Click were champion and reserve.
Burnell, Bouscaren and Sanborn Take the CCI2*-L
With a 3-year-old dinosaur paying little attention in their ringside family fan club, Lauren Burnell and Freedom Hill continued a flawless weekend to win on a 27.2. The dinosaur was her Halloween-costumed son, who had already offered his coaching before cross-country. "He told 'Jack' to go fast and Mommy to hold on," and the pair ran with that plan. It helped, too, riding her second horse and fifth-placed finisher Counterpoint first in the 34-pair division.
"I just went in and tried to replicate that," she said. "The amateur in me came out, and I got a little frantic in the beginning, but then it was nice to focus on the plan that my coach Bec [Braitling] and I had come up with." Burnell has competed at the three-star level prior to having a baby and felt this weekend bodes well for possibly moving back up to that level.
Full results can be found here.
Follow the livestream here.