Elkton, Md.—Oct. 20
As with the CCI***, the CCI** cross-country at the Dutta Corp. Fair Hill International shook up the placings with only four of 63 finishers making the optimum time of 8 minutes 48 seconds.
Dressage leaders Heather Morris and Charlie Tango were hoping for some Fair Hill redemption after failing to complete their last two tries at the event, but two refusals at fence 9a, a skinny brush into the Chesapeake Water, put an end to their weekend when Morris retired.
That left the door open for Boyd Martin and Christine Turner's On Cue, a 12-year-old Anglo-European mare (Cabri D'Elle—On High, Primitive Rising).
Martin meant business when he headed out on course, and came in easily under the time to move from second into the lead.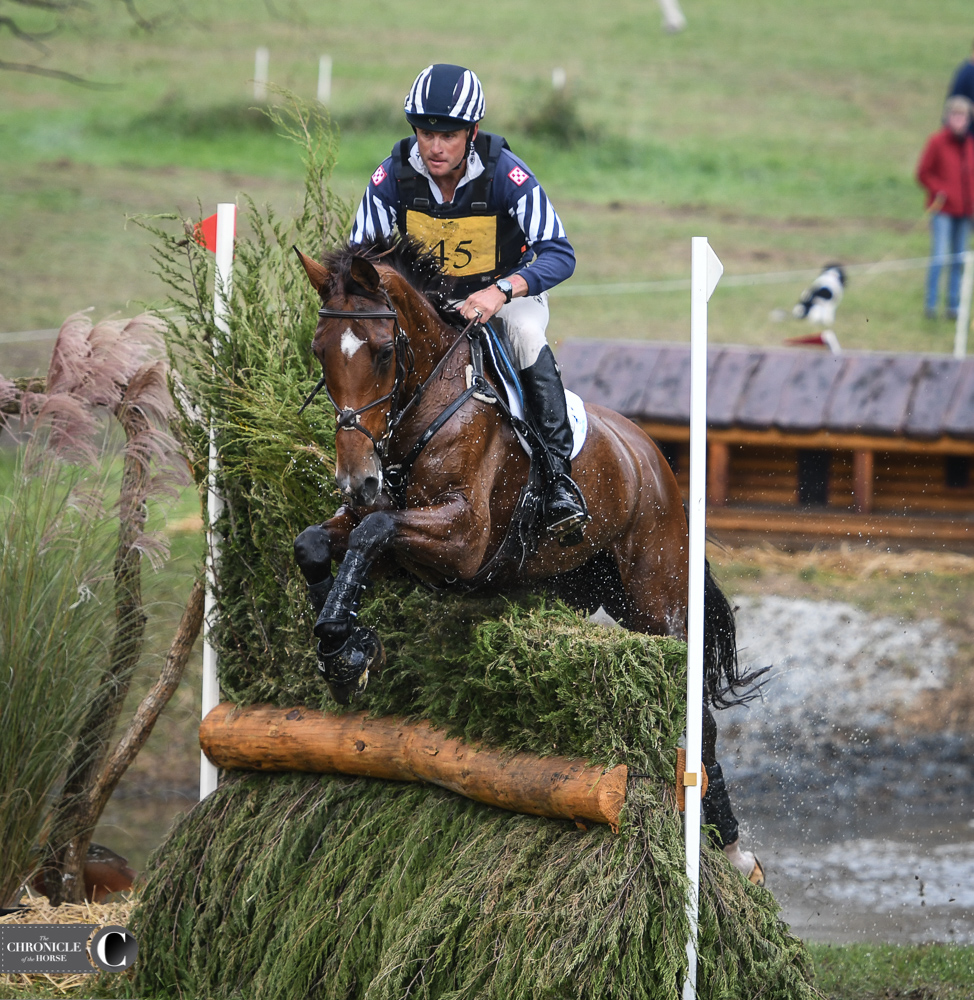 Martin and the mare won the Jersey Fresh CCI** (New Jersey) in May, and he's hoping he can bring home another win tomorrow.
"She's all class," he said. "I didn't know whether to bring her here or not because she's done a couple of advanceds, and she sailed around the course today. She's got a huge stride and did the time quite easily. I think she's going to be a strong horse for the future."
Emily Beshear's striking grey Olney Uncle Sam is in a similar position to On Cue. He's run a few advanced horse trials, including winning the Millbrook Horse Trials (New York) in August, but she decided to drop him down a level at Fair Hill.
She finished right on the optimum time.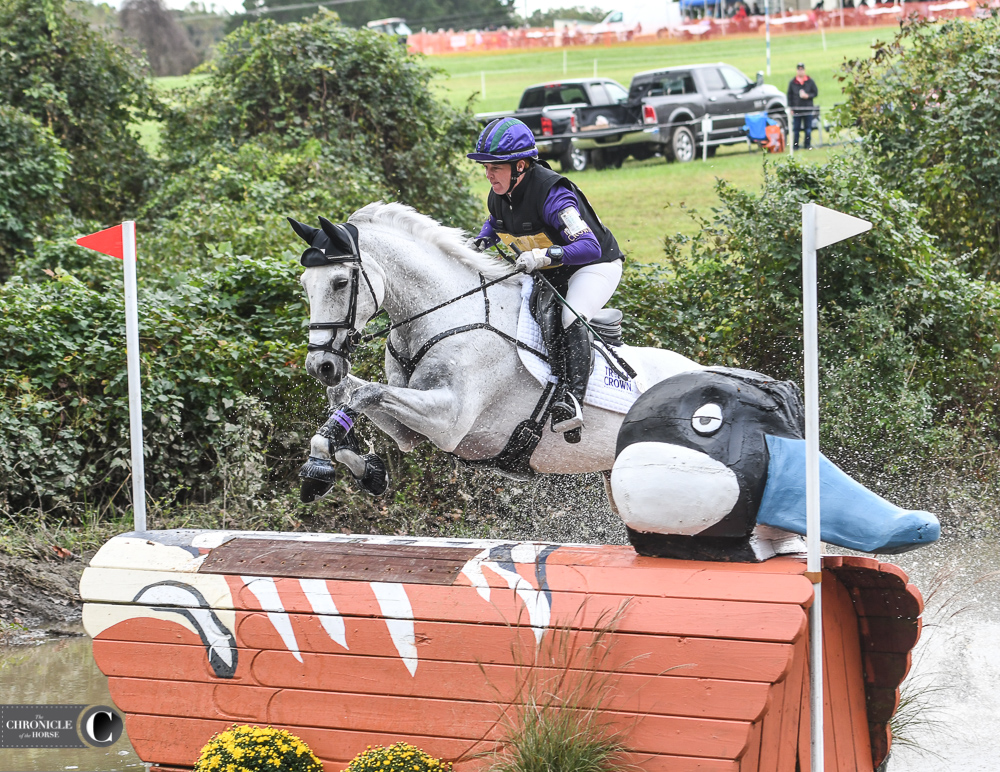 "It was a great ride," she said. "He moved up to advanced this year, but has been a bit hit or miss at this level. We originally planned to do the three-star, but I was really happy we did the two-star today. It was certainly a challenge, but it allowed me to go out and attack the course and try to be quick around knowing he had that experience under his belt. He was super."
Will Faudree started his day with two horses inside the top 10. He added 1.2 time penalties with Michel 233, an 8-year-old Hanoverian gelding (Mighty Magic—First Lady, Federweisser) owned by Jennifer Mosing and Sterling Silver Stables, to move up to third. He was ninth with FRH Ramona, but retired after one stop.
" 'Mikey' was super today," he said. "He's been at the level for a year. I did Fair Hill on him last year in the two-star, and he was very green. He came back this year very strong. He didn't do a spring CCI because I just planned to give him time this year to get strong at the level. I ended up with a few time penalties because of the tighter turns at the beginning. He's a very big horse, so I took my time around the sharper turns. He's a machine cross-country."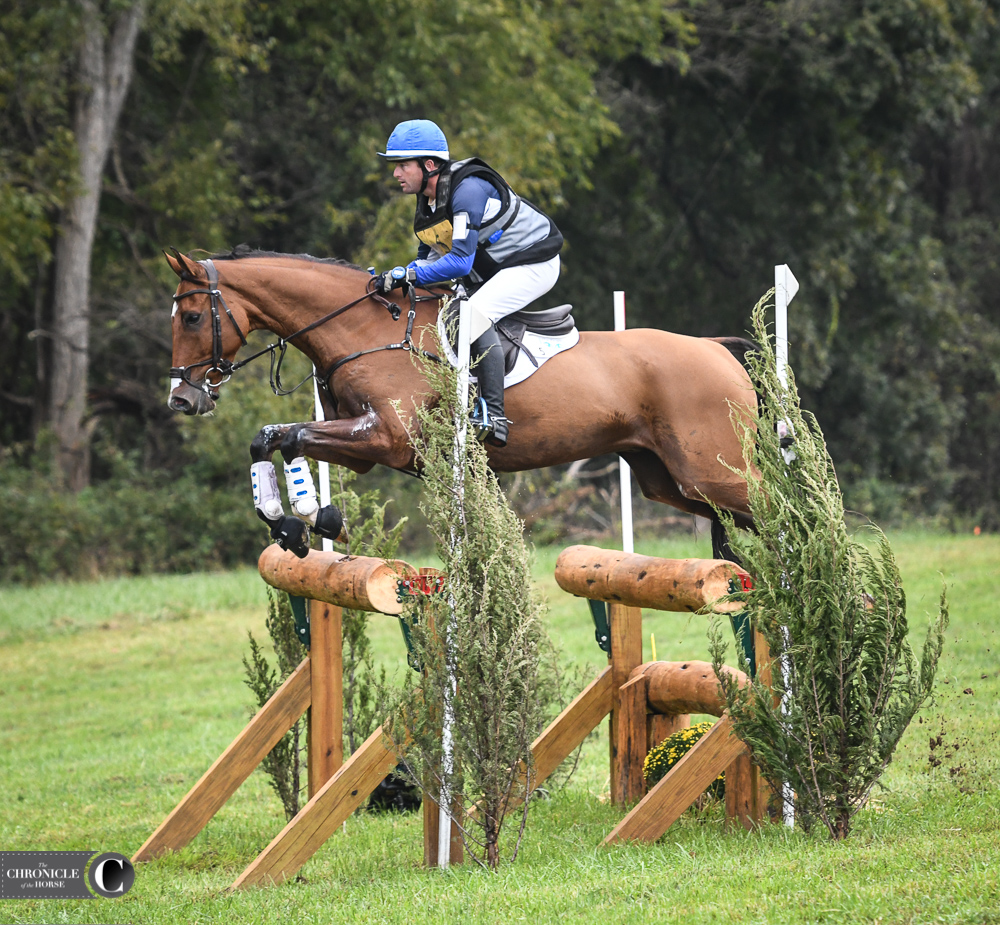 In all, 49 pairs completed Derek di Grazia's track. Fence 4ab, the Frog Pond, caused the most trouble with six pairs faulting there. Seven pairs that completed had one refusal, and four pairs were eliminated for refusals. Six pairs retired on course.
There were two rider falls; Mallory Hogan fell from Clarissa Purisima at fence 15, a hanging brush, and Amber Levine fell from Cinzano when he slipped on the flat between fences 3 and 4.
Levine was transported to Union Hospital in Elkton, Maryland, and was diagnosed with a concussion and broken ankle. Both Cinzano and Clarissa Purisima were reported to be fine.
There were two horse falls; Bobby Meyerhoff's Almanac fell at 13b, the Stone Cottage in the arena. The gelding was transported off course and reported to be fine, as was Meyerhoff, who was checked out by a doctor on site.
Ashley Hays' Call It Courage fell at 4a, and both horse and rider were reported to be fine.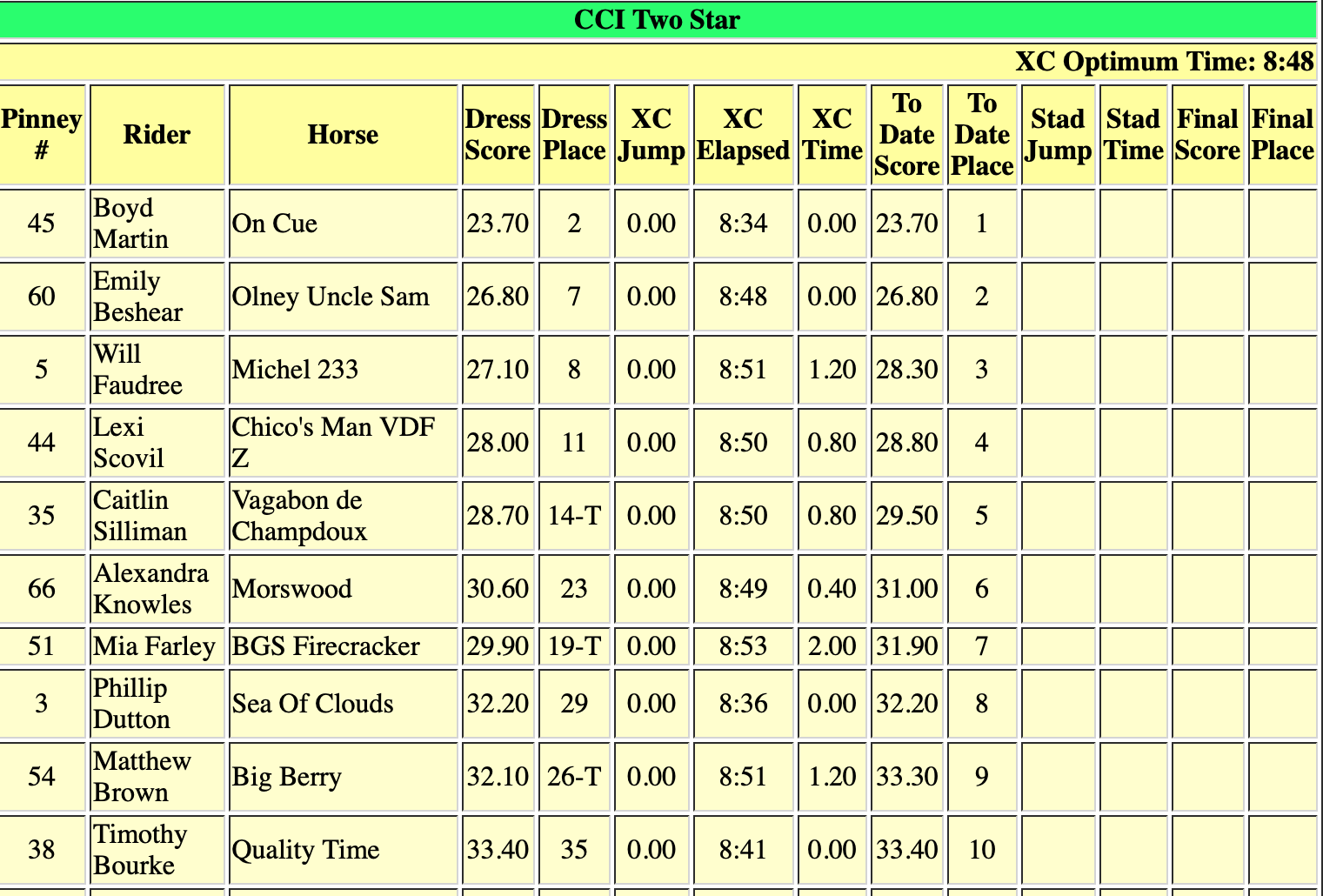 The first horse inspection starts at 8 a.m. tomorrow, followed by CCI** show jumping at 10 a.m., and CCI*** show jumping at 1 p.m.
For all of our Fair Hill coverage, head to this page.
The Chronicle will be on site at the Dutta Corp. Fair Hill International all weekend to bring you news and photos from the fall's premiere three-day event. Check back at coth.com all weekend and be sure to read the Nov. 5 print edition for much more.
2018 Fair Hill CCI** - Cross-Country
Lindsay Berreth / Oct 20, 2018 8:52 pm