Allentown, N.J.—May 12
The cross-country courses at the Jersey Fresh International can get a bit twisty due to the size and shape of the Horse Park of New Jersey, and with four different courses running today, each taking different tracks, it made for easy viewing for spectators, but lots of memorizing for riders.
Boyd Martin had six horses across all four divisions, and he admitted he had to make doubly sure he knew where he was going for each horse.
But he found his way on all six, and he's holding the top two spots in the CCI*** with Long Island T and Ray Price, leading the CCI** with On Cue, is second and third in the CIC*** with Kyra and Steady Eddie, and is 16th in the CIC** with Shamwari 4.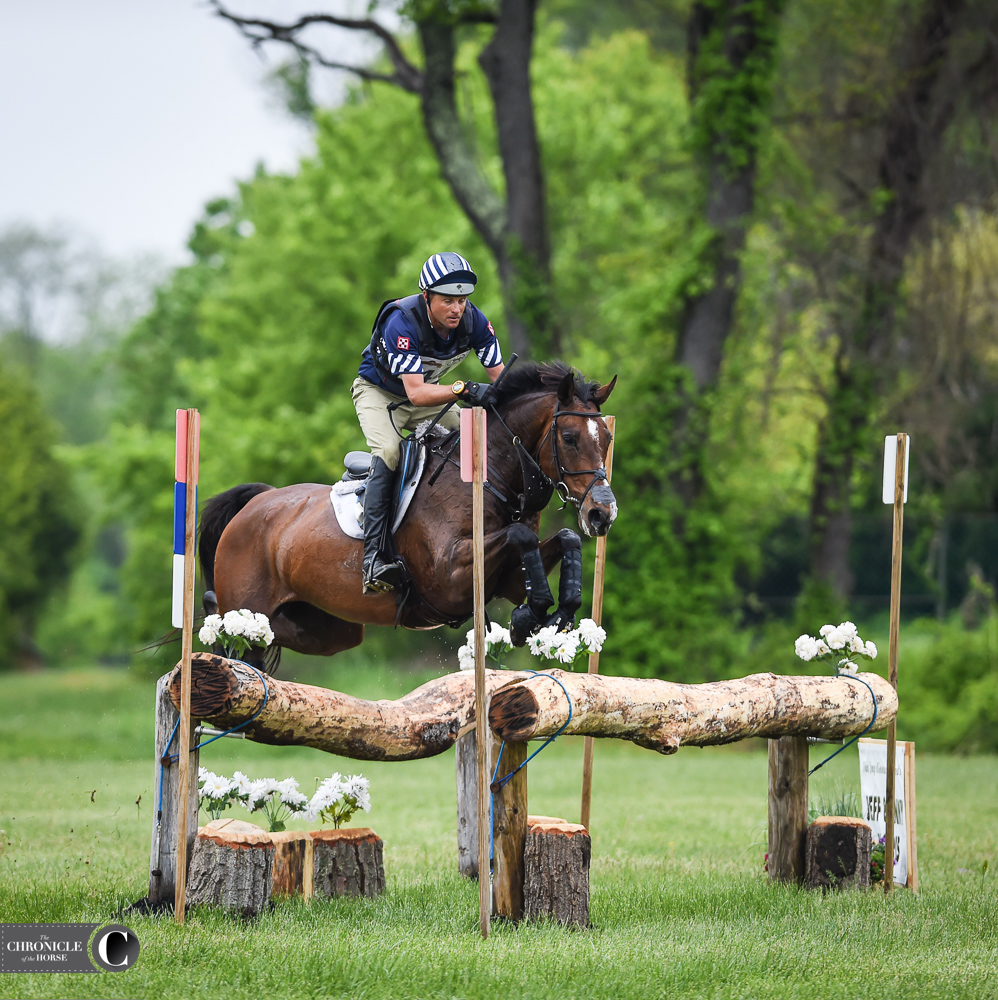 "It was a bit confusing actually," he said with a laugh. "I rode every jump on this farm today! For someone as simple as me, that's a lot of remembering to do."
Martin had different goals for every horse. Long Island T is a new ride in the last year for Martin, having been competed to the two-star level with Peter Barry. He's new to the level, as is Martin's homebred Ray Price.
"They're both very green," he said. "I picked this three-day event because I was terrified of going to Bromont, and I've already got a few entries there. Both horses are class. Long Island T, we've been together for a little over a year, and I got a group together to buy him. It honestly started off disastrous, and I'm very thankful that the 10 people that bought him stuck with me. It's been a very long process of trying to get the hang of him, and today he was fantastic."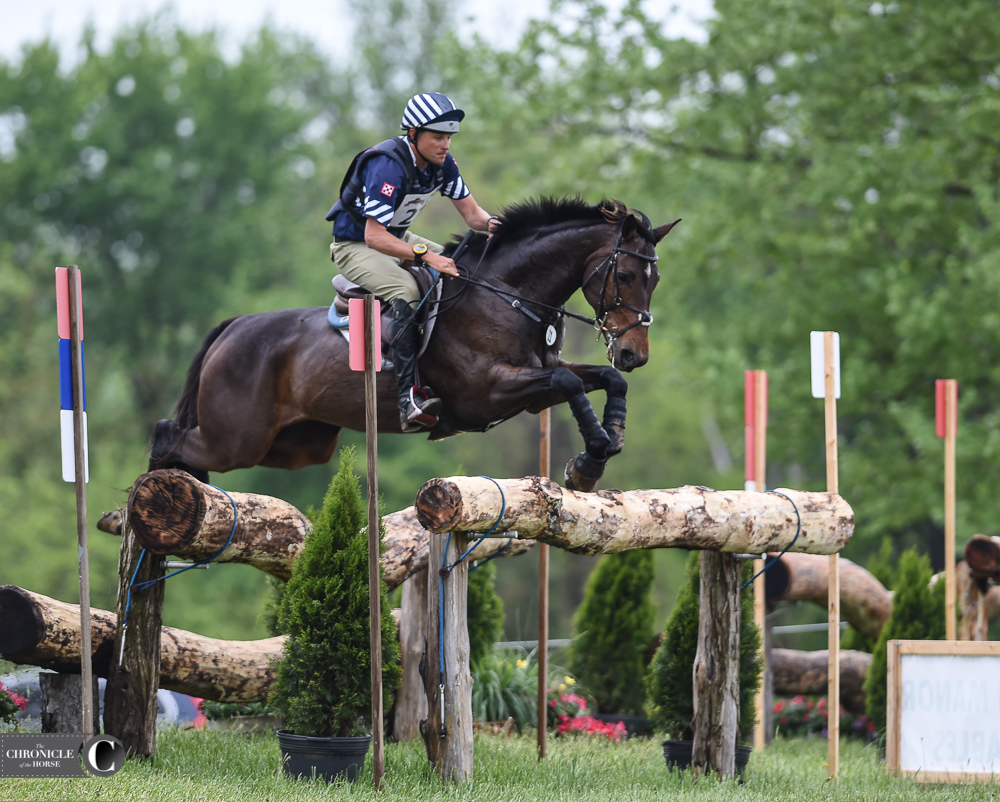 Martin said Ray Price felt a bit greener than "Ludwig" because this is only his fourth advanced, but he took his time at the intermediate and two-star level with the 10-year-old Throughbred/Warmblood gelding.
"He put in a great round today," he said. "I didn't go to the well on them timewise. I felt like I just wanted to pace them and give them a good round of cross-country. My plan is to do two CCI***s on them, with the first one, which is this one, get them around and get them comfortable going 10 minutes, and the come Fair Hill at the end of the year I'll go quicker on them so that they're prepared for a four-star next year."
Martin praised Captain Mark Phillips' course. In his second year of designing it, Phillips had his usual accuracy questions, with plenty of skinnies, including a pair at the Jersey Shore water complex on an island that caused a few runouts. While the course wasn't huge, it was still challenging. Overnight rain made the footing softer and almost a little holding, but riders seemed happy overall considering it was being aerated up until the day before.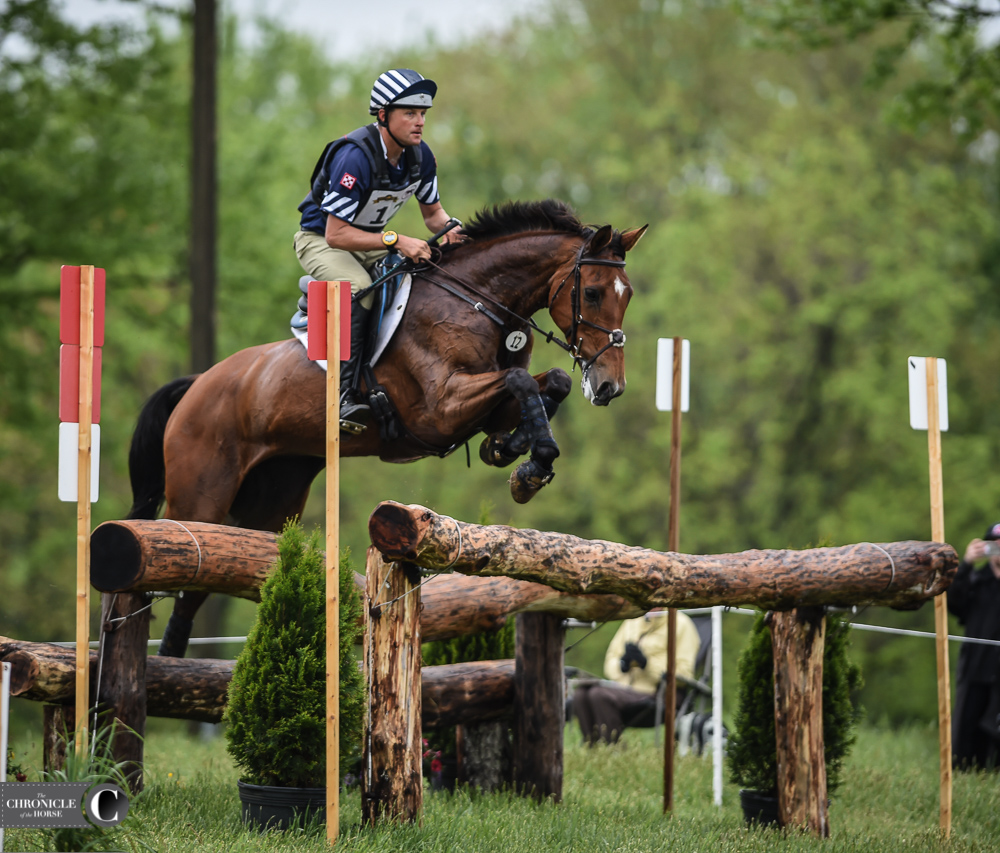 "I liked this track," said Martin, Cochranville, Pennsylvania. "It's not over the top, and the horses building up towards their second three-star or a four-star, it's a good building event. I'm very pleased they've both come through it all right. They both trotted up good, and I think they'll both show jump well tomorrow."
Nineteen of 26 pairs completed the three-star. There was only one rider fall, Elizabeth Stewart, who fell from Elusive when he hung a leg at the drop into water at fence 20, but she stood up immediately, and Elusive was unharmed.
Whitney Mahloch and Military Mind were eliminated for refusals, and five riders retired after one or more refusals. No one made the time, but Nilson Moreira Da Silva and Magnum's Martini were quickest, adding 5.4 time penalties to move from 23rd to 10th.
There were only 18 starters in the CCI**, and 10 of those made the time, including Martin and On Cue. Only Alexandra Tett and Hawk's Cay retired on course after they incurred two refusals.
For full results, click here.
The Chronicle will be on site this weekend at the Jersey Fresh International to bring you news and photos from the spring CCI championship. Check back at coth.com and look for more from Jersey Fresh in our June 4 print edition.
2018 Jersey Fresh CCI Cross-Country
Lindsay Berreth / May 12, 2018 9:38 pm