Wellington, Fla.—Feb. 5
If you wanted to win today's $100,000 Land Rover Wellington Eventing Showcase, you had to be fast and take chances, and Boyd Martin is the master of that strategy.
A two-time winner of the showcase, Martin was confident of his chances coming into the event with Welcome Shadow, whose last event was the twisty, turny four-star track at Pau in France last fall.
Martin was lying second after show jumping this morning, but when Marilyn Little fell with her first horse RF Demeter at fence 17, a corner, she withdrew her leader, RF Scandalous, leaving the door open for him. With scores close behind him, Martin knew if he was going to win, he'd have to be fast.
Adding just .8 time penalties, Martin and "Shadow" took top honors (27.3) ahead of Buck Davidson on Petite Flower (30.9) and Doug Payne on Vandiver (34.2), both of whom had the only double-clear rounds of the day.
"This year, by far, was the hardest one to win. It was a much more competitive field. The caliber of horses was the best we've seen here," Martin said. "I've got to say, the show jumping was bigger and wider—bigger than Rolex—then the cross-country was a real test.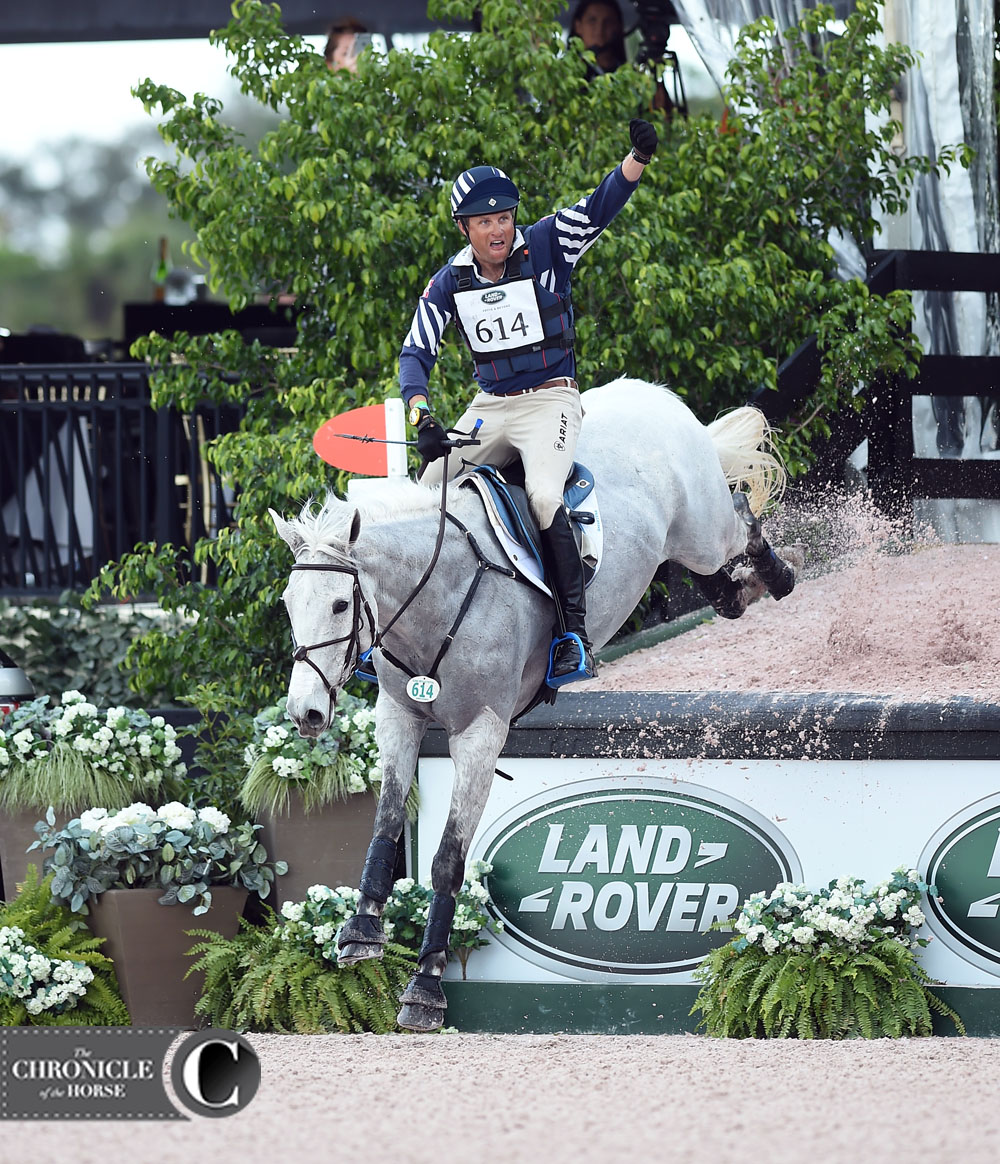 Boyd Martin and Welcome Shadow. Photo by Lindsay Berreth.
"I think it's good that they've gently built it up like this, but the cross-country was influential this year compared to other years. I hope that it doesn't get any harder because it's at the beginning of the year. We really had to press the horses to be competitive, so it's that fine line between seeing who the best is and not pushing it too far," he continued.
Shadow, a 12-year-old Irish Sport Horse who's owned by Craig and Gloria Callen, is one of Martin's favorites. A former foxhunter, the mare has risen to the top of his string over the last several months.
"This horse has come from left field as a foxhunter, but you wouldn't get a horse that tries any harder than Welcome Shadow. I thought she was great in all three phases, and I was proud to win," he said. "It was a bit weird to win because the horse that was in the lead going in, Scandalous with Marilyn Little, she had a spill on her first horse with Demeter, so it's a hard one to say if she would have got in there, but it is what it is, and I'll quite happily take the check home."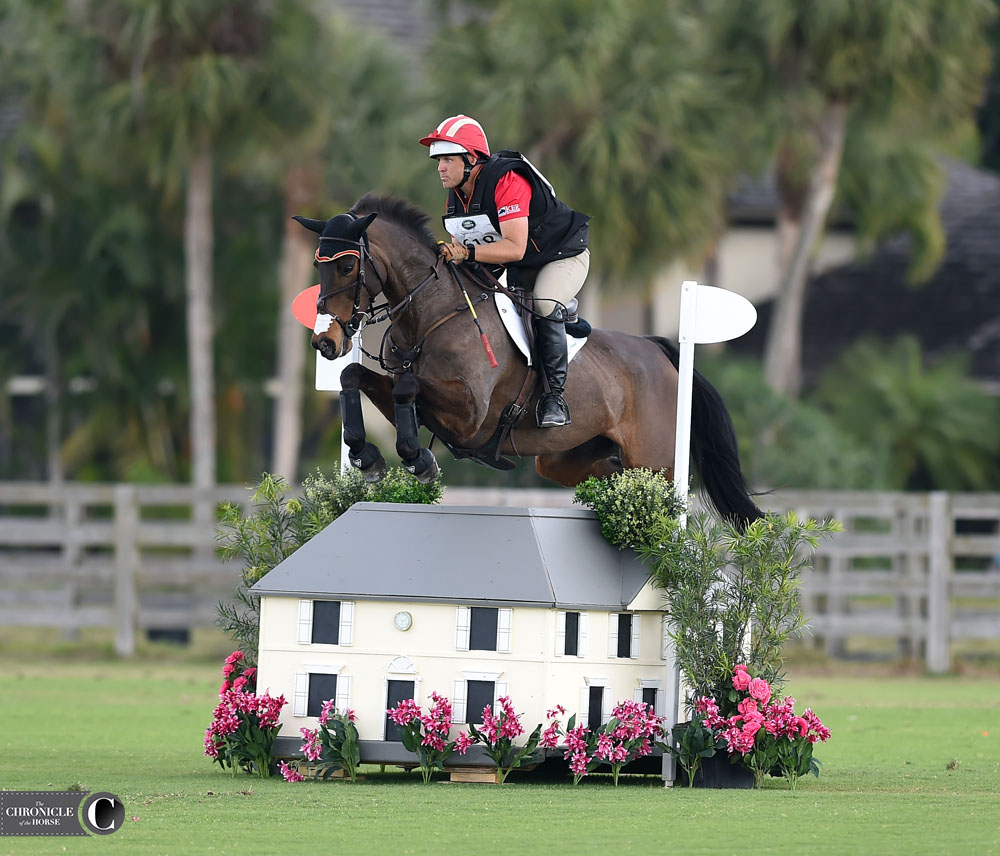 Buck Davidson and Petite Flower. Photo by Lindsay Berreth
RF Demeter hit the corner fence on the way down and fell, but got up and trotted off the field. She was later reported to be fine. Little was able to get up and was taken off the field by a golf cart.
She was attended by on-site medical staff, but was transported to Delray Medical Center as a precaution and released.
Davidson moved his way up from 13th after dressage to second with Caroline and Sherrie Martin's 15-year-old Thoroughbred mare with their faultless cross-country round.
"I was really happy with the mare. I was really happy with the dressage, she was great and tried her heart out in show jumping, and she was straight today on cross-country. She's very fast. She's a fun horse to ride around these kind of events," he said.
Payne and Debi Crowley's 13-year-old Trakehner gelding moved up from 11th to third despite a rail this morning in show jumping.
"I couldn't have been more happy with 'Quinn.' He was very, very good. I was disappointed to have the very last jump down, but on cross-country he's a bit of a dirt bike, and we just go out and cruise. I'm learning to trust him more and more," he said.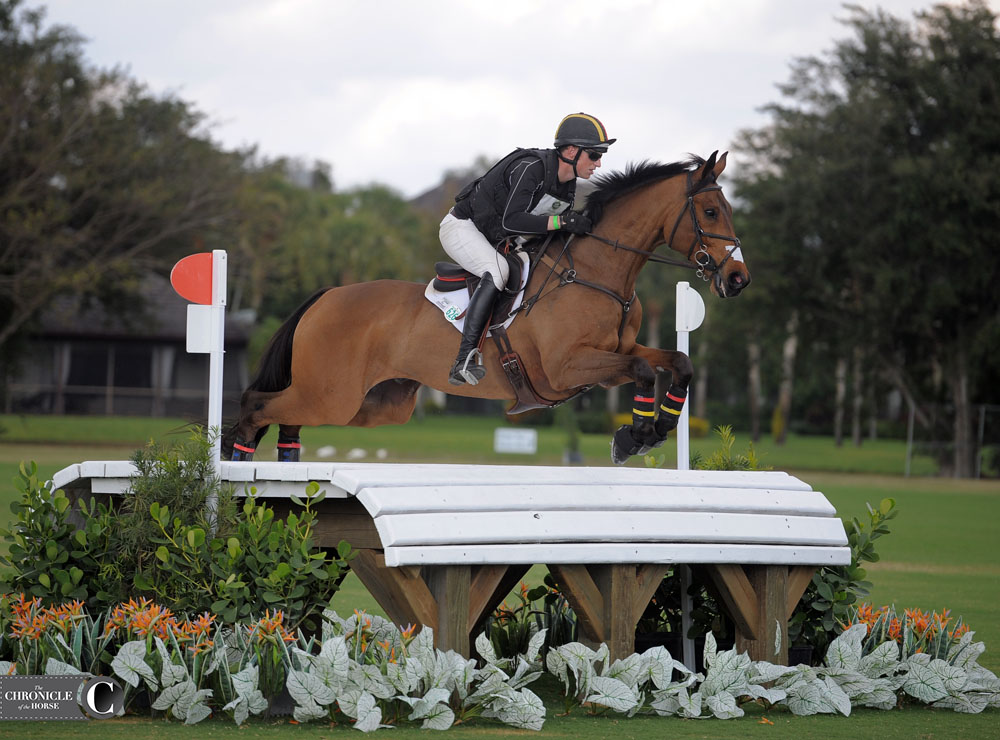 Doug Payne and Vandiver. Photo by Lindsay Berreth
"I think it's a great competition and will prove to be incredibly valuable to these horses that are able to come here early in the season. There's a lot of atmosphere, more so than you're going to see except for Rolex, domestically. I think it's a great preparation because we seldom have the opportunity to have these horses in this type of environment. I think it's an incredible asset to the sport," he added.
Mark Bellissimo, CEO of Equestrian Sport Productions, was excited about the success of the event and its future.
"I think we're at a point now where we have a really good format, and I think next year we're going to push the event and make it something very, very special—talk to Land Rover and others. I think there's room for this type of event," he said. "As I said yesterday, this is not to displace traditional eventing, but it's an opportunity to provide a lens into eventing for people who may not get that experience, and I think we can create interest in it. I'm hopeful we can create a three-event series that would continue to grow in prize money and create a Triple Crown opportunity within a couple of venues."
Full results are here.
Check out the Feb. 20 print issue of the Chronicle for more from the showcase.