Allentown, N.J.—May 13
It's been four years since Boyd Martin won a CIC*** and seven since he won a CCI***, but today at Jersey Fresh, he took home both, and added the CCI** title as well.
It's not been for wont of trying; Martin's represented the U.S. at two FEI World Equestrian Games and two Olympic Games, but he's been bringing along several horses, some from the lower levels and others he inherited at the beginning of their international careers, and it's finally paying off.
Martin led the CCI*** from start to finish on the Long Island T Syndicate's Long Island T, a 12-year-old Oldenburg/Thoroughbred gelding (Ludwig Von Bayren—Highlight, Heraldik xx) who was produced to the two-star level by Peter Barry.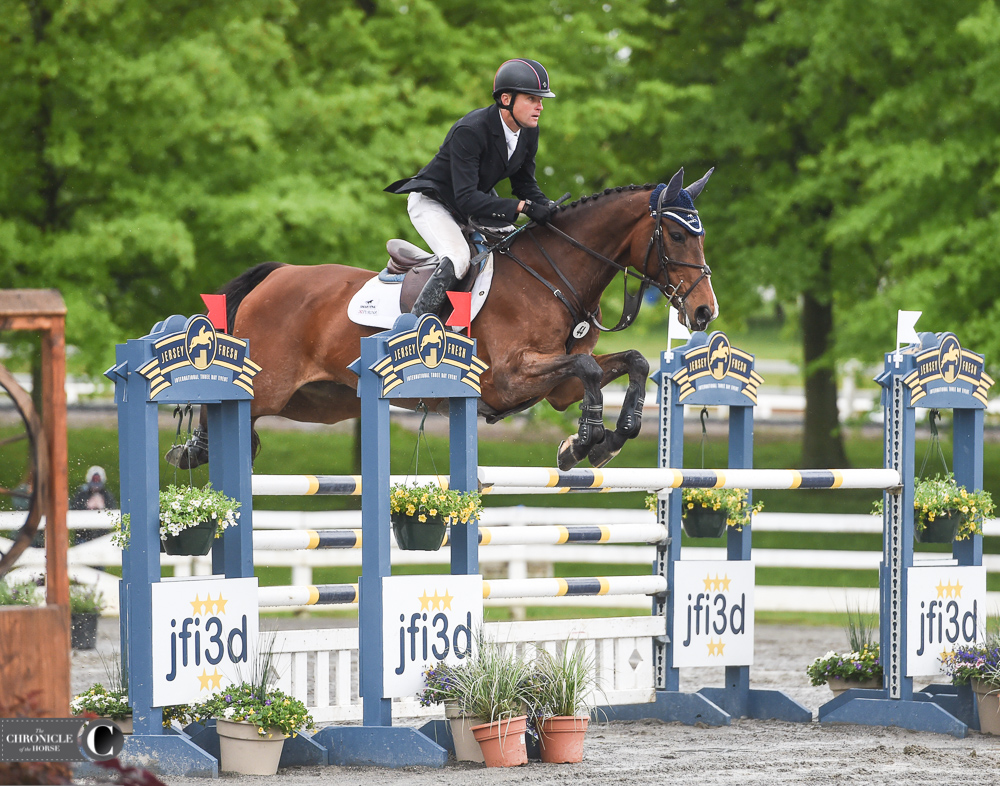 "It's been a very long road," he said. "I knew that I was taking on a huge challenge. I'm very lucky that Steve Blauner and Gloria Callen bankrolled it, then we divided into 10 pieces. As soon as I got him paid off I took him to the [$100,000 Land Rover] Wellington [Eventing] Showcase and got eliminated in the show jumping at the second fence! I had a number of sleepless nights, took him all the way back to training, and it really took me a long time to click with him."
Martin said working with his show jumping coach Richard Picken helped him figure out the kind of ride "Ludwig" needed.
"He's very strong on the flat, but Richard said I needed to change the way I ride the horse," he said. "The way I like to ride horses is quite loose and open and free, and Richard said if I wanted to get this horse going I was going to have to become a completely different rider for this particular horse. I had to learn to package him because the horse likes a lot of support. It was a good learning curve for me to try to change my style of riding. It took a long time, but towards the end of last year I started to get the hang of him.
"I probably could have gone quicker on him yesterday," he added. "He's a very sound horse, so I hope we have many years ahead of us."
Martin also finished 10th in the CCI*** with his homebred Ray Price.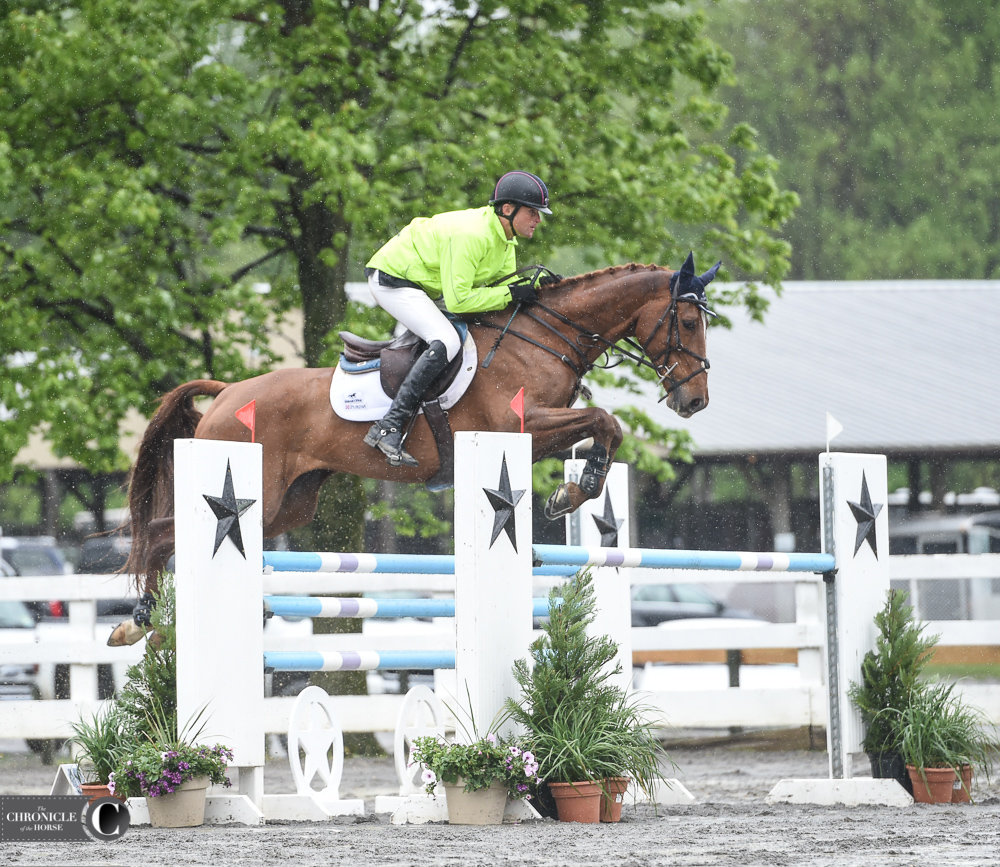 "I'm tooled up with a lot of good horses coming through at the moment," he said. "I think the next four or five years in my career is a going to be a good one because we went out and picked out 4-, 5- and 6-year-olds years ago, and now they're all starting to step up. I've got some strong rides coming through that were hand picked. When you move to a new country or start over, you get whatever they'll send you. Some of it is junk you've got to try and turn around, some are diamonds in the rough, and it's a long process. It takes six or seven years to get a 4-year-old through to the higher levels. Ray Price, I bred him in Australia. It's a nine-year project. It's a lot of hard work and you've got to have a vision and be very patient. Some of them need to spend a long time at the two-star level before you move them up to three-star. It's a wise man's game. I've been around a little bit now and still enjoying it and still loving the sport; enjoying days like today."
Martin's CIC*** winner Kyra, an 11-year-old Canadian Warmblood mare (VDL Ulando H—Wellesley, Weltstern) is owned by Christine Turner.
Michael Pollard competed the chestnut to the two-star level until he retired from eventing.
She moved up to advanced this spring, and Martin has high hopes for her.
"She was brilliant. She's all class," said Martin. "She's probably the best jumper I've got in training at the moment. She's highly strung, and was a little bit of a handful to get to know. The last couple of months we've been putting it together. I was pretty happy with her in all three phases. She's got a massive stride."
Kyra has a 3-year-old filly by Mystic Replica, and that filly is in foal to a Thoroughbred stallion, so Kyra will be celebrating grandmotherhood soon.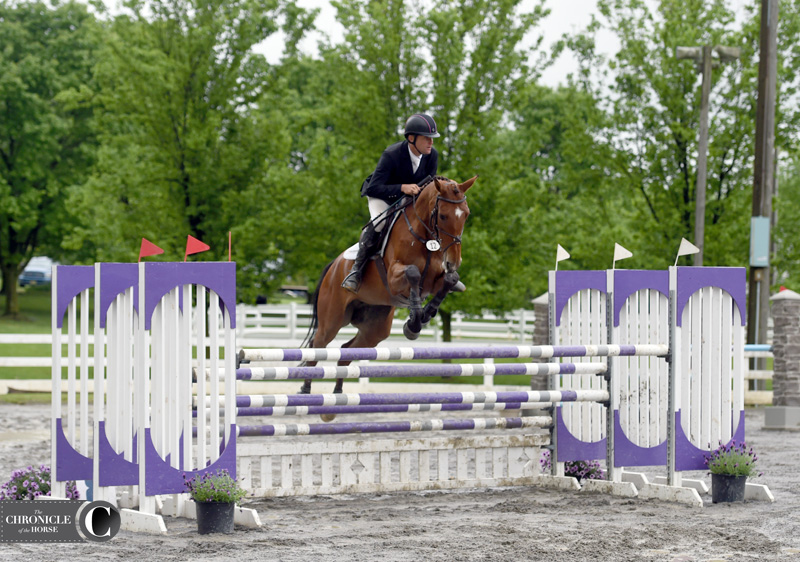 In the CCI**, Martin rode On Cue, a 12-year-old Anglo European Warmblood mare (Cabri D'Elle—On High, Primitive Rising) to the win.
The mare had been imported and started by Sinead Halpin, then went to Pollard before coming to Martin.
Ironically, he'd tried to buy her in 2014 before Halpin did, then missed another opportunity when Halpin sold her to Turner.
"She's a lovely mare," he said. "Everything you want in a horse—movement, scope, talent, gallop. I don't think she liked the puddles in the ring today. She's a little bit of work in the show jumping. The mud splashing around, she was struggling over the first half of the course, and I was all over the shop, then we started coming good. Sometimes the stars align, so I'm very happy for her."
Turner has a 2-year-old out of On Cue that will be coming to Martin next year, and she's having eggs collected for another embryo transfer in the coming weeks.
For full results, click here.
The Chronicle will be on site this weekend at the Jersey Fresh International to bring you news and photos from the spring CCI championship. Check back at coth.com and look for more from Jersey Fresh in our June 4 print edition.
2018 Jersey Fresh CCI Show Jumping
Lindsay Berreth / May 13, 2018 3:41 pm