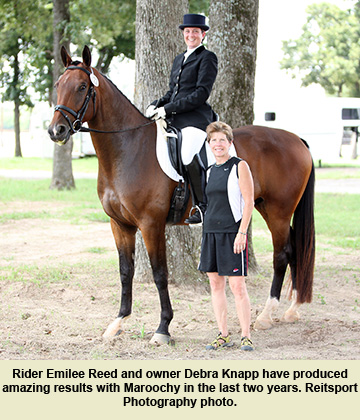 Rescued from an auction, this Texas horse nearly starved and just missed the slaughterhouse on his way to becoming a dressage champion.
Winning a championship with the show's high score in only his second competition would be impressive for any horse, but for Maroochy and his connections, it was an especially meaningful feat.
The 5-year-old, Dutch Warmblood gelding had survived serious malnourishment and dodged the slaughterhouse before becoming the high scorer at Lemonade Daze I & II, in Athens, Texas, July 28-29, and winning the training level open championship.
Those wins qualified Maroochy for the Southwest Dressage Regional Championships and the Great American/ USDF Region 9 Championships this fall.
Piloted by trainer Emilee Reed, of Stargate Sporthorses in Bartonville, Texas, Maroochy, owned by Debra Knapp, posted the high score of Lemonade Daze II with a 70.80 percent.
"At first I was just happy to give him a home, but he's doing so well. He's grown into such a beautiful animal," said Knapp. "In fact, when I was on the show grounds I could hear people talking about him. They didn't know I was the owner and they said, 'Whoa, what a beautiful horse!' That made me feel so good. That magnificent horse at 3 years old, he could have gone to the killers, but instead he's out here winning the dressage championship."
Reed, a graduate of the University of Findlay (Ohio), and former barn manager for Jessica Ransehousen, said Maroochy received good feedback from the judges, as well, including receiving a 9 on a trot diagonal.
But it wasn't always that way for Maroochy.
In April 2005, he and some other starving Dutch Warmbloods were put up for auction due to a divorce/bankruptcy. A Dallas-area trainer was alerted to their plight and went to the auction to outbid the killers. She took home the malnourished horses and nursed them back to health.
"They don't have brands," said Knapp, but she added the breeding was verified by the auctioneers.
The original owners had done nothing with the horses. "[Maroochy] had his feet trimmed for the first time when he was 3," Knapp said. "And he was intact, so we had him gelded. Just getting them into the trailer was quite a feat."
The champion 5-year-old was, at the time Knapp purchased him, a green-broke 3-year-old with a stiff back and neck up in the air.
"He had this baby neck that was kind of upside down," she said. "His neck was set on high, which I'm not used to. I thought I was riding an ostrich! When I tried to push him forward his neck would stay up there, and he'd just speed up."

Drawn To Him
Knapp had been saving money to buy a second level dressage horse when she saw Maroochy for the first time in November of 2005.
"He was just broke to saddle, and he was under 15.1 [hands], just this itty-bitty thing. I was like, 'Oh, brother!' I thought, 'If he hits 15.3 I'm going to be amazed!' " she said of the now 16.1-hand horse.
But after seeing him Knapp couldn't get the diminutive gelding out of her mind.
"There was just something about him," she said. "He just had an air about him. He had this Greta Garbo walk; he just walked out with this swinging back and real long strides."
He also has three solid gaits. "He's got a fantastic rhythm at the trot. He really comes up underneath himself, and he's got a very uphill canter," Knapp said. "His hind legs just fire off the ground at the canter."
Knapp, a Dallas police officer in the crime scene unit ("It's not like the TV show. Most departments don't have all the time, the money, and the equipment they do on the TV show"), said Maroochy is a rascal.
"He's quite a character. I can't tell you how many water troughs we've gone through. He pokes holes in them."
The State Of Dressage In Dallas
People often think that Texas equals cowboys, but the equestrian disciplines are alive and well in the city of Dallas. Frances Luse, past president of the Dallas Dressage Club, said that dressage in the Metroplex area has come a long way in the past two decades.
Luce, president from 2002-2006, said the quality of horses and riders has improved.
"We're also doing a lot for young riders," she said. "Every year we have a silent auction, and we've done a free clinic for young riders with FEI rider David Blake."
Ten years ago Dallas would have had only one rider for the North American Junior and Young Riders Championships. "This year," Luse said, "in Region 9 [OK, MS, TX, LA, AK], three out of the five riders has come from the Dallas Metroplex area."
With professionals such as S-rated judge Sue Malone-Casey and FEI riders Lisa Blackman and Lyndon Rife nearby, riders have more opportunities than ever before. And with clinicians like Jane Savoie, Leslie Morse, and Thomas Ritter, riders can get extra help from some of the best in the world.
But perhaps most exciting is the upcoming Texas Horse Park, a 500-acre facility designed to host world-class competition for all equestrian disciplines.
"We're hoping it's going to be the middle marker between California and Florida," said trainer Emilee Reed, "and that the Midwestern states won't be left out anymore."
Groundbreaking for this international venue, slated to open in 2009, will begin next year. Among other features, designs include five arenas with warm-up areas, 500 permanent 12′ x 12′ stalls with space for temporary stalls, electric outlets at each stall, longing areas, paddocks, a cross-country course, a combined driving course, a lounge with shower, wireless Internet, and on-site television feeds. There will also be a community outreach center, a horsemanship school, and boarding facilities.
With a park Reed hopes will rival the Kentucky Horse Park, Dallas riders have something great to look forward to.
For more information about the Texas Horse Park go to www.texashorsepark.com.
She also has to watch the treats. "I have to be careful about handing him carrots, because he'll start to frisk you. He's very smart. He's a lot of fun to work around."
So when it came time to name the then smallish gelding, Knapp said, "he was such a little character, it was hard to pick out one of these really serious dressage names," said Knapp.
"I had been to Australia, and I visited Maroochydore, which is a town in Australia, and the Maroochy River," she said. So Knapp named the bay gelding Maroochy, after a black swan the aborigines use in their creation story.
But the youngster soon proved to be too much for the amateur rider, so in May of this year, Knapp put him in full training with Reed.
"Debra is just a joy," said Reed, "and so is her horse. I care deeply for both of them and enjoy working with them."
Knapp said, "I'm so happy I have him with Emilee; she's such a lovely rider. I've seen other dressage trainers that go to the whip so often, and you can see that the horse never gets to enjoy himself. They forget that dressage is a dance. When Emilee rides her horses they just look so peaceful; they look happy. They're working, but they don't look like a slave, like some horses do under saddle."

A Hodgepodge Of Horses
Three out of Knapp's four horses have had serious injuries, but Knapp has hung in there with all of them. Now, in return for rescuing Maroochy, she has a champion with upper-level potential.
"It's nice to see that someone who cares so much is rewarded with a horse as talented as Maroochy," Reed said.
Knapp, 52, didn't even start riding until her 30s. "It was the first time I actually had enough money to do it," she said. "But I still have the enthusiasm of a young girl."
She started out with a Tennessee Walker. "Then I wanted to learn how to ride a horse that trotted," she said with a laugh.
A Trakehner cross provided the means to do hunters and some eventing, but he developed ringbone. Because it was high ringbone, the bone fused after a few years, so she didn't have to put him down. "He's a pretty expensive lawn ornament," Knapp joked.
Her next horse, a Thoroughbred, broke his back and was laid up for two years. But Knapp kept him as well and is now able to ride him cautiously.
"He's very stoic, and I was always worried that I was hurting him," she said. That's what led her to purchase Maroochy.
Dressage In The Desert
Most people can't imagine riding in a place where the temperature can exceed 100 degrees even at midnight, but it is possible. "We plan accordingly," said trainer Emilee Reed. "Our championships are in October and November, and shows start in March."
"You have to ride very early in the day or late in the evening," said Frances Luse.
Riders try to choose barns that have arenas with overhead roofs or that are screened in. "During the day you need stall fans," Luse said, adding that riders often hose their horses down if they have a difficult time coping with the heat.
And Luse hasn't seen one hay loft in Dallas. "Hay is kept in a separate shed built onto the barn, or in a separate building," she said. Barn roofs are ventilated and arenas have vented roofs.
While some of the sandy footing in Dallas can be very good, it depends on where you're located. There is a lot of good sandy loam, but it can vary from mile to mile with something Luse calls "black gumbo," which is black dirt with a heavy clay content.
"They get really filthy. It's really hard to get out if the horses roll in it," she said.
Friesians, with their heavy build and coat, are not too common in the Dallas heat, but warmbloods and Iberian horses are becoming more popular. "It's not so much the type but the weight and aerobic fitness that determines how a horse will hold up," said Luse.
One benefit is the dearth of bugs. "There's a good breeze because we're on the south end of the Great Plains," said Luse. "We don't even have to use fly sheets."
So while the heat may be unimaginable for most, there are some pluses to desert riding.
The 5-year-old is making huge strides ever since going into full training with Reed. He's solid in his basics and is currently learning some second-level movements.
"The difference is like night and day," Knapp said. "He's stronger. He's forward. He's coming from behind. He's straight."
And he's grown up a bit too. "He's more obedient, but he still has his Maroochy personality," said Knapp. "He's the type of horse that will spend a lot of time trying to figure out how not to do what you're asking him to do," she said. "But once he figures you're serious about it, he'll settle down."
Because Maroochy is coming along so nicely, Knapp looks forward to teaching him how to jump. "We've got to start jumping this horse," she said. "He's really smart. He needs to have his training broken up into different things."
Knapp and Maroochy are both headed in the right direction, with Knapp reaping the reward of her faith in her animals. "I feel very blessed," Knapp said.


Kristen Collier