Lexington, Ky.—Nov. 4
Ariana Marnell and Ella Bikoff seemed to be sharing the same playbook at the National Horse Show: Both riders started the small junior hunters with mistakes that kept them out of the ribbons in the first over fences round, and both bounced back to win their respective handy rounds. Both returned more confident the second day to top the under saddle, and both finished their divisions by taking blue in their stake classes.
Those mirror-image performances earned their respective division championships Friday, Marnell and Babylon in the small junior hunter, 15 and under; Bikoff and Commentary in the small junior, 16-17. Tied at 30 points apiece, their over-fences points should have determined who would take the grand championship, but they were tied there as well. The evenly matched riders ultimately shared top honors, earning the overall grand and grand small junior championship.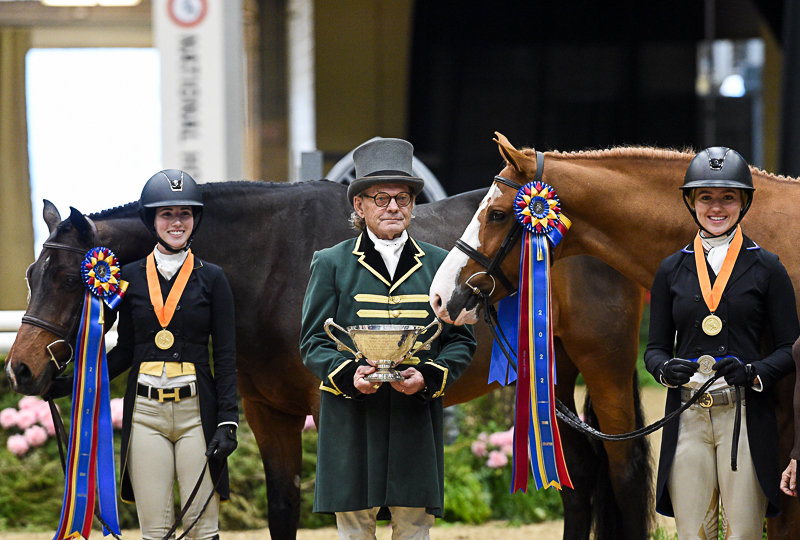 "Oh my gosh, so amazing," said Bikoff, 17, New York City. "I did not expect this at all, especially when you start off a little on the wrong foot, and I'm just like how am I going to recover from this? So just keeping the faith and just doing it anyways and not feeling too much pressure—because the second pressure gets in your head, I can't deal with it."
Conversely, Marnell, 16, Las Vegas, said she thrives on pressure. When she found herself at the top of the order to go into the stake class, she told herself, "Let's go and get a 90."
"Sterling [Malnik, on Coronation] was a touch ahead of me for champion, which is good," she said. "I do better under a lot of pressure. There was a lot of pressure, so this was perfect. Going first I was like, just do it. There's no time like the present."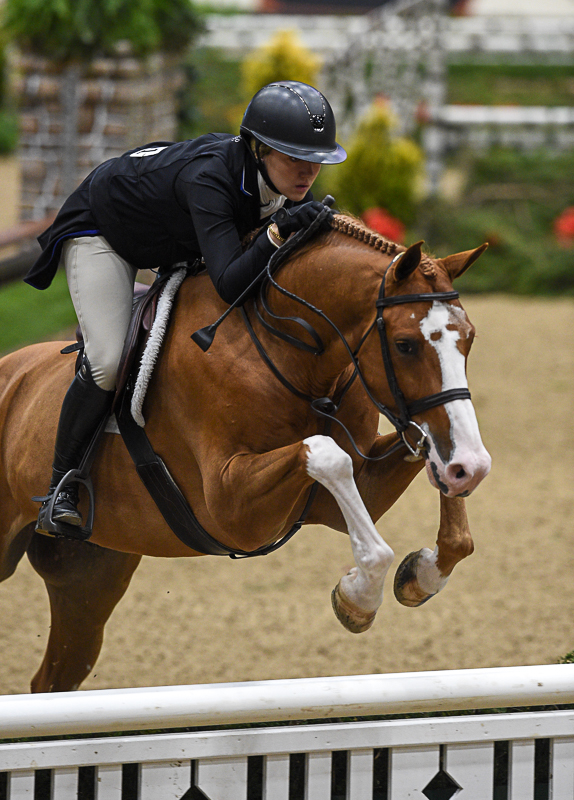 This was Marnell's first time competing at the National, as well as Babylon's. The 7-year-old Oldenburg gelding (Crumbie—Die Cera) has been on a hot streak recently, winning championships at Capital Challenge (Maryland) and Washington International (Maryland).
"I'm so proud of him," she said. "At 7 years old this is a really big environment and a huge ask of him. It's totally valid for him to have his green moments, and he really hasn't had any. It's hard I think, too, with these indoors: You have to peak week after week after week—you and the horses—and it's a big ask of everybody.
"We haven't really been able to celebrate after any of the indoors because I'm always like, OK, onto the next, onto the next," she added. "So now that the year's over, it's nice. We can all take a breath. Aside from 'Crumbles' and I, our whole team has worked really hard. I'm sure they're tired. I know Crumbles is tired, and I'm tired, but this was such a good way to end."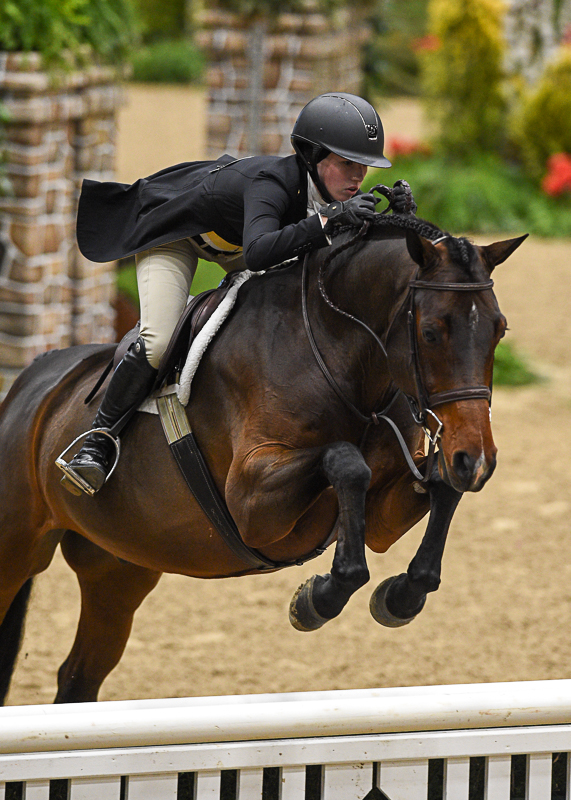 While Bikoff has never competed her 11-year-old warmblood (Cooliage—Quinni) at the National, he was reserve here last year with Mimi Gochman up. Bikoff last competed at the National in 2019, and though her trainers Scott Stewart and Ken Berkley spend several weeks in Kentucky in the spring and summer, she hadn't competed at the Kentucky Horse Park since summer 2021, when she was injured in a fall and had to sit out the remainder of the year.
"This is just a whirlwind of emotions but for the better," she said. "I haven't been at the National Horse Show in a really long time, and I was here on Garfield, and we were champion, and it was like, how am I supposed to top that?"
Stepping Into The Big Leagues
The last time Madeline Brooks competed at the Kentucky Horse Park, she was in the short stirrup division. Fast forward five years, and this week she made her debut at the National in the 3'3″ junior hunter, 15 and under, division on Captain Jack. But she didn't just show up, she put in a nearly flawless performance with three wins and a second in the handy to take the division championship and the grand 3'3″ junior championship.
"I won the first trip yesterday, which was really fun," she said Friday. "I was just hoping for a good trip, and then the under saddle today we won, so I was really happy. We've been waiting to win the under saddle for all of indoors, so I'm glad that we won today. And then we were just second in the handy, and then we just won the stake, which was really exciting. There were some really high scores. We were hoping to go out with a good trip and finish strong and got a 90, so that was really fun. That was my first 90.
"It's really fun to come back and do well, and it makes it feel really special being here," she added.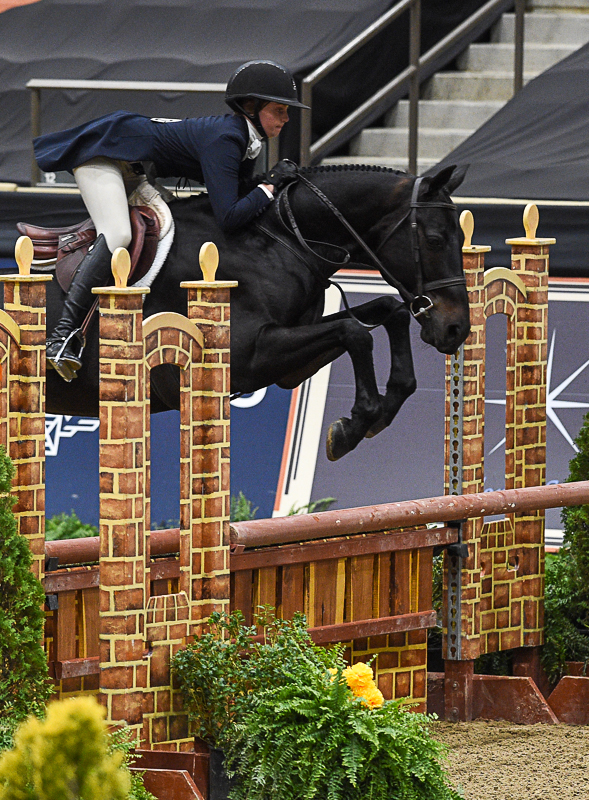 The 14-year-old from Wildwood, Missouri, has been riding "Jack" for about a year. Their partnership has proved a successful one, as she also rode the 13-year-old Dutch Warmblood to championship honors at Pennsylvania National three weeks ago.
"He's really smooth, and he always goes out and tries his best," she said. "He wants to win every time he goes out, and he's just so sweet."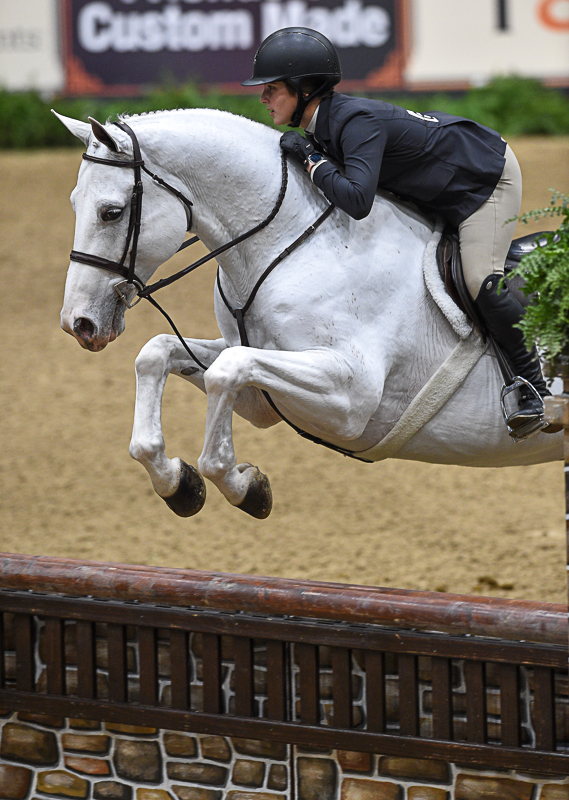 One Of A Kind

Paisley Park has definitely cemented himself as one of Lauren Little's greatest equine partners. Earlier this year she earned her first national title when they won at the Adequan/USEF Junior Hunter National Championships—East (Michigan). On Thursday he helped her earn a 91—her highest score ever—and then they closed out the National with the large junior hunter, 16-17, championship and grand large junior honors Friday.
"This is definitely one of the biggest wins of my career, and being large grand on top of that is—I don't even know where to start," she said. "I am just so incredibly exited and grateful and happy."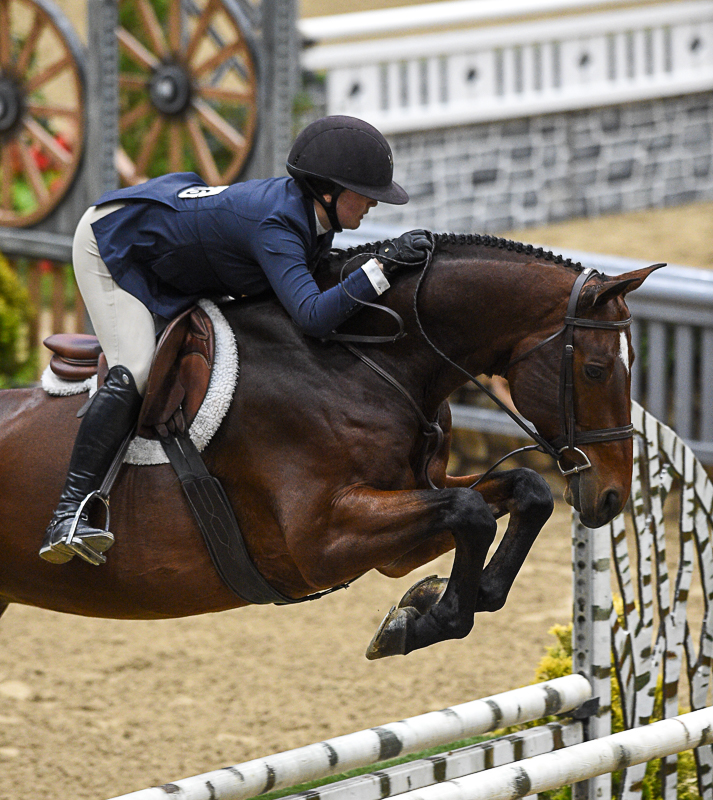 Little, 17, Lafayette, California, purchased the 10-year-old Dutch Warmblood during Week 6 of the Winter Equestrian Festival (Florida). Her trainer Geoffrey Hesslink had an eye on the gelding since he was competing in the pre-green 3- & 4-year-old division, and they snapped him up.
"He's truly just one of a kind," she said. "There's something so special about him. I just feel like we get along so well. He's like my child. We just understand each other. He's the best horse I could ever ask for. I feel like the luckiest girl in the world."
The Best Surprise
At the end of the Winter Equestrian Festival in 2021, Bridget Hickton's parents had a surprise for her. She'd been leasing Fearless for a few months, but they decided to make him an official part of their family by purchasing the 10-year-old Hanoverian (Uccello—Romina RH).
"He is the sweetest, best horse ever," she said. "I love him. He is amazing. I can't say enough good things about him. He's so sweet. He's always there for me. He helps me out all the time. I'm so glad I got paired with him when I started riding with Ron [Danta] and Danny [Robertshaw], so he's just my heart horse, the best ever."
The 18-year-old from Pittsburgh has been showing in the 3'6"  junior hunters this year but didn't show enough to earn a spot in that division at the National. Because she was champion in the 3'3″ division last year, she automatically earned a spot to compete at that height again this year.
"I was kind of like nervous trying to figure out like, OK it would be pretty hard to top last year," she said. "It's my last junior year. I just wanted to kind of have fun, have good trips, nothing crazy. I didn't have super big goals like try to do it again."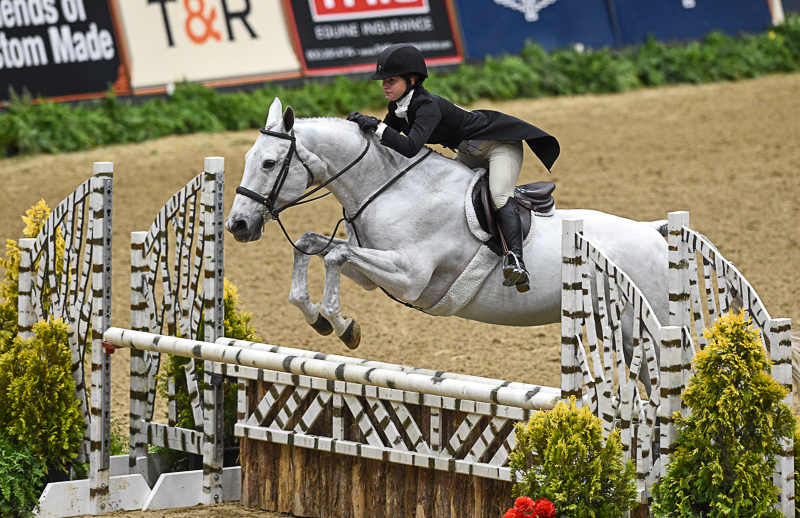 "Russell" was feeling a bit fresh on the first day of the division, but by Friday he'd returned to his reliable self, earning a pair of blues over fences and a red ribbon in the hack to earn the 3'3″ junior hunter, 16-17, division title.
"I didn't want to throw myself off, think too hard about results or anything, so just going back in for the stake I was like, 'OK, last trip, last show as a junior, last show [of the year], last trip for the week, let's just go have a good round,' and it worked out really well for me."
Finding Their Groove
At the beginning of this season Clara Propp and Arabesque weren't quite up to their usual winning form. The pair had been formidable in the 3'3″ juniors last year but experienced growing pains when they stepped up to the 3'6″.
"She was over jumping a little because she was like, 'Whoa! 3'6″, this is different,' " said Propp. "As the season has progressed she'd just leveled out and been pretty much just the same as she was last year."
On Friday they finished their 2022 season just as they did 2021, with a National Horse Show championship, this time in the large junior hunter, 15 and under, division. They squeaked out the victory, earning just one more point than reserve pair Sterling Malnik and In Writing.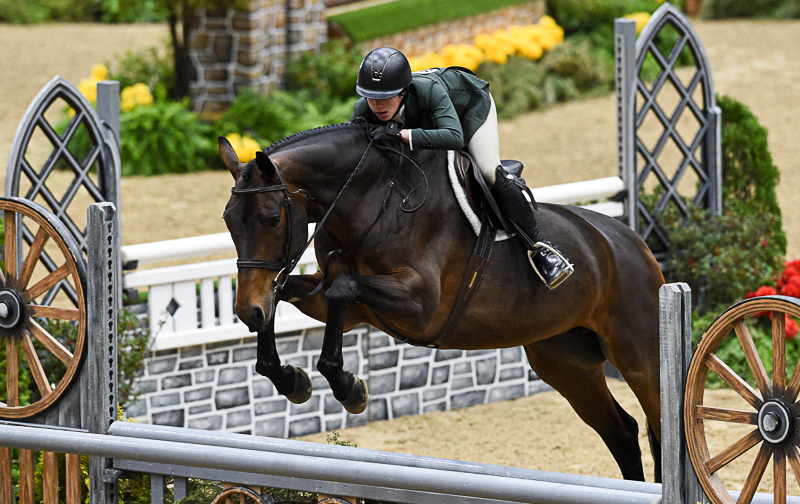 "I wasn't the best yesterday, so I didn't have too much pressure," said Propp, 14, New York City. "I kind of just wanted to go into today doing the best that I can, and I think me and her both did it. I've said before a thousand times, she's so special, and I cannot be more lucky to be her partner."
Propp was thrilled to earn a championship for a second year.
"I think a lot of the times you expect things the next year if you were so good the year before, so definitely I came in feeling a little pressure to do a repeat," she said. "And I think the fact that we did it at this prestigious of a horse show is just awesome. I'm so grateful to have her, because I really couldn't do it without her."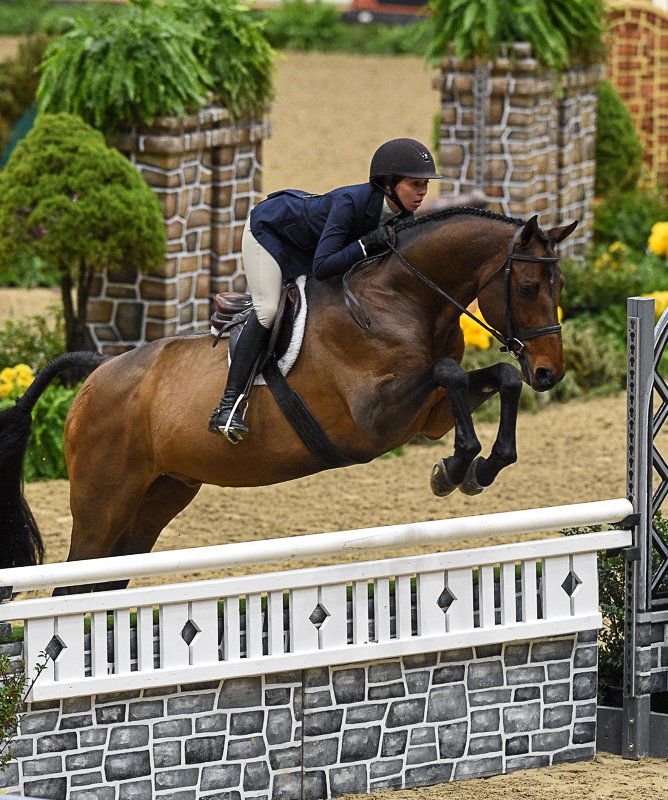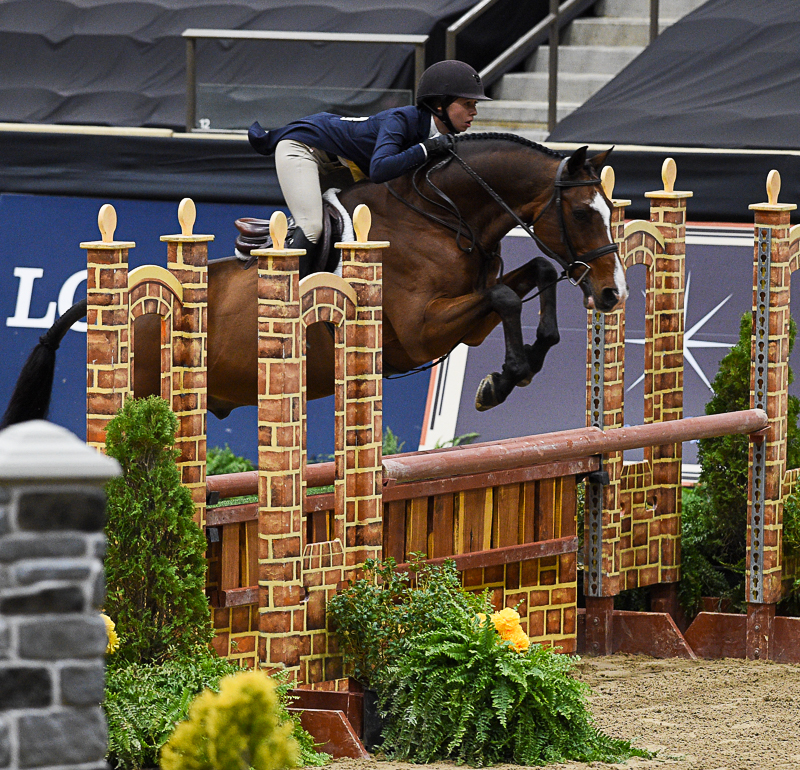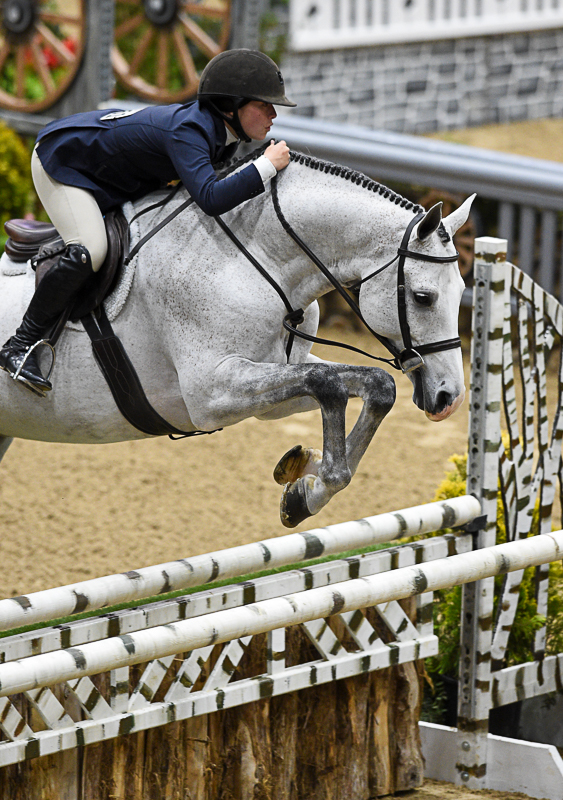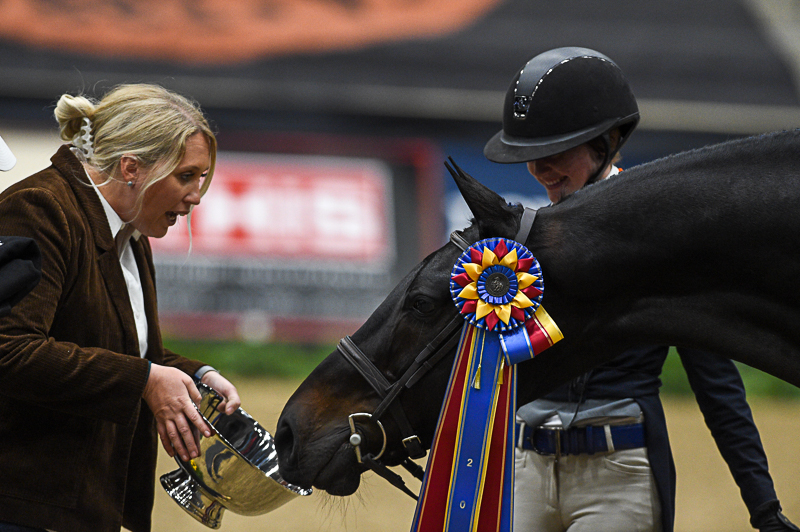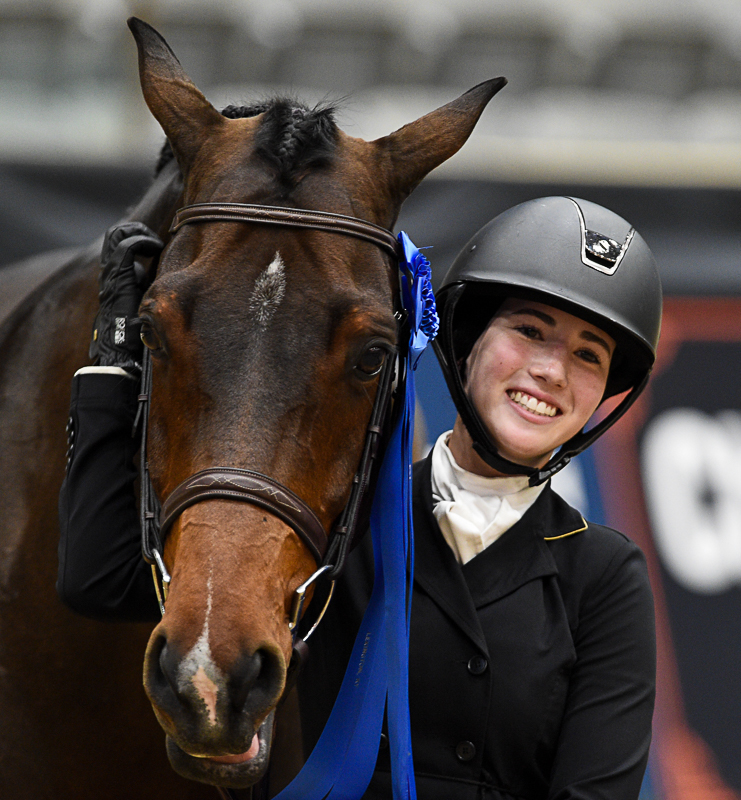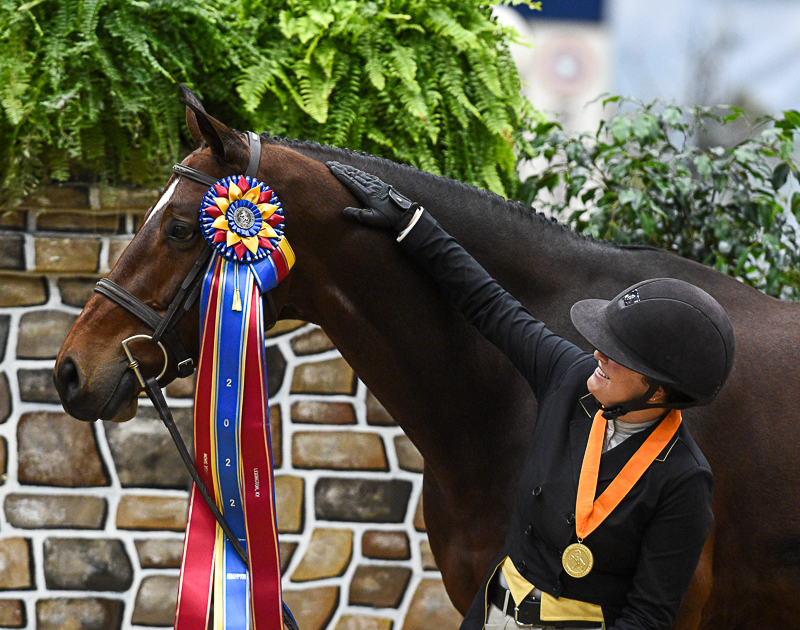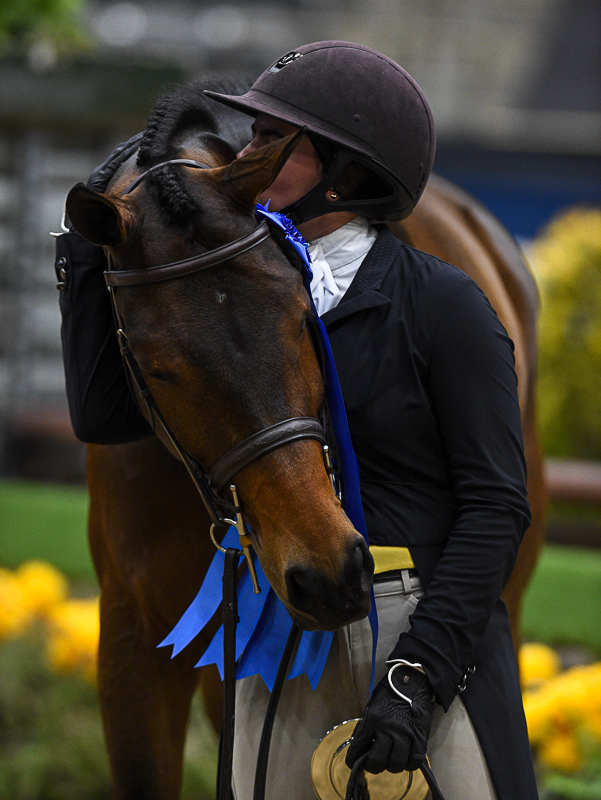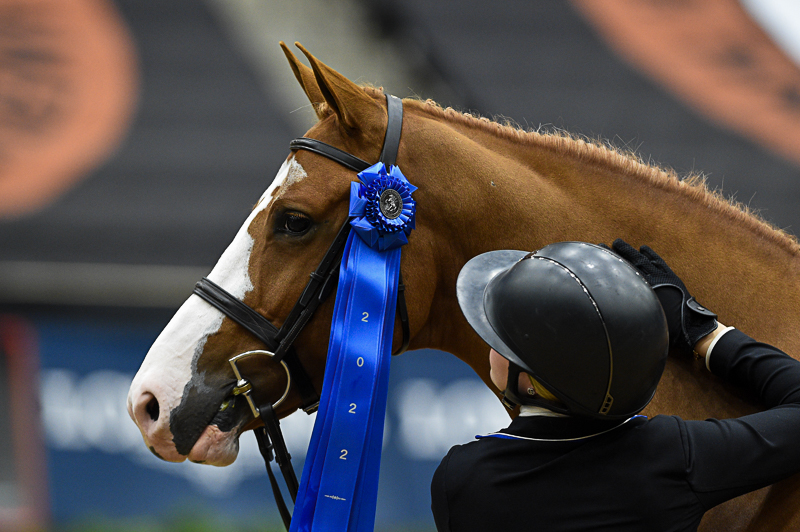 The Chronicle is on site at the National all week to bring you photos, stories and more. You can find full results from the show here, and don't forget to read full analysis and coverage from the horse show in the Nov. 21 issue of the magazine.