After we have celebrated our respective holidays with our families, eaten ourselves out of our skinny breeches, and slept off the New Year's Eve celebration, the winter show season arrives. As if the country was a large board game with all the pieces set out that gets tipped one direction, the U.S. equestrian community slides south to warmer climates to start the winter show season, ending in a big pile of game pieces in California or Florida.
For West Coasters, this generally means HITS Coachella. For East Coasters, this undeniably means Winter Equestrian Festival at Palm Beach International Equestrian Center. WEF is something of a mystery for West Coasters of rational means—it's known for its incredible size, unbeatable shopping and impossibly nice horses, but is something to be watched on live stream or read about in "Horse Show Boyfriend."
When my junior buddy, Spencer, left for a working student job in Wellington and casually offered to let me visit, I lept at the chance. Spencer and I hatched a plan to let me hang with her new barn and show her mare Chenova in some classes sometime in December, and before I knew it, it was time to make my early flight out of Phoenix to West Palm Beach for WEF Week 1.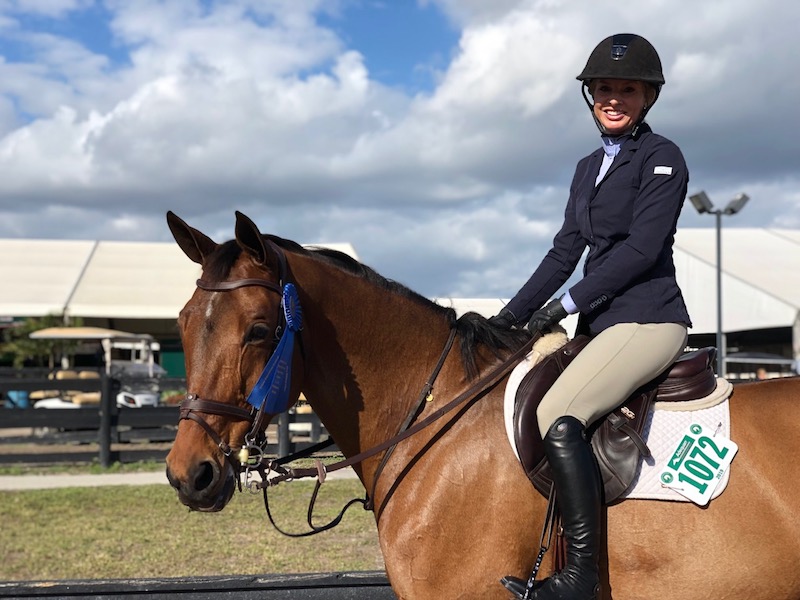 I had two simple rules for the trip. First, I would burden myself with no expectation of actually showing or anything else for that matter. Spencer's trainer, Caitlin White of Holly Hill Farm, had seen some 60-second rounds of me showing from Instagram and deemed our plan to show Chenova reasonable. That said, I planned to lesson on Thursday, and then we'd come up with an appropriate plan for the balance of the weekend. Second, I decided nothing would be below me in the experience of the weekend. I was going all-in and would enjoy the moment. There is a lot of being cool at horse shows; I wasn't going to be that. (For example, blogging about the experience instead of acting like it's my normal MO to pop across the country for WEF 1.)
My flight out was at 6 a.m., and I made the ambitious decision to haul my saddle and my dog with me on the indirect cross-country flight. I should also mention I broke a rib two weeks prior coming off one of my own horses at home. It was great fun hauling my saddle in and out of security twice, so Hudson the Pomeranian could tinkle during our layover in Charlotte.
On the first flight I folded the saddle like an overstuffed taco in the overhead bin. For the second flight I had to lay it out like a large manta ray consuming nearly an entire overhead. (Neither made me friends with my fellow passengers.) Finally, my saddle and I enjoyed a tender embrace, which I found to be strangely comforting, on the jam-packed rental bus for the final 15 minutes of my journey. All of us arrived, exhausted, in Wellington around 8 p.m. local time. A text from Spencer popped up with my lesson time for the next day as I nodded off.
I arrived a few minutes early to the off-site show barn for my lesson the next morning. I didn't realize before the trip that WEF is comprised of a concentration of horses in traditional show stalls and then literally miles of adjacent horse properties that walk or haul in for rounds. Think of it like a beehive, with the horses like bees buzzing loops back and forth to the show under saddle, being hand-walked by grooms, or in trailers. Holly Hill Farm is a 20-minute walk to the show, punctuated by one significant intersection with horse-height crosswalk buttons.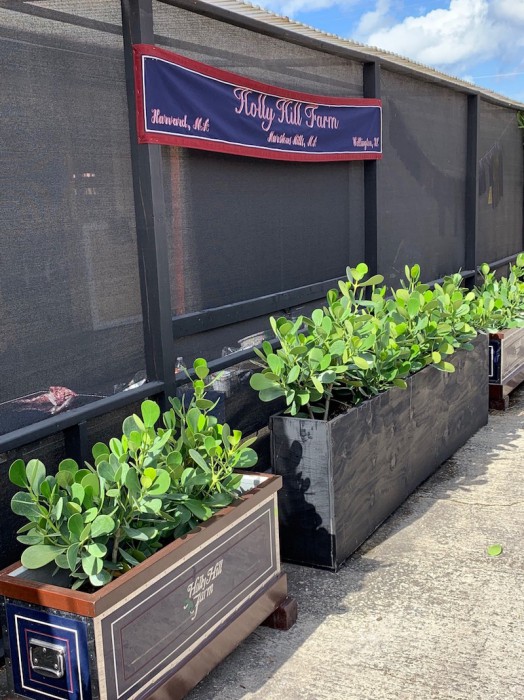 I hopped on Chenova, an 11-year-old bay Oldenburg mare, and introduced myself to Caitlin. After she gave me a good-natured ribbing about my sparkly stirrups I knew we were going to get along just fine. Caitlin stair-stepped me from flat work through raised cavaletti to small courses in about an hour-long private lesson. I took away two key concepts from the lesson. Choose distances with conviction. Caitlin said our horses want to please us, so they are happy to follow our decision. It's indecision that erodes their confidence because they don't understand the ask. Next, the importance of balancing Chenova by compressing the canter in the ends of the ring before the next jump. I left the barn to spend the day watching rounds at my leisure.
My first impression of the show was that it truly is "theme park meets horse show," rightly earning the nickname "Welly World." The size of the show was completely overwhelming. There are 12 rings on the map because the 13th  doesn't fit.
As much as I have read about WEF, nothing prepared me for the fill. Sure, the fill on the jumps in the hunter ring is immaculate, but to some degree also to be expected. But the entire show is covered in fill. Anywhere that ground meets object is covered in tidy potted rows of fill. If the object is high up, like one of their fancy restrooms, fill starts high and then stair-steps down in height until the fill is covered in more fill of descending height, until you reach about 6 inches above ground. It's like those Russian dolls of progressively smaller size that fit inside each other. Apparently at 6 inches you can stop filling with potted plants. That's the rule. The overall effect is more like Augusta, Georgia, home of The Masters golf tournament, than horse show.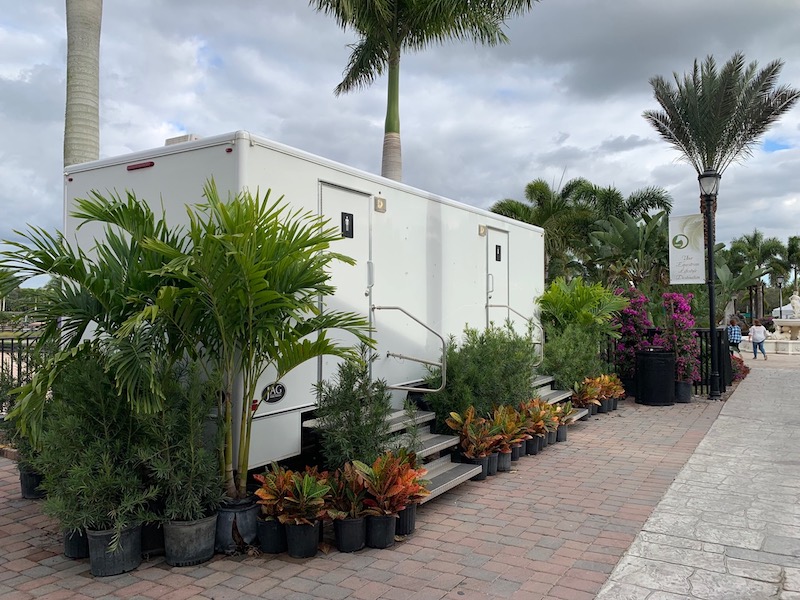 On the third day of my WEF adventure, Chenova and I were entered in the micro jumpers in the afternoon. I was now such a veteran as to have a WEF routine. In order: Starbucks, watch rounds, share Cobb salad at the Oasis with my dog. At the precise moment I was told to be ready, Chenova ambled up with her groom.
Caitlin coached me to just canter the course, since Chenova and I were a new team. We had a lovely first round. Our second round I made some small mistakes but nothing that would bring shame on my host or generally reveal me to be an imposter. WEF gives blue ribbons to all clear rounds in the tiny jumpers, so this meant Chenova and I went home with a blue ribbon and a smile.
Sadly, the smallest jumper rounds on Saturday and Sunday were 1-meter-plus, so my showing was over for the week. With Chenova for sale and me nursing the broken rib, the conservative choice made sense for horse and rider. Instead I lessoned at home. I was getting the mare figured out, and we did some slightly larger and more complex courses well together—skinny jumps, bending lines and rollbacks all came together nicely.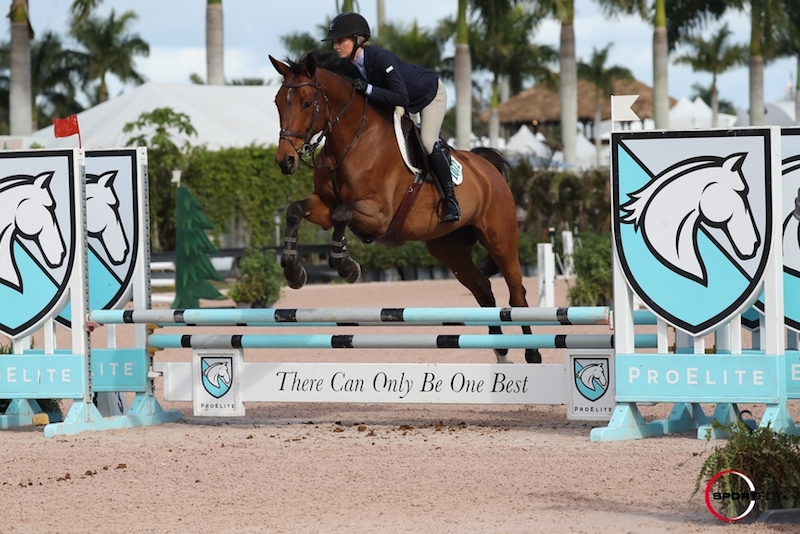 That over, this was my day to shop! I went in and out of dozens of boutiques scattered through the show. Skulls, camo and stars decorated delicate cashmere sweaters for horse show moms, stirrups of every imaginable color and design were pitched in great detail for riders, and belts. So many belts. Belts of every color and logo and pattern and weave. Belts for every family member. Belts, belts, belts!
Having just binge watched Marie Kondo's "Tidying Up" on Netflix, I found the options so dizzying that I couldn't figure out what brought me joy even if I tapped it to wake it up or held it close. I left with a disappointing two WEF hats and a golf shirt for my hubby at home. Spencer and I looped up for the Battle of the Sexes and a pizza that night. The idea of combining a relay with show jumping seems like a decidedly American thing to do, but it was a blast to watch.
I started my last day driving through the neighborhoods checking out horse properties. Immaculate farm after immaculate farm linked by bridle paths that connect neighborhoods to the show. I definitely need to step up my horses' at-home game! Based on this quick tour my best bet is just to remodel the actual house on my property for the horses and reserve a stall for my husband and me at the end.
Chenova and I had a quick flat lesson and I was able to squeeze in one more Cobb salad from the Oasis and see the first five rounds of the grand prix before catching my flight, snaking my way back across the country with my dog and saddle and thinking with overwhelming gratitude about the days I had just spent in Wellington.
The entire experience was, in a word, pleasant. People were incredibly gracious on the show grounds: one show dad delayed his route home to watch his Blue Devils play hoops to give me a lift to a ring in the far opposite direction. Spencer and I had a great conversation with the people at table next to us, who were from Traverse City, Michigan, at Kontiki one night. The staff at the in-gate was gracious, letting me stash my backpack and dog inside their booth while I competed.
I think the whole feeling is very fraternal; we are all in this for at least 12 weeks, so let's be friends. The weather was pleasant, highs in the low 70s with a light breeze. The food is good; there is zero dust; grooms are smiling; horses are pampered, manure vanishes like magic. Even Beezie Madden gave me a pleasant smile when I was obviously a fan girl leaning on the rail during her warm-up.
Would I do it again? Absolutely. The actual competing at WEF is quite expensive. If there was a Yelp app for horse shows with cost ratings on a scale of $ to $$$$, most shows in my home state of Arizona would be $ or $$. WEF is $$$$. I gauged every aspect to be about four times more expensive, so would I rather do four shows at home or one week at WEF? It would be four weeks at home.
That said, I will definitely come back next year to spend more time with the cashmere sweaters, Cobb salads and pleasant people, and to see Saturday Night Lights up close. I would come back and be inspired to work harder at home, to see the best of the best practice, to be surrounded by an entire community of equestrian enthusiasts and of course, to see the fill that decorated every inch of the show. WEF is nothing short of magic for a someone willing to be uncool and enjoy every moment.
---
Allison Hughes lives in Scottsdale, Arizona, where she describes herself as a "helicopter mom" to five horses and four dogs. She travels each week as a vice president of sales for a software company and generally blogs from 30,000 feet on Southwest Airlines. Allison has been recognized by Halo Horses Equestrian Boutique as a "Featured Amateur" and by the Street To Stable Equestrian Lifestyle blog in their "The Balancing Act" series. Allison began riding at 6 years old in Rancho Palos Verdes, California, and now competes in hunters, jumpers and equitation in Arizona and Southern California. Allison is often joined in the barn or at the shows by her husband, Bobby Hughes, a former professional baseball player turned home builder.
Read all of Allison's blogs.