Watching Kiltubrid Rhapsody steadily canter around the equitation classes at the Upperville Colt & Horse Show in June with Natalie Wasson, it would be hard to guess the gray gelding's former life.
But take a quick look at his international record, and you'll soon realize he's a bit of an equine celebrity.
"Rhaps" has completed two CCI5*-Ls with New Zealand eventing legend Mark Todd, including finishing sixth at the 2018 Mitsubishi Motors Badminton Horse Trials (England), and he's picked up several top placings at four-star events around Europe during his eventing career. When Todd retired from eventing for a second time in 2019 to train Thoroughbred race horses, he sold his string of eventers. Rhaps headed across the pond to junior eventer Kathryn Canario's barn in California later that year.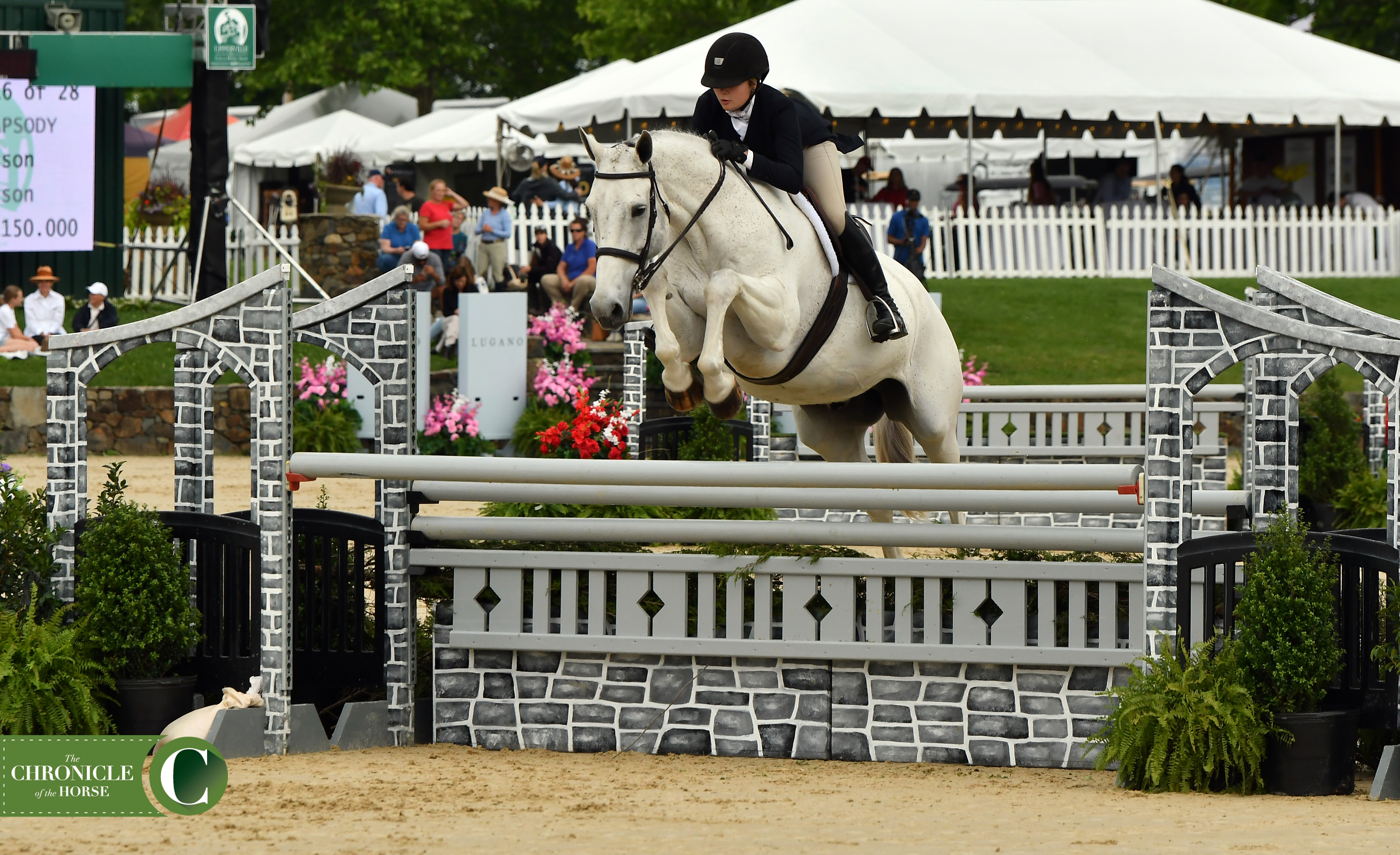 Canario was looking for an upper-level horse after she'd retired her previous one. With help from Carolyn Jolley, she found Rhaps.
"I wasn't convinced I was going to be able to ride him to be honest!" she said. "Mark Todd was on him, and you never really know with a horse like that. But he goes exactly the way he's ridden. He's so good. I was a bit intimidated when I got him because naturally a horse like that you don't want to get them and let them down. You feel the pressure of it, but I felt so lucky every single day I got to ride him, so it was embracing that feeling of feeling so lucky and in awe of him and enjoying him."
Canario, 22, later moved to Pennsylvania to work toward becoming a professional rider, and she took the 15-year-old Irish Sport Horse gelding (Cascaletto St. Ghyvan Z—Kiltubrid Heather, Lombardo) with her. Last year, however, she decided the life of a professional wasn't for her and opted to continue the online classes she'd been taking at the University of Central Florida, where she's studying political science, in person. When she made the change from horses to full-time college, she leased Rhaps to Wasson.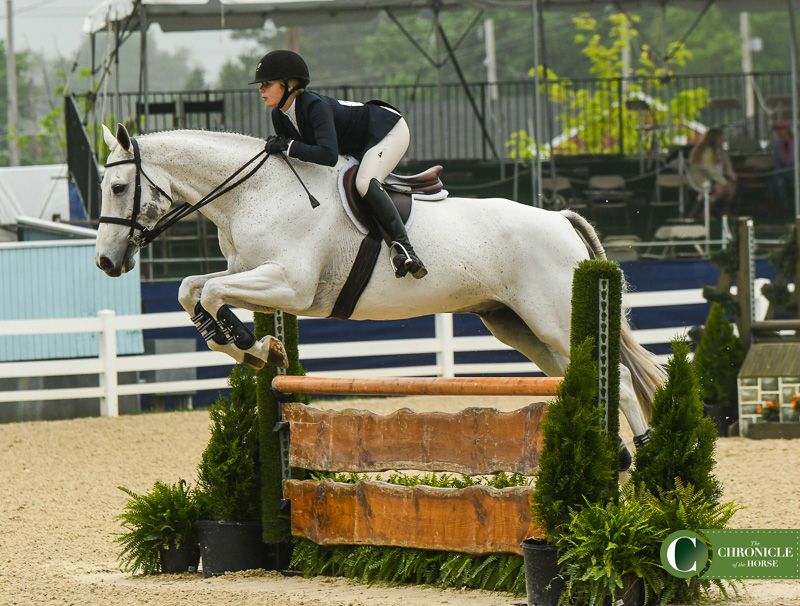 Wasson, 18, has grown up in the Northern Virginia area and always leased horses to ride in the equitation, hunters and jumpers. Her lease was ending on another horse last fall, and her trainer Denice DeRisio Perry started asking around for a new partner.
They heard about Rhaps through Louise Serio, who happened to have her horses next door to where Canario kept him and thought he might make a good equitation horse.
Wasson, Oakton, Virginia, tried him while showing at Capital Challenge (Maryland) and loved him immediately. Perry knew they would be a good match, but she insisted they get to know each other first, so the pair didn't start showing until December.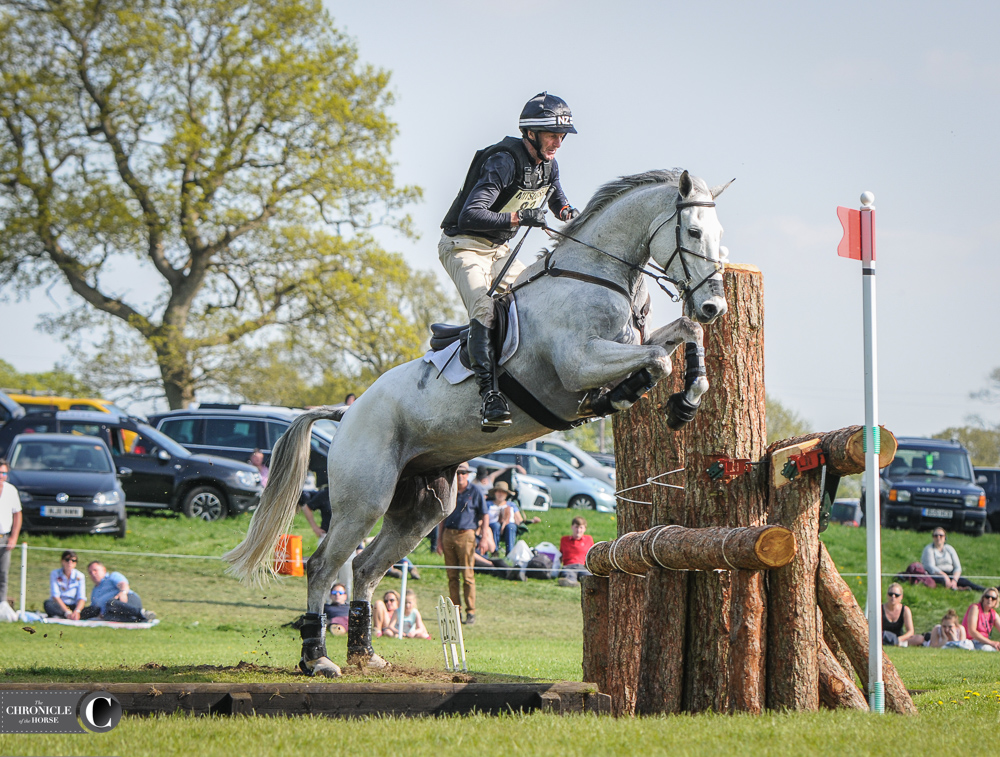 "I rode him and was like, 'Oh my God.' Then I looked him up," Wasson said. "I had no idea. I'm not really into eventing. I watched him jump around Badminton and was like, 'Denice, we need him! He's so overqualified.' Denice is a big believer in going slow. Even though he's jumped these massive jumps, you'd think these little hunter jumps are nothing. She was certain we'd go slow and work our way up together."
"He has just been a dream come true," said Perry, who's been training Wasson since last fall. She's had years of experience with former eventers transitioning to new jobs, including Julie Gomena's 1994 Rolex Kentucky winner Treaty. "We just love him. We took it slow. He had to learn the new program, but the two of them have developed quite a relationship, and she just has a ball on him."
Earlier this year, Rhaps headed to the Winter Equestrian Festival in Wellington, Florida, with Perry, while Wasson flew back and forth to compete, first in the low jumpers, then the children's hunters, equitation and ASPCA Maclay and Dover Saddlery/USEF Hunter Seat Medal classes.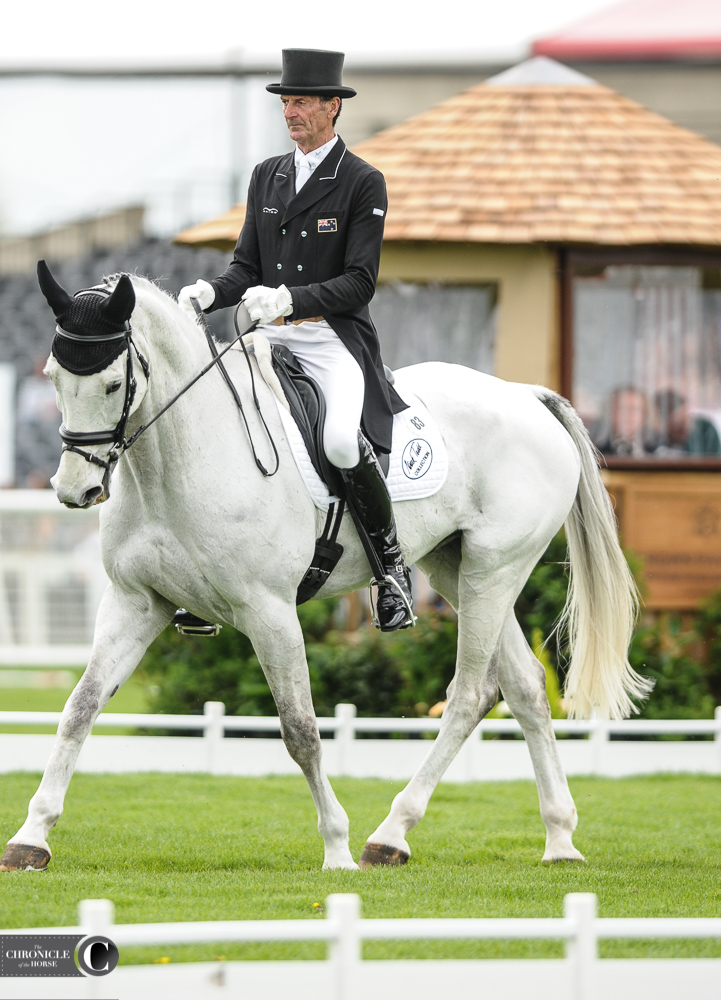 It hasn't been too much of a challenge to teach Rhaps to jump slower and softer than his eventing days.
"He's so brave, which is my favorite thing," Wasson said. "I've never had a horse like him who I can take in the field or in the ring and jump in and out of the ring or whatever I want. The hardest part of him that used to scare me a little bit was doing equitation on the flat classes. I guess in dressage you never have to go in the ring with that many horses going at the same time, and he used to get really revved up during those, but he's such a quick learner it only took a few classes. I would try to be soft and calm, and he'd try his best to take a chill pill. He's doing great now."
Under Todd, the gelding was extremely competitive in the dressage.
"He's so easy to do all the lateral work on," Wasson said. "He makes me feel more educated than I actually am when it comes to dressage!"
For the spring and summer show season, Wasson made it a goal to compete at Upperville in the $25,000 USHJA International Hunter Derby on June 11.
"We were just so confident [coming back from Florida,]" she said. "I took him to my first [Platinum Performance/USEF Show Jumping Talent Search class, which they won]. I told Denice that I'd been coming to Upperville for years and had done the children's but had always wanted to do the derby. I felt so confident. She supported me all the way."
Wasson is headed to the University of California, Davis, this fall to study agriculture and animal science and management, but she hopes to be able to ride Rhaps at the fall indoor shows. Canario isn't sure what the future will hold for her and Rhaps' eventing career, as she's focusing on school right now.
"I feel really lucky that I get to ride him," Wasson said. "He's such a great horse. He's very sweet and humble. He's accomplished a lot, but that horse has no ego. He comes out the same every day."