The "Saturday Night Lights" series continued on Jan. 19 with the $72,000 NetJets Grand Prix CSI2*, and Canadian Olympian Mario Deslauriers and Amsterdam 27 scoring a win under the lights at the Palm Beach International Equestrian Center in the second week of the 2019 Winter Equestrian Festival.
There were 45 entries in the grand prix, and eight were able to go clear over a course designed by Oscar Soberon of Mexico.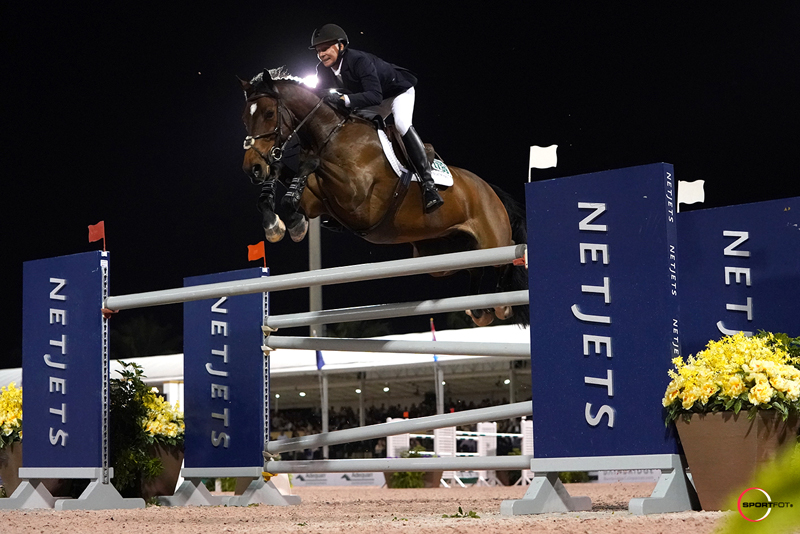 First to return over the short course were Juan Pablo Betancourt and My Way, who set the pace with a clear round in 38.72 seconds that would hold up for fourth place. Zoe Conter and Stephex Stables' Dragonfly De Longchamps also put in a clear round but in a slower 39.93 seconds for fifth place.
Eventual third-place Brian Cournane and Armik took over the lead next in the jump-off by finishing clear in 38.48 seconds, but the lead changed hands two horses later when Olympian Lauren Hough and Wyndmont's Valinski S lowered the winning time to 37.28 seconds.
"As I left after my round in the jump-off, I knew I left the door open a touch," said Hough, who only got the ride on the 17-year-old Dutch Warmblood gelding (Nijinski—Rockina, Julius) this winter. "I slowed down quite a bit to the double. After going very fast the other day, I felt a touch on the flat side, so I didn't take every risk there. Mario had a super round. I couldn't be happier with [Valinski]."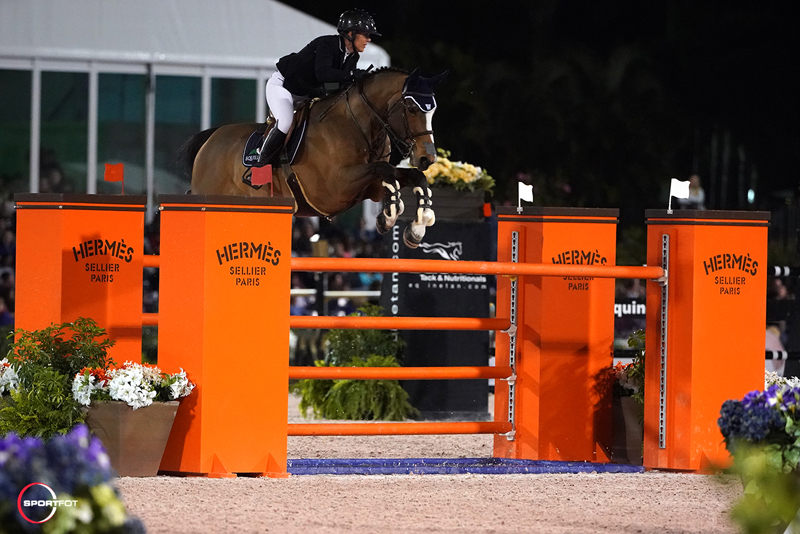 Cournane and Armik won classes at the Bromont CSI3* (Quebec) and Old Salem Farm Spring CSI2* (New York) in 2018, but Armik "hasn't gone fast in a jump-off like that before," said Cournane. "I really want to teach him to do it nice and be quick to the jumps and with the nice, short turnbacks under the lights, so it was an education for him."
"I'm really excited about him. He's owned by my mother and father-in-law, Bob and Christine Stiller. They've been great to me. They own most of my best horses."
"I just want to commend the course builder," said Hough. "He did a fantastic job all week. This is a really difficult week to build, and he got perfect numbers in both [the WEF Challenge Cup and grand prix] classes."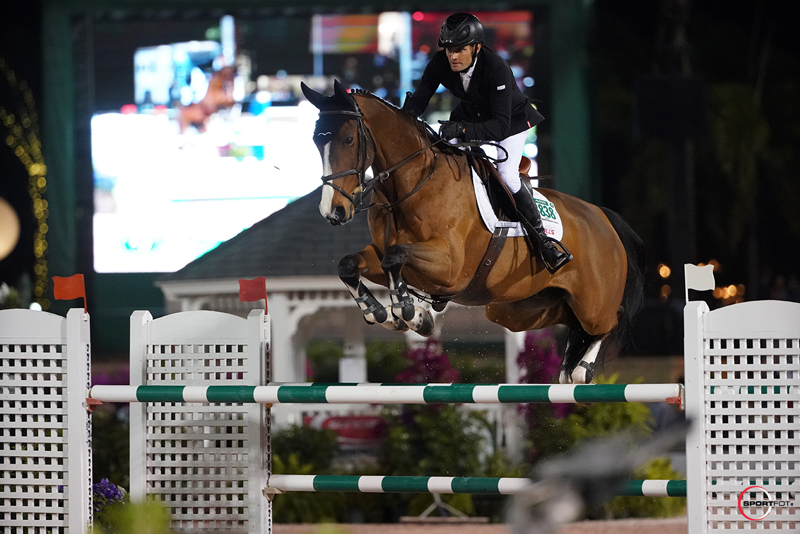 Going second to last, Deslauriers and Amsterdam 27, owned by Wishing Well Farm LLC, set the fastest clear round of the night in 36.59 seconds for victory.
"I wheeled back very close on the oxer, and then I had a very good [fence] number 15 across the middle," said Deslauriers of his jump-off ride. "I was quick to the double, and I stayed out for the last eight [strides] because I have a big step, so I didn't need to slow down. Everything kind of worked out perfectly in the jump-off. Usually when you hit everything right on, you have a quick time."
Deslauriers only started riding Amsterdam 27, a 9-year-old Holsteiner gelding (Catoki—Soraya VI, Acord II), in May of 2018, and their first FEI competition together was in August. This was their first FEI win together.
"I think I'm looking for high results with that horse," said Deslauriers. "I like him a lot, and I think he's a super nice horse. I'm lucky right now to have two great horses. He's come along quite fast. As you saw tonight, he jumps very easily. He's got a great head. All summer he's learned a lot, but it's very easy for him. I think we have very big goals."
Hough and Valinski S won Thursday's $36,000 Equinimity WEF Challenge Cup Round 2, and her consistency this week garnered her the Leading Lady Grand Prix Rider Award.
She noted, "Valinski was fantastic all week, and I'm so grateful to have the ride. He's a wonderful horse, and he's been wonderful with so many riders."