After finishing as the runners-up in 2017 and 2019, Piggy March of Great Britain and Vanir Kamira finally took top honors Sunday at the Land Rover Burghley CCI5*-L. The pair lowered one show jump in the final phase to complete on 27.0.
"Hallelujah!" exclaimed an emotional March after her round. "I've been through a rollercoaster of emotions today but the main one I'm feeling now is relief. Vanir Kamira so deserves this—to win at Burghley is so special, and I'm delighted that she will have her name on Winners Avenue. She absolutely deserves it and this is what dreams are made of."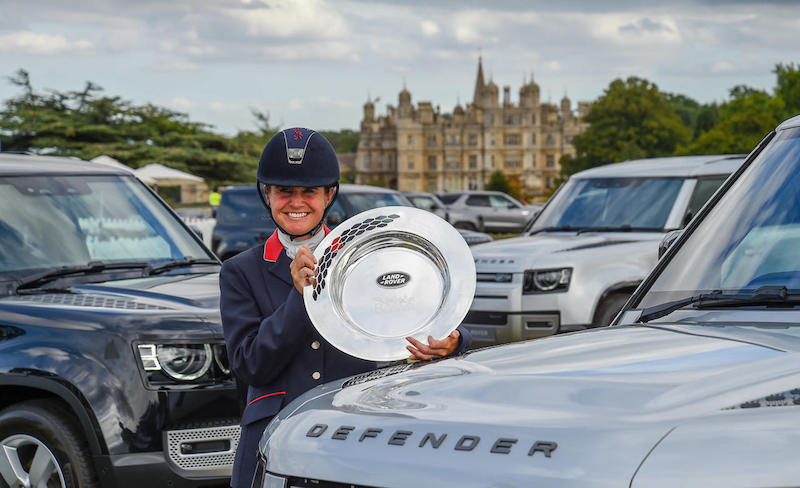 By March's own admission, "Tilly" is not always the most reliable of show jumpers, and she was fearing the worst after the mare lowered an early pole. "I think we rubbed virtually every fence," she said. "We usually do! Good horses were having two or three down in there so I had assumed we would too but she was just phenomenal."
The 17-year-old Irish Sport Horse mare (Camiro De Haar Z—Fair Caledonian) is owned by Trevor Dickens.
A clear round elevated Burghley debutantes Tom Jackson of Great Britain and Capels Hollow Drift from fourth after cross-country to the runners-up spot on 32.5. Tim Price of New Zealand and Vitali rolled three poles but their score of 38.5 was still good enough for third.
Jackson is a former Young Riders European team medalist and one of several riders at this year's Burghley who trains with Pippa Funnell.
"I don't quite know how to sum up this week to be honest," he said. "I'm absolutely over the moon—Capels Hollow Drift is pure class, and to have delivered like he has over the last few days is just phenomenal and makes my life very easy. If I'm honest I came here thinking we were capable of a top-10 finish, but to be on the podium is beyond expectations."
Capels Hollow Drift is an 11-year-old Irish-bred Irish Sport Horse and has been ridden by Jackson since he was a 7-year-old.
Price was  disappointed but philosophical about Vitali's performance: "He's not God's gift to show jumping," he admitted, "but I think we'll get there. He's got the ability, I just have to find a way to get it out."
Price's wife, Jonelle, was fourth with Classic Moet on 40.2 after rolling two poles.
Cornelia Dorr was the top-placed American finisher, jumping a clear round to claim 10th on 47.4 with Daytona Beach 8. Emily Hamel and Corvett were 20th, adding a rail and 1.6 time penalties to their cross-country total. Meaghan O'Donoghue had two rails and 1.2 time penalties to finish 24th on Palm Crescent.