Hickstead, England—July 30   
Brazilian rider Yuri Mansur secured a remarkable triple of wins when claiming the honors in the €200,000 Longines King George V Gold Cup at the Hickstead CSIO.
The victory came just two days after Mansur was part of the winning Brazilian team in Friday's FEI Nations Cup™ leg. Both wins came courtesy of the 11-year-old mare Babylotte. In the King George V Cup, Mansur and his horse were on phenomenal form, producing the only double-clear round of the competition to lift the historic trophy.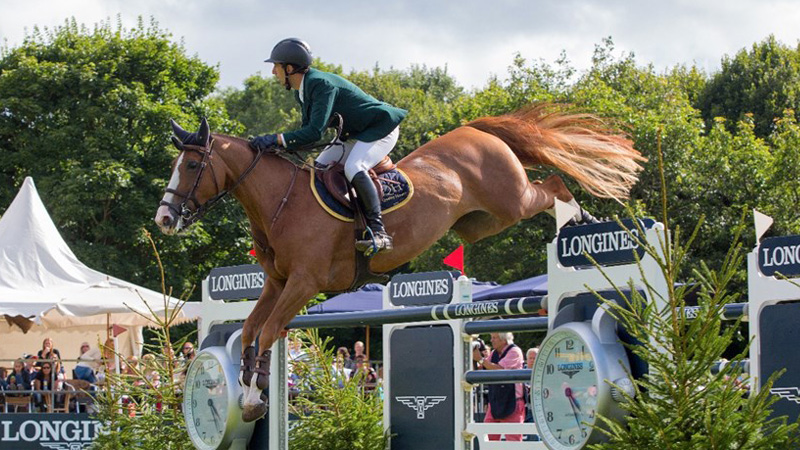 "For me it was an amazing experience. This mare, I just have no words for her," said an overwhelmed Mansur. "When I bought her she was jumping in 1.45-meter classes and hated to jump on grass, but since then she's more than proven herself."
There were 46 starters in the King George, which forms the finale to the CSIO5* Longines Royal International Horse Show. Course designer Kelvin Bywater set a long, difficult track with 12 fences and 16 jumping efforts, and only four managed to jump clear in Round 1.
British hopes lay with Keith Shore, who was first to go in the jump-off. He set the pace with a time of 57.63 seconds on Mystic Hurricane, but one fence down left the door open for his three rivals to go ahead.
Germany's Patrick Stühlmeyer on Lacan 2 finished on 8 faults to finish an eventual fourth, while the Netherlands' Ruben Romp (Audi's Teavanta II C Z) also knocked one fence down, but shaved more than 3 seconds off Shore's time to take the lead.
Mansur was last to go in the jump-off, and he was able to concentrate on netting a clear round—which he duly did, in a time of 57.52 seconds.
"My strategy today was to go the same speed as Ruben, but after I made the turn to Fence 7, then I said to myself, 'I have to stay clear,' and that's what I did. It's a dream for me, I can't believe it," Mansur said.
It's been a superb week for Mansur. The 37-year-old Holland-based rider also won the first international class of the show, the Bunn Leisure Vase. Then he joined forces with Marlon Zanotelli, Pedro Veniss, and Pedro Junqueira Muylaert to become the first Brazilian team to win the FEI Nations Cup™ Jumping at Hickstead.
According to Veniss this was the first Brazilian team ever to compete at the world-famous British showground, much less win, and the first time for each of the four horses and riders to tackle the notoriously difficult Hickstead fences. And on a truly tough afternoon when wet and windy weather led to Kelvin Bywater's 12-fence track being relocated for the second round in order to ensure better ground, they didn't just come out on top but they did it emphatically.
Adding nothing to their first-round score of just 4 faults, they overtook the Germans who fell apart in the closing stages to finish a full 10 faults ahead of the eventual runners-up from the Netherlands, while Switzerland and Ireland filled the next two places when posting 16 and 17 faults apiece.
"We are definitely going to celebrate tonight because tomorrow is a whole new day and it's not often that you can win a competition as big as this so we have to be happy when it happens!" said Zanotelli.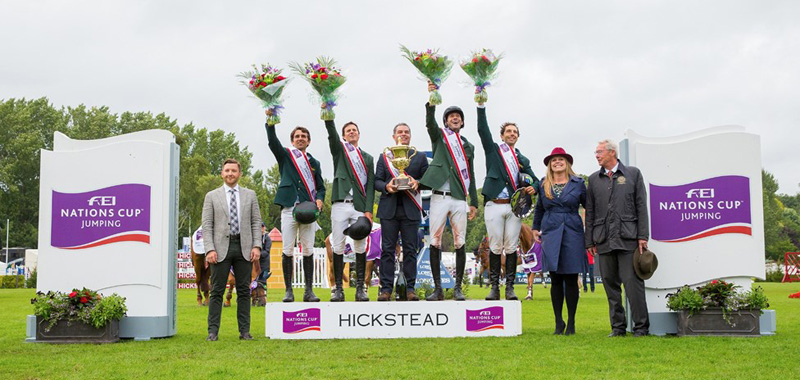 There were six Europe Division 1 teams in action along with the Brazilians who compete in the South America League and the hosts from Great Britain who have been fighting hard since relegated to Europe Division 2 last season.
It was anchorman Junqueira Muylaert's single error with Prince Royal Z at the very last fence that Brazil carried into the second round after Zanotelli's mare Sirene de la Motte and Veniss' mare For Felicila both jumped brilliantly clear. Yuri Mansur's Babylotte had three fences down, but this pair turned that all around at their second attempt so Junqueira Muylaert didn't have to jump again because double-clears from Zanotelli and Veniss ensured Brazil already had the victory in the bag.
"This was my first Nations Cup since we started our own business and it's great to be back on the team," said Zanotelli, who worked for dealer Enda Carroll for six years before going out on his own this year. "Enda gave me everything, but my wife and I started on our own and we didn't expect that this year we would be back [on the team] so quickly, so I have to thank my fantastic horse owners. I've had my mare [Sirena De La Motte] since the end of last year and it was a huge thing to go in as first rider of the team, but I know her very well and she was so confident on the track. She jumped amazing!"
Dutch chances seemed dim after collecting 14 first-round faults for sixth place at the end of the first round, but when they added no more that would prove good enough for second spot at the end of a day of mixed fortunes for many. Harrie Smolders' second clear with Don VHP Z was followed by fault-free runs from both Ruben Romp and Audi's Teavanta ll who posted just a single time fault first time out, and Jur Vrieling whose stallion VDL Glasgow vh Merelsnet threw in an objection to the open water in Round 1 but then popped it like a puddle in Round 2.
Full results: King George V Gold Cup  |  FEI Nations Cup