Harrisburg, Pa.—Oct. 20
It wasn't just his jump-off plan going through Beat Mändli's mind as he headed into the main arena at the Farm Show Complex in Harrisburg. It was also about next week's ride and the week after that. After all Dibatsja's calendar is booked with upcoming stops in the nation's capital for the Washington International (District of Columbia) and a horse capital for the National Horse Show (Kentucky), and Mändli didn't want her running on empty going into the remainder of the month.
So when he qualified to jump-off in the $132,000 Prix de Penn National to close out the 2018 running of the Pennsylvania National, Mändli didn't let the possibility of a big check change his plan.  With competitiveness saved for another day, Mändli focused on his bay mare, the plan he had mapped out earlier in the night, and drowned out the ambient noise.
"I didn't have a chance to watch," said the Swiss rider. "But I already had my plan. And I made my plan up because she's going next week to Washington and to Kentucky. I didn't want to go too fast or do anything which maybe wouldn't work out. So I just thought I'd just give it my round I wanted."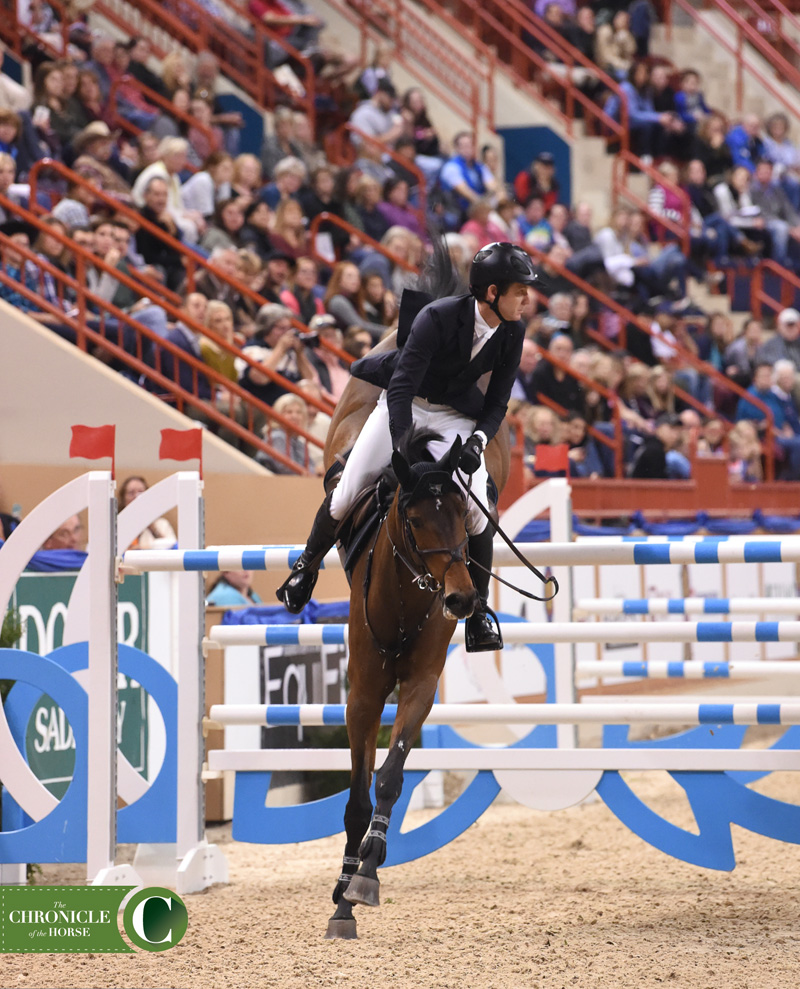 While Mändli warmed up, the six combination jump-off designed by Michel Vaillancourt was keeping everyone on their toes. As the riders attacked Vaillancourt's questions, the correct answers proved to be just to focus on keeping the rails up. Before Mändli entered as the second to last rider, there had only been one clean round, produced by Jonathon Millar and Bonzay at 38.45 seconds.
"It wasn't playing out like it was going to be a really fast class tonight," said Millar, "so I tried to leave the jumps up and see what happens."
But Mändli's plan—while not pushing the limits—gave him efficiency to end the timers at 37.66 seconds sans rails. But if he didn't look overtly excited it was because he was convinced the final pair, McLain Ward and Contagious, were going to top his new time to beat anyways. However, Ward had a rail to finish fourth and prove Mändli wrong.
"I expected that he'd win, but he can also make a mistake," joked Mändli. "I didn't expect to win because I was actually happy already with the first round—obviously I have two big weeks ahead of me. So I just thought keep a nice round, see what happens, and it turned out with the win."
While Harrisburg marked just a stop for Dibatsja, the win has Mändli excited to test the next level with her at Washington and Kentucky. He bought the 10-year-old Dutch Warmblood mare (Veron—Pibatsja, Indoctro) as a 5-year-old and worked with her for the last five years.
"It's always nice to bring one up from the very small classes and winning a grand prix in the end," said Mändli. "She really likes to do it, and she wants to do it, so I'm having a good feeling to go there and see what happens."
The Chronicle will be on-site at the Pennsylvania National bringing you beautiful photos, interviews and more, so check back throughout the competition. Don't forget to follow the Chronicle on Facebook, Twitter and Instagram @Chronofhorse. We will have full analysis of the competition in the Nov. 5 issue of the magazine.