Switzerland's Beat Mändli and Simba, owned by Grant Road Partners, won the $131,000 Empire State Grand Prix CSI***, during the final day of the 2018 Old Salem Farm Spring Horse Shows at Old Salem Farm in North Salem, New York, on May 20. The highlight class of the two-week event also had local superstar McLain Ward of Brewster, New York, in second place with Clinta, while Brianne Goutal-Marteau and Viva Colombia were third.
There were 33 entries in the grand prix, and five found a clear round to advance to the jump-off over courses designed by Alan Wade of Ireland. First to return was the initial round pathfinder Amber Harte on Take the High Road LLC's Cafino. They had four faults in 36.09 seconds for fourth place. Following Harte was Charlie Jacobs with Cassinja S, owned by CMJ Sporthorse, LLC. With nine faults in 46.60 seconds, they took home the fifth-place ribbon.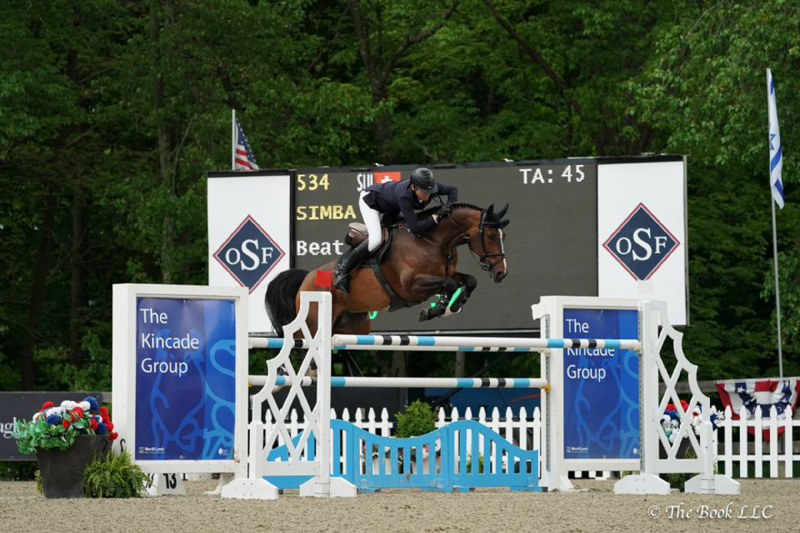 Ward and Clinta, now owned by Sagamore Farms, Ward, and Susie Heller, were next in and showcased Clinta's astonishing jumping style, but with a missed inside turn, they would have to settle for second place in 35.36 seconds.
"I didn't get a great turn after the third jump and had to go around the island," said Ward. "I knew I lost a little time. She has a really big stride, but there was really nowhere to leave out. I did what I could do, but I knew I left a little room, and unfortunately Beat took advantage of it. I'm thrilled with the horse and excited about what's to come with her."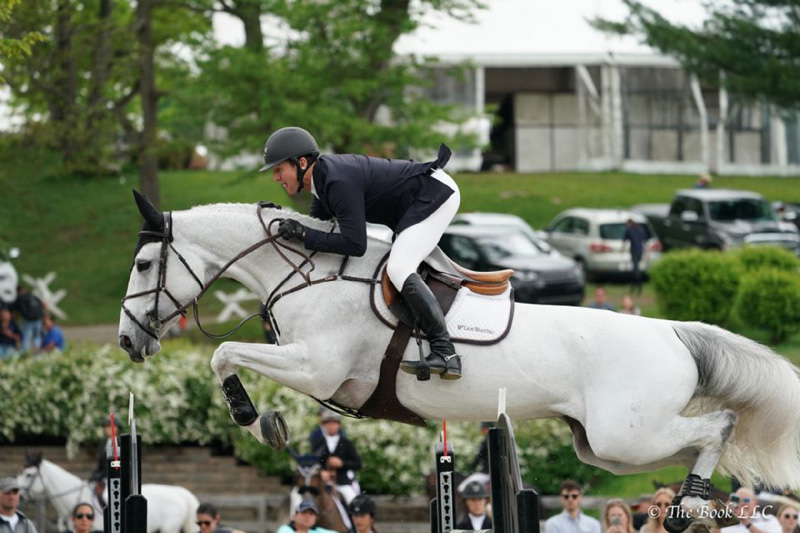 It was Mändli next in for the jump-off with Simba, a 12-year-old Oldenburg gelding (Toulon—Argentina, Argentinus), and they executed the course and sped down to the final fence to stop the timers in 34.34 seconds.
"I thought I had to go fast obviously," said Mändli. "I did one turn after the third fence inside [the planter]. He landed a bit shorter than McLain's horse, so I could do that turn. I think that's where I made up the time. He was jumping unbelievable. He was very careful and made it very easy for me. It depended on how I catch that third fence. If I had a long one, then it would have been a bit difficult. It just worked out."
Goutal-Marteau was last to go in the jump-off on Viva Colombia, a 13-year-old Oldenburg mare (Couleur-Ruben—Lando Lady, Landor S), and they put in a solid clear trip in 35.58 seconds for third place.
"I loved her since the beginning," Goutal-Marteau said of the mare she took over the ride on last summer. "She really blossomed when I started riding her. Every show I feel her improve. I'm thrilled with her."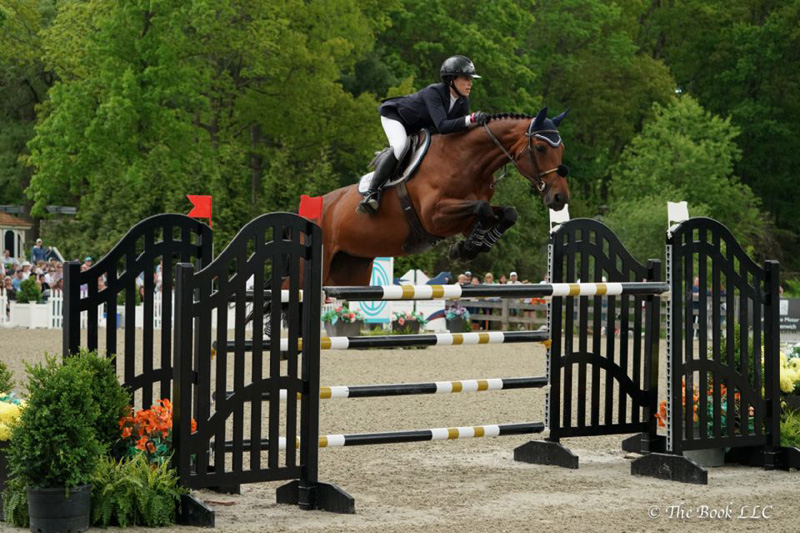 Ward, a two-time Olympic gold medalist, is also excited about his new partnership with Clinta, an 11-year-old Oldenburg mare by (Clinton—Last Flight, Lord Pezi), as he is now a partial owner with the Sweeney family's Sagamore Farms and Susie Heller.
"It's very exciting for the future," he said. "We've had her a month-and-a-half, and she's had one fence down. She's spectacular."
Mändli took over the ride on Simba 1 ½ years ago from his student, U.S. show jumper Katie Dinan.
"He's a little bit of a strong horse," Mändli described. "I took him over, and it goes quite well. I'm very happy with him."
With his top horse Dsarie and Simba, Mändli has a strong string going to Europe this summer. He will ride on the team for Switzerland in the FEI Nations Cup in St. Gallen, Switzerland. Competing at the Old Salem Farm Spring Horse Shows gave him strong preparation.
"I had Dsarie here last week, so she had two rounds on the grass that I wanted," he said. "It would have been nice if we could have jumped on the field [today], but the arena is also very nice. It's good for the horses and no risk."
Earlier in the day, Katherine Strauss of New York City won the $10,000 High Junior/Amateur-Owner Jumper Classic riding her own All In. In the $7,500 Medium Junior/Amateur-Owner Jumper Classic Lauren Ward and Vedor, owned by McLain Ward, took the victory.