Essex Fox Hounds
P.O. Box 335,
Peapack, New Jersey 07977.
Established 1912.
Recognized 1914.
Making The Best Of The Weather
Here in the Essex Country, rock-hard, icy ground temporarily forced us off our horses and onto our feet.
Proposing to hunt hounds on foot from our meet at the Murphys' Spook Hollow Farm Gate on Jan. 19, the professional staff and a mixed pack of 151⁄2 couples were met by 11 hardy followers. The sky was gray; the temperature, just over freezing; the ground, covered by 2 inches of wet snow over ice.
Following an immediate find at the Dip-of-Death, any notion that scenting conditions might allow the foot followers to easily stay with hounds was quickly dispelled—away they roared to the west before bending south to check just below Mrs. Lorillard's stable yard, in the briars along the brook.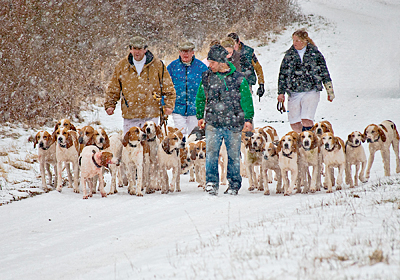 With two foxes now afoot, hounds split, with the main body away again at a good pace to the Gampers', before turning north to the Carden Farm, where the split was reunited. Here, the unmounted staff stopped the hounds as the action moved uncomfortably close to the well-trafficked Rt. 206.
Hounds were lifted to a new draw west of Larger Cross Road, and our next fox was found at the Allens' Brookfield Farm's roadside briars on Long Lane.
Hounds were immediately away at a flying pace to the south, along the length of the narrow covert lying parallel with the Governor's driveway and through the Green House Covert to just beyond the Grave Yard Lane.
Here, in the very thick covert along the lane, our fox took to dodging and twisting through thick tangle for the next 10 minutes before taking exit again to the south and continuing nearly to the Bradys' "Dog Patch", in the process twice squeezing themselves through the Zubrow Deer fence.
Reversing, hounds somehow negotiated back through the deer fence and proceeded to its north end, where they were fortuitously met at a gate by a sub-group of the now widely scattered foot followers.
Soon back into Grave Yard Lane briars, they executed a circular return to and back under the deer fence one last time, where hounds now became briefly split due to the fence.
Timely staff work had hounds back together soon enough, and the pack proceeded north, all the way to the find at Long Lane, where they were stopped as heavy snow began to fall (and the unmounted staff, at approximately mile 12 for the day, was perhaps showing some wear).
This second hunt of the day included a point of nearly 3 miles, easily 7 as they ran; a nice hunt, probably more notable for the fact that hounds stayed together so well in this well-foxed country virtually on their own, while negotiating their way several times unassisted through a rather formidable deer fence to boot.
John Gilbert, Huntsman