Lexington, Ky.—May 2  
The warm-up seems too simple a title for a horse's prep routine. This isn't a quick 30 seconds around the microwave for last night's lasagna—this is the time frame that determines how your horse will perform in its dressage test and therefore where it will rank for the other two phases of the competition of eventing. This isn't leftovers—this is serious business, and clinician William Fox-Pitt takes it as such.
Olympic and World Games medalist and Burghley, Badminton, Rolex Kentucky and Pau four-star winner Fox-Pitt sees the warm-up part of the ride as invaluable to riders. It's something he emphasized on the first day of his two-day clinic at Valley View Farm in Lexington, Ky.
"Think of the warm-up as being instrumental in how you end the ride," Fox-Pitt said. "Even though you shouldn't be working on anything specific, it sets the tone for your whole ride."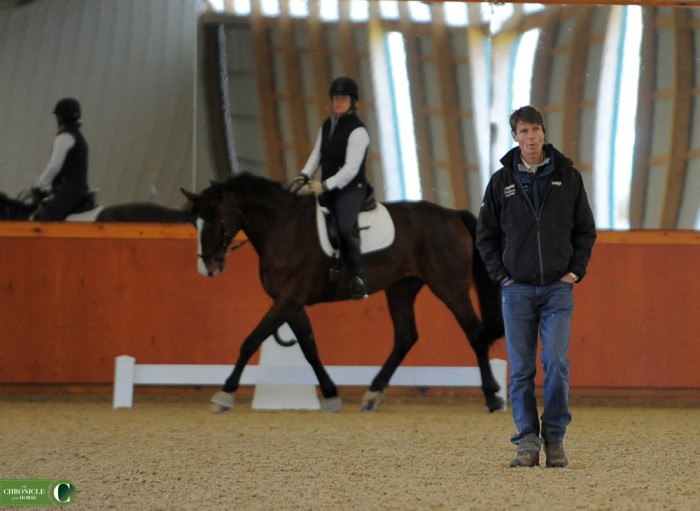 Fox-Pitt broke the warm-up into three stages for riders.
"One is your general warm-up. Two is connection working toward correctness and getting them listening," Foxx-Pitt listed "Three is working on accuracy."
Fox-Pitt said all three steps were important in producing the final product.
"People get nervous and they skip No. 2," Fox-Pitt said.
For the general warm-up, the main thing Fox-Pitt wanted riders to focus on was getting their horses loose and stretched through their bodies, much like a jogger touching their toes or jumping up and down before a run. This was also a time to instill obedience to the leg in the horse—when the leg goes on, they have to go forward. Not kind of forward, not sluggishly forward—honestly forward.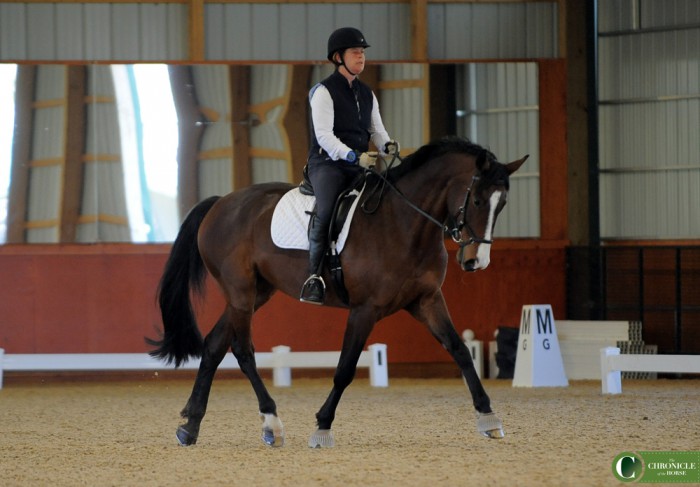 "You have to keep things clear, black and white. Horses don't operate in grays areas like humans," Fox-Pitt said. "They're cold or they're not, they're hungry of they're not. It's your job to be definite and make things clear for them."
Fox-Pitt also didn't want riders so concerned with their horse's frame in this stage—he preferred them to be "slow, low and go" as he put it. One horse was nervous and spooky when it first came in the indoor arena, resulting in choppy short steps.
"Think about him spending a little more time on the ground with his feet," Fox-Pitt said. "If he's always running off his back legs he's not doing any work."
Fox Pitt reminded riders to use this warm up time to think not only about how their horse was going but what their own body was doing, and to check in with their position. He instructed them not to sit down on their horse at the trot or canter too early in the warm up.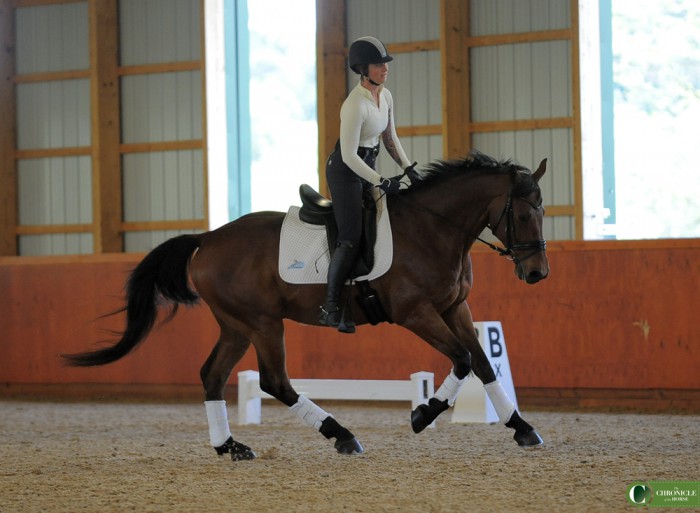 "The sitting trot sometimes traps the horse in the back too soon, so don't sit too soon," Fox-Pitt said.
Then there's step 2 of the warm-up—connection working toward correctness and getting them listening. This is where Fox-Pitt wanted riders to start thinking about getting the horses on the bit and working.
"It's very important to get the horse to go down and through, to commit down the rein," Fox-Pitt said.
With a horse that wanted to get heavy in the bridle and lean on its forehand at the canter, Fox-Pitt had the rider come back to the trot and really work to push the horse up and off its front end, insisting that she not try and hold him up. He also had the rider go back to the canter and really move forward in an almost half seat (as much as a half seat as dressage-length stirrups permit).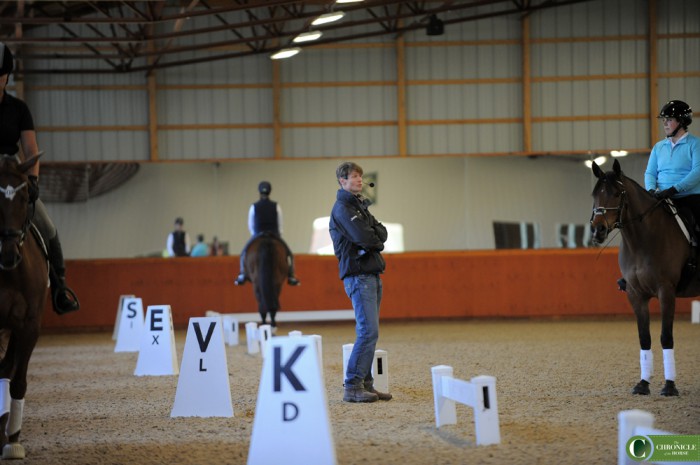 "I often stand up in the saddle to let their back warm up at the canter," Fox-Pitt said.
Then there is stage 3—accuracy. Once riders were ready to rock, Fox-Pitt wanted them to start choosing movements from their tests to perform at specific letters around the arena. Fox-Pitt reminded riders that a big part of accuracy at the letter and the movement you produce has to do with your preparation before you reach it.
For example, one rider on a lovely moving bay horse demonstrated a medium trot across the diagonal, and Fox-Pitt had her turn around and do it again with a different mentality on the short side before turning down the diagonal.
"Think about sitting him down on his hocks on that short side, bounce, bounce, and then go," Fox-Pitt said, demonstrating the impulsion on his imaginary horse. "If you just spin around the corner and fly into it, it's quite flat and boring."
Fox-Pitt was looking for some serious engagement from horses, not just an uptick in speed.
"He looks staccato and stiff, I want loose and dynamic," Fox-Pitt said to one rider.
To help work on the impulsion, he had the rider go on a circle at the canter and do half the circle in medium canter and half in collected. It was hard for the horse, and he resisted with a small hop on the first attempt, which Fox-Pitt said showed a weakness the rider would need to work on.
As for the hops and tomfoolery? Well, Fox-Pitt helped another rider dealing with similar behaviors in her spooky horse.
"Just ignore him, say canter on, get on with it, I'm not going to stop because you're being an idiot," Fox Pitt said.
He had other good lines, like when one rider's horse wouldn't stop fussing with its bit and head while the rider was standing talking to him.
"Like right now, he just needs to shut up," Fox-Pitt said.
Don't mistake Fox-Pitt's dry jokes as harsh—he's actually quite a pacifist when it comes to dealing with misbehaving horses.
"When he's going badly, nicely make his life more difficult," Fox-Pitt said. "It should be when it's going well, his life is nice, and when it's not going well, it's a little uncomfortable."
Fox-Pitt was by no means advocating riders pick a fight with their mounts as many a modern horseman or woman can attest to seeing in the warm-up rings at shows and events.
"There's a generational change between you guys and me," Fox-Pitt said to a couple of young riders. "You're under so much more pressure to perform that it makes some riders much too tough on the horses."
It's all about setting the horses up for success and not putting them in a position to fight with their rider in the first place.
"You've got to be able to ask questions that are not difficult but are nonetheless asking for a response, that engage their mind," Fox-Pitt said.
Riders will put what they learned today toward their show jumping and cross-country lessons with Fox-Pitt tomorrow—check back with the Chronicle for more words of wisdom from William!