Harrisburg, Pa.—May 5
The New Holland Arena is surrounded by long, winding corridors and stairways filled with the hum of industrial air conditioning. The hallway between the in-gate and the awards staging is home to the Intercollegiate Horse Shows Association memory wall, where photos and testimonials tell the story of Bob Cacchione's beloved association. Among the multitude of faces adorning the wall are Jan and Andrew Benjamin, who rode in the IHSA during their college years. They made a new IHSA memory on Saturday when their daughter, Makayla Benjamin, claimed the Cacchione Cup championship.
"[My parents] never made it to nationals, which I didn't know until I got here," Makayla said. "My coach jokes that I was born and raised in IHSA. It's been really fun to have the whole family here and to see how the sport has progressed."
Makayla— a Leesburg, Virginia, native—is a senior at Sweet Briar College (Virginia) and also rides on the newly-created National Collegiate Equestrian Association team. This year was her first trip to IHSA National Championships, and she is the first rider from Sweet Briar to compete in the Cacchione Cup since 2014 (Olivia Smith qualified and placed ninth that year). She was ranked third after the first jumping phase and dropped to eighth after the flat portion.
"I was really excited the test was over fences," Makayla said. "Over fences is definitely my strength. I went in and just kept my leg on."
Makayla, 21, partnered with Cazenovia College's horse, Collins, for the final work-off. Judges Tony Sgarlata and Diane Carney set a course that included two trot fences and tight roll-backs to truly put the riders to the test. Makayla said she felt good about her effort aside from one line she'd walked as seven strides and ended up doing in eight.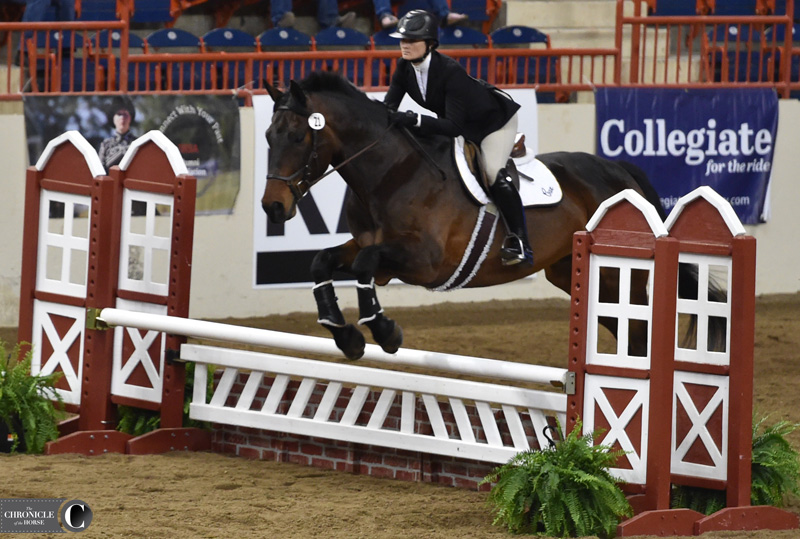 "[Collins] really settled into the eight, and it came right out of the rhythm, so I went with it," Makayla said. "I wasn't sure how [the judges] were going to treat that add, but I felt good about everything else, especially my trot fences. The course asked a lot of questions, and I thought I answered most of them right, but I was shocked to be top three, let alone champion."
Graduation is waiting for Makayla when she returns to Virginia, but she's prolonging her entrance into the professional world for a little while longer.
"I'm majoring in mathematical economics and double minoring in business and engineering," Makayla said. "I'm going to work for a plumbing company as a sales and logistics trainee, but first I'm going to be a wrangler on Bitter Root ranch in Wyoming for 4 1/2 months."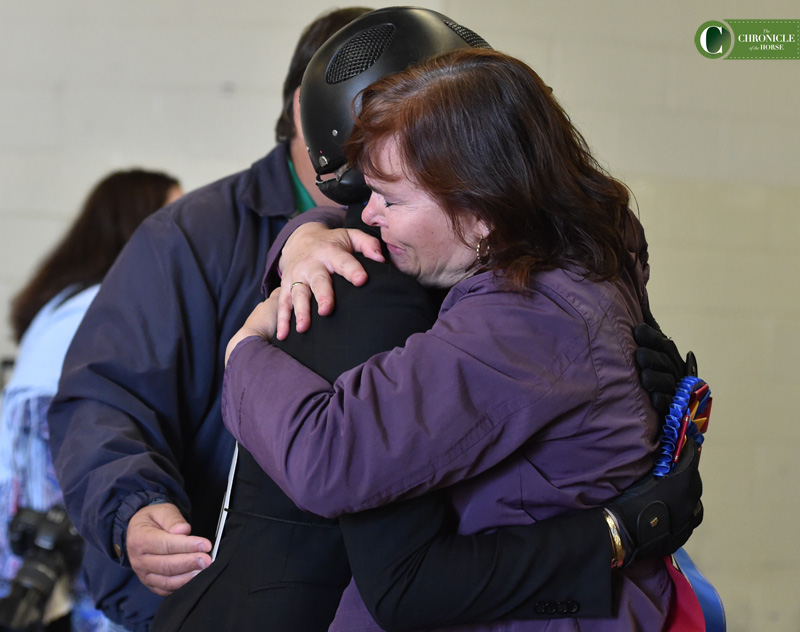 The Collegiate Cup competition concluded with the open equitation on the flat class, where the Savannah College of Art and Design (Georgia) made a comeback to secure the reserve national championship. Adam Edgar, 18, of Leesburg, won the flat phase and was second over fences. SCAD had 16 points coming into Saturday's competition and needed wins in both open classes to keep their championship dreams alive. That amount of pressure would have rattled some riders, but Edgar used it to his advantage.
"We tried not to talk about all the pressure coming into this day," said head coach Ashley Henry. "But Adam was like, 'No, tell me, I work well under pressure.' It's nice to have an upper-level rider who you can tell, 'Everything's on your shoulders today; we need you to win both classes,' and they will."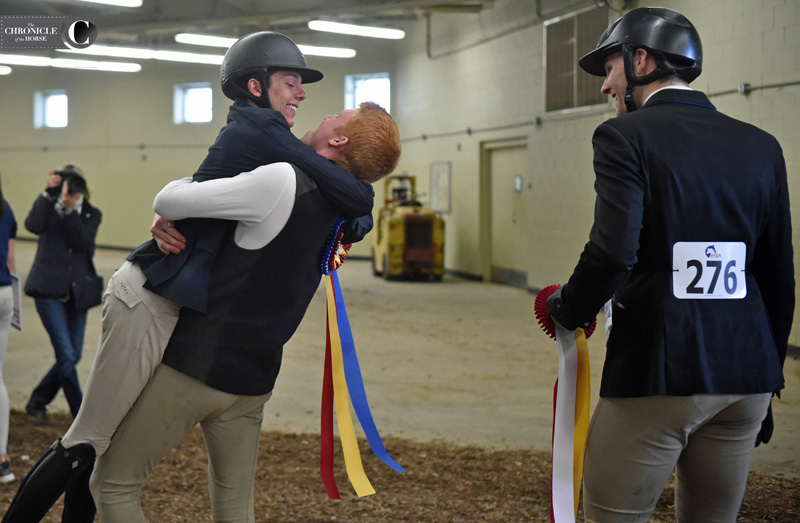 Edgar is one of four freshmen on SCAD's national team, which also included two sophomores and one senior. Henry's team in 2017 was comprised of mostly upperclassmen with championship experience.
"Every year is different; that's what makes it challenging," Henry said. "But the riders come in knowing they have a legacy and that makes them want to push harder and try harder. We're starting from scratch again, really, rebuilding. Even if riders have competitive experience we have to refine details and make sure they understand what IHSA is, what ANRC is, what the Tournament of Champions is and how they're all different from each other. It's nice, we're continuing to grow, and I'm excited about our future."
Skidmore College established a commanding lead on the first day of competition and nearly doubled it to finish Friday with 30 points. They maintained that score through Saturday, and no other team was able to come close.
"I think the key to our success this year was the teamwork of the coaching staff and the students' hard work," said head coach Cindy Ford. "I am careful who I choose on my team; we have about 32 members, which I think is relatively small. That allows me to give each student a lot of personal attention and there's a lot of communication about individual needs. Every rider knows what my plan is for them and what I think they're capable of."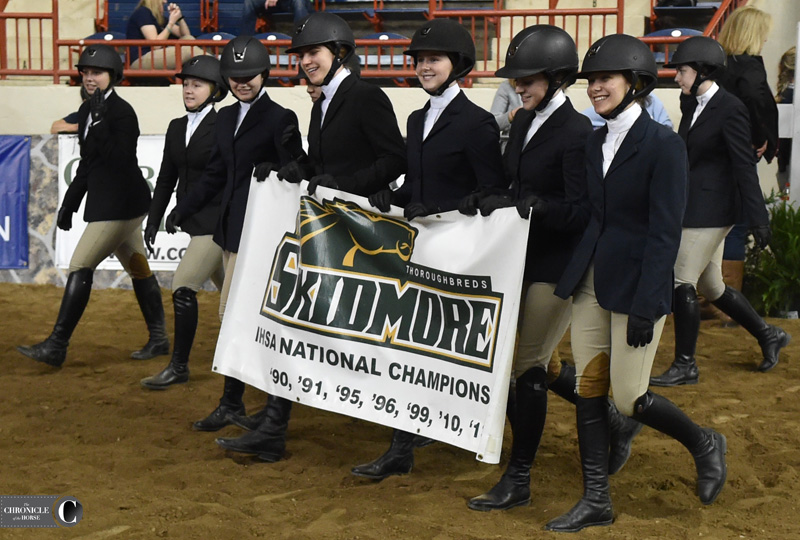 Skidmore finished fourth overall in 2017 and did not qualify as a team in 2016, but they have a long history of championship wins dating back to the 1990s. Ford said she's been using the off-seasons to strategize and make sure her best riders are available exactly when she needs them.
"It's just like a baseball team or a football team," Ford said. "Those coaches, when they're finished playing they're on the plane thinking about what they have next year. That's exactly what I'm thinking. I'm thinking about who I have next year; who is going to come through the ranks. Some riders I won't let show much during the year, but I tell them I'm saving them, so they continue to work hard."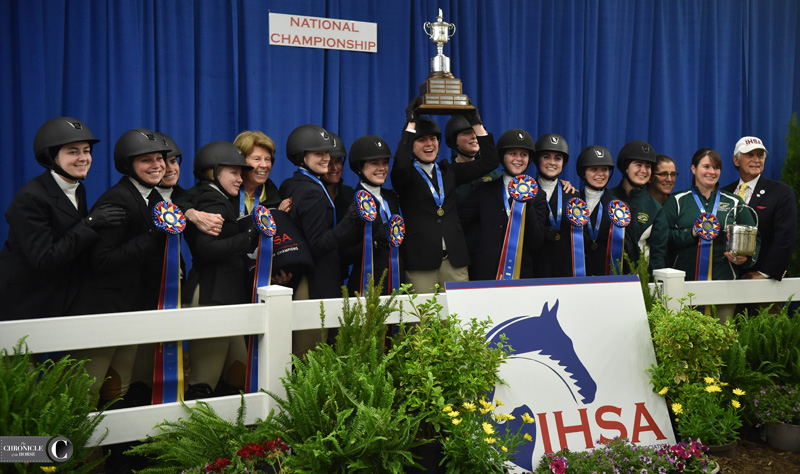 See all the IHSA Nationals results, recap coverage from Day 1 and Day 2, and check back with The Chronicle of the Horse for more in-depth coverage from IHSA Nationals in the May 21 issue of the magazine.
2018 IHSA National Championships - Saturday

Molly Sorge / May 6, 2018 8:39 am