Last week, Ben Maher proved he wasn't going to waste much time getting down to winning with his new rides. This week, he put an exclamation point on it, claiming his second consecutive Saturday night grand prix title at the FTI Winter Equestrian Festival with one of Jane Clark's horses.
Last week, it was Cella; this week it was Urico. Both had been formerly ridden by Mario Deslauriers and Urico was Deslauriers' mount for the U.S. team at the 2010 Alltech FEI World Equestrian Games (Ky.). Maher and Urico sped to the top of a 14-horse jump-off in the $82,000 Adequan Grand Prix (see results). "They are completely different," Maher said. "They are both amazing horses. I think we picked the right weeks. Cella jumped last week, which was a much more bold, big, scopey class. This week was more careful. Urico feels like he needs a few rounds to get going. He felt very good tonight. This was only his fifth or sixth round [with me], so he is still getting back into the swing of things and I think careful planning beforehand has helped pay off in the last two weeks."
Want to watch the whole class? Check out the USEF Network for a full broadcast.
Maher returned the next day to also win the $25,000 Suncast 1.50-meter Jumper Classic aboard Quiet Easy 4, owned by British owner Mrs. Phillips (see results). The pair were also second in the Thursday grand prix, the $33,000 Ruby et Violette WEF Challenge Round 5, which McLain Ward won on Zander (see results).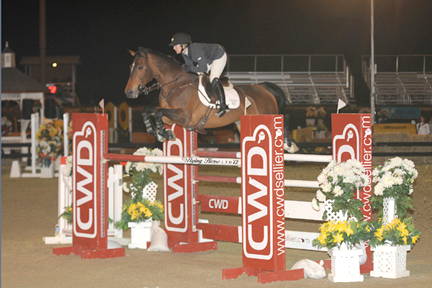 Ashlee Bond and Wistful jumped to the top
of the $54,500 HITS Grand Prix CSI-W
at HITS Desert Classic.
Photo by Flying Horse Photography
Ashlee Bond scored a one-two punch of her own out in Thermal, Calif., for the HITS Desert Circuit week 3 (see results). She rode her longtime partner Cadett 7 to the top of the $33,000 HITS Desert Classic on Thursday, and newer mount Wistful to the win in the $54,500 HITS Grand Prix CSI-W on Saturday night. Interestingly, Wistful, 9, is an American-bred Dutch Warmblood bred by Rusty and Kandi Stewart of Grey Fox Farm. The Stewarts also bred and campaign the successful grand prix horse Bristol. Last year's superstars, Flexible and Rich Fellers, were third in the $54,500 HTS Grand Prix CSI-W with the fastest 4-fault round.
Sadly, the other news from Thermal was that trainer Archie Cox suffered a separated pelvis in a freak injury, but he's expected to recover.
At the HITS Ocala Winter Classic (Fla.) (see results), young rider Michael Hughes scored a big win in the $50,000 EMO Grand Prix aboard Christina Fried's Luxina. He also topped the high junior jumper classis on Dromma. Callan Solem was third in the $50,000 EMO Grand Prix on VDL Wizard, and also won the $25,000 SmartPak Grand Prix on VDL Torlando. In the junior hunters, Ashton Alexander ruled in the 15 and under divisions, taking the small title with O'Ryan and the large with On Top. Taylor Sutton reigned in the 16-17 sections, taking the small championship and reserve with Lyle and Cameo Appearance, and the large tricolor with MTM Braggin Rights.
Sad news headlined the Ocala Horse Properties Winter II Horse Trials (Fla.), as Andrea Leatherman and Neveah suffered a rotational fall. (see results) It was a leg-stretching weekend for many as Pan American Games teammates Schoensgreen Hanni with Michael Pollard and Harbor Pilot with Hannah Sue Burnett were first and fourth in a division of intermediate. Pollard also won the other division of intermediate with Mensa after turning in a remarkable dressage score of 17.6 and then adding just 2.4 time penalties to win by 11 points.
A bit further north, at the Pine Top Winter Horse Trials (Ga.) (see results), intermediate division blues went to Boyd Martin on Master Frisky, Connor Husain on Piece of Hope and Caitlin Romeo on Spirit of the Outback.
In dressage, the Wellington Classic Spring Challenge CDI (see results) Lars Petersen of Denmark topped the CDI Grand Prix and Grand Prix Special with Mariett, while Jaimey Irwin of Canada won the Grand Prix freestyle aboard Lindor's Finest.
Wilhelm Genn scored a hat-trick at the Gulf Coast Premier I (Miss.) horse show (see results), taking the top three places in the Johnson Horse Transport Grand Prix with Happy Z, Winchester and Cookie Monster. Other shows over the weekend included the Great Southwest Winter Series II (Texas) (see results), the Cupid Classic (S.C.) (see results), the Ledges Winter Classic (Ill.) (see results), and the HITS Kachina Classic (Ariz.) (see results).