The host nation turned on the magic once again to win the Longines FEI Jumping Nations Cup of Mexico 2019 at Coapexpan on May 5 with a gutsy and determined performance. The Mexican team of Patricio Pasquel (47), Manuel Gonzalez Dufrane (25), Lorenza O'Farrill (49) and Salvador Onate (41) produced a spectacular result, confirming their supremacy without having to call up anchorman Onate in the second round and pinning the United States into runner-up spot while Canada finished third.
O'Farrill was hailed the hero of the day, her second-round clear with the 14-year-old gelding Queens Darling wrapping it all up nicely. But it wasn't just the second consecutive Mexican success in the three-leg 2019 North and Central America and Caribbean League that she and her teammates were celebrating this evening, it was O'Farrill's sensational return to the top end of the sport against all the odds.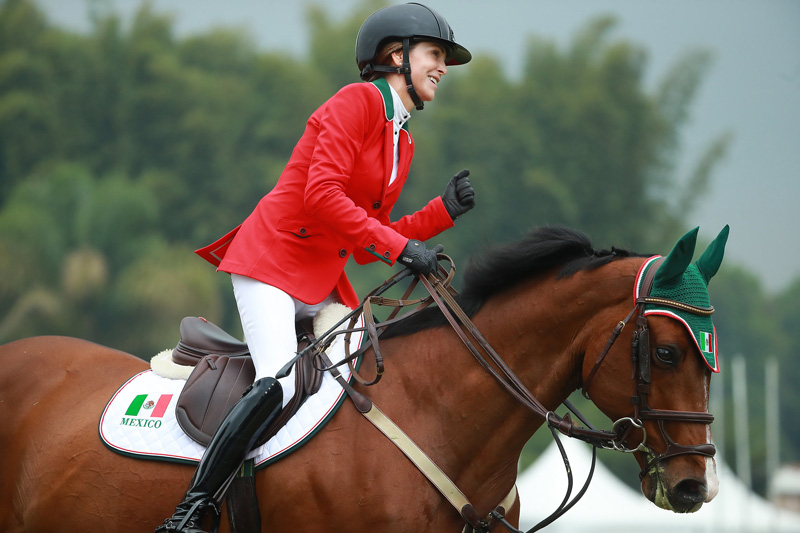 "I'm out of myself with proudness and emotion!" said O'Farrill, who suffered a life-altering back injury when kicked by a horse leaving a prize-giving ceremony seven years ago. Her condition deteriorated to the point where she couldn't walk, but after a series of surgeries, and now sporting six screws in her spine, the athlete who lined out at the FEI World Equestrian Games in Rome in 1998 has now bounced back to her very best.
With just three teams in action, today's competition was a compact but intense affair. Mexico and USA were on level pegging with nine faults apiece at the halfway stage, but the Canadians already looked vulnerable as the action resumed, carrying 14 faults from which they would never recover.
U.S. rider Richard Spooner was foot-perfect both times out with his 10-year-old grey, Quirado RC, but the man whose nickname is "The Master of Faster" picked up a time fault in each round. Eve Jobs, at 21 the youngest competitor on the day, kicked out only the narrow vertical at fence 6 in the first round before returning to put in a textbook clear with Venue d'Fees des Hazelles. Nicole Shahinian-Simpson's feisty mare, Akuna Mattata, fell afoul of the bogey oxer at fence 9 that caught out so many in the first round and added five more in the second round and this brought the U.S. total to 15 faults.
"We looked to be in a good place after the first round, but we knew coming into it that Mexico had a strong team and would be tough to beat," said U.S. Chef d'Equipe Robert Ridland. "It was a good day. Obviously, we wanted to win. We gave it a really good shot; we were there to the end. But the real benefit is that we got some young horses and young riders some experience that they needed.
"Eve did a great job in her first five-star Nations Cup after a strong showing at the [Longines FEI Jumping] World Cup Final [Sweden]. She had the one mistake in the first round, but after she came out of the ring, the first thing she said was, 'I'm fixing that mistake in the second round,' and she did," Ridland continued. "Richard's horse is a young horse, and for him to leave the jumps up twice in a row, that was fantastic. He's young and on an upward trajectory, so we're very happy with the way he went. Nikki's mare was good, too. She had one rail each round but really jumped well. That's another very talented young horse. Alex's horse jumped well in the first round, but his second round was very unusual for Carlchen."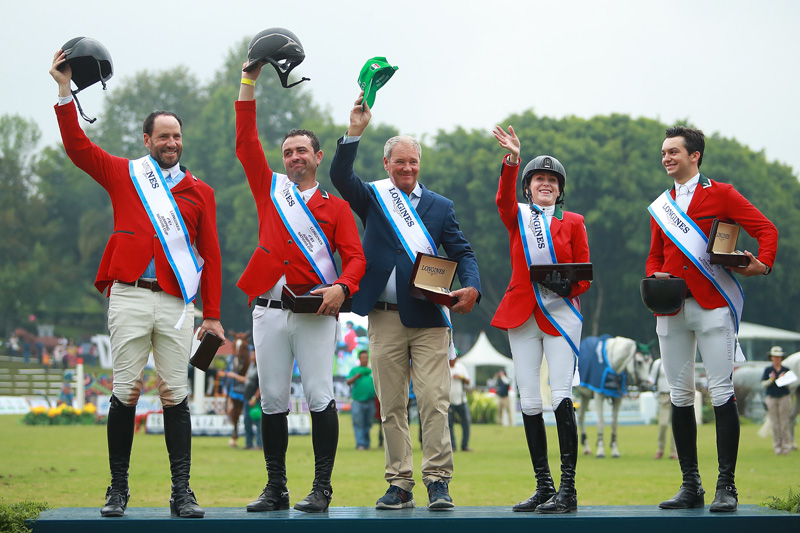 When O'Farrill followed Pasquel's second-round clear with Babel, and another four-fault result for Gonzalez Dufrane and his sweet mare Hortensia van de Leeuwerk, with a superb clean run the game was up.
The Canadians made a great recovery with second-round clears from Lisa Carlsen (Parette) and Nicole Walker (Falco van Spieveld), but it was too late as they completed on 22 faults. Alex Granato and Carlchen W rounded up the U.S. effort with a 12-fault result, but the Mexicans were already home and hosed with their team total of 13, so Onate, who had racked up an uncharacteristic 12 faults first time out with Big Red, didn't need to run again when listed last to go.
O'Farrill said today that her comeback hasn't been easy.
"I had to work on myself inside and out with physical therapy and mental training, but it's been worth every minute!" she said.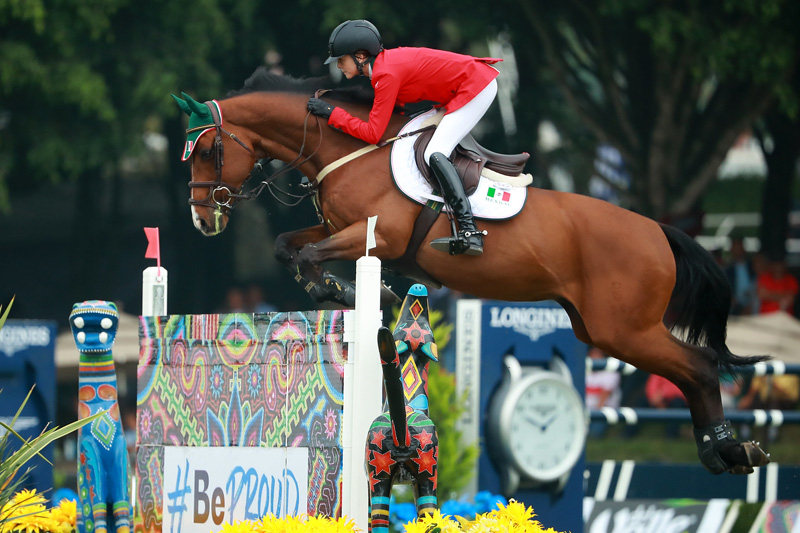 Her husband bought Queens Darling as an 8-year-old, but they had a couple of falls, so his wife took him over and began to enjoy some success. When she was going into surgery her husband promised that Queens Darling would be waiting for her when she was better, and since she returned to the saddle she's been working on the horse's spooky nature.
"I can't change him so I use it to my advantage!" said the rider whose steeds are naturally supremely fit because they live 3,000 meters above sea level in Mexico City and whose other ride, the mare Calvira, won Friday's Longines Grand Prix.
O'Farrill is now looking forward to the third and last leg which will take place in Langley, Alberta, Canada, in a few weeks time where the result of the North and Central American and Caribbean League series will be decided. In the lead with 200 points on the board following their double of victories in Wellington (Florida) in February and again today, Team Mexico hold the lead followed by the U.S. on 170 and Canada with a total of 140 points.